60,000 Q&A topics -- Education, Aloha, & Fun
topic 34271
Trying to identify plating
A discussion started in 2005 but continuing through 2019
What plating is on handwheel of Chinese lathe
2005
Q. I have a garden-variety Chinese lathe (14" x 40"). The handwheels appear to be cast (probably iron) with the center hub and spokes painted, but the outer rim has been machined and appears to be plated. It has a dull, matt silver appearance. Does anyone have an idea what the plating may be, and if I could duplicate it easily in my home workshop?
Thanks,
Roger Head
- Australia
---
2005
A. The initial surface will determine the finish of the plating job; the fact that it is a matte finish just means that the metal underneath had a matte finish when it was plated.
In addition any plating method (with few exceptions) for use on tools usually involves hazardous chemicals that are difficult and costly to dispose of, and equipment that a hobbyist doesn't have access to.
If you want a clear answer take it to a professional plater and have them figure it out.
Marc Banks
- Elizabeth City, North Carolina USA
---
---
What is this yellow plating on shoulder bolts

July 22, 2014
Q. I have a bag of shoulder bolts (M8 x 1.25 x 44 mm) that I found in our warehouse. They appear to be yellow - possibly dichromate finish - but no identification. (They are attracted to a magnet).
Is there a way to determine what the finish is?
Joseph warner
- Kansas City, Kansas US
---
July 2014
A. Hi Joseph. Just from appearance, odds are about 99+% that it's a sacrificial plating of cadmium, zinc, or zinc alloy with a yellow chromate finish.
But whether it's cadmium (which is a bio-accumulative toxin that should be reserved only for very special needs) and whether the chromate is hexavalent (which would be a RoHS problem) can't be determined visually or with normal warehouse stuff. Some plating shops could do spot tests to determine what it is if it's a large enough bag to be worth it. (Are you sure those bolts are new? There is a ring just below the head that looks either much less worn or much more worn than the rest of the shoulder). Good luck.
Regards,
Ted Mooney, P.E.
finishing.com - Pine Beach, New Jersey
Striving to live Aloha
---
July 25, 2014

Ted,

Thanks! I appreciate your help.
Joseph warner
[returning]
- Kansas City, Kansas US
---
---
How to identify plating on antique police badges
November 13, 2016
-- this entry appended to this thread by editor in lieu of spawning a duplicative thread
Q. I am trying to identify the type of plating and base metal used on antique Columbus, Ohio Division of Police badges. Research confirms these badges were produced from the late 1870s until 1908. Approximately 14 of these badges are known to exist. The finish ranges from an intact yellowish silvery appearance to completely devoid of finish. Due to their historical significance and value, polishing or destructive testing is not possible.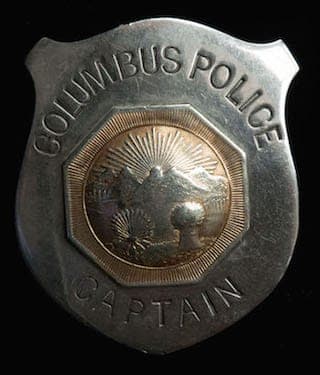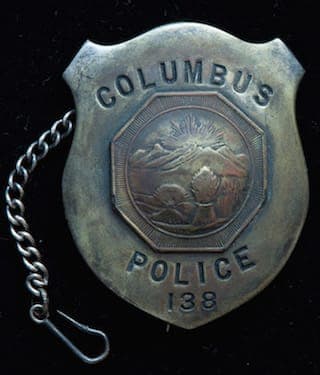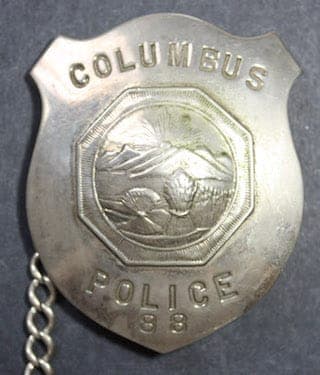 Alex Behnen
Museum curator/archivist - Westerville, Ohio
---
November 2016
Hi Alex. I'm reluctant to guess what the substrate or plating is, but a university in your area will probably have an X-ray fluorescense machine which can answer your questions without polishing or destructive testing. Good luck.
It's interesting that the logo on the Captain's badge is more abstract. Someone knowledgeable in artistic styling trends may be able to say which logo is older based on art trends.
Regards,
Ted Mooney, P.E. RET
finishing.com - Pine Beach, New Jersey
Striving to live Aloha
---
---
Identifying finish on old skeleton key
January 15, 2019
Q. I'm restoring an antique rim lock and key. The key was partly rusted so I cleaned it with Evaporust. Now I'd like to restore the cleaned part to match the original half. Does anyone know what finish was used (see photo)?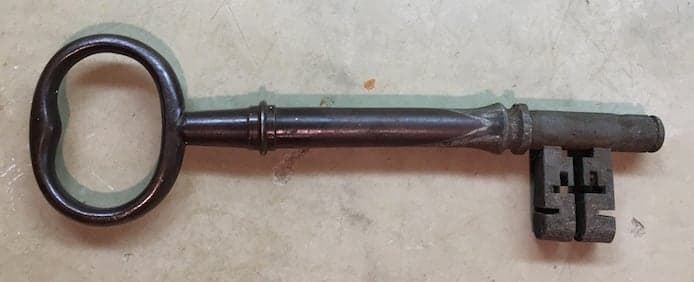 The end with the loop still has the finish I'm trying to match. While the design of the lock is mid-19th Century, I don't know if it or the key is a reproduction.
Andy Powers
hobbyist/restorer - Washington, DC
---
January 15, 2019
A. Hello Andy, looks like cast iron with a natural black finish which was done primarily with oil. With the level of rust you described, it is very unlikely that the key was plated or had a corrosion protective finish. I also noticed that the ridged part of the key is duller, possibly from wear over time disengaging the tumbler. To keep the authenticity of the key itself, I would try to hand finish with repeated oil rubs, which will help seal the pores of the iron.
Mark Baker
Electronics plating - Phoenix Arizona USA
---
January 18, 2019
Q. Thanks. Do you have any suggestions for the type of oil I should use?
Andy Powers
- Washington, DC, USA
---
January 23, 2019
A. Hello Andy, boiled linseed oil is a choice of many people.
Mark Baker
Electronic Plating - Phoenix, Arizona USA
---
---
December 17, 2019
Q. I am hoping to identify a reflective surface that serves as a background for a positive stenciled logo on a 1929 Model A. The body paint appears to be original, suggesting that the reflective surface was applied to the door and stenciled over before the car was ever painted. When I got the car, the logo (reflective surface) was covered with surface rust. It was when I removed the rust that I realized the logo was reflective.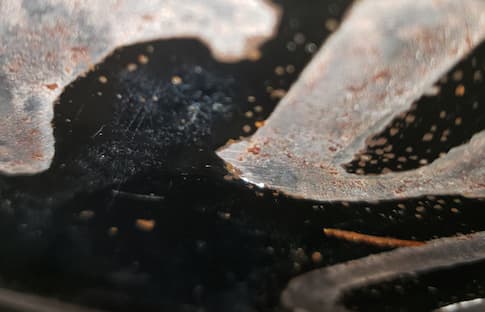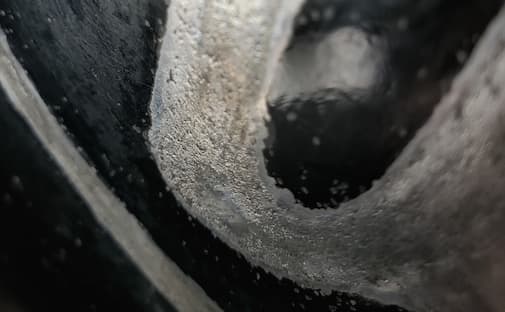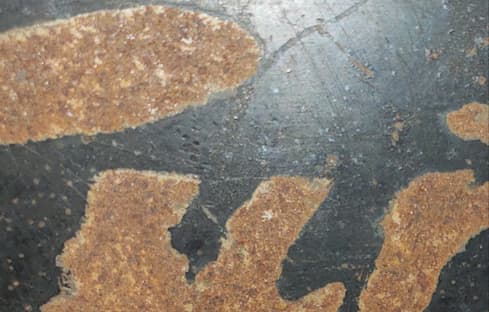 Rod Brown
- Meriden, Kansas USA
finishing.com is possible thanks to our supporting advertisers, including this shop: