World's most popular finishing site / Internet's friendliest corner
topic 34157 p3
Need help cleaning/polishing aluminum cookware
---
< Prev. page (You're on the last page)
---
A discussion started in 2005 but continuing through 2019
August 20, 2014
-- this entry appended to this thread by editor in lieu of spawning a duplicative thread
Q. I have an old Saftborn juicer that I am assuming is aluminum. The bottom pan, which holds the water for boiling, is very pitted, and I am wondering if there is a way to restore this to prevent it from getting worse. I got the pan on a garage sale, and am guessing that they must have let the pan dry out on the stove a few times to get these pits.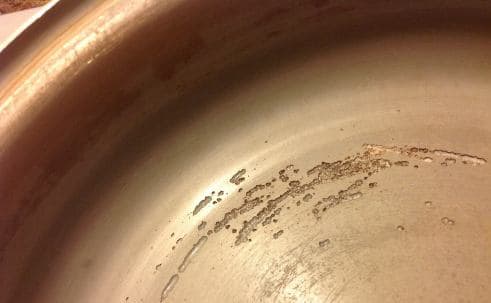 Are they "poisoning" my juice, and is there anything I can do about them?
Thanks!
Rachael Vrieselaar
- Chilliwack, BC, Canada
---
September 20, 2014
Q. I have a large pot which is porous and labeled at the bottom Household Institute Cooking Utensils Aluminum. I love this pan because my Italian sauce and meat does not stick to the bottom. I bought this at a flea market and not sure how to clean the inside. The inside of the pot is a dull gray and a few spots look white.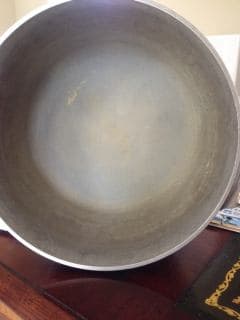 My sister has the same pan as well and bought her pan as I did at a church sale and both of us have tried numerous ways to get the pans more of the original color. Any suggestions would be greatly appreciated. Thanks! Joanne
Joanne Eydenbereg
- Palm Beach Gardens, Florida
---
---
October 19, 2014
Q. I saw someone put gasoline in a large silver aluminum bowl as he had a hole in his gas tank. My question is what can this be cleaned with, and is it safe to put food in, or is it best to throw it away. Any answer would be appreciated.
Alice Jensen
- Mankato, Minnesota Blue Earth
---
October 27, 2014
Q. I just made meatballs on an aluminum baking pan with a top with holes in it for the meat to drain. I didn't realize that I probably never put it in the dishwasher when I lived in Queens. So now that I did (I have moved to Florida), it has black stains all over it looks like it got burnt. I tried cleaning it tonight with comet and scouring pads it got a bit better but I REALLY WANT TO CLEAN IT AND HAVE IT BE all good. I am not buying a new pan. What can I use? Thanks, I will never put it in the dishwasher again :-(
DONNA SHARP
- DELRAY BEACH Florida
---
October 27, 2014
Q. I will try the CREAM OF TARTAR THANKS WHERE DO I GET THAT -- HARDWARE STORE OR FOOD STORE?

THANKS.
DONNA
DONNA SHARP
- DELRAY BEACH
---
November 29, 2014
Q. I recently cooked lobster in my Wagnerware Magnalite roaster that I inherited from my parents. It still has a faint odor of the lobster. Will that odor permeate into the turkey? And how do I get rid of the odor?
giny tabor
- pembroke, maine, USA
---
February 8, 2015
Q. Has anyone tried this method on their Wagnerware Magnalite pans? Any luck?

castironcollector.com/aluminum.php

Brenda Holbrook
- Columbia, Connecticut
---
---
March 9, 2015

Q. Now that I have the aluminum pot sparkling, how can I freshen up the oxidized black handles on my aluminum pots?

Elizabeth Johnson




- Weimar, Texas, USA




---
March 25, 2015
-- this entry appended to this thread by editor in lieu of spawning a duplicative thread
Q. I have an aluminum 1-1/2 quart pot in which I burned coffee. The pot was completely burned inside. I have been able to remove most of the burned substance but there is a black ring around the inside bottom of the pot. How can I remove it? Please let me know if it can be cleaned.
thank you so much,
Nora Lennon
- Santa Cruz, California Santa Cruz
---
April 15, 2015
! The name of the company that makes Magnalite is General Housewares Corp. Their address is 1536 Beech Street, Terre Haute, IN. 47804. Hope this helps anyone trying to use the warranty to get them refinished.
CHARLES P.
- HOUMA, Louisiana
---
May 6, 2015
Q. I found my mother's hammered aluminum (Club) and it was full of calcium deposits looked like mold and black spotting. I got all of the calcium and mold off with vinegar. It is left with black spots and very dull and rough on the inside. I would like to use it again but I want it to be clean and safe to use. What is your best advise?
Stephanie Beam
- Auberry California
---
June 6, 2015
Q. I am looking to purchase some Magnalite cookware and notice some have pitting and I am wondering if or how the pitting will affect the functionality of the pot.
Jan Moore
- Burlington, North Carolina
---
June 7, 2015
Q. I have a Magnalite pot that was my grandmother's. Of course it has been used for years and has the black build up on the outside bottom. My husband tried the oven cleaner in the plastic bag trick and left it out in the sun for a day. It now has "run" tracks from where the cleaner ran, and is pitted and darkened around the outside top. Please give any advice that will help us restore it. He is currently polishing it with some metal polishing compound he has. The lid is now shiny and the runs are less pronounced. It never had a shiny finish all the years I have had it, will take some time to get used to. I suppose with use it will return to what it looked like when I received it. Any knowledgeable advice is welcomed and thanks in advance.
Cheryl Heilig
- Waterloo Illinois
---
June 20, 2015
Q. I have my grandmother's large oval cooker with a lid. It has a black coating on the bottom,partially scrubbed off. It also has some rust on the outer rim of the bottom. I love cooking with it. It is ClubCraft and most likely from the 30's-40's. Is the black coating possibly from cooking over a fire? How do I remove the rust?
Marilove E. Challenger
- Boise,Idaho USA
---
---
Burnt aluminium saucepan
September 25, 2015
-- this entry appended to this thread by editor in lieu of spawning a duplicative thread
Q. I left mashed potatoes in my lovely 80 year old aluminum saucepan and it burned black - boiled it with salt and got the mass off, but the burned stains are still there.
Will baking soda work - have been reading the answers to other questions and it seems hopeful.

Betty Brady
bad cooking - Griffith, New South Wales, Australia
---
---
August 22, 2016
Q. Hello,
I have a question on a cast aluminum dutch oven. It was a gift about 45 years ago and I have used it a lot, most recently for slow cooking spaghetti sauce. My hubby, bless his little heart, washed it for me. He used Comet! The result is a black interior. I tried vinegar, baking soda and Cream of Tartar. Nothing takes the black off.
I'm primarily concerned that the reaction of the Comet with the aluminum somehow made this pot hazardous to cook with. Maybe a weird sort of chemical reaction turned it black. Any advice would be greatly appreciated.

Mary Nelson
- Coeur d'Alene Idaho USA
---
---
White stains on Aluminium cooking pots
January 31, 2019
Q. Hi All.

We are manufacturers of aluminium cookware like cooking pots in Kenya.

We are manufacturing our circles by way of holding and melting furnaces and water cooled moulds. We have hot rolling mills and cold rolling mills and an oil fired furnace.

We are using coconut oils for deep drawing on our mechanical presses and an etching solution for our washing/degreasing lines.

However, we are seeing that there are white stains on the etched product which we are need to help with.

Any consultants out there with experience with such issues please contact us.
Milind Majithia
- Mombasa, Kenya
^- Privately contact this inquirer -^