topic 34017
How to do Gold Plating of Vinyl Records
(2005)
Q. HI THERE. CAN ANYONE HELP, I AM TRYING TO START UP MY OWN BUSINESS SELLING GOLD AND PLATINUM ON VINYL RECORDS. DOES ANYONE KNOW WHAT EQUIPMENT I NEED TO BUY TO DO THIS, PLEASE PLEASE CAN SOMEONE HELP AS I WANT TO GET MY BUSINESS UP AND RUNNING.
MANY THANKS
Mark H
[last name deleted for privacy by Editor]
just starting up, no name as yet - Newport, GWENT, UK
---
(2005)
A. There are two generic ways of doing it, one is to use vacuum metal deposition, but that is expensive to set up. The second way is to use "plating on plastics" technology. This is not so expensive, but you need to know how to do it. The basic principle is that you etch the plastic, coat it in a conducting metal layer and then thicken the metal layer with a suitable metal such as copper or nickel. This can then be coated in a decorative layer of gold, silver, platinum etc.

Trevor Crichton
R&D practical scientist
Chesham, Bucks, UK
---
(2004)
-- this entry appended to this thread by editor in lieu of spawning a duplicative thread
RFQ: I would be interested in buying the equipment necessary to gold plate vinyl records. Any help appreciated. Thanks
Trevor W
[last name deleted for privacy by Editor]
hobbyist - Belfast, Antrim, United Kingdom
---
(2004)
A. Hello Trevor.
As for gold plating vinyl records, yes you can do it yourself; but there are safety issues and environmental issues and a relatively small market. The result is that you tend to not find 'packaged solutions'. Rather, you tend to buy an etchant from here, a lacquer from there, a silvering solution from a third place, the gold plating process from a fourth, and the tanks and other equipment from a fifth place. Plus, in the U.S. at least, you need a host of permits because plating was the first categorically regulated industry here. In short, pretty good knowledge of plating is pretty much a prerequisite, and it's hard to gain that from a few paragraphs on a website.
There are actually a number of possible metallization techniques before plating, as described in our FAQ, "How to Plate Flowers, Leaves, and Organic Materials".
You can certainly talk to suppliers of metallizing solutions like G.J. Nikolas; then speak to precious metal specialists like Technic; and to suppliers of small hobby-level plating systems like Gold Touch. But I really don't think you'll find what you are looking for in any catalog; I think you'll find that you need to apply yourself towards learning electroplating first. Best of luck!
Ted Mooney, P.E. RET
finishing.com
Pine Beach, New Jersey
---
---
May 12, 2013
Q. Hi! Not a finisher at all (though I admire the work done!). But super-curious about something....

Was reading about Third Man Records release of their "metallized" Great Gatsby vinyl albums. Curious how people here think they might have done this, if it's true what they say about using real gold and platinum in the mix somehow?
Obviously they're not solid (for $250 for the set!). Metal powder mixed with vinyl? Some electrodeposition process, like the old CED videodiscs?

Thanks for bearing with me.
Cara Mellow
total curious amateur who likes records - Hartford Vermont
---
May 12, 2013
A. Hi Cara. Gold and platinum records have been around for a long time as a decorative item, but I didn't know them to actually be playable before (although they may have been). Third Man claims that they use real precious metals, so it sounds like they are doing an electroplating process. I'm only guessing, since they don't say, but perhaps they apply a two-part silvering solution (silver nitrate plus a reducing agent) such as is done to lacquer masters in conventional vinyl record manufacture, followed by a thin nickel electroplating, followed by the gold or platinum electroplating.
The silver and gold would be very thin and probably can be done without disturbing the sound noticeably, but I wonder a bit whether the requisite thickness of nickel plating can be done without a problem or whether they need to cut the grooves differently to allow for the nickel plating thickness? Or maybe they just sputter a very thin coating of gold on the finished vinyl record.
Regards,
Ted Mooney, P.E. RET
finishing.com
Pine Beach, New Jersey
---
May 14, 2013

Thank you! And thanks for the interesting site. Used to do hand-gilding aaaaages ago (with the sheets/agate/squirrel-hair brush). Should really get back into it.
Cara Mellow
- Hartford Vermont
---
May 15, 2013
A. When I worked for a major supply house, plating silver, gold and platinum discs was a frequent request.
There is no need to metallise a plastic disc - tho' that would be easy enough. We simply used redundant nickel stampers that were used to mould the disc. The discs were neatly framed for presentation and it never occurred to us that someone might want to play them. Hence the embarrassment when the winner of a heavy metal rock award tried and found that his record was an esoteric classical piece. Probably did wonders for his musical education!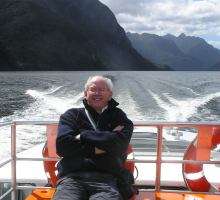 Geoff Smith
Hampshire,
England
---
May 15, 2013
A. Now that's funny!

Thanks for the inside info on gold record manufacturing, Geoff. If I recall the terminology properly, a copper or nickel "mother" is electroformed from the original lacquer master and could in principle be used for stamping. But due to high volume needs, it's more common to electroform one or more "fathers" from the mother, and then electroform a number of "daughters" / "stampers" from the fathers. It sounds like the fathers would be the right polarity or sex to play just like a vinyl record.
The Great Gatsby is an excellent movie (if you see it in 3D you'll appreciate the artwork on that album cover). The music was good. Rap does little for me, but the director explains that jazz was new and avant-garde back in those days, and the bohemian feel he was trying to convey might be lost if the music was what has become, by now, elevator music. Supposedly rap is to today's ears what jazz was to people's ears in the 1920's -- or something like that -- so that's why it's in this movie about the 1920's :-)
Regards,
Ted Mooney, P.E. RET
finishing.com
Pine Beach, New Jersey
---
September 10, 2014
A. Forget all that. Get an old record presser and press aluminum. When you play an aluminum record you can only hear it backwards. This way you can gold plate the aluminum. It is very difficult to avoid drowning the grooves with gold or silver. Good luck.
Johnson Ben
- Deerfield Beach, Florida
---
---
April 29, 2016
Q. Hello,
Does anyone know who actually the producers for electroplating equipment are? Long time ago I have worked with AB Europa Film from Sweden. Still exists someone on the market?
Thanks

Valentin Cotarta
- Brussels, Belgium
---
April 2016
A. Hi Valentin. There are dozens of manufacturers of electroplating equipment around the world, but I don't think that is really your question. I think you are asking about manufacturers specialized in a specific type of equipment, but I'm not sure what. Are you interested in getting into the gold plating of vinyl records (the topic of this thread), or the electroforming of masters for vinyl record stamping (since you mentioned EuropaFilm), or masters for CD molding, or some other type of electroplating/electroforming? What are you looking to make please?
Regards,
Ted Mooney, P.E. RET
finishing.com
Pine Beach, New Jersey
Striving to live "Aloha"
---
April 29, 2016
Q. Thank you for your reply. I'm interested in moulds electroforming from nickel for vinyl. Meaning, a long time ago AB Europa Film did electroplating baths. Long time ago I have worked in Recording House factory electroforming department. I'm looking for the devices like this: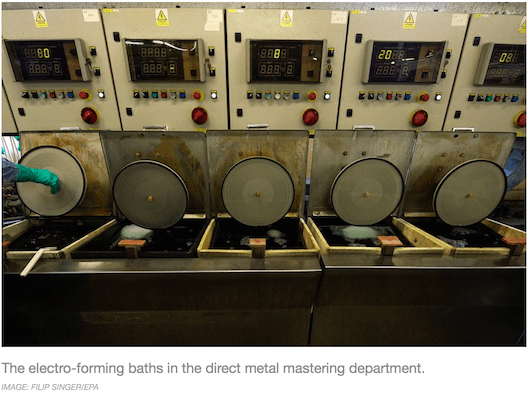 "Largest Vinyl Record Factory In The World [GZ Media, Czech Republic]"
Thanks
Valentin Cotarta
[returning]
Chem engineer - Brussels, Belgium
---
April 2016
A. Hi again. I believe that Digital Matrix (Farmingdale, NY, USA) and Record Products of America (Hamden, CT, USA) are still in business for the electroforming equipment portion of such projects. There may be others. But I have also read in several places that certain pieces of the equipment required for vinyl record manufacturing have not been built anywhere in the world since the 1980's.
Regards,
Ted Mooney, P.E. RET
finishing.com
Pine Beach, New Jersey
Striving to live "Aloha"


This public forum has 60,000 threads. If you have a question in mind which seems off topic to this thread, you might prefer to Search the Site