topic 3435
Pretreating laser-cut material for powder coating
An ongoing discussion from 1999 through 2015 . . .
(1999)
Q. We have started manufacturing parts using a laser; the parts have a carbon build on the edges, our present system is an alkaline, rinse, phosphate, rinse, seal. This system will not remove the carbon. Any ideas?
WAYNE DUGUAY
- HOUSTON, Texas
---
(1999)
A. Wayne - What you are getting is known as "laser smut". This can easily be removed abrasively, or by using an acidic cleaner (sometimes called a de-smutter). Your chemical vendor should have noticed this and made an appropriate recommendation to reduce defective parts during a service visit. Be sure to rinse the parts well before putting them in the washer though -- it would play havoc with the alkaline cleaner. Good luck.
Dan Brewer
chemical process supplier - Gurnee, Illinois
---
(1999)
A. My experience with laser cutting was on SS and it suffered from a similar problem. Edges had to be grit blasted. We worked with the vendor. He changed power settings and feed rate until we got an edge that we could live with. It would sulfamate nickel plate with adhesion.
James Watts
- Navarre, Florida
---
(1999)
A. The easiest way to remove carbon deposits might be to heat the parts up in a furnace and burn the carbon off, if the parts can be heated. Then you would have to strip any oxides you form off the surface but it will definitely burn off the carbon.
John Davis
- Berthoud, Colorado, USA
---
(1999)
(1999)

I'm surprised that no one hit this one right on the head, but the correct answer is in the first response from Dan Brewer. When you cut parts with a laser you are generating a very high temperature at the edges of the piece. This causes an oxide to form. What's that? Same that happens when you heat treat steel in the presence of oxygen, heat scale (oxide). Heat scale is a form of iron oxide, which cannot be removed (very effectively) with alkaline cleaners. Just like the heat treater, you'll need to "pickle" the scale off your parts now or shot blast every part that is laser cut.
This is very common and what surprises me the most about the laser cutting machinery industry is that they don't tell their customers much about how switching to laser cutting will change their lives as finishers. Sure they get a more precisely cut part, but unlike their die cut parts, they'll have to change their finishing process to get their paint to stick to the laser-cut edges.
Everyone that I can think of that has changed to laser cutting has had edge paint failures which forced them to look into this very same problem.
Good Luck.

Craig Burkart
- Naperville, Illinois
---
(2007)
A. Laser Cutting mild steel is commonly done using O2 as an assist gas if you need oxide free smut free edges that will not create a problem for powder coat or other finishing processes you will need to use Nitrogen as your cutting assist gas this will shield the edge from oxidation. Traditionally this has been expensive but with PSA Nitrogen Generation it is now very cost effective and is the only sure solution to this problem.
Joseph Moretti
- Rockaway, New Jersey
---
---
(2007)
-- this entry appended to this thread by editor in lieu of spawning a duplicative thread
Q. Can you recommend a pretreatment cleaning process for laser cut parts? The laser cut edge leaves an oxide area that causes adhesion problems. Often the cured powder coating will chip off these edges when they come into contact with each other. We have a four-stage washer using alkaline cleaning and phosphatizing. Most (98%) of our parts are HRP&O steel, with the remaining 2% being CR and aluminum. We also have heard that if we cut with nitrogen on the laser it will reduce the oxidation of the material; however, nitrogen is also 60% more expensive than oxygen.

regards
velu
Velu Krishnamoorthy
- Kuwait
---
---
July 8, 2013

-- this entry appended to this thread by editor in lieu of spawning a duplicative thread
Q. Regarding 12 ga. Carbon Steel panels that have been laser cut in patterns ... What is the best metal prep/cleaning prior to powder coating?
Thom Foulks
- Stockton, California, USA
---
July 12, 2013
A. Thom,
One way is to file the edges and make sure they nice and smooth and all the panels fit together. You may need to deburr a bit. Next, you can use a rotary tool to polish around the weld seam areas. I would start light, maybe even use Scotch-Brite only (not the heavy duty type to start). You mention laser cutting so you might also want to use a wire brush. Remember, go light to start, not too heavy. Let me know, I can grab some tools, stop by and give you a hand.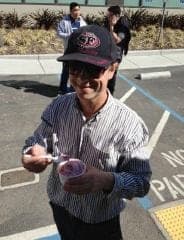 Blake Kneedler
Feather Hollow Eng.
Stockton, California
---
---
July 15, 2014
Q. Has anyone had good results using an Acidic cleaner (De Smutter) in their wash system to remove laser carbon? We produce thousands of pieces from our laser, and manually grinding isn't a good option. Is there not a good chemical to possibly hand wipe the parts, if the Acidic Cleaner doesn't cure the problem?
Wally Melton
- Chuckey, Tennessee
---
---
Powder coat poor adhesion - What is this?
August 6, 2015
-- this entry appended to this thread by editor in lieu of spawning a duplicative thread
Q. Good day. We make many products for the electrical industry including sheet metal enclosures.
We are having issues with powder coat peeling from the edges of laser cut parts. The parts are cut on a new hydrogen laser and the edges come off very clean - no slag. These are 11 gage 1010 steel.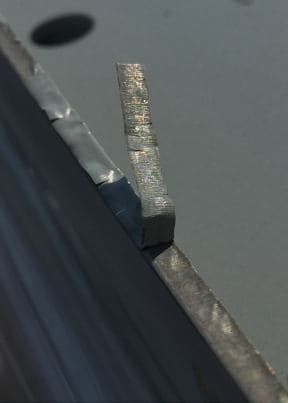 Our Powder coater sent this picture of with what appears to be some sort of contaminant but we are a loss as to what it might be.
Any input would be appreciated.

Thank You
James
James Huening
Quality - Cincinnati, Ohio, USA
---
August 6, 2015
A. James,

I would say that from the image you have provided, the contaminant appears to be carburisation of the parent metal. I'm not familiar with the operation of lasers, least of all hydrogen ones, but I assume that there is another type of gain medium present other than just Hydrogen, for example Carbon Dioxide?

If so, it's possible that the carbon dioxide is being absorbed into the parent metal during the cutting process (due to the heat).

This being the case, there are a number of actions you can take to remedy it, most of which are detailed in the replies above -- such as altering the current/feed rate in order to minimise the effect, or blasting (may be difficult with such a thin product).

I hope this helps,

Michael
Michael Whitworth
Heat Treatment Manager - Glasgow, Scotland, UK


This public forum has 60,000 threads. If you have a question in mind which seems off topic to this thread, you might prefer to Search the Site