Where the world gathers for
plating, anodizing, & finishing Q&As since 1989
"Does hot dip galvanizing work for stainless steel?"
-----
Q. Does hot dip galvanizing stick to stainless steel? We have some parts that are a mixture of plain and stainless steel. I have heard that galvanizing will peel off of stainless, if it sticks at all, but I am not sure if there is any validity to this statement.

If hot dip galvanizing does not stick, can anyone recommend a process to coat sections of welded plain and stainless? The product is made from 3" schedule 40 pipe, and has elbows and bends. There are also pieces of plain steel (brackets, clips, etc.) that are welded to this 3" schedule 40 pipe. Because water runs through it, the plain steel sections must be coated.
Carey Ryerson
- Englewood, Colorado, USA
2005
"Handbook of Hot Dip Galvanization"
by Maass & Peissker
from Abe Books
or

Affil. Link
Your purchases make finishing.com possible
A. Carey,

One does not weld plain steel (I assume you mean mild steel) galvanized or not to stainless steel. Galvanic corrosion will be the result. If you need to fix mild steel parts onto stainless parts, go the mechanical way: clamping, bolting etc. If the parts are exposed to a corrosive environment (outdoors, high humidity, etc.) be sure to avoid direct contact between the two materials. Separate them using non conductive (i.e., plastic) washers.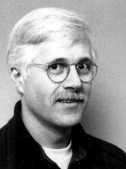 Remmelt Bosklopper
- Enschede, The Netherlands
Q. Remmelt,

I was always told that if two dissimilar metals are to suffer galvanic corrosion, there must be an electrolytic path between them. By galvanizing the welded assembly, I would then be sealing the unit and removing the path of travel for the metal ions. Is this incorrect?

Thank you,
Carey Ryerson
[returning]
- Englewood, Colorado, USA
"Hot Dip Galvanizing
A Guide to Process Selection & Galvanizing Practice"
by M. J. Hornsby
from Abe Books
or

Affil. Link
Your purchases make finishing.com possible
A.
Hi Carey. I would agree with that. If the whole surface is coated with zinc, there is no galvanic action.
Although I don't know the feasibility of galvanizing stainless steel, lots of parts are made with dissimilar metals as long as the whole surface is coated with the same metal. Many bright decorative things like slot machines are made by brazing steel pieces together then nickel-chrome plating them so the different electrochemical potentials of brass and steel do not cause a galvanic problem. The weldment/assembly can be electroplated for corrosion resistance.
Regards,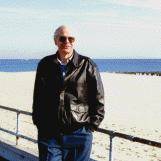 Ted Mooney
, P.E.
Striving to live Aloha
finishing.com - Pine Beach, New Jersey
---
2005
Q. To clarify a little ... I am using 304 SS, and this should have enough nickel to allow for galvanizing. Our vendor is having to dip the piece twice. The first coat covers the plain steel and puts a splotchy coat on the stainless. They let the part cool enough to handle, then dip it back into the zinc. On this second coat, the zinc sticks to the stainless. Are there variables in their tank that I should be asking about? This doesn't make much sense to me.

Thanks.
Carey Ryerson
[returning]
- Englewood, Colorado, USA
A. The hot dip galvanizing may not stick to the stainless steel unless the zinc penetrates the passive oxide film on the SS to form a metallurgical bond.

HD galvanizing is typically not a good idea for 300 series SS because the zinc will preferentially penetrate the grain boundaries of the SS. (The same problem can occur from welding SS to galvanized steel.) If these assemblies are subjected to external forces, the mechanical properties, especially fatigue behavior, may not be what is expected. If these assemblies are used at elevated temperatures, catastrophic failure from solid or liquid metal embrittlement is possible.

Galvanic corrosion should not be problem if the whole assembly is coated. The zinc will be sacrificial for both the stainless and the plain steel. In most environments, galvanic corrosion of steel in contact with stainless is not a big problem, since the stainless surface should be passive and not available to participate in the corrosion process. The mixed weld area could be different story.

Hope this helps.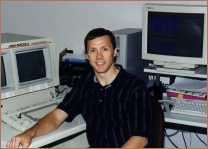 Larry Hanke
Minneapolis, Minnesota
---
---
Multiple threads were merged: please forgive repetition, chronology errors, or disrespect towards other postings [they weren't on the same page] :-)
---
---
Pickling/galvanizing 304 stainless steel
June 2, 2015
Q. What are the best parameters to pickle 304 stainless (e.g., which acids, temperatures, additives)?

What are the best parameters to hot dip galvanize 304 stainless (fluxes, temperatures, additives)?

Regards,
Dr. Thomas H. Cook
Galvanizing Consultant - Hot Springs, South Dakota, USA
A. Thomas,
Refer to ASTM A380 [affil link] for pickling mixtures. These are typically nitric or nitric/hydrofluoric. The exact parameters necessary would depend on the specifics of your parts.

And remember, pickling is for descaling. If what you are after is corrosion resistance, that is passivation. See ASTM A967 [affil link] .

Stainless isn't typically ever galvanized, though the responses above do imply that it's possible if for some reason you really really want to. I always say though, if you are going to put a coating on stainless and rely on that for corrosion protection, why use stainless in the first place?

Ray Kremer
Stellar Solutions, Inc.

McHenry, Illinois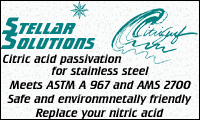 ---

Thanks for the very helpful pickling & passivation specs and the suggestions, Ray!
But for readers from other disciplines who therefore might not know Dr. Cook, he is arguably the world's best known & most respected galvanizing expert. I'm reading his quest for details as partially skepticism about the practicality of galvanizing stainless steel :-)
Regards,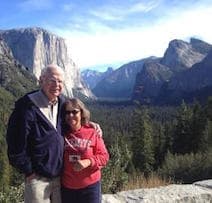 Ted Mooney
, P.E. RET
Striving to live Aloha
finishing.com - Pine Beach, New Jersey
---
July 7, 2022
A. Overpickle in hydrochloric for 3 days and turn the kettle down to 820 °F. Aircool - no water quench. It will galv.
D. S. W.
- Houston, Texas
Ed. note: Since 1989 we've strived to build a legacy of aloha & camaraderie incompatible with anonymity; everyone is welcome to read anonymously, but is asked to use their real name & town when posting :-)
---
---
July 14, 2016
Q. This has been great information. I had the bow roller assembly on my boat trailer modified to accept a new winch.

At that time I wanted to add a pivoting dual bow roller assembly.

TO be helpful, the fabricator WELDED two stainless bow roller holders onto a custom pivot bracket then WELDED the pivot bracket (304 stainless) to the Mild steel vertical post to which the winch is mounted.

SO basically the bow of the boat, when loaded onto the trailer, comes to stop on a pivoting dual bow roller assembly made of 304 stainless that was WELDED to the mild steel vertical post on the trailer (to which the winch is also mounted)

I cannot galvanize part of the assembly. Can I galvanize the 304 stainless that has been welded to mild steel?
chris niakaros
WJC - Kuwait City Kuwait
---
July 25, 2016
Q. Hello! Regarding mixed-metal problems, I bought a used tow-bar online from a vehicle dismantler in Swansea. The tow-bar was rather rusty so eventually I got around to dismantling it and cleaning it up. Someone had made the mistake of fitting a large stainless steel bumper protector plate but it has caused severe corrosion on the mild steel. (probably a Chinese Rustqwik brand made from shredded cars) Once the affected parts have been shot-blasted a few weld beads can be added to restore the strength (the same dodge is used on steel boats that have had bronze seacocks fitted)

The stainless plate is still going to be the problem. Trying to insulate it when it is clamped-up with two M16 (5/8") bolts will be impossible but what if it was shot-blasted and painted?

I live in an area that has high humidity and severe marine corrosion.
David Benyon
- Bude Cornwall England
---
August 2016
A. Hi Folks. I think, where practical, I would use zinc-rich cold galvanizing compound on any steel parts, and also paint any stainless parts to reduce the galvanic incompatibility.
Regards,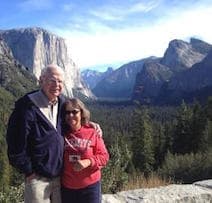 Ted Mooney
, P.E. RET
Striving to live Aloha
finishing.com - Pine Beach, New Jersey
---
---
July 28, 2016
Q. Dear Sir,
I would like to know can we do Hot dip galvanising to the Junction boxes made out of SS 304 grade? Is there any chance of Galvanic corrosion ?
With warm regards,
Ashutosh sharma
- Bangalore India
---
July 2016
A. Hi. As long as only one surface remains exposed (the galvanizing in this case), you can't have galvanic accelerated corrosion. But this page has been on the web for over a decade, getting 200 or more visits per month, with nobody yet claiming that they've seen galvanizing of stainless steel truly working properly, so I remain dubious :-)
Regards,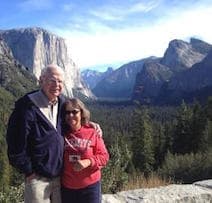 Ted Mooney
, P.E. RET
Striving to live Aloha
finishing.com - Pine Beach, New Jersey
---
August 4, 2016
A. I agree. It isn't possible to galvanize stainless steels. Nor is it sensible to do so!

Geoff Crowley
Crithwood Ltd.
Westfield, Scotland, UK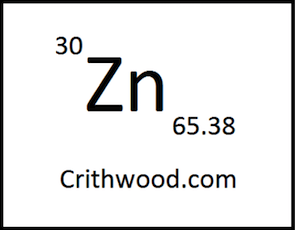 ---
---
Galvanizing a weldment of steel and stainless steel
May 31, 2019
"Hot Dip Galvanizing of Steel Structures"
by Kuklik & Kudlacek
from Abe Books
or

Affil. Link
Your purchases make finishing.com possible
Q. We have 316 SS parts welded to a carbon steel structure going into offshore environment. The items are to be Galvanised. Firstly the items are pre steel grit blasted, galvanised then sweep blasted using a non-metallic abrasive before receiving an epoxy coating system with a polyurethane topcoat. My question is the pre steel grit blasting of the small welded SS parts would contaminate the SS, would this still be a problem even after the full coating system is applied?
Ian Dawson
- Liverpool, UK
---
June 15, 2019
A. Hello Mr Ian,

On the contrary, my personal experience is that the blasting on SS wakes up the surface and improves adhesion.
4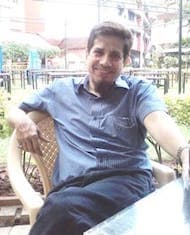 Khozem Vahaanwala
Saify Ind

Bengaluru, India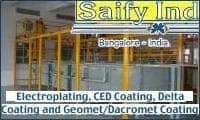 ---
June 18, 2019
A. Ian,
Yes, steel blasting of stainless will contaminate it (as opposed to blasting with stainless shot or glass bead), but since you're putting multiple coatings over the top of it, it doesn't really matter much at that point.

Which also raises the question, why bother paying the extra money for stainless steel in the first place?

Ray Kremer
Stellar Solutions, Inc.

McHenry, Illinois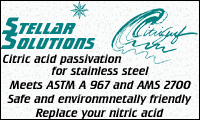 ---
---
January 20, 2020
Q. I have hot dip zinc galvanized parts consisting of 304SS welded to mild steel. The finish looks fine. Should I be concerned about mechanical integrity of the parts?
C.R. Stephenson
- Raleigh, North Carolina USA
---
January 2020
A. Hi C.R.,
Can you tell us what the parts are? Some things we wouldn't dream of doing on aerospace parts may be rather routinely done on low pressure vats, simple linkages, and farm equipment. Mr. Hanke warns of the zinc weakening the stainless against fatigue loading at high temperatures. Mr. Crowley says 304 stainless can't be gainfully galvanized and Dr. Cook seems to me to be expressing skepticism.
Are you certain that the parts are 304SS, and that the coating is applied by hot-dipping rather than electroplating or another technology? Some earlier posters have told us that the reason they ended up with a mixed-metal weldment was because they added stainless components to a galvanized boat trailer. Why are your parts mixed metal? Thanks.
Regards,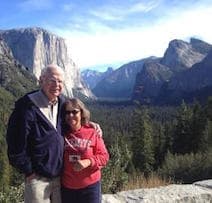 Ted Mooney
, P.E. RET
Striving to live Aloha
finishing.com - Pine Beach, New Jersey