Live! From beautiful Pine Beach New Jersey: Welcome to the world's most popular metal finishing website
topic 33883 p2
Problems in Plating on Aluminum
---
< Prev. page (You're on the last page of this topic)
---
A discussion started in 2005 but continuing through 2018
April 17, 2014
Q. Hello:

We have some parts that are manufactured out of 6061 AL, with integral Tellurium Copper inserts. Imagine a .5x6x6" piece of AL, with a 2x2" center section made of the Te-Cu, with a seamless transition from the AL to the Cu (no gaps). The customer wants to electroless nickel plate the entire part. My concern is the different pre-process requirements for AL vs. the copper. Can this be done? Anyone have any experience with EN plating of a two-metal part like this? Many thanks in advance for any help!
Joe Osborn
Manufacturer - Novato, California
---
April 29, 2014
A. Hi Joe. Sorry, I have no experience with this, and can't find reference to it in my texts or on-line. But we appended your inquiry to this thread because I think the process will start with zincating and then copper plating of the aluminum, followed by electroless nickel on everything. Copper is not catalytic to electroless nickel, so you will have to "spark" it first (apply electricity for a second or two).
I'm sure you well know that plating or chemically processing an assembly of different materials is invariably a bad idea -- but if there is no way around it, I think it can be done. Good luck.
Regards,
Ted Mooney, P.E.
finishing.com
Pine Beach, New Jersey
Striving to live "Aloha"
---
---
July 18, 2014
Q. I got some aluminum plating done and it came back discolored and sticky. Does anyone know what went wrong -- was it what I did or the platers?
kurt bailey
- sun valley California
---
July 2014
A. Hi, Kurt. A plating shop is supposed to do good plating, not discolored and sticky plating, so our first thought must be that the plating shop probably did something wrong. If you can give us some facts like what you did and what you asked the plating shop to do, a less superficial answer may be possible.
Luck and Regards,
Ted Mooney, P.E.
finishing.com
Pine Beach, New Jersey
Striving to live "Aloha"
---
---
Is ADC-12 aluminum non-recyclable?

September 11, 2014

Q. I'm researching a project for work. Can anyone tell me if ACD-12 aluminum is recyclable or has any conservation benefits? I see some areas it is, and others it's not.
Thank you!

Melanie Gann




- Lewisville, Texas





---

September 2014

A. Hi Melanie. According to benefits-of-recycling.com/aluminumrecyclingprices/, aluminum castings are one of the more valuable forms of aluminum for recycling. There may be some problem with ADC-12 but I'm personally not aware of it. Where are you seeing this info that suggests that it is not recyclable? Thanks.

Regards,

Ted Mooney, P.E.

finishing.com

Pine Beach, New Jersey

Striving to live "Aloha"

---

September 12, 2014

Q. Hi Ted,
Thank you for your response. When I'm researching, everything relates back to aluminum beverage cans and recycle and conservation benefits for them. I cannot get a clear answer on cast aluminum or ACD-12. Does it break down the same and can I use the same stats/facts, or is this a completely different type of material?
Thank you!
Melanie

Melanie Gann




- Lewisville, Texas





---

September 2014

A. Hi again. I don't know what you mean by "break down the same", and sorry but there's no way anyone can say whether you can "use the same stats/facts" when we don't know what stats you want to apply or to what circumstance you want to apply them. Clearly you won't find stats showing what percentage of people put their broken ADC-12 castings from their old cars in with their cans and cardboard for curbside recycling; still, they may well take them to the scrapyard; and manufacturers of castings probably have regular arrangements for recycling.

Please do your best to explain the details of your situation :-)
Thanks!

Regards,

Ted Mooney, P.E.

finishing.com

Pine Beach, New Jersey

Striving to live "Aloha"
---
---
What does "Zn Coverage" mean in Plating of Zn on Aluminum Extrusions
April 7, 2015
Q. What exactly is meant by Zn Coverage on Aluminium Extrusions? What is it unit for measurement and how it can be measured? Will an EDXRF do this job?
Raghunandana Subbanna
Customer Support Engineer - Bangalore, India
---
April 2015
Hi Raghunandana. Either of us can look up the word "coverage" in a dictionary, but it doesn't help, does it? Sometimes it might refer to a requirement that there must be visible zinc plating everywhere on the extrusion, with no bare spots; sometimes it might dictate a replenishment schedule of how much zincate to add for every 1000 sq. foot of extrusion processed -- just as you might read on a quart paint can that it offers 100 square foot of coverage.
Unfortunately it is nearly impossible to have any assurance what some third party meant when we hear two words transcribed out of context like this. At this point neither of us knows what the requirement is, so it's not possible to say whether an EDXRF is of any value in determining compliance. Please try to figure out and explain the exact situation. Thanks.
Regards,
Ted Mooney, P.E. RET
finishing.com
Pine Beach, New Jersey
Striving to live "Aloha"
---
---
March 17, 2018
Q. I'm going to manufacture a die-cast A360 Aluminum part in China and they are telling me it can't be coated with clear zinc because the temperature of the zinc is too hot and it will disfigure the part. It's a housing part that will be matched up with a T6063-T5 heatsink which is going to be anodized. Can the part be coated with a clear zinc coating? Thank you in advance.
Gary Taverrite
- Sacramento California USA
---
March 2018
A. Hi Gary. What function or process do you have in mind when you say "coated with clear zinc"? Even without language translation difficulties, "coated with clear zinc" sounds like it might have led to misunderstandings :-(
When *I* hear that phrase, I envision electroplating with zinc (which is silvery metallic in color, not clear) followed by a light blue or "clear" chromate conversion coating so the luster of the zinc plating is retained. Zinc electroplating and conversion coating is not a high temperature process, but others might envision something else.
I also have a little bit of a problem interpreting what you mean by "matched up with". Do you mean that you want the "coated with a clear zinc" part to look similar to the anodized part (it won't), or do you mean they will be connected together (they are not very galvanically compatible).
Regards,
Ted Mooney, P.E. RET
finishing.com
Pine Beach, New Jersey
Striving to live "Aloha"
---
March 18, 2018
Q. Hi Ted - thank you for responding. Here is what it says on the drawing from my US customer.

MATERIAL: ALUMINUM A360 OR EQUIVALENT
FINISH: LIGHT SAND BLAST, CLEAR ZINC. ROHS COMPLIANT

I'm not sure how to interpret my China manufacturer's statement that you can't coat aluminum with a clear zinc costing. Furthermore my customer wants to know if I can get him samples of aluminum coated with the clear zinc in varying thicknesses -light - medium - heavy.

Sorry I'm a bit of a neophyte on this process. Thank you.
Gary Taverrite
[returning]
- Sacramento California USA
---
March 2018
A. Hi Gary. The drawing note doubtless means, as I described, zinc electroplating followed by RoHS-compliant clear trivalent chromate conversion coating. You can get a copy of ASTM B633 [link by ed. to spec at TechStreet] to understand all this better (although that spec actually covers zinc plating of steel rather than aluminum), and you will probably then interpret light, medium, and heavy as 5, 8, and 13 micron thick coatings.
However, it's possible that your customer is also a neophyte and is hoping for a voice of knowledge & experience to chime in before the parts are plated. It doesn't sound like your manufacturer in China will be offering anything remotely like that (perhaps you're dealing with a broker of some sort rather than a knowledgable plater). Further, although it is certainly possible to zinc plate aluminum, it is a rather unusual finish. So it might be a good idea to phone your customer and understand each other a bit better. At the risk of being called jingoistic, I might also suggest that you consider getting those samples plated in California, where you are and can easily visit shops, and where every plating shop already understands that drawing note and knows what to do :-)
Luck and Regards,
Ted Mooney, P.E. RET
finishing.com
Pine Beach, New Jersey
Striving to live "Aloha"
---
March 19, 2018

Thank you Ted. That is good advice and helps a lot.
Gary Taverrite
[returning]
- Sacramento California USA
---
---
Pits in nickel-chrome plating on aluminum
October 17, 2018
Q. Hi,
I'm working on a project for my company where they plate Aluminium parts, but there is a problem with the plating. The finished product has all throughout the part little specs and some pits. We've tried different processes and checked if it was in the substrate or not, sometimes the pits where in the substrate and not in the plating, but mostly it is in the plating.
The alloy comp is a 6060 Al. Any idea what the problem could be?

Process is described here:
1.soak
2.rinse
4.rinse
5.soak
6.rinse
7.rinse
8.etch
9.desmut
10.rinse
11.rinse
12.zincate
13.rinse
14.strip
15.rinse
16.zincate
17. nickel strike 6v
18. semi bright Ni
19. high sulfur Ni
20. bright Ni
21. MPS
22. chrome activator
23. chrome bath.

Best Regards,
Jacob Lopez
metal plating - Noord-Brabant, Nederland
---
---
Pitting Problem in Chrome Plating of Die Casting Aluminum(ADC12)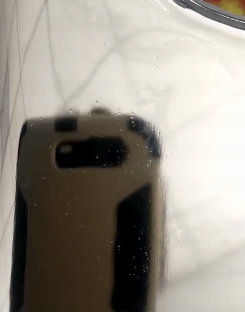 December 14, 2018
Q. Hi Everybody
We are die casting manufacturer based in china.Recently,we make die casting parts which request bright chrome plating. The problem we have on finishing is there are many pittings on surface of parts after chrome plating.
The parts use material ADC12 (similar to A380). No recycled material.
Mirror polishing (very fine buffing) is applied on the parts before plating.
The chrome plating supplier follows the procedure of chroming aluminum die castings.(Copper-Nickel-Chroming)
Is there anyone who can give us advice for the above problem?
Jason Huo
- China
---
December 2018
? Hi Jason. Sorry but I have no idea what that pic is supposed to illustrate :-(
If the pits are small but varying sizes, shiny, and hemispherical, they are "gas pits" (hydrogen bubbles growing on the surface and becoming dislodged only after they are big enough that their buoyancy floats them off, leaving behind that hemispherical indentation where the plating grew around them). Common causes of gas pits include insufficient wetting agent in the nickel plating tank, insufficient air agitation, and organic contamination of some sort on the surface of the part.
But aluminum castings must also be totally free of porosity and cold shuts in order to plate pit-free. Good luck.
Regards,
Ted Mooney, P.E. RET
finishing.com
Pine Beach, New Jersey
Striving to live "Aloha"
---
December 15, 2018
Q. Hi Ted
Thanks for your reply.
I think the reason you give is correct (hydrogen bubbles).
Please look at picture with care and you can see there are many tiny pit on surface. Called Plating supplier and they told us that the pitting problem was caused by porosity (air trapped in castings).
1)There are not any pits left on surface of casting after mirror polishing. The surface finishing is very fine after mirror polishing. No shrinkage porosity, no cold shuts, no scratches.
2)The reason of problem given by plating supplier is that the air trapped underneath surface rises out like bubbles since the castings heat up gradually during plating. The pits were left on the surface after air bubble rise out.
Is their reason correct?
Best Regards
Jason
Jason Huo
[returning]
Contracted Aluminum Die Casting Manufacturer - Cangzhou,Hebei Province,China
---
December 2018
A. Hi Jason. I guess I am looking at a reflection of a camera phone and a chicken wire type pattern on your shiny surface? Your picture is not clear enough nor large enough to see the actual appearance of the pitting, but the close placements of the pits could be hydrogen pitting. And if the pits are shiny hemispheres, that's what they are.
Is it possible that the way the parts are racked, no air agitation hits this area of the part during nickel plating. Please ask your supplier what the surface tension of the nickel plating bath is supposed to be and how to measure it. Lack of wetter and/or poor agitation is one, but not the only possible, cause of hydrogen pits though.
You are confident that the parts were free of cold shuts and porosity before polishing?
Regards,
Ted Mooney, P.E. RET
finishing.com
Pine Beach, New Jersey
Striving to live "Aloha"


If you have a question in mind which seems off topic, please Search the Site