Live! From Pine Beach NJ: The world's most popular metal finishing website, and the internet's friendliest corner
topic 33780
Removal of Rhodium plating from engagement ring
2003
Q. Hi my question is simple. Can a 14k yellow gold ring with a rhodium plated setting that holds many small diamonds be plated back to gold or can the rhodium be removed?
Melinda Martin
- New Hartford, Connecticut, USA
---
2003
A. Hi,
Yes you can plate 14k yellow gold on rhodium plated jewelry without any problem.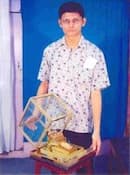 Dipen Pattni
jeweler/goldsmith - Dar-Es-Salaam, Tanzania
---
2004
A. Dear Dipen,
It's NOT easy to plate gold over an old rhodium layer - it's a really big problem! When it's so easy, please give me the process steps. You can't activate old rhodium by an acidic dip! You can't activate old rhodium in an acidic gold electrolyte!
Regards,
Holly Cramer
- Germany
---
2004
A. Dear Holly,
These are the steps which I'm using to plate gold on old rhodium plated jewelry. If the rhodium plated is old I just do a bit of repolishing and plate gold; it comes to good mirror finish. Nobody will know that there is a rhodium plated undercoat, trust me. My gold bath is plating up to 5 to 7 microns 24k. If the rhodium plating is a flash then no problem at all; if there is heavy Rh plating then I'm sure it'll not be good.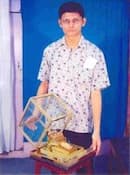 Dipen Pattni
jeweler/goldsmith - Dar-Es-Salaam, Tanzania
---
---
2005
Q. I recently bought a handmade platinum engagement ring and needed to get it resized. I took it to a reputable local jeweler and upon pickup of the ring I noticed that it was much more shiny than when I left it. He informed me that he had rhodium plated it. This was done without my consent and to me took away from the handmade charm of the ring. Is it possible to remove the rhodium from the platinum ring without damaging it? Any help would be greatly appreciated.
Will Lear
- Wilmington, North Carolina
---
2005
A. You seem to have found a good jeweler, I've rarely come across one that replates work without being asked. The rhodium plating is used to protect the ring and keep it shiny, the plating will wear off on it's own in a year or two. Let me again stress this, he didn't ruin your ring, he did a good job, the right way, the first time. Just have the patience to let the plating wear off on it's own.
Marc Banks
- Elizabeth City, North Carolina
---
2005
A. Hi Will, the rhodium would need to be removed by hand using the correct abrasives and then repolished. Not to be negative but my first concern would be that if the ring was increased in size/diameter,the jeweler may have used another material other than platinum. Rhodium plating would be used to conceal the color mismatch between the platinum and the material used to resize the ring. There would be no way to detect this unless the rhodium is removed. Not a happy thought, but it is a good possibility and I have seen it before.
Good luck,
David Vinson
Metal Arts Specialties - Leonard, Michigan
---
---
2006
Q. Hello, do you know of a process of removing rhodium plating without polishing. I have heard you can but I cannot find out the way to do it.
Daniel Maggs
polisher - Aylesbury bucks, U.K.
---
A. Hi Daniel. The answer is sort of yes. Please see letter 10337 which discusses that subject extensively. Good luck.
Regards,
Ted Mooney, P.E.
finishing.com
Pine Beach, New Jersey
We need "Aloha" now more than ever
---
September 10, 2008
Q. I left my antique emerald and diamond trilogy ring in to my local jeweller to have some worn claws replaced. He sent it to a mounter who rhodium plated the 18 kt yellow gold channel setting of the emerald before he replaced it. I was devastated as it just isn't the same ring, even though it did display the clarity of the emerald brilliantly. Can he successfully remove the rhodium without damaging the ring?
Anne O'Loughlin
- Nohoval, Co.Cork, Ireland
---
---
2005
-- this entry appended to this thread by editor in lieu of spawning a duplicative thread
Q. My rhodium plated platinum engagement ring is too shiny!
I went to my jeweler to fix my engagement ring and without asking me he rhodium- plated my lovely antique platinum engagement ring. Now it is too shiny! I preferred the dull grey look of my 40 yo ring. Is there any way of restoring its original color or with time will it return to its grey color? Or will it oxidize like silver rings to a yellowish color? Also has this devalued my ring?
Thanks
Emma Monesterio
student - NSW, Australia
---
2006
Q. I received a white gold ring just yesterday. I have always been sensitive to costume jewelry. I have noticed a small bit of itching when ever I put on the ring. Is there a way to have the inside of the ring "cleaned" of the rhodium so that it is the customary yellow gold? I have no problems with yellow gold at all.
Lorri Penner
concerned woman - Lethbridge, Alberta, Canada
---
A. Hi, Lorri. Most white gold rings are actually manufactured from white gold which, in North America, usually contains nickel (yellow gold usually doesn't). You may have nickel sensitivity. If the rhodium plating were removed, the ring would still contain nickel, sorry to say.
Regards,
Ted Mooney, P.E.
finishing.com
Pine Beach, New Jersey
We need "Aloha" now more than ever
---
2007
Q. I bought a new ring and had them size it. I left the ring and returned a few hours later to get the ring and it was not at all what I took in there. My ring was brand new; when I went to pick it up there was no shine at all, it was dull and looked very old and dark. They told me their rhodium must be bad. They have sent my ring to have it fixed. Has this messed my ring up? Can they fix it back to the way it originally was? Did this cause my ring to lose value? thanks.
Jeannie Casto
- Leslie, Arkansas
---
April 5, 2009
Q. Hello. I just received my engagement ring and took it to get sized. It is 18k white gold. The ring has diamond accents and rhombus shaped "cut out" designs down the sides of the band. After I picked it up from being sized, the sides where the rhombus designs are now look dark and dull. They no longer match with the diamond accents and look very dark next to the diamonds. I called the jeweler back and they told me to bring it back in. I'm concerned that it may get damaged. Does anyone have any advice on something that I can ask them to do in order to restore it to its original bright color?
Lisa Murphy
self - Clearwater, Florida
---
April 13, 2009
A. Hello, Jeannie; hi, Lisa.
Most white gold these days has rhodium plating on it. It sounds like in both these cases either the rhodium plating was defective or is missing.
Please see our FAQ: "Rhodium Plating and White Gold" for a good understanding of the subject. Good luck.
Regards,
Ted Mooney, P.E.
finishing.com
Pine Beach, New Jersey
We need "Aloha" now more than ever
---
---
November 18, 2015
Q. Hi))
I have a 6 ct. Black diamond ring with a white Diamond halo. It is custom that I picked up today and the 4 prongs they rhodium dipped black to blend with the center black stone. That is not what I wanted. How will they get it off to be white gold prongs again?
Tiffany Miller
- Phoenix Arizona
---
November 2015
A. Hi Tiffany. They'll probably have to polish it off abrasively, and then re-plate with "white" rhodium plating.
Regards,
Ted Mooney, P.E. RET
finishing.com
Pine Beach, New Jersey
We need "Aloha" now more than ever
---
---
Rhodium plating on 14 kt white gold necklace. Is it removable?
August 14, 2017
-- this entry appended to this thread by editor in lieu of spawning a duplicative thread
Q. Again, is rhodium plating removable? I've read so many differing opinions! Recently I had 14 small diamonds (total .99ct), handcrafted in bezels, plus custom chain by the yard making a 16" necklace. It is 14KT white gold/rhodium plated. Now I wish it were 14 KT yellow gold. Can a jeweler remove the rhodium plating?
Marcia Langenhagen
customer - Hingham, Massachusetts, USA
---
---
October 7, 2018
Q. I dropped off my grandmother's 1920 white gold engagement ring (which I wear every day with her band along with my own white gold band) with a well-known, high end, popular jeweler because the bottom of the band wore away and cracked. I wanted to use a family owned company that understood the importance of my family heirloom. They knew I wore her band with the engagement ring, since I had them check the band thickness of that too.
When I got the repair back, they had rhodium plated it, not telling me it would change the color and patina of the ring. Now my 1920 ring looks like a weird reproduction piece that doesn't match the band it is supposed to go with! I didn't notice it until I put in on at home and saw how much different it looked, and I hate it. I'm so upset. I took it upon myself to try and remove some of the plating with a polish, and now what I have is a ring that looks like old, dull, sterling silver and still doesn't look like the ring it once was, nor does it match the band. Should I take it back and ask them to remove the plating by polishing it?
Susan Belej
- Morristown, New Jersey, USA
---
October 2018
A. Hi Susan. I don't know what they did or what you wanted them to do to repair the band that was worn through, but I'll guess that they soldered it rather than replacing it? If so, the solder repair won't match the white gold of the ring, which is probably why they plated it.
Getting two pieces to match that haven't had the same process applied to them is difficult to impossible. Your choices may be to have the engagement ring re-cast or to have both rings plated. Maybe another reader can be more encouraging.
Regards,
Ted Mooney, P.E. RET
finishing.com
Pine Beach, New Jersey
We need "Aloha" now more than ever


If you have a question in mind which seems off topic, please Search the Site