topic 32971
Color Anodizing in Home Shop
A discussion started in 2004 & continuing through 2017
(2004)
Q. I would like to anodize a set of aluminum grip panels on a USPSA Open class racegun. The gun has a red C-More dot sight on a hard chromed slide/frame. I would like to blue anodize these grip panels to give it a "Stars and Stripes" theme. The obstacle is that there are no avenues for this process anywhere near my vicinity. I was told that I could do this in my shop but I'm rather skeptical about the outcome and overall quality of the finished product. Any help would be greatly appreciated!
Tom Haman
GUNSMITHING - Coralville, Iowa, USA
---
(2004)
A. Sure you can do it in your shop - just as soon as you acquire a few hundred hours of knowledge and spend a few tens of thousands of dollars, and get the necessary environmental permits.
Seriously - a quick web search will lead you to an anodizing shop you can UPS your parts to and get them done right.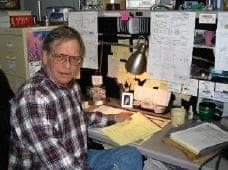 Jeffrey Holmes, CEF
Spartanburg,
South Carolina
----
adv.
Gold Touch [a finishing.com supporting advertiser] will sell you all you need for hobby anodizing ... but there's a lot more to becoming an artist than just buying a paintbrush :-)
---
(2004)
A. It's not too hard to do it yourself..as already noted its the environmental issues that can hinder you. I have a basic "garage" style setup that cost me under $500 to setup...and yes it took me many many hours of research to get the results I wanted. If you want to outsource the job maybe try looking through paintball magazines/websites. They are used to doing small batches and can be fairly affordable.
Do you have any idea which aluminum alloy it is? Some alloys anodize much much better that others.
Jason Aube
- Flint, Michigan
---
(2004)
A. Here's a web site with tons of helpful info and chemicals to get you started. They also have a Yahoo forum that is full of lots of great people eager to help, as well as great info: www.focuser.com/anodize.html
Ray C
[last name deleted for privacy by Editor]
- Lake Havasu City, Arizona, USA
----
Ed. note July 2015: That link is broken as indeed virtually all links break quickly. So we ask that any postings on our site include at least the title of an article and a brief abstract so they are not just bandwidth and time wasters for our readers. Although broken links per se are easy to scan by machine, finding links that have been sold to link farms or malware sites is a pain and such links ruin our google placement, making it's harder to find this page as well :-(
But meanwhile, we have a dozen extensive threads about hobby anodizing. Thanks!
---
---
May 29, 2015
Q. Dear sir,
I would like to ask, can a powder coat powder be mixed in water and used as dye for anodising aluminum? Or is there other suitable Dyes that can be used other than anodising dye?

Thanks for you answer.
mario tomas
home anodising - manila,Philippines
---
July 2015
A. Hi Mario. Powder coating powder is plastic and it will not dissolve in water. And the particles are too big to enter the anodizing pores. But if you are just playing around, getting familiar with anodizing, then fabric dye can be used although it's durability is questionable. Good luck.
Regards,
Ted Mooney, P.E. RET
finishing.com
Pine Beach, New Jersey
Striving to live "Aloha"
---
---
December 22, 2017
Q. I have read many threads on how to fix anodizing problems, but I have come to understand that a solution that works for them might not work for me. I have detailed my anodizing process hoping someone can help improve my process. Any advice on how to improve my anodizing process for relatively cheap would be deeply appreciated
Goal
The result I am trying to achieve is a glossy/bright dye finish. I am anodizing Alum 5005 14 gauge Approx. 8 Square foot and Alum 6063 extrusion approx. 10 Square foot. I want to make custom business signs (outside signs). I choose these two materials for two reasons: they anodize well and can be used for structural. If there are better alloys I am open for suggestions
Problems
I have a discoloration problem: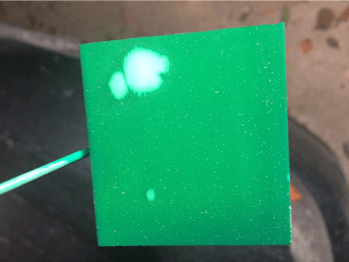 Fig 1: Before I used a rag to wipe the excess powder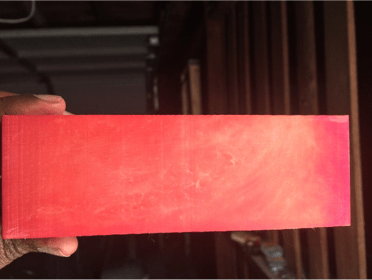 Fig 5: before I wipe the extra powder away
Another problem I have is when I am done dye anodizing and sealing the part, there is powder left on the part: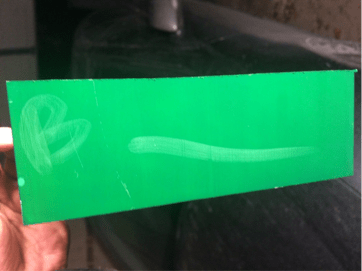 Fig 3 before wiping the part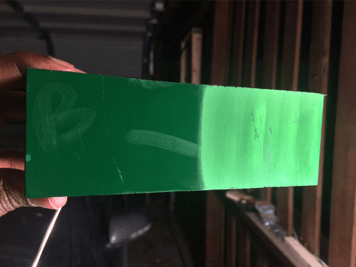 Fig 4: wiping half the part
When I ran my finger across the part, the dye powder appears on my finger and a finger mark appears on the part.
I am a college student and I can't afford most of the testing equipment (example: salt spray testing). Is there an affordable way I can test my parts for anodization and sealing?
Trial material (I can't afford to test on a large piece, so I am using smaller pieces hoping to replicate on larger pieces once I get the formula down)
Aluminum 6063 Extruded 6" X 2" Rectangle 2.6 Square FT. I haven't done any 5005 because none of my local suppliers carry it in small sizes.
The process
(I followed this process: gordsgarage.wordpress.com/tag/home-anodizing/)

I begin by prepping the part I use a polishing grinder to get a mirror like finish (This process takes a long time, are there any other faster methods?)
I dampen a cloth in Acetone and I rub the wax off from the polishing process.
I place the part in a degreaser that has been heated up to 160 °F for 5 min.
I use a spray bottle with distilled water to rinse the part (I will have to switch to a bath rinse on big parts)
At this step I use aluminum de-oxidizer & desmut to etch the part at 72 °F for 5 min. I think I will stop this since I did a run without it and the parts were much brighter/glossier.

Anodizing the part
I mix 4.5 distilled water and 1.5 sulfuric acid (battery acid). For a 3:1 ratio
The cathode plates and anode are made from scrap aluminum I found laying around. I don't know the Alloy. I use 5356 TIG welding filler as my hanging wire.
I used the 720 rule anodizing calculator. My part is 2.6 square FT. The thickness I want is .8 mils and the current destiny I am using is 5 amp/square Ft. In my power supply I set the current at 13 Amp. voltage at 12.5 for 115 minutes.
I use a small aquarium pump for agitation. Unless coming really close to the bath you can't tell there is any agitation. Does this make a difference?
When I start anodizing the bath is at 71 °F. I noticed toward the end it had risen to 78 °F.
I use a spray bottle with distilled water to rinse down the part.
I place the part in the die solution which has been heated to 140 °F for 6 minutes.
I use a spray bottle with distilled water to rinse down the part.
I seal the part in boiling distilled water at >100°F. I use a stove so the temperature gets hotter and hotter for 30 to 45 min (No temperature control see Fig 6)

Products I use
Polish: zephyrpro40.com/product/super-shine-x-polishing-kit/
Acid: www.oreillyauto.com/detail/super-start-4994/chemicals---fluids-16461/battery-chemicals-17661/battery-acid/5gal/4742476 Dye, Cleaner degreaser, and Desmut from a hobby plating supplier.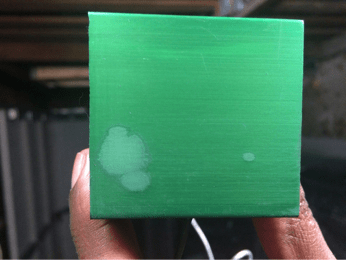 Fig 2: After I used a rag to wipe the excess powder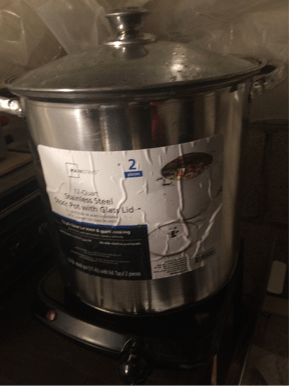 Fig 6: pot I use to heat up everything and seal the parts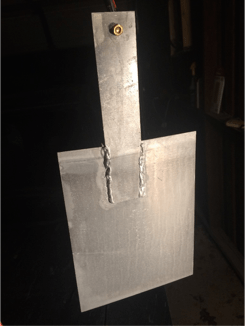 Fig 7: Cathode, I use 300 Amp car jumper cable to clamp on the brass bolt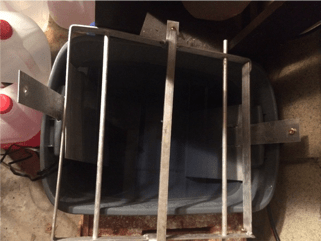 Fig 8: Anode rack and bath
Brian Kiragu
- Reynoldsburg, Ohio


This public forum has 60,000 threads. If you have a question in mind which seems off topic to this thread, you might prefer to Search the Site