topic 32897
Refinishing a Brass Lamp
(2004)
Q. Dear Sir
I have an inexpensive brass coloured chandelier that I want to refinish to make it look like antiqued brass or pewter. Do you have any suggestions how to go about doing this?
Penny Vine
homeowner - Delta, BC, Canada
---
(2004)
A. Hello Penny. We want to help, but it's complicated because these days things are not necessarily what they look like.
Your chandelier might be solid brass, but also could be brass plated steel or a brass plated zinc diecasting. There could be brass lacquer on that, or a polyurethane clear coat, or something else. But it also could be nickel plated, then coated with a brass-colored electrophoretic lacquer (organic finish), with no brass actually involved at all.
If you found a canister of white powder in your basement that you'd forgotten the origin of, experience would tell you that you can't mix eggs with it and expect to make a cake if you don't know whether it's baking soda or pancake mix or arsenic. Similarly there's no chemical that can react with any and all of those possibilities and leave a predictable finish. Sorry.
The good news is that both Krylon and Rustoleum (and probably other brands) now offer paint finishes that look pretty close to pewter and antique brass. That's probably the way to go on a relatively new and "inexpensive brass colored chandelier". Good luck!
Ted Mooney, P.E. RET
finishing.com
Pine Beach, New Jersey
---
(2004)
Q. I have two large barrel shaped brass lamps that do not match my decor. I would like to age them to look either like old copper or aged brass, but I am afraid of the electrical cords and any process that is toxic or messy due to the fact that I have a young child in the house. Any information you can offer would be helpful.
Thank you
Theresa Kucuk
teacher - Kelowna, British Columbia, Canada
---
(2004)
A. Get the lamps up to a high shine, make sure that the lamps are clean, then it's time to make the patina. Boil water, add salt until it doesn't dissolve anymore, let it cool, then brush it onto the metal let it dry overnight and apply the next day, continue until you have the color you want, then seal it with a clear spray lacquer.
Good Luck
Marc Banks
- Elizabeth City, North Carolina
---
(2005)
Q. My name is Nancy. I am a homeowner from Raleigh, NC. I have bathrooms that have been outfitted with "brass look" fixtures including the shower door. Glass and brass. I would like to treat these surfaces to change the look to nickel or pewter or silver. Can anyone help me learn the products and or someone who can perform the service. My home was built in 1996.
Also I would like to know how to change my solid surface counter tops that are blue. Can they be covered with a metal product such as an industrial brushed steel? Thank you for your interest.
Nancy Armstrong
homeowner - Raleigh, North Carolina
---
(2005)
A. If the shower doors were very expensive they might possibly be lacquered real brass, but it's far more likely that they are anodized aluminum with gold or brass colored dye. The case with dyed anodized aluminum is that the dye was absorbed into a honeycomb like structure during manufacturing, that was later capped off, and there is no practical way to do anything with it except replace it. It could be painted, but the paint probably won't stick really well. Get it spotlessly clean, then prime with a self-etching primer for good adhesion.
A plating shop could refinish the plumbing fixtures, but it's unlikely you do do anything with them yourself except paint them which isn't promising considering the wet and difficult environment. The reason you don't read much about how to refinish faucets and fixtures in renovation and handyman books is that there probably isn't a practical but robust way to do it. Sorry.
Industrial brushed steel will be very prone to rusting. Some people strip the paint off of old steel desks and clearcoat them, but they often have rusting issues even in an office environment. Clearcoats probably won't be enough rust protection for the humid environment of most bathrooms.
Ted Mooney, P.E. RET
finishing.com
Pine Beach, New Jersey
---
(2005)
Q. Is there a product that can be used on brass to change the look to a silver/pewter look finish?
Patty Collier
wedding chapel - Abilene, Texas
---
A. Hi Patty. Yes, there are paints for such cases, and there are wax rubs, or the parts can be sent to a plating shop. Other approaches might work as well. But it's hard to offer you a useful answer to such an abstract question. Please describe your situation. Thanks.
Regards,
Ted Mooney, P.E. RET
finishing.com
Pine Beach, New Jersey
Striving to live "Aloha"
---
(2005)
Q. The brass frame and hinges on my glass shower are tarnished and have black spots on them. I want to paint the frame and hinges white. What is the best way to do it and have it last, since there is frequent contact with water and steam. Thank you.

P.S. I have read how to paint a brass light fixture and a large brass bed in your advice section - However, I think my problem is different size-wise (smaller than a bed - bigger than a light - and stationary,too) with an added problem of water exposure.
Elaine Zucchi
consumer - Briarcliff, New York
---
(2007)
Q. How do I remove/refinish the shiny gold on anodized aluminum shower enclosure? I am refinishing my master bath and do not like the shiny gold shower enclosure. I want to give it an antiqued nickel look. Is there any treatment that is easy to accomplish that can hold up in the shower?

Thank You for your help,
Nancy Hicks
hobbyist - Austin, Texas
---
(2007)
Q. I have polished brass hardware throughout my house which I feel looks dated. I wanted to change it to an antique brass or bronze look. I was told that shiny brass cabinet hardware could be darkened by applying wood stain and then dabbing it off to the desired finish. However, it is not drying and remains tacky after 24 hours. Is there a way to set the finish so I can apply a clear spray protectant? I did use steel wool [linked by editor to product info at Rockler] on them to roughen up the surface but I'm not sure if this helped or not. Marcia Miller
hobbyist - Austin, Texas


---
July 3, 2008
Q. I have a solid bronze chandelier with a brass finish on it. I want to clean it as it has several tiny brownish stains. Is it true that I can remove the lacquer with lacquer thinner [linked by editor to product info at Amazon]. Apply Brasso [linked by editor to product info at Amazon] and then Wright's Copper Cream [linked by editor to product info at Amazon] it again? Thanks
Anna Pace
home owner - Malta
---
July 6, 2008
A. Hi, Anna. Yes, that should work.
Regards,
Ted Mooney, P.E. RET
finishing.com
Pine Beach, New Jersey
---
June 7, 2009
Q. My wife collects and rebuilds these lamps and has about six that need fairly large amounts of refinishing. We no longer have a brass electroplating shop within 1000 miles and are wondering if anyone has a good home solution? Some have fairly heavy pocking while others have 60 years of accumulated wax and grime.
Alex Taylor
hobbyist - Saskatoon, Saskatchewan, Canada
---
June 21, 2010
Q. I am refinishing a brass chest that has st for 30 years or so. It has been stripped & polished 4 or 5 times, and cleaned and buffed. I have tried spar & poly finishes, and I get dark streaks under the finish when it dries. Should I try just a wax finish?
Bill Hall
Hobbyist - Minneola, Florida, USA
---
June 21, 2010
A. Hi, Bill. Try brass lacquer rather than spar varnish or polyurethane. It's made for brass and sometimes has benzotriazole or other tarnish inhibitors to deter this streaking. You can get it from specialists like G.J.Nikolas, or buy it in rattle cans on the internet. Good luck.
Regards,
Ted Mooney, P.E. RET
finishing.com
Pine Beach, New Jersey
---
June 1, 2011
Q. Dear Sir,
I have a small new brass lamp.I need to give a silver shine or any sharp shine to this lamp. Can I Use Cr, Ni or Ag for that? If can, how can we do it sir? Can I use electroplating process for this or it has any easy way to do this?

Thank You Sir......
Vasundara Kariyawasam
Student -
Colombo, Sri Lanka
---
March 20, 2012
Q. I have a Polished Brass Delta Tub Faucet which had been sprayed with a Clear Coat for added protection however the coating is starting to brittle and I was wondering how to remove the coating without damaging the fine smooth Brass finish underneath.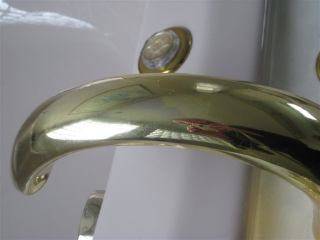 Fred Zietlow
-
Richmond BC Canada
---
April 24, 2012
A. Hi Fred. Companies like Delta don't usually reveal what the coatings are, so it's hard to know what will remove them. But there are many solvents which remove organic coatings without any damage to brass. Lacquer thinner (or acetone) would be the first thing to try, but will only remove lacquer. If that doesn't work, Aircraft Stripper [linked by editor to product info at Amazon] probably will work -- but this is extremely toxic, requiring not only goggles [linked by editor to product info at Amazon] and protective gloves [linked by editor to product info at Amazon], but really good ventilation, not just a bathroom fan :-(
Regards,
Ted Mooney, P.E. RET
finishing.com
Pine Beach, New Jersey


This public forum has 60,000 threads. If you have a question in mind which seems off topic to this thread, you might prefer to Search the Site