Live! From beautiful Pine Beach New Jersey: Welcome to the world's most popular metal finishing website
topic 32564
Dow #17 and other finishes on magnesium (bicycle components)
2004
Q. My name is Alan McCorkle and I collect/restore vintage BMX bicycle parts. I am particularly interested in items manufactured by a company called Hutch Hi-Performance Products and Titron Titanium Components. Hutch, owned by Richard Hutchins, was in business from the early 80s until the late 80s and they were located in Pasadena, Maryland (later Baltimore). Hutch made many different bicycle parts including frames/forks, cranks, hubs, pedals, and various other components. They are most well-known for their round beartrap style pedals, use of exotic metals such as titanium and magnesium, and their love of chrome plating. Most of the Hutch components including the pedals and magnesium sealed bearing hubs were designed and manufactured in 1980-81 by a company called Titron Titanium Components in Lemont, PA. Titron was owned by a Mr. Bill Grove who would eventually go to work for Hutch when his company and product designs were purchased by Hutch in 1981.
The component I need help with is the magnesium hub which was made from AZ31B magnesium. The hub is a 3-piece design with the flanges being pressed onto the center of the hub. The hub also used titanium axles and sealed bearings. The hubs were available in several different finishes including: a matte gray finish (which I am told was electroless nickel), chrome plated, black, and a two-tone finish where the hub flanges are nickel plated and the hub center is a semi-gloss black finish that almost looks anodized. I have learned that the coating used under the black finish is most likely Dow #17 (described by Mr. Bill Grove as an ugly green color but he does not recall the entire finishing process since it was outsourced and it was 20+ years ago) but it is the final black finish that remains a bit of a mystery. The inside of the hub center is also the same black finish which seems to suggest that it is not painted or powdercoated and the finish does not chip or flake.
My questions are:
1) What coatings other than powdercoating or paint would have been used over Dow #17 to produce this black finish?
2) Is it a "black" finish or a product that when applied over the Dow #17 creates a black color?
3) Would Dow #17 also be used under the nickel finish?
The nickel plated flanges of the hubs are in fair condition with some pitting where the nickel finish has expired (for lack of better description). Is it possible to repair the pitting in the magnesium prior to refinishing? Can these pits be filled with another material?
I am very interested in learning about all of the different possibilities for restoring these items. Pictures of the hubs are available here: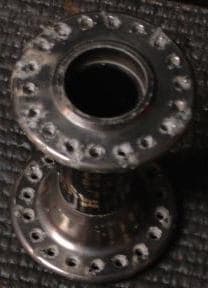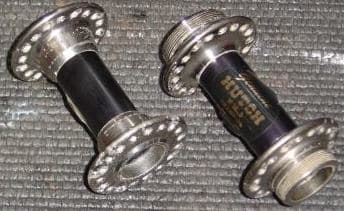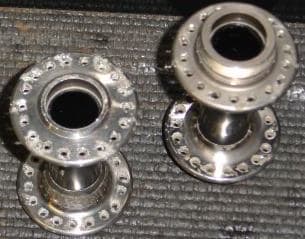 Alan McCorkle
Hobbyist: Vintage bicycle collector - Fairfield, California, USA
---
---
Coating for AZ91 magnesium with excellent corrosion and wear resistance
1996
Q. Looking for a plating for a AZ91 magnesium casting. The plating should be with the following characteristics:
1. Excellent corrosion resistance.
2. Excellent wear resistance
3. Conductive plating (not a must)
Avihu Cohen
---
1996
A. Does the casting have to be plated all over of just in selected areas. If just in selected areas, we could Nickel plate in those areas. Nickel is corrosion and wear resistant.
Tom Sivula
plating shop - Harbor City, California
---
1996
A. We offer many Magnesium finishes. The magnesium finish with the best corrosion & abrasion resistance is Dow #17 Anodize. The coating is not conductive.
David A. Kraft
- Long Island City, New York
---
1996
A. Magoxid-Coat is a hard anodic coating for all magnesium alloys. The wear and corrosion resistance is significantly better than other widely commercialized coatings. While not conductive, Magoxid-Coat is an excellent substrate for conductive or other topcoats.

adv.
Additional information and free prototypes are available from us.
Chris Jurey
, Past-President IHAA
Luke Engineering & Mfg. Co. Inc.
International Hard Anodizing Association - Wadsworth, Ohio
---
---
Dow 17 Process Parameters
2004
I am in need of information on the Dow 17 Magnesium Anodize process, i.e., Required current values, operating temperatures, tanks required, etc. All responses would be greatly appreciated.
John Mars
Metal Finishing - Wichita, Kansas, USA
---
2004
A. Hello, John. This topic is included in Tom Pullizzi's excellent FAQ on Magnesium Finishing. For still further details, copies of the Dow handbook on Magnesium Finishing are often available.
Ted Mooney, P.E.
finishing.com
Pine Beach, New Jersey
Striving to live "Aloha"
---
---
Boeing Finish code SRF-3.30
May 30, 2008
Q. Can somebody tell me the specs for Boeing finish code SRF-3.30 ? There is any site where I can find the specs for those finish codes?
I'll greatly appreciate any help
Hermes Rivas
Manufacturer - Miami, Florida, USA
---
June 4, 2008
A. I found this on a mil website:

"10. FINISH CODE SRF-3.30 DEFINED: ANODIZE (DOW 17) IN ACCORDANCE WITH BAC 5734 (OPTIONAL SAE AMS-M-45202 TYPE II CLASS D) OR CHEMICAL TREAT (DOW 7) TO MEET THE REQUIREMENTS OF SAE AMS-M-3171, TYPE III OR IN ACCORDANCE WITH BAC 5609. APPLY TWO COATS OF BMS 10-11, TYPE I IN ACCORDANCE WITH BAC 5736."
James Totter, CEF
- Tallahassee, Florida
---
---
Anodizing magnesium on racks made of aluminum
January 13, 2011
Q. Sirs,

I tried to anodize magnesium using aluminum racks, this because it's easier to get aluminum racks than magnesium racks but I had not success; does somebody know why you can't use aluminum racks to anodize magnesium parts?

Regards

Yohands Rey
manufacture engineer - Chihuahua, Mexico
---
January 14, 2011
A. Quoting from Dow's "Operations in Magnesium Finishing regarding Dow 17,
"Racks can be made of any suitable conducting materials. If they are other than magnesium or aluminum, they must be properly coated. The surface of the clamp or rack which touches the magnesium part must be magnesium or aluminum. If aluminum is used, alloys such as 5052, 5056, and 220 are preferred because of their resistance to attack in the alkaline cleaner." (end quote).
From that advice I have to wonder whether your aluminum alloy is too widely different in conductivity from your magnesium and is drawing more/less current from the part, in which case, you might consider masking the rack.

Robert H Probert
Robert H Probert Technical Services
Garner, North Carolina
---
---
Need Shop to do Dow 17 Process
2005
RFQ: Looking for a Southern California based plater who does Dow 17 on Magnesium.
David D
[last name deleted for privacy by Editor]
Electronics mfgr. - Irvine, California, USA
----
Readers: our advertisers make this site possible for technical information exchange & camaraderie; they will contact the inquirers privately regarding any commercial needs. Please appreciate that the site would drown in spam overnight if we posted offers to sell from people paying nothing.


If you have a question in mind which seems off topic, please Search the Site