Live! From beautiful Pine Beach New Jersey: Welcome to the world's most popular metal finishing website
topic 32122
Chemical attack from EN?
2004
This post is similar to a post I put up (31990) in regards to attack on substrate material from EN plating. I believe surface rust prior to plating caused "craters" in the base material after plating. Thank you for the input on my other post.
I have another issue in regards to the condition of the base material after plating. This problem is occurring in a blind hole. The blind hole is .266 in diameter, .625 deep into a shaft. The small drill point on the bottom is apprx .030 in diameter.
You can see in one of the photos the base of the hole has a good coating of EN. In the other two photos you will see what I call "worms" which have adhered to the base material, and big craters in the other photo.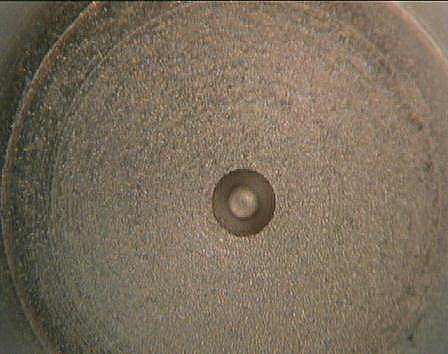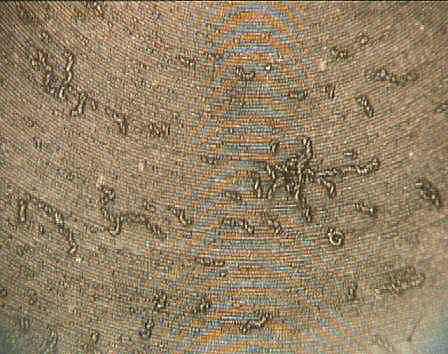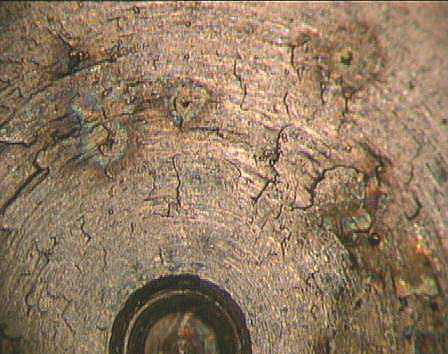 This part is composed of three materials: SI-IRON B-FM, and 304 SS which are brazed together using silver alloy brazing per AMS4774. The complete assembly gets glass beaded and then plated. The blind hole has always been difficult for the vendor to plate correctly. I inspected these parts prior to plating there was no indication of metal shavings inside the holes prior to plating. Also, these holes were not glass beaded prior to plating which I'm not sure contributed to the problem. Is there anything in the EN process that can cause this attack, or was it a problem with the material prior to plating?
Thanks a lot,
Gary Petrillo
- Connecticut
---
2004
What is your preplate cycle?
May be that you have an acid dip prior to the EN which can cause a flash rust. Try to enter the EN bath with a neutralised surface.
Sara Michaeli
chemical process supplier
Tel-Aviv, Israel
---
2004
Dear Mr Petrillo,
The clarity of your question is amazing. Many more queries here unfortunately for everybody meet short ends due to insufficient presentation. My Compliments!
If I were you, I would try to glass bead blast the inner diameter of the hole somehow or the other. If there is no filiform growth on the rest ot the component, there is no question of surface acidic residue unless of course there is entrapment of activating solution for too long during rinsing. No harm in improving rinsing anyway.
Take a similar photograph of an unplated part. You may find similar looking craters/ general surface disposition, possibly caused by the drilling tool and lubricants from the drilling operation before plating.
Your problem as I see it is a common problem of plating on dissimilar surfaces. One surface looks great and the other area behaves differently.
Khozem Vahaanwala
Saify Ind
Bangalore, Karnataka, India


If you have a question in mind which seems off topic, please Search the Site