Where the world gathers for
plating, anodizing, & finishing Q&As since 1989
"Pitting / Cratering problem with EN"
-----
2004
Q. Does anyone know what causes pitting or craters in EN plating? I have two photos showing pitted plating.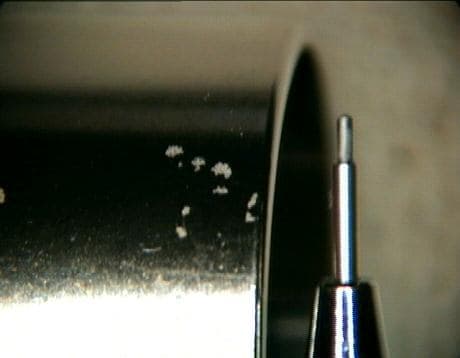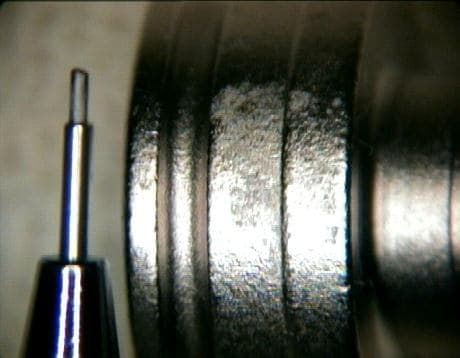 The photos show pits that can be seen as craters into the base material, which is silicon iron. The craters are plated. I know rust can cause this kind of pitting. Are both of these pitted areas caused by rust? Is there anything in the plating process that can attack the base material?
Thanks for your help. I can provide more information if needed.
Gary
Gary Petrillo
- Wallingford, Connecticut
---
2004
A. Based on the symmetry of the pits I would assume the pitting is the result of rust removal prior to plating. The pits do not look like a chemical attack. Yes there are chemicals in the pretreatment process that will attack the steel, but with an attack of that nature the pitting would be all over the part uniformly and not localized as your picture shows.
Paul Szymanowski
- Erie, Pennsylvania
---
2004




A. You say the defects are plated, so most probably they were already there before entering the nickel bath. It is very unlikely the nickel produces this type of pitts. Look into the pre-plate cycle. Castings are always more difficult and fishy to plate. G. Marrufo

Guillermo Marrufo




Monterrey, NL, Mexico






---

2004

A. I assume that by silicon iron you mean a cast iron containing maybe 2% silicon and not true silicon iron which contains 15% silicon and is extremely corrosion resistant.

The defects in your photographs resemble corrosion patterns rather than coating defects. Pit and crater type coating defects are typical rounded and not angular. Electroless nickel will replicate the surface it is plated on. Thus I suspect that your cast was corroded prior to plating.

A typical cleaning cycle for iron based alloys includes a brief acid immersion, but if controlled it should not attack iron, but would remove light rust if present.




Ron Duncan

[deceased]
- LaVergne, Tennessee
It is our sad duty to note Ron's passing on Dec. 15, 2006. A brief obituary opens Episode 13 of our Podcast.



---
2004
Q. Thank you all for your responses. The percent silicon is 2.5% in both parts. Is it true that the surface of a part could have rust on it without being able to detect it with the naked eye? Also, I was curious that if the pits in both photos were caused by the same thing, such as rust? Based on the responses I'm getting it seems as though the pitted areas had corrosion on them prior to EN plating.
Gary Petrillo
- Wallingford, Connecticut