Where the world gathers for
plating, anodizing, & finishing Q&As since 1989
-----
Starving student/housekeeper scratches client's stainless microwave
2004
I was cleaning a clients house when I came across a difficult to clean stainless steel microwave. To remove food residue I scrubbed the surface with the abrasive side of a kitchen sponge when it dried fine scratch marks close together over a large area were exposed. Help! I do not have the money to replace the microwave so I am in search of a scratch removal product that will fix the problem.
Annie S.
housekeeper - College Station, Texas
---
2004
I don't know what to say, Annie; you're almost surely not going to be able to remove those scratches. Personally I hate this fashion trend of making expensive kitchen appliances out of stainless steel so they look robust, when in fact they are so terribly fragile that touching them with steel wool or even the coarse side of a kitchen sponge reliably ruins them.
In a way, it is not your fault at all, you did nothing hasty or obviously stupid, so I feel sorry for you. Unfortunately, the client can't be expected to pay for replacing the appliances the housekeeper damages due to lack of training, no matter how well intentioned she was. Housekeepers will have to learn how fragile stainless appliances are. They'll also have to learn that the Scotch-brite they see on sponges these days is the same stuff that factories use as a replacement for sandpaper.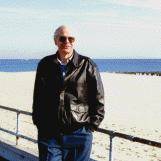 Ted Mooney
, P.E.
Striving to live Aloha
finishing.com - Pine Beach, New Jersey
---
2004
Hi, I need some advice. I have a stainless steel stove. The backing where the oven temperature setting is was covered with spots and spatters from whatever it was I was cooking that day. This is my first stainless steel appliance and I didn't realize that I should not use something abrasive on it. I know now! Anyway, you can see where I got the spots off. It left swirly scratches. Help!
Thank you.
Cheryl Ball
homeowner - Manhattan, Kansas
---
First of two simultaneous responses -- 2004

You may want to use the search engine on this site to check through the archived letters. Every method I've seen to get rid of scratches has sounded like A LOT of work, but what can you do? Try starting with letters 23321 and 23762.
Good luck!
Jim Gorsich
Accurate Anodizing Inc.

Compton, California, USA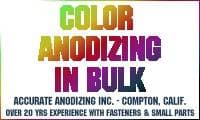 ---
Second of two simultaneous responses -- 2004

I also have a few stainless steel appliances and battled for a long time to get them clean. After having tried all types of cleaning materials I found a product called 'Ecolab -Polish Cleaner'. I hope you can get the help you need.
Good luck!
Linda Bessa
- Portugal
---
2004
We bought a brand new fridge with that new fingerprint proof stainless doors. I stupidly put a small scratch across the grain on the surface and now my wife wants to kill me. Help! What can fix this, does anyone know?
Michael Torrey
appliance owner - Portland, Oregon
---
2004
Raw stainless sheets (the type used for home appliances should be considered as fragile as fine automotive paint work. However, since they are not highly mirror polished like paint, care must be taken when trying to restore the damaged "grain". Paint should be polished in a circular motion, but stainless sheets can only be buffed with the grain. There are a great many lightly abrasive products available in the automotive industry. You will need an inconspicuous spot to try some and see what matches the grain the closest. Personally, I would try wet'n'dry sandpapers available an autobody supply house. These are available in grits clear up to 2000. I haven't tried it myself, but I should think that 600 would work fine. Sand only in the direction of the grain! Crossing the grain at any angle whatsoever is guaranteed to only make it worse. A highly abrasive automotive polish might work also (again, only with the grain!). This is not something you're going to find at Pep Boys. Products like Meguiar's Heavy Cut [affil link] or Meguiar's Fine Cut [affil link] compound might work. Even if you manage to get the damaged area kind of close, you still might have to sand/buff the entire damaged surface to get the whole surface to match. Good luck
Kelly Opfar
- Orem, Utah
---
2004
My new stainless steel refrigerator has been damaged/streaked by a cloth that had clorox on it! Is there anything I can do to repair?
Nan Harrison
homeowner - Los Angeles, California
---
2004
I just purchased a Jenn-air french door, stainless steel refrigerator - Truly a thing of beauty. However the cleaning instructions for the stainless steel warn against using a window cleaner or paper towel on the stainless steel and insist that the finish should first washed with a clear soft cloth with soapy water, then rinsed with another clean cloth and clean water, and then dried. It also says that stainless steel cleaner should not be used often and that the refrigerator's outside surfaces should be 'waxed' twice a year?!
GET REAL! First of all soapy water leaves a streaky mess, no matter how much I wash off the soap. And secondly, the frig is a magnet for finger prints and I'm compulsive about keeping my new toy, which cost the price of a nice used car, streak and fingerprint free.
Now I can live without paper towel, but good old Windex [affil link] never seemed to hurt any other metal finishes in my kitchen. I went to home depot and they recommended something called ZEPStainless Steel Cleaner [affil link]. But, as this spray doesn't say what's in it , I'm not feeling good about it.
I read something on this site about a woman whose mother rubbed down her stainless steel frig with WD-40 [affil link] and it's been fingerprint-free ever since. Jenn-Air repeats the warning-use soapy water, not ammonia, or the finish will dull and the warrantee will be void. But there has to be a product, preferably a spray, that doesn't hurt the finish.
Doesn't anyone out there have a clue?
Thanks,
Sara Simon
- NY, New York
---
2004
Common rubbing alcohol cut 50-50 with distilled water to reduce the flammability. It may call it Isopropyl Alcohol [affil link] or isopropanol. Same stuff, just technical names.
James Watts
- Navarre, Florida
---
2004
I just took over a new house and the previous cleaners destroyed the stainless steel appliances. The whole refrigerator front, stove, stove hood are covered with circular scratches. HELP, they are counting on me to fix and I don't know if its possible!
Christina Crane
cleaning - Nantucket, Massachusetts
---
2004
DON'T use sandpaper. Use a Scotch Brite pad. You can find the pads in several different hardnesses. Test to see which one is the best (dry). Use long strokes following the grain.
Joe Phillips
- Hillsdale, Michigan
---
First of two simultaneous responses -- 2004

Stove top cream cleaner was used on my stainless steel fridge -- and there may have been some comet used on it. Does anyone have a suggestion on how to fix this problem?
Angela Bond
homeowner - Burlington, Ontario, Canada
---
Second of two simultaneous responses -- 2004

I'm not a pro metal finisher but used to work for an engineering firm that prepared its products for exhibitions. I had the dubious honor of finishing those products before they were shipped. I would agree with the previous reply and use Scotch-brite but very gently and in the direction of the grain. We also used to have stuff called crocus paper, I don't know what grade it was but it was virtually writing paper and that used to bring things up nicely. Hope this is of help.
Russ Brinkman
- Dorchester, Dorset. United Kingdom
---
2004
I purchased a brushed stainless steel refrigerator a year ago. I have had so much trouble cleaning the marks off the front. Called the company and they said to use WD-40 [affil link] to shine it up. The other day I could not get a spot off and decided to use a scouring pad to rub it ever so gently. Unfortunately, when the sun shone on it, I could see small scratches in the stainless steel. Someone told me to use a rubbing compound for automobiles and buff it out by hand. I need to know the best method to take the scratches out and not do any more damage to the stainless steel. I would appreciate anyone's input that knows about this. Thanks
Rose Bryan
homeowner - New Brighton, Pennsylvania
---
2004
I need to remove a ceramic cleaner from my stainless steel refrigerator. A cleaner for flat top stoves was put onto my stainless steel refrigerator by mistake. What can I do to remove the substance and get the shine back?
Savannah Tate
homeowner - Washington, DC
---
2003
I accidentally scratched our stainless steel sink while cleaning a crock pot. The bottom of the sink was scratched and would like to know if there is anything we can do to restore to original surface.
Dan Daum
homeowner - Cincinnati, Ohio
---
2005
I purchased an LG stainless steel french door refrigerator a little over a month ago and found that the doors were quickly covered with smudgy fingerprints. I cleaned the doors with Windex [affil link] - which removed the fingerprints and spills but left a streaky surface. I then bought a can of Sprayway Stainless Steel Cleaner at Restoration Hardware, used the cleaner as directed and got not only a beautiful looking finish but one that lasted and seems to repel fingerprints! The stainless steel cleaner is a non-abrasive oil-based cleaner (my guess is that it is similar to the WD-40 [affil link] recommended by another writer).
Donna Petrucelli
- New York, New York
---
2005
I was wondering if anyone knows how to buff out minor scratches and a little discoloring on a stainless steel cook top, I just bought it 2 months ago and by accident used the wrong sponge to clean up a spill that has discolored the cook top.
Stacey Ellen
- Westborough, Massachusetts
---
2005
My manual recommends Barkeepers Friend [affil link] - a lightly abrasive cleaner. I have had good results. My big problem is a long water mark from the dispenser to the ground. Can't seem to get it out - any suggestions? I use stainless cleaner on it regularly, which works great for fingerprints, but doesn't seem to be touching the water marks.
Tracy Hammett
- Glenmoore, Pennsylvania
---
2005
Tracy..Those water stains can be very stubborn. Check out our Scratch-B-Gone product listed at the top of this page. Our kit WILL remove those stubborn deposits; as well as, rust chemical stains and yes, SCRATCHES! Reach us toll free. Watch our video at our web homepage, find 'Watch SBG video link...Happy cleaning, Barry Feinman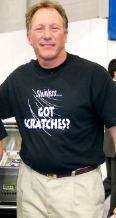 Barry Feinman
BarrysRestoreItAll

Carlsbad, California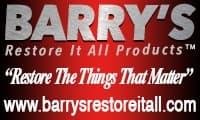 ---
2006
We recently bought a camper that is 30 years old and everything is in excellent condition except for the stove top.
How can I remove the rust and pitting from a stainless steel stove top? Is it possible to have it refinished without spending a fortune?
Mary Barney
Hobbyist - Ossineke, Michigan
---
2006
I just purchased a brand new flat top stove and already have a scratch on the surface. Does anyone have any suggestions on at least buffing it out so it is less noticeable? Yes I have already tried Cerama Bright as that came with the stove. Please help. Thanks.
Jennifer Grace
homeowner - Edwardsville, Illinois
---
2006
RE: Bar Keepers Friend - Not good for all stainless steel?

I would be very careful before you put any cleaning solution on stainless steel appliances. I had a small spot on the front of my brand new refrigerator and foolishly put a small bit of Bar Keepers Friend on it and it left several ugly scratches right on the front of the new refrigerator. Previously I used Bar Keepers Friend on stains on my stainless steel garbage can and it left it looking great. I guess it is NOT for use on refrigerators! I learned the hard way!
Ann Roberts
- Massachusetts
---
2006
After moving our SS fridge back into place after installation of a new floor, I noticed a long, think mark on the front door. It does not appear to be a scratch--I can run my finger over it and it is completely smooth. It is actually about 1 mm wide, about 4 inches long. I'm not sure what happened. Any ideas on what to try--SS cleaner did not remove it.
Linda Cullen
home owner - W Bloomfield, Michigan
---
2006
Happy Holidays Linda. Sounds like what you have may just be a surface scuff. Restore Solution's Scratch-B-Gone kit will allow you to quickly and safely remove this and blend surrounding areas at the same time. Please make sure though that the door is real stainless steel and without a 'clear coat' film. Some manufacturers are using synthetic finishes and clear coats to reduce maintenance. Best of luck and a joyous New Year to all Finishing.com readers.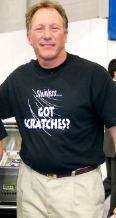 Barry Feinman
BarrysRestoreItAll

Carlsbad, California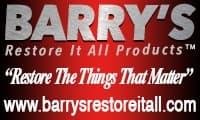 ---
2007
We are the fortunate recipents of some light scratches from our 9 yr old niece playing magnet race cars on the fridge. Since the fridge has the new "film" to reduce fingerprints, buffing it out was not an option. After several conversations with Barry Feinman Scratch-B-Gone [a finishing.com supporting advertiser]-- thanks Barry!) we tried just some mineral oil and SEVERELY reduced the appearance to the point that it is hard to FIND them, let alone see them. Hopefully this will help some of you out who are faced with similar decisions. Just use a dry microfiber to remove any mineral oil haze after application.
Ross Neag
Consumer - Chicago, Illinois
---
2007
Thanks Ross and happy for you. These clear coats have made it very difficult for owners like yourself to have any chance, other than the one you mention, to remediate scuffs and scratches on them. Glad to be of help. We aim to be your one-stop information and product source for Stainless steel.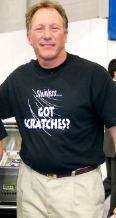 Barry Feinman
BarrysRestoreItAll

Carlsbad, California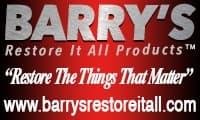 ---
2007
My stainless steel sink was backed up and my husband poured in some caustic drain de-clogger. When that didn't work, he tried using a plunger and lots of water splashed on the nearby stainless cook top and dishwasher panel. When the water finally drained, the sink had lost it's shine and was all spotted, and the other appliances have spotting from the chemicals in the water. All the appliances were almost brand new....HELP! Does anyone know of a way to remove spotting and restore the shine? Please respond as I am feeling desperate! I didn't send my husband out to the dog-house, but every time I use my sink and see the damage, I am tempted!
Linda Zolty
homeowner - Toronto, Ontario, Canada
---
April 24, 2008
In my restaurant kitchen we use a cleaner called real a peel....orange scented and doesn't harm the stainless...doesn't sanitize though either. There is also a polish called Sheila Shine [affil link] that works wonders if you want a mirror finish.
Cody Lynch
- Lexington Park, Maryland
---
December 2, 2010
I used a cleaner comparable to Bar Keeper's Friend on my fridge & dishwasher today. I'd been using olive oil on it for almost 5 years but there were too many water streaks I couldn't put up with anymore. No cleaner was getting the old oil off: not pledge, not vinegar, not baking soda, not Windex [affil link], not castille soap + water, not stainless steel + window cleaner. I read where a couple of people used the Bar Keeper's Friend on their refrigerators, so I dove in. It was like a miracle! Spots I haven't been able to get off for YEARS are gone. I was careful to wipe in the direction of the grain and to rinse very well, then dried with a paper towel. It was brilliantly shiny and I added Pledge over it to hopefully repel prints & dust (we'll see)...although it was shinier without the pledge. If I get lots of fingerprints/watermarks with the pledge, I'll follow some advice I read about time after time: clean your stainless with a damp microfiber cloth.
Kel Herr
- Dunwoody, Georgia, USA