Live! From beautiful Pine Beach New Jersey: Welcome to the world's most popular metal finishing website
topic 3104
Zinc nickel
1999
European motor manufacturers are insisting that many vehicle components be zinc nickel plated and not acid or cyanide zinc plated. Can anyone please advise on an easy and cheaper way of converting an existing acid zinc plant, both barrel and rack plating, to a zinc nickel plant without having to dump and start over again. Is there a way of converting the solution over a period of time. Apparently there are 2 ways of doing zinc nickel plating. Which way in the best? We are in need of detailed technical assistance.
John Mattisson
plating - South Africa
---
1999
Dear Mr Mattison ,
Yes indeed there are two forms of Zinc - Nickel plating , one acid the other alkaline , and yes conventional acid Zinc can be converted to Acid Zinc - Nickel . the procedure is relatively simple , and control of the Nickel level is relatively simple . Have you not spoken to your local "Suppliers" about this? Best regards
John Tenison - Woods
- Victoria Australia
---
1999
Dear Mr. Mattison:
I have not been to happy with any of the acidic zinc/nickel formulations that I have encountered, except for reel to reel strip line plating. The constant current density takes advantage of the fact that you will see higher nickel in the low current areas of complicated parts.
The alkaline baths on the market are not convertible from other processes. Cyanide Zinc can NEVER be used, as it forms Nickel Tetracyanide complex. As little as 30 PPM will totally destroy a bath.
There are several vendors selling zinc/nickel technology today. Be sure that the European firm tells you whether they want a low percentage or a high percentage for nickel codeposition. The low plates at 5 - 9%Nickel; the High at 10 - 15% Nickel. In Europe, some automakers specify a bake at 120 deg.C. for 24 hours to the passivated zinc/Nickel prior to entry into Salt Spray testing. Then they want 240 hrs to white corrosion. A difficult feat for the low percentage.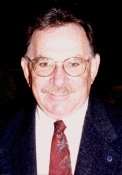 Ed Budman
- Pennsylvania
With deep sadness
we announce that
our friend Ed passed
away Nov. 24, 2018


If you have a question in mind which seems off topic, please Search the Site