topic 30442
What paint do I use on a metal mailbox?
A discussion started in 2004 & continuing through 2017
(2004)
Q. I am going to be painting on a metal mailbox. I need to know how to prep it and what type of paints are best to use. I also would like to know what to put on after I am done to prevent any peeling. I've never painted on metal before and have the simplest of resources. HELP.
Amy Gerardi
hobbyist - Greenfield Center, New York, United States
---
(2004)
A. It's not a complicated thing, Amy. Go to the hardware store or paint store and look for the aisle of Rustoleum, or Krylon, or other consumer-oriented project paints. Find one that says it okay for metal (or has a picture of it applied to metal), in either a spray can or a small can for brush-on (your preference). The instructions on the back will tell you to scrape or sand loose paint and rust, and to wash and rinse. Just follow the instructions on the can.
I don't think you want to put anything on top of the paint, because peeling is not caused by a shrink-wrap effect breaking, it's caused by poor adhesion of the paint to the mailbox. If you get good adhesion it won't peel. Good luck.
Ted Mooney, P.E. RET
finishing.com
Pine Beach, New Jersey
---
(2005)
Q. We have a mailbox with enamel paint (brand new) and want to repaint it. What is your recommendation for type of paint? I have seen suggestions for acrylic and latex. Does it have to be sandpapered first if there is no flaky paint?
Thank you
Stephanie Sears
- Dalton, Massachusetts
---
February 5, 2009
A. I'd like to mention that I just did a little project to spruce up the ol' mailbox. I just a combination of Krylon, Osh's brand, and some cheap Walmart stuff. If your going to use any of these spray paints I'd suggest getting a sanding block from 3M. Usually any ultra fine grit will do. I have a 320 grit and a 400 grit. Really if your only going to spray 1 color then you just want to knock down the "shine" or the gloss on the mail box. If you have cracking paint because of abuse and weather whipped then I'd rather go down to bare metal and spray a nice primer spray then scuff with said block and then the final coat. I just took the masking tape off of my box and I am going to level everything tomorrow afternoon with a 1000-grit then 1500-grit sandpaper. Hope some of what I just wrote is of some help to someone :) Cheers!
Simon Hernandez
- Hesperia, California, USA
---
---
November 29, 2016
Q. I wonder how many people have used "One Shot" on metal mailboxes? I did two like that, and the paint was really durable -- but they're oil based, with turpentine cleanup. I'm looking for ideas for a waterbase durable alternative. Any suggestions?
Jeni Erickson
- Huntington Beach California
---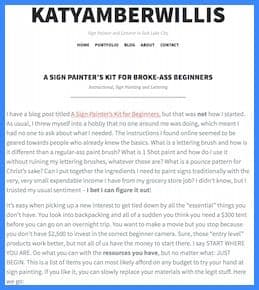 November 2016
A. Hi Jeni. I now see a bit of confusion here. When people asked about painting a mailbox, I and others assumed they meant to put a coat of paint on it -- black, white, or whatever color they wanted ...
But the "One Shot" that you are talking about is "sign paint"; it's intended for lettering, multiple distinctive colors on the same piece with freedom from brush marks, etc. The blog illustrated here =>
suggests that regular latex house paint is not as good as "One Shot", but can be used for sign painting. Good luck.
Regards,
Ted Mooney, P.E. RET
finishing.com
Pine Beach, New Jersey
Striving to live "Aloha"


This public forum has 60,000 threads. If you have a question in mind which seems off topic to this thread, you might prefer to Search the Site