topic 2964
Wood's Nickel Strike?
A discussion started in 1999 & continuing through 2017
(1999)
Q. Maybe this question seems strange, but could you be so kind and explain me what the "Wood's nickel strike" is? I suppose it's a chloride bath with low pH, but I'm not sure. Thanks in advance.
Adam Wittmann
- Poland
---
Digital version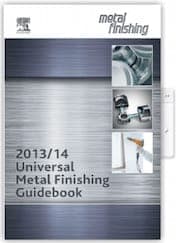 (No longer published, but Elsevier hasn't yet de-commissioned the online version of the Guidebook)
Download it before it disappears.
A. Not at all strange, Adam:-)
Stainless steel, and nickel itself, are very difficult to properly plate onto because of their natural passivity. Don Wood (deceased) developed a combination activator/strike bath for the purpose. As you surmised, it's a nickel chloride bath at low pH. Specifically, per the Metal Finishing Guidebook, it's:
Nickel chloride 16-64 oz/gal.
Hydrochloric acid 8-32 fl oz/gal (with a 1:1 ratio of nickel chloride to hydrochloric acid recommended)
Room temperature
Start work anodically at 10-20 ASF for 2 minutes, then plate at 20-200 ASF for 1-4 minutes (although not everyone starts with that anodic cycle).
More detail can be found in the Guidebook. Good luck.
Ted Mooney, P.E.
finishing.com
Pine Beach, New Jersey
---
---
November 23, 2014
Q. I just recently started using Wood's nickel strike and I must say my results are nothing short of spectacular! I had been using another product. So my question is, is the Wood's nickel strike made from a particular company or is that name just a catch-all name for that particular mixture? I hope this doesn't seem like a stupid question. Thanks, I have a lot of time on my hands
Richard Courtright
- San Francisco California USA
---
November 2014
A. Hi Richard. It was invented/developed by Don Wood (dec.) of Hill-Cross Company, but has been generic for a very long time now. It contains nothing but nickel chloride and hydrochloric acid -- nothing proprietary.
Regards,
Ted Mooney, P.E.
finishing.com
Pine Beach, New Jersey


This public forum has 60,000 threads. If you have a question in mind which seems off topic to this thread, you might prefer to Search the Site