Not a lecture hall but a roundtable with a seat for you!
60,000 topics spanning 36 years. Education, Aloha, & Fun
topic 28788p3
What is electroplated gold?
---
< Prev. page Next page >
---
A discussion started in 2004 but continuing through 2020
June 24, 2015
Q. I have a 24kt gold stamp in a ripped open envelope I found outside. Is this real gold? Would a pawnshop take it?
vanessa ortega
- san pedro, california, usa
---
---
July 10, 2015
Q. Please help, can you explain 14k coated gold?
Linda de Waal
- Luderitz, Namibia
---
---
July 9, 2015
Q. How much is 7 grams of 18k yellow gold plated worth if it has no stamps?
shane barr
- HAMBURG Pennsylvania united states
---
---
July 18, 2015

Q. I want to know about "Anodized". Is this a form of gold plating or is there any gold in it?

Thank you,
Arvey

Arvey R Kruse




- Scottsbluff, Nebraska U.S.A.





---

July 2015

A. Hi Arvey. Anodizing is a dyeable, corrosion-proofing treatment for aluminum. It contains no gold. "Gold anodizing", such as found on shower doors, just means that the dye is a gold-ish tone. This site has thousands of threads about anodizing, and you might start with our "Introduction to Anodizing of Aluminum".

Regards,

Ted Mooney, P.E. RET

finishing.com - Pine Beach, New Jersey

Aloha -- an idea worth spreading
---
---
August 23, 2015
Q. Good Morning,
Is a 18 KT ELECTROPLATE, Piaget watch worth much in value? Thank you, Kathy
kathy Filippo
- cape may court house, New Jersey united states
---
---
Caribbean cruise gold wore off in weeks
November 12, 2015
Q. I bought a nice 5mm gold necklace and bracelet by the inch on a recent Caribbean cruise line. Made sense at the time and looked great! Now only weeks later the precious gold is wearing off. Can this be refinished or dipped in gold and last?
Frank Massari
- Redmond, Oregon, USA
---
May 29, 2016
Q. Hi, I have a large quantity of thread that was supposedly made in the 1920's in Japan. It was also said to be 24k pure gold leaf wrapped around silk. But when I took it to a jeweler, three jewelers in fact, I was told that there wasn't a scrap of gold in it. So I took it to a lab that said that it was 98% silver and .003 in gold. They said the gold was likely electroplated onto the silver. So can it legally be called 24k gold if we disclose that it was electroplated onto silver? Does this measure in micrograms?
Believe me, I look forward to your reply. I have many photos but don't know how to attach them.
rose estes
The Hauser Gallery - waldport Oregon USA
---
---
December 18, 2016
Q. Hi, I bought Druzy Amethyst electroplated gold earrings. Does electroplated gold come off quickly from the earrings?
Gerda Kabel
- Koivukyla Vantaa, Finland
---
---
March 12, 2017
Q. I have a 9k gold (not plated) mans heavy bracelet. It's dull after 30 years. Can I have it plated to 18k or rhodium to enhance it?
Thank you for your time and expertise.
Bill
William Fennelly
Marine surveyor retired - League City
---
---
August 15, 2018
Q. Hello everyone,
I'm newcomer in Au plating. So I would like to know more things about this process. So, could everyone help me understand more about this process. Everything about technology ... chemical types ... chemical reactions...
Thanks and best regards!
Anna Yoon
- Viet Nam
---
---
August 20, 2018
Q. HI, I JUST WANT TO KNOW WHAT IS THE MEANING OF GOLD ELECTROPLATED IN MY FIDELLO WATCH. THANK YOU VERY MUCH
JANE HUSSAIN
- PASAY CITY/ PHILIPPINES
---
---
December 31, 2018
Q. Hello, I am a jewelry collector and I found a 1960s gold locket with a pretty ugly engraving of flowers and a star with a tiny diamond in the star. It sounds prettier than it looks but it is oval with a nice size of over an inch long and a little over half an inch wide. The best part is it opens up to reveal 4 places to put photos.
I want to remove the engraving and have an Art Deco engraving I saw on another locket added instead. The one I liked almost looked like a highly stylized scarab engraving, but it might be an abstract. The locket I own is a dime a dozen so I am not worried about its historical importance. Can I add gold to get rid of the old engraving? I am afraid if I take off gold I won't have enough left to add the engraving I prefer. If gold can be added to get rid of the old engraving, what is the process called so I can ask for it by name? The scarab-like locket engraving was very deep and also had a contrasting rose color to the engraving but not on the locket. It was not enamel. Do you know how to get that effect. Thank you, Kathy
Kathy Tobacco
- Jasper Georgia
---
January 4, 2019

A. Pulse arc welding is better solution for removal of old engraving ( http://www.ascasonline.org/ARTICOLOGENNA190.html )...Hope it helps and good luck!

Goran Budija




- Zagreb,Croatia





---

January 4, 2019

A. It's probably possible to add enough gold via electroplating to level out the engraving, but may be cost prohibitive and wouldn't be my first preference.

As for the scarab engraving, based on that picture I would guess that it's actually a rose gold or copper base with a gold layer plated on top, which is then revealed by engraving - it would be the easiest way to get that effect at least. It may be possible to produce a similar effect by doing the engraving, masking the raised surfaces very well, and then plating the recessed surfaces with rose gold or copper.

Brendan McNamara




- Rochester, New York, USA




---
---
March 14, 2019
Q. Nicki here. I bought a "18k rose gold over 925 silver" ring on eBay. The seller says it is electroplating but how would she know that or that it's sterling without a stamp on the inside? I think I paid $50 for a $5 ring that's going to end up turning my finger green. Does the ring have to be stamped that it is electroplated? How long will 18k rose gold over silver last? I read somewhere you can coat with clear nail polish to make last longer. Help!
Nicki James
- Athens, Georgia, USA
---
March 14, 2019
Q. Nicki again! Yes you are right. I did know better (feeling foolish). Question, so am I understanding you correctly that even if it is 18k rose gold electroplated over silver it will not necessarily have a 925 stamp inside? Which is better? 18k or 14k electroplating on sterling silver for the amount of time before tarnishing? Any suggestions besides a clear coat of nail polish for keeping in good condition longer?
Nicki James
[returning]
- Athens, Georgia
---
---
April 1, 2019
Q. It appears that overlay and plated, electroplated, finished looks are very common subjects on the Internet. Yet nobody is talking about 10k gold that's plated with another gold, in my case, a real 10k gold plated with 18k gold. Because 18k gold color looks more vibrant and yellow than the 10k is (which is faded compared to other gold purities, more of a pale yellow gold) I wanted to ask how would this turn out in time, after wearing this necklace daily?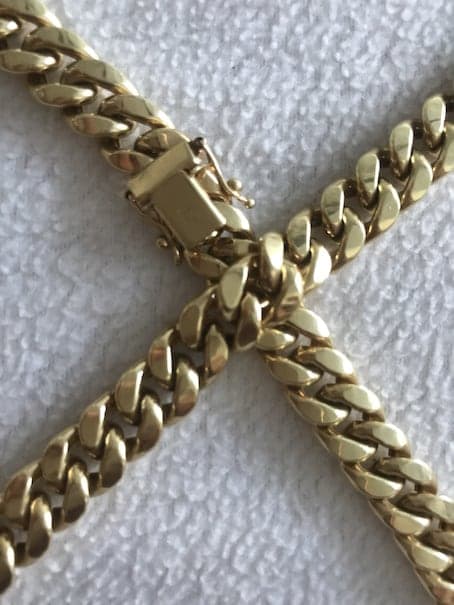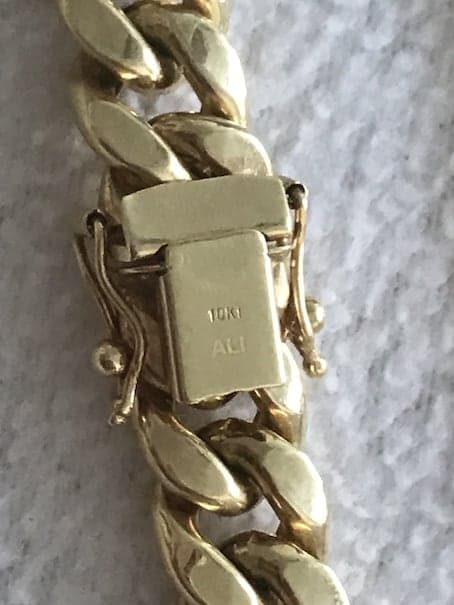 Yes, cologne, body wear, sweat, clothes friction would all speed up the fading, I do understand that. Months or years later, would it be a rough look with spotty and visible marks of 10k pale yellow that shows between the links or overall look of the 18k electroplating? More to the subject, is the process of overlaying 10k gold with 18k layer a fairly common thing, durable or recommended, what are your thoughts? I haven't heard about this until recently. Please respond.
Alex Cass
- Miami, florida
---
April 9, 2019
Q. Morning Ted,
I used those terms and I was able to find more information on it. So I want to thank you for that.
About the finishing thickness, probably I would never be able to tell how thick that 18k layer is unless I get in touch with the company that made and stamp it but that is very less likely to be disclosed. If even answered. On a every day use, about three weeks now, and so far, the necklace has darkened in color and seemed to come back to its sparkle 18k look when polished lightly with a cloth. Other than that no signs of any fading yet.
Once again Ted, thank you for taking the time to respond to us all and for all the useful knowledge you share with us.
| | |
| --- | --- |
| | Lastly, I have one more question just as important to me but unrelated to our topic. I have a little 925 silver pendant which has a tremendous emotional value to me. The option of having it copied and made in gold is there but I prefer the silver original and would like to know if I can have this attached to a gold cross pendant. Welded somehow over the gold and create this way a bigger pendant. I would have to do that since the necklace is very thick, about 12 mm and 28 inch long, and the pendant is practically too small. Would that even be possible? |
Alex Cass
[returning]
- Miami, Florida
---
---
May 19, 2019
Q. I'm still planning on buying a solid gold piece. But I've been experimenting with some gold plated stuff trying to find the look I like. I have also been interested in .925 sterling silver as of late and have quite a few silver rings. I was wondering, I want to buy this chain that said it was "5 times electroplated", how thick would that be or does that depend?
Daniel Chrosts
- New York USA
---
---
June 27, 2020
Q. I have a Longines ladies wristwatch I purchased for $5.00. It's very beautiful, and on the back says 14k gold electroplated. Engraved is a date of 1-30-1941. Am I to assume that the gold layer on this watch is pretty thick as it still has not worn off anywhere even after wearing it a lot?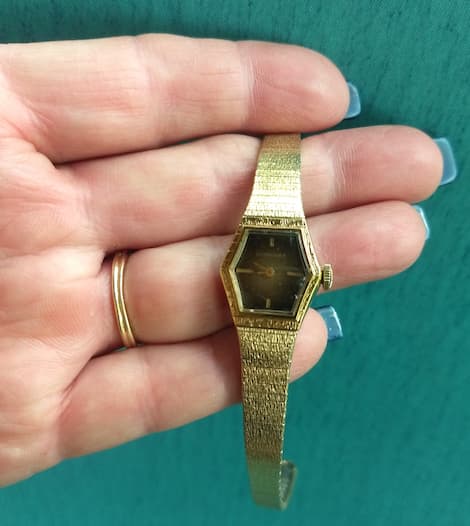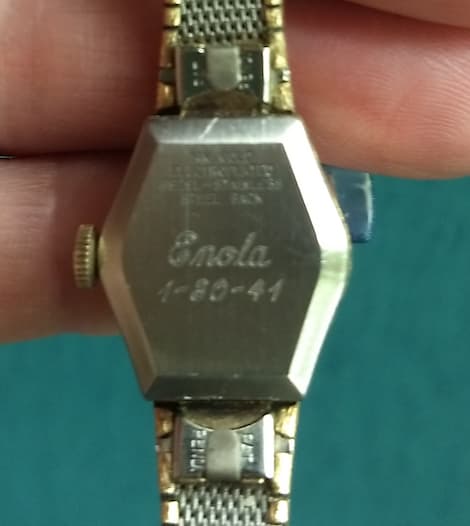 Bridgette B
[last name deleted for privacy by Editor]
- Keithville, Louisiana, United States
----
Ed. note: Sorry, but we've had to reject a lot of submittals on this thread because we do not print any requests for valuations, nor anything which could possibly be interpreted as a "for sale" listing. Technical questions only please!