Not a lecture hall but a roundtable with a seat for you!
60,000 topics spanning 36 years. Education, Aloha, & Fun
topic 27348
Tarnish on pennies: Is it rust, copper oxide, or copper sulfide
A discussion started in 2004 but continuing through 2020
2004
Q. Why are pennies coated with copper oxide when they are made? I am questioning because I came across your site and was reading answers you had given to science fair questions on juices cleaning pennies. You aroused my curiosity!
Jan j.
student - Chapin, South Carolina
---
---
2004
Q. Hi,
I'm doing a science experiment about how different liquids affect the "rust on pennies". I need to know if it really is rust. And if it's not then could you please tell me the name of what all the brown stuff is on copper pennies? thanks.
Jacob B
research - SW Ranches, Florida, US
---
---
2005
Q. Hi,
My name is Connie and I'm in the seventh grade and I'm doing a science fair project on pennies and the substances that clean them. The substances that I am using are; ketchup, vinegar, nail polish remover, and Coca-Cola. I was sifting through some of the questions and answers about my subject and I was puzzled by one. This person said that the brownish tarnish on pennies is copper sulfide. I read in a lot of places that the brownish tarnish is copper oxide -- which is which? (My science fair report is due in two days so it would help if you could please answer my question ASAP)
thank you!
Sincerely,
Connie R.
[last name deleted for privacy by Editor]
- Warwick, Rhode Island, Unites States
---
---
2007
Q. I am doing a science fair project on what substance cleans copper pennies best in 2 minutes. I have read that vinegar and salt works best. What is copper oxide? How is it made? What is its scientific name?
Lola S
student 6th - PTC, Georgia, USA
---
---
December 9, 2014
Hiya, I'm not sure if you're still on this site, since the last comment I saw from you was in 2011, but I'll give it a shot. My friend and I are doing a presentation for school on copper oxide, and we're using vinegar and salt for an experiment to get the tarnish off the pennies.

But I'm getting confused about copper (l) and copper (ll) oxide. Does copper (ll) oxide produce worse tarnish on copper, like making it more dull than copper (l) would, or resulting in a patina forming on the copper?

Thank you, hope you read this in time! It's due tomorrow, kind of shoved it off a bit.
Julia Hambuchen
- Conway, Arkansas, USA
---
---
What happens to copper sulfide tarnish in an acid bath?
February 11, 2015
Q. Will an acid wash, say HCl, remove a sulfide tarnish from copper? And, if so, does the acid simply release H2S as a gas, restoring the original clean copper surface? Or does it dissolve off a copper sulfate, copper sulfide, or some other copper salt from the surface of the copper? Thank you!
Deane Little
- Boulder Colorado USA
---
---
Do I use black copper for thermite, or green?
February 3, 2018
Q. So when making copper oxide, what part should I use -- the green or the black to make thermite? Because my solution is turning brownish green almost black. Should I stop? What part should I use to make thermite, the black or the green?
Joe nalley
- Warren Ohio
---
February 2018
Hi Joe.
Copper (II) oxide, CuO, is a mild oxidizer and is black, but can be green when hydrated (water molecules included in the compound). But I don't really know what "solution" you are talking about and what "stop" means in this context -- what is it that you want to stop doing or continue doing? Please clarify, and also introduce yourself; you may be completely qualified to make thermite and to work with dangerous stuff, but readers don't know whether that is the case or if you are just recklessly playing with possibly explosive powders like red copper oxide. Thanks.
Regards,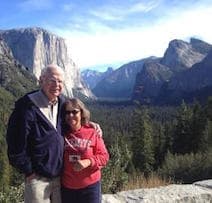 Ted Mooney, P.E. RET
finishing.com - Pine Beach, New Jersey
Aloha -- an idea worth spreading
---
---
February 24, 2020
A. Hi all, I have tested the tarnish [on pennies] and it is copper oxide.

Regards,
Saida
Saida Sanders
- Birmingham, England
adv.