topic 2793
Chromating Aluminum A-360 alloy
(1999)
How do you prepare aluminum die castings made of A-360 alloy for yellow chromating? Our current process is to tumble the parts in a mild soap solution with a ceramic media. This is followed by normal cleaning with fluoride nitric acid desmutter. The parts have a heavy yellow/brown smut after chromating.
Ray Handwerker
- Marlboro, NJ
---
(1999)
Phil from Henkel will probably reply in a few days with a much more complete response. I think that it would be wise to go thru a non etch cleaner before going into the desmut/deoxidize tank. The fines from tumbling are very difficult to completely rinse off. A dark reddish chromate is normally the result of staying in the tank too long or having the temperature too high or the solution out of balance or too strong. Your vendors tech service should be able to help you better than anyone else, since it is their solution.
James Watts
- Navarre, Florida
---
(1999)
Without more details it is a little tough to pinpoint a problem such as this. Jim's comments are very appropriate. A non-etch cleaner followed by a nitric-HF deoxidizer are probably the best way to go. Depending on the history of the part, that is, how much is machined and how much as-cast surface is on the part and whether the as-cast surface is important, sometimes dilute nitric with surfactant is sufficient. Make sure there is no smut on your parts after deoxidizing, which could happen if the deoxidizer is out of balance. I mention the latter because of the nature of your problem. As Jim has pointed out, dark, loose coatings are indicative of coatings that are too heavy, and you could shorten time or lower temperature, if your bath is heated. But your bath may be too active because of the presence of too much free fluoride. Fluoride is usually the activator in a chromating bath, but it is normally present as a complex to control the reaction rate. Either by dragging in ! some of your deoxidizer into the chromate, or even just having HF trapped in the pores of your castings, the coating may be depositing too fast. You might try operating with as low a dip time or as low a fluoride level in your deoxidizer as necessary, (or eliminate it if possible). Take a good look at your rinsing practices and maybe even try a warm (100-120 F) rinse. Good luck!

Phil Johnson
- Madison Heights, Michigan


---
(1999)
Dear Ray The problem with cast Aluminium is always the same . Etching with Alkaline or Acid will couse smut because the high level of impurities in the cast Aluminium. A good process is using mild Alkaline cleaning , then using Henkel Surface Technology process called Deoxalum 1000 process , this is convenient process form desmutting without black residues on the part. After desmutting and rinse you can do Chromate Conversion Coating process Your Sincerely Yehuda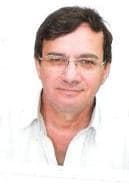 Yehuda Blau
YB Plating Engineering and Quality - Haifa Israel
---
(2001)
I made several attempts, since 1998 to obtain information, or technical data sheets on the Autodeposition of Organic Coating. I contacted local Henkel (Novamax) Representative, he claimed a few times that he forwarded my request to Madison Heights office in Michigan, but I never got response back from them. I personally contacted Mr. Thomas C Johnes, and I was told that Regional Office will contact me to provide information, but again, nothing happened. My second attempt to contact Mr. Johnes was unsuccessful since he left Country, and my message to voice mail to Technical Service, ended up silent again, without any answer or response.
Year after Year, ORGANIC FINISHING GUIDEBOOK & DIRECTORY, Edited by Metal Finishing have a special article on Autodeposition of Organic Coating by Mr. Thomas C. Johnes. Does this process exist? How do I get product name, Technical Data Sheets, and if possible, samples?
Alex Etemovich
connectors plating - Los Angeles, California
---
October 11, 2010
I've had this problem before and brought it back to the ceramic tumbler solution. The tumbling drives the fines into the surface and then they are very difficult to get out. Try doing the coating without tumbling then if OK don't tumble need to fettle mechanically. If same result then its a different problem.
Peter Schwarzel
- Coombabah, Qld, Australia


This public forum has 60,000 threads. If you have a question in mind which seems off topic to this thread, you might prefer to Search the Site