topic 26622
White rust on zinc plated parts
An ongoing discussion from 2001 through 2018
2001
Q. I have in Dec 2000 shipped a container load of zinc plated rave hooks to UK from China and my customer has came back to me that the finishes had turn to powdery and dull grey in colour. Prior to that we had the similar problems. In this shipment we had taken all necessary precautions to avoid repeated occurrence. I was told that there is no leakage and condition of container is good. Could you advise how the finishes had deteriorated to such state. The shipping time is 40 days from China which is quite cold during December via Singapore (hot & warm), Middle East (hot) to UK in Jan which is winter. Could the cold/hot/cold conditions in the container during shipment cause the problem?
Thank you for your kind attention
Lim Goy Pheng
- Singapore
---
2001
A. Sir:
I have seen some horrible results from shipping zinc and zinc alloy parts over the ocean. Even with containers that are supposed to be sealed well, you get condensation patterns on the parts, combined with a salt type mist on the ocean. The way we got out of the problem was to wrap all parts thoroughly and completely in plastic with no gaps or voids. Additionally, work was done on the containers on the ships.
We were very surprised at the variances of temperature that we were told occurs in the hold of a ship.
Sincerely,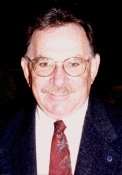 Ed Budman
- Pennsylvania
---
2001
A. I think your products were most probably plated in Zinc and finished in Blue Chromate Correct?
The short answer is that this finish is not suitable for the application, you need a better finish, if your customer wants the blue bright finish then you must look to applying a seal to the chromate finish, i.e., a water borne acrylic lacquer, or, a metasilicate seal.
The packaging material used also needs to be considered, as does the packaging method.
A good consultant can solve your problems quickly and relatively cheaply.
Regards,
John Tenison - Woods
- Victoria Australia
---
2001
A. Sir,
Zinc plated and yellow or blue chromate passivated parts deteriorate in storage due to various factors like condensation of moisture due to humidity changes and also due to biological fluids from, say, rodents and also due to fingerprints (especially in the case of full (yellow)iridescent passivation).
Apart from these factors, any acidity from the packaging materials may be a contributing factor. Adding packets of silica gel will be a valuable thing to protect the parts from corrosion due to condensed moisture during the sea voyage besides taking other precautions.
Thanks.
S.RAMAJAYAM
- BANGALORE,KARNATAKA,INDIA
---
---
To minimize your searching efforts and to offer multiple viewpoints, we've combined some threads into the dialog you're viewing. Please forgive any resultant repetition or failures of chronological order.
---
---
2004
Q. Dear Sir,
We are currently using Zinc plated Yellow passivation in our product and we are exporting our product to US by sea , normally it will take 45 days to reach. After 45 days of its travel in sea our US peoples found some WHITE RUST formed in the plated parts. We want to sort out this problem completely so please advise us the reason why it occurs and how to overcome this problem ?
Thanks & Regards,
Prabhu raj
Purchase Engineer - Chennai, Tamil Nadu, India
---
2004
A. Zinc plating protects steel from red rust, and itself corrodes as white rust, so that is the short answer as to why it occurs, Mr. Prabhu.
But why your product is white-rusting within 45 days of sea travel is difficult to assess based on the limited input. What is the product, how is it packaged, is it guaranteed to be fully dry before packaging, what is the thickness of the zinc, what kind of salt spray hours have you been getting before white rust shows, etc.? Thanks.
Ted Mooney, P.E. RET
finishing.com
Pine Beach, New Jersey
Striving to live "Aloha"
---
2004
A. Dear Mr Prabhu,
Welcome to the club of white rust problems!
For Sea shipment, this is common as I reckon that 45 days sea shipment is equal to 23 days of a Salt Spray Test.
You may want to opt for Zinc Cobalt Alloy plating with yellow passivation to avoid similar problems in future. It would be wise to test parts up to 480 hours in a SST before shipping the parts again.
Regards,
Khozem Vahaanwala
Saify Ind
Bangalore, Karnataka, India
---
2004
A. Dear Mr Prabhu,
Your biggest problem might be the packaging. Plastic packets or sheeting is an absolute "NO". The metal will sweat and start corroding. Cardboard must not be acidic. Wooden crates with cardboard boxes and polystyrene spacers are best. Find a company that knows about packaging for zinc plating. We had a client who shipped zinc plated articles overseas for years with only 3 microns zinc and blue passivation and they shipped well. Good luck!

Trudy Kastner
electroplating service
Durban, KZN, South Africa
---
---
To minimize your searching efforts and to offer multiple viewpoints, we've combined some threads into the dialog you're viewing. Please forgive any resultant repetition or failures of chronological order.
---
---
Protecting Passivation /Zinc plating from white rust
(2005)
Q. We perform Zinc plating (13 microns) and yellow passivation on our carbon steel actuator components.

When we ship the materials to foreign countries by sea the parts get rusted.

Our component passed 140 hours without white rust in the salt spray test under ASTM B117 [link by ed. to spec at TechStreet] .
Hence we find no problem with the quality of plating.

My Question :
Is there any other method or coating which can be useful to protect the Zinc plating from getting white rust?
Please suggest,
G.Senthilnathan
- Coimbatore, Tamilnadu, India
---
(2005)
A. You can check the packing material because sometimes the packing material like plastic or glue used for cartons is interacting with the plating and thus it gives the rusting.
Harish Gurnani
- AHMEDABAD, GUJARAT, INDIA
---
(2005)
A. You can try and use top coat sealants. Plenty are available which will increase white corrosion to maximum to 200 plus hours; also improve packing material.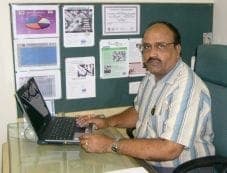 P. Gurumoorthi
electroplating process chemicals
Chennai, Tamilnadu, India
---
(2005)
A. You will most certainly find that the parts have been packed wet or that the parts have been subjected to marked changes in atmospheric conditions (humidity & temperature) and the parts have sweated during transport thus getting the parts wet in the process. If the parts were packed in plastic then this will only exacerbate the situation.
Solution is to pack the parts in a container to allow free movement of air , but keep the parts dry and protect them from extremes of temperature .
Regards,
John Tenison - Woods
- Victoria Australia
---
(2005)
A. Dear Mr Senthilnathan,

Don't send any parts by sea unless they are alloy zinc plated well is the long and short solution. NO PLASTIC packing is the second solution.
Khozem Vahaanwala


Saify Ind


Bangalore, Karnataka, India
---
(2005)
A. Dear Sir,
There is a product available to seal your kind of plating. Thickness is 2/3 microns and applied by dip spin coating method. The product is Delta Coll from Doerken of Germany. Try it, it will work for your application. Best regards.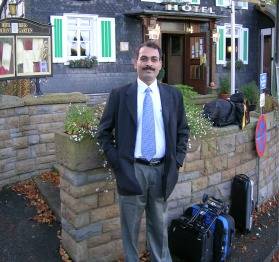 Kalyan Dhakane
Mumbai, India
---
---
September 18, 2012
Q. Hi,

I have few doubts...

1) Is there any correlation available between sea shipment and salt spray analysis... with VCI packing... & without VCI packing? This is for parts just protected only with RPO - completely wiped out.

2) Is there any correlation available between Hot & humid environment Vs. Salt spray analysis? For e.g., Chennai is port city + very hot (normally range between 35 to 45 degrees). If a part is exposed to this kind of environment without any surface protection, how long it will take to rust and what is its equivalent in salt spray? 2nd, if the part is having a RPO coat then, what is the salt spray equivalent? If the part is with RPO and VCI, then, what is the salt spray equivalent?

All I meant as salt spray is normal method used in India.
Muthukumarasamy Viswanathan
- Bangalore, Karnataka, India
---
---
June 10, 2015
-- this entry appended to this thread by editor in lieu of spawning a duplicative thread
Q. We are facing zinc plating issue when we are sending the shipment by sea. Its transit time in sea approx. 40 days. When we send it by air it is found okay. Please advice us what should we do for this so that by sea shipment zinc plating will remain okay.
Mukesh Sharma
Plating Shop Employ - Ludhiana,Punjab,India
---
June 2015

Hi Mukesh. As you see, we appended your inquiry to earlier discussions on the topic, and the problem is perennial. Please try to review the earlier comments and either ask for clarification on things that sound applicable, or supply the data about your situation which people have indicated is necessary to offer more specifics. Thanks!
Regards,
Ted Mooney, P.E. RET
finishing.com
Pine Beach, New Jersey
Striving to live "Aloha"
---
---
June 11, 2018
Q. My question is this:
We have farmed out plating of parts.
Parts are metal and plating is black zinc. However, during pick up of delivery to plating process, parts were wetted by rain inside the delivery truck and were not wiped immediately to dry off.
2 days passed and the parts occurs white rust.

My question is what is the possible cause of this?
Almira Macatangay
Tri r - Philippines, Cavite
---
June 13, 2018
A. Hello Almira!

Black zinc (specially hex black chromate) is not a good corrosion resistant finish if not specified some topcoat, sealer or lacquer. My experience with acid zinc plating and ONLY hex black chromates isn't good, as I haven't seen more than 12 hours for white rust in neutral salt spray chamber test (ASTM B117).

I would say this is what this finish can withstand, and no more. If you specify any corrosion resistance, I think your supplier may have to make some adjustments to his process.

Best of luck!
Daniel Montanes
TEL - N FERRARIS - Canuelas, Buenos Aires, Argentina


This public forum has 60,000 threads. If you have a question in mind which seems off topic to this thread, you might prefer to Search the Site