World's most popular finishing site / Internet's friendliest corner
topic 26032
Changing brass to silver, nickel, or satin chrome look
A discussion started in 2002 but continuing through 2019
2002
Q. I have a pair of glass topped solid brass tables that have a high polish brass finish. I would like to figure out the best possible way to refinish the gold brass color to be high polish chrome silver finish instead. Any suggestions?
Thanks,
Mary Newcomb
- Stamford, Connecticut, USA
---
---
2003
Q. I'm trying to find a chemical compound or other solution to change the color of a 2" wide, 40" long brass bar that runs the length of my fireplace to a color and finish more like a satin chrome or nickel. Most of the metal plating companies in my area have closed, and the one or two that I have located do not accept jobs as small as mine. Can anyone offer any advice?
Thanks,
Carri O'Neill
homeowner - Corte Madera, California, USA
---
---
How to make a brass table chrome or silver
September 9, 2011
Q. Hello! Wow, I ran across this page while Googling and what a terrific resource it is!

I'm purchasing a new coffee table (Thomasville Stiletto) that is absolutely perfect for my new living room, however, it is made of brass and finished in a dull, gold-ish metallic color.

I'd like to make it more silver than gold to match the rest of the room concept. I was thinking of using a product that could be rubbed on so that it overall takes more of a silver color than just painting it solid silver.

Does anyone have recommendations for the best product, paint or method to accomplish this?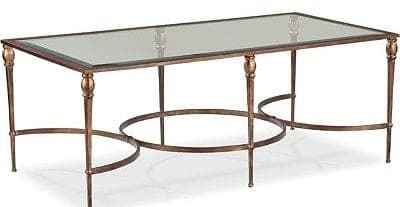 Thanks!
Chris
Chris Westfall
Hobbyist - Orlando, Florida, USA
---
---
Change brass bed to silver tone
February 17, 2013
Q. I have a solid brass, queen-size bed (headboard and footboard) that I would like to change to a silver-tone. It looks like an old-fashioned, Victorian brass bed. At present, the brass is coated with an anti-tarnish finish. I've had the bed for 25 years, and simply want a change of color.

Can you recommend what should be done with this bed? Should it be electroplated with chrome or nickel, or a nickel-chrome combination. Are there any specifications for how thick the coating should be for this type of application? Thanks in advance for your help! :-)
Noreen Wensley
- Saskatoon, SK, Canada
---
---
February 22, 2014
-- this entry appended to this thread by editor in lieu of spawning a duplicative thread
Q. Just moved into a 30 year old home and most of the fixtures are gold; we're updating to a satin nickel finish. my sliding door is no longer made, and the handle is a special part you can't find in stores. So, I'm looking to take the gold to satin nickel. What would you recommend for looks and durability?
brad mock
- omaha, Nebraska, USA
---
June 25, 2014
Q. My mom is downsizing her house and is offering me the solid brass head and footboard that I used as a teen. The piece is beautiful - almost like a cloud design (so soft arches), however it's brass - thick shiny bright gold. The gold style is dated and while originally quite expensive, I don't want to take it if I can't update it to go in my almost 9 year old daughter's room.

I'm not in a position to spend a ton of money having it refinished professionally (came across one site that charged $1700 for this size bed), so what, if any, DIY options are there?

Even if I could get it to an antique/brushed brass that would be an improvement over the current very bright/shiny gold.
Nicole Souther
busy working mom who loves crafts - Dallas, Texas USA
---
Brass pedestals to silver or chrome
February 6, 2015
-- this entry appended to this thread by editor in lieu of spawning a duplicative thread
Q. we have a dining room glass table top supported by two brass pedestals. The table is 84x48 and very heavy. Brass is no longer acceptable in our present home. Is there any way to get a silver or chrome coloring to them?
Earle Malkin
owner of dining room table supported by pedestals - Las Vegas, Nevada USA
---
March 15, 2015
Hi,
Which is easier to paint over, brass finish or nickel finish?
Thank you.
R Aaster
- Santa Fe, New Mexico USA
---
---
Changing brass faucets to chrome
December 20, 2015
Q. My husband and I recently moved and one of our bathrooms has all brass (plated?) fixtures. I'd prefer a chrome finish but before we go replacing everything I wanted to see if there was a product we could use to change them from brass to chrome and also am curious on how that would hold up in the shower and knobs getting daily use by our kids. Any recommendations are appreciated! Thanks!
Kathleen Brenner
- Wilbraham Massachusetts USA
---
---
June 21, 2018
Q. I have tried to find exact kitchen cabinet nickel hinges but since I can't I was wondering how I could change the brass ones into nickel. I also have to add that there may be some Polyurethane that got on them when I stained the cabinets.
Linda Pipitone
- Monroe Township, New Jersey
---
---
January 28, 2019
Q. I have a LaBarge brass and glass coffee table purchased in 1983. I would like to change the brass to a shiny chrome finish.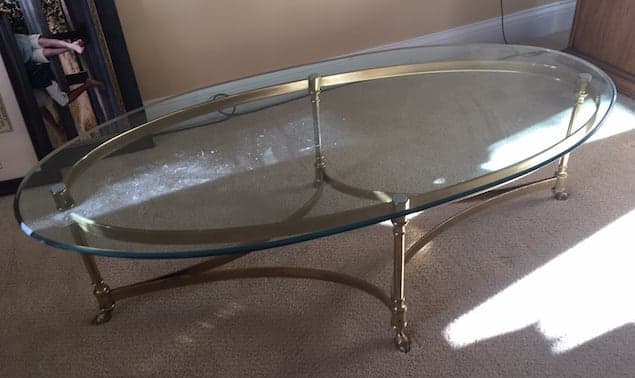 I read your advice in this thread would be to have the brass plated with a chrome finish however I fear this will prove to be too costly. What is your opinion of using a primer then spray painting the brass on this table since the legs are very detailed?
Kay Dyer
- The Villages Florida USA
adv.