Live! From beautiful Pine Beach New Jersey: Welcome to the world's most popular metal finishing website
topic 26032
Changing brass to silver, nickel, or satin chrome look
A discussion started in 2002 but continuing through 2019
2002
Q. I have a pair of glass topped solid brass tables that have a high polish brass finish. I would like to figure out the best possible way to refinish the gold brass color to be high polish chrome silver finish instead. Any suggestions?
Thanks,
Mary Newcomb
- Stamford, Connecticut, USA
---
2002
A. Plating a table like that with silver or chrome is not a do-it-youself project. A plating shop can do it though. Silver would be very pretty, but tarnish prevention and removal might be overwhelming. Nickel-chrome plating would leave you with a durable and low maintenance finish.
Painting it would be much cheaper and a do-it-yourself project, but you asked for the "best possible way", and that's certainly to have it plated. Good luck.
Ted Mooney, P.E.
finishing.com
Pine Beach, New Jersey
---
---
2003
Q. I'm trying to find a chemical compound or other solution to change the color of a 2" wide, 40" long brass bar that runs the length of my fireplace to a color and finish more like a satin chrome or nickel. Most of the metal plating companies in my area have closed, and the one or two that I have located do not accept jobs as small as mine. Can anyone offer any advice?
Thanks,
Carri O'Neill
homeowner - Corte Madera, California, USA
---
2003
A. Unfortunately, Carri, brass is brass and chrome is chrome; one is goldish while the other is silverish.
You may have to ship the item off to get it plated. Labor is the biggest part of the cost of most things, and to replate a single item, spending a couple of hours in the process, will make it cost more than most consumers think it's worth. But if it's special to you, yes, a plating shop can certainly do it.
Something that is dirt cheap and may or may not impart the look you want is a metallic wax rub, probably only applicable if this is a decorative feature far removed from the fire and doesn't get hot. Good luck.
Ted Mooney, P.E.
finishing.com
Pine Beach, New Jersey
---
2003
A. Plating of a single item can be very expensive. You could try a can of high temperature aluminum paint. It can be moderately close to a satin finish.
James Watts
- Navarre, Florida
---
2003
A. You can try with paste silvering or tinning!
Paste silvering recipe:
10 gm silver chloride
20 gm salt
20 gm cream of tartar (potassium bitartrate)
It must be rubbed on grease and oxide free object (with piece of leather or cork) and you must lacquer or wax it!Good luck!
Goran Budija
- Zagreb, Croatia
---
---
How to make a brass table chrome or silver
September 9, 2011
Q. Hello! Wow, I ran across this page while Googling and what a terrific resource it is!

I'm purchasing a new coffee table (Thomasville Stiletto) that is absolutely perfect for my new living room, however, it is made of brass and finished in a dull, gold-ish metallic color.

I'd like to make it more silver than gold to match the rest of the room concept. I was thinking of using a product that could be rubbed on so that it overall takes more of a silver color than just painting it solid silver.

Does anyone have recommendations for the best product, paint or method to accomplish this?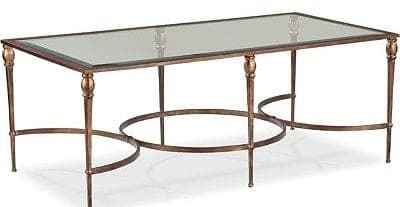 Thanks!
Chris
Chris Westfall
Hobbyist - Orlando, Florida, USA
---
December 25, 2011
A. www.apartmenttherapy.com/chicago/tips/strip-brass-plating-with-oven-cleaner-style-north-139280

I saw this on the Nate Burkus show and they used oven cleaner to change the color of brass to chrome. The chemical in the oven cleaner alters the brass color and it looks just like chrome without painting and looks much better.

Marianne Reile
- Evanston, Illinois, USA
---
December 26, 2011
Hi, Marianne.

That is an interesting possibility. Thanks! It is true that some brass toned stuff is not really brass but is actually nickel plating with either a flash of brass plating over it, or a brass tone tinted lacquer over it. If you can remove that top layer, yes, you can be left with the bright nickel plating. But you'll be left with a mess if it wasn't what you thought it was :-(

Regards,
Ted Mooney, P.E.
finishing.com
Pine Beach, New Jersey
---
---
Change brass bed to silver tone
February 17, 2013
Q. I have a solid brass, queen-size bed (headboard and footboard) that I would like to change to a silver-tone. It looks like an old-fashioned, Victorian brass bed. At present, the brass is coated with an anti-tarnish finish. I've had the bed for 25 years, and simply want a change of color.

Can you recommend what should be done with this bed? Should it be electroplated with chrome or nickel, or a nickel-chrome combination. Are there any specifications for how thick the coating should be for this type of application? Thanks in advance for your help! :-)
Noreen Wensley
- Saskatoon, SK, Canada
---
February 17, 2013
A. Hi Noreen. I'm not here to discourage you from bringing a plating shop a $2000 job if that's what you want to do, but just to warn you that such a project would be very expensive :-)
Nickel plating should be fine for indoor use in a home. No need for nickel-chrome unless you like the extra flash and freedom from tarnishing (some people find the faintly yellow tarnish of nickel attractive). I don't think a consumer should try to write specifications for a one-time job, but just tell the plating shop to do a good job.
It may be more practical to simply paint the bed a metallic-looking color =>
rather than actually have it plated. Try some on an inconspicuous place on the inside of a rail. You'll almost surely need a self-etching primer coat first for good adhesion though. Good luck.
Regards,
Ted Mooney, P.E.
finishing.com
Pine Beach, New Jersey
---
---
February 22, 2014
-- this entry appended to this thread by editor in lieu of spawning a duplicative thread
Q. Just moved into a 30 year old home and most of the fixtures are gold; we're updating to a satin nickel finish. my sliding door is no longer made, and the handle is a special part you can't find in stores. So, I'm looking to take the gold to satin nickel. What would you recommend for looks and durability?
brad mock
- omaha, Nebraska, USA
---
February 2014
A. Hi Brad. If price were no object I'd recommend taking it to a plating shop for satin nickel plating. But if $150 or a little more sounds excessive to you, there's always nickel colored spray paint. Good luck.
Regards,
Ted Mooney, P.E.
finishing.com
Pine Beach, New Jersey
---
June 25, 2014
Q. My mom is downsizing her house and is offering me the solid brass head and footboard that I used as a teen. The piece is beautiful - almost like a cloud design (so soft arches), however it's brass - thick shiny bright gold. The gold style is dated and while originally quite expensive, I don't want to take it if I can't update it to go in my almost 9 year old daughter's room.

I'm not in a position to spend a ton of money having it refinished professionally (came across one site that charged $1700 for this size bed), so what, if any, DIY options are there?

Even if I could get it to an antique/brushed brass that would be an improvement over the current very bright/shiny gold.
Nicole Souther
busy working mom who loves crafts - Dallas, Texas USA
---
June 2014
A. Hi Nicole. Just paint it. You'll need a self-etching primer to get good adhesion, then spray on a color or a metallic tone.
Regards,
Ted Mooney, P.E.
finishing.com
Pine Beach, New Jersey
---
Brass pedestals to silver or chrome
February 6, 2015
-- this entry appended to this thread by editor in lieu of spawning a duplicative thread
Q. we have a dining room glass table top supported by two brass pedestals. The table is 84x48 and very heavy. Brass is no longer acceptable in our present home. Is there any way to get a silver or chrome coloring to them?
Earle Malkin
owner of dining room table supported by pedestals - Las Vegas, Nevada USA
---
March 15, 2015
Hi,
Which is easier to paint over, brass finish or nickel finish?
Thank you.
R Aaster
- Santa Fe, New Mexico USA
---
March 2015
A. Hi R. Neither is easy to reliably paint, and both require etching or self-etching primers. But I've heard horror stories of some brass surfaces proving about impossible. Can you offer us some context? That usually leads to good answers whereas abstract questions often lead only to misunderstandings :-)
Thanks,
Ted Mooney, P.E.
finishing.com
Pine Beach, New Jersey
---
---
Changing brass faucets to chrome
December 20, 2015
Q. My husband and I recently moved and one of our bathrooms has all brass (plated?) fixtures. I'd prefer a chrome finish but before we go replacing everything I wanted to see if there was a product we could use to change them from brass to chrome and also am curious on how that would hold up in the shower and knobs getting daily use by our kids. Any recommendations are appreciated! Thanks!
Kathleen Brenner
- Wilbraham Massachusetts USA
---
December 2015
A. Hi Kathleen. I greatly doubt that a paint or a wax rub will hold up on faucets/fixtures even if done well.
If any of the brass stuff is special and irreplaceable, a plating shop can reliably nickel-chrome plate it for you but, in general, the labor cost of onezy-twozy re-finishing will be higher than the whole cost of new mass-produced replacement items.
Regards,
Ted Mooney, P.E.
finishing.com
Pine Beach, New Jersey
---
---
June 21, 2018
Q. I have tried to find exact kitchen cabinet nickel hinges but since I can't I was wondering how I could change the brass ones into nickel. I also have to add that there may be some Polyurethane that got on them when I stained the cabinets.
Linda Pipitone
- Monroe Township, New Jersey
---
June 2018
A. Hi Linda. If price is not much of an object, a plating shop can certainly nickel plate them for you. But the plating of store-bought hinges is done hundreds at a time with machines in factories, and that keeps the costs reasonable. As I noted to Kathleen, if you want a handful of parts plated, it involves a lot of manual labor and the cost of the plating alone will probably exceed the cost of new hinges.
If you are looking for a moderate price solution, sanding them, priming them with a self-etching primer and then painting them with a metallic paint is probably your best option. Flex them before fully dry, so the paint doesn't dry bridged over parts which have to move or it will be forced to flake off. Good luck.
Regards,
Ted Mooney, P.E. RET
finishing.com
Pine Beach, New Jersey
Striving to live "Aloha"
---
---
January 28, 2019
Q. I have a LaBarge brass and glass coffee table purchased in 1983. I would like to change the brass to a shiny chrome finish.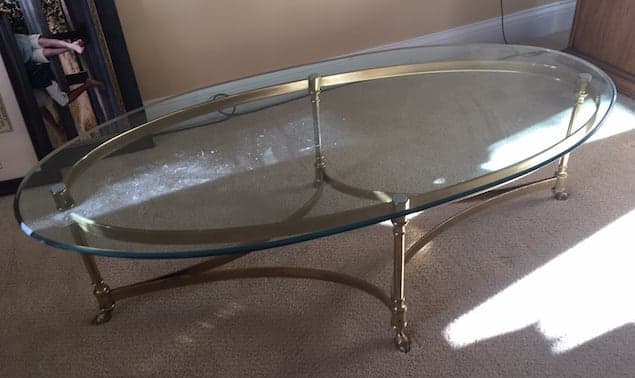 I read your advice in this thread would be to have the brass plated with a chrome finish however I fear this will prove to be too costly. What is your opinion of using a primer then spray painting the brass on this table since the legs are very detailed?
Kay Dyer
- The Villages Florida USA
---
January 2019
A. Hi Kay. You can get a nice matte silver tone from spray paint and it won't obscure the detail. But if you really want shiny chrome you'll probably have to send it to a plating shop. I see this table on E-bay, used, for $300 to $575 (but only in brass finish), so maybe it's worth getting it plated.
Regards,
Ted Mooney, P.E. RET
finishing.com
Pine Beach, New Jersey
Striving to live "Aloha"


If you have a question in mind which seems off topic, please Search the Site