topic 2621
New anodize line questions
1999
we are currently looking into the anodize process. we are asked by several customers to add this process to our current line of services. what we are looking for is some general help in making this line happen.... we have 14 tanks in line, all water and drains hooked up, all we are waiting for is someone to help us with the anodizing tank it self? how to hook up the rectifier?(if needed) we were told we have to have one to do anodize? (is this true?) we are asked to do this process in accordance to the mil-a-8625, and private specs such as boeing, sundstrand, woodward, etc. what we are told is that the sulfuric acid anodize is the most asked for.
any help will be appreciated!
chad
---
1999
Chad,
There are several types of anodizing processes, such as sulfuric acid, chromic acid, phosphoric acid, and boric acid, etc. The selection of the processes actually depends on your job sources and customers' applications. It is true that the majority of anodizing jobs with the specification of Mil-A-8625 [link is to free spec at Defense Logistics Agency, dla.mil]F is related to the anodizing process in sulfuric acid electrolytes.
Ling
Ling Hao
Grand Rapids, Michigan, USA
Ed. note: Dr. Hao has written some great papers about anodizing.
---
2000
Our facility is looking to add phosphoric anodizing to our capabilities and we too would like to get in contact with an outfit to set us up with equipment, materials and training. Please let me know which company handles this!
Don Wilson
- Arizona
Ed. note: There are some great anodizing consultants listed in the site's Consultant's Directory, Don.
---
2006
I am studying the Anodize process, I would like to know some inquiry from experts in this web site.
1. What is the control item to make the Anodize to be soft anodize or Hard anodize.
2. Anyway to do anodize without chiller.
3. What is the specification for hard anodize, what is the hardness level to able to say "Hard Anodize.
4. What is the advantage, disadvantage for each type of Anodizing.

Thanks in advance to your help.
Noppadol S.
Noppadol S.
- Thailand
---
2006
1. The principal difference between conventional and hard anodizing is actually the thickness. Conventional anodizing is about .0002" to .0007" thick whereas hard anodizing is about .002" inches thick. As the anodizing process proceeds, and the oxide film builds up, the electrical resistance causes a slowdown in further building of the film. Meanwhile, the acid is dissolving the film. Therefore, to obtain hard anodizing thickness a higher voltage rectifier is required and the temperature must be lowered to slow the dissolution.
2. Anodizing must be done at below ambient temperature, and hard anodizing at approximately the freezing point of water, so a chiller is needed.
3. See answer 1.
4. Conventional anodizing is less expensive, causes less dimensional change, and is more dyeable.
Please try to get hold of a copy of "The Surface Treatment and Finishing of Aluminum and its Alloys", which will educate you in this subject in a structured way, Noppadol. It is difficult to ask the questions in a productive manner, and get answers that will not be misinterpreted and mislead you, if you haven't been introduced to the subject in a structured way. Good luck.
Ted Mooney, P.E.
finishing.com
Pine Beach, New Jersey
---
October 21, 2009
Doing MIL-A-8625 is one thing but to aerospace specifications like Boeing require NADCAP approval which is a major step up. My suggestion is to find a NADCAP consultant that can help.
Drew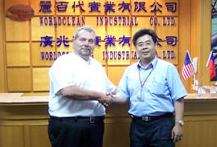 Drew Nosti, CEF
Ladson, South Carolina


If you have a question in mind which seems off topic, please Search the Site