Where the world gathers for
plating, anodizing, & finishing Q&As since 1989
-----
Bending aluminum: best alloys and lubricants
Q. Hello all, I am tasked with starting an aluminum tube bending department at the company I work for. I use a paste lubricant on the inside of the aluminum tubes for mandrel bending. Afterwards the tubes must be washed cleaned with a cleaning detergent and rinsed prior to a heat treatment process. Unfortunately this causes the material to dullen its luster. Are there any suggestions to keep this from happening. Any and all suggestions will be greatly appreciated. Thanks in advance.
Jesse Ingle
Fab Supervisor - Independence, Iowa
January 19, 2023
---
---
↓ Closely related postings, oldest first ↓
---
---
Q. My company manufactures windows for motorhomes. We use 6063 T1 Extrusion. We bend it with a Pines 2 Tube Bender as well as some other fabrication accomplished with a CNC Machine Center. We finish our Fabricated Parts with the A-44 2 Step Class 1 Anodize. My problem is this. When we bend the parts we have to spray a lubricant on the bending dies to assure that there are no scratches. We are currently spraying them with White Lithium Grease. Once the fabrication process is complete the parts are heat treated to a T5. If we do not clean the grease off of every part the finish is spotty from the grease residue. We have experienced different degrees of damage when we just purchase different manufacturers of the White Lithium Grease. Is there any lubricant that would meet my needs, not need to be cleaned off yet not be visible in my finish. I am aware that there are cleaners that the anodizer can dip the parts in to remove the grease. However this process has been unsuccessful due to once we Heat Treat the parts the Grease is baked on. Is there a lubricant that is anodize friendly? Any information would be greatly appreciated.
Mike Farrar
Manufacturing - Banning, California, USA
2003
A. Mike, using white lithium grease as the lubricant for your bending operation may be the root cause of your problems. Have you considered looking for an alternative lubricant? There are some aluminum lubricants on the market which are designed to vaporize in ovens and leave the aluminum surface contaminant-free.
Roy Nuss
Trevose, Pennsylvania, USA

Thank you for your help. I think you are correct. Do you have any manufacturer names or contact info on any of these lubricants that you suggest. Thank you for your help.
Mike Farrar
- Banning, California
Ed. note -- Readers, please try to use the technical answers offered as clues towards good google search terms. For many reasons we don't suggest vendors/sources in this forum ( huh? why?). This site is for permanent reference -- google is better for current links.
A. There is no such thing as a good aluminum cleaner. Removing lithium grease, or paraffin, or motor oil, especially burned on, is like trying to remove snot from a Kleenex. When EPA is not in the building, wipe the lithium grease off with a solvent before sending it to the anodizer ;-)

Robert H Probert
Robert H Probert Technical Services

Garner, North Carolina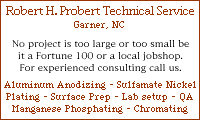 ---
---
What is the best aluminum alloy for bending?
Q. I have embarked upon a deceivingly challenging project that involves bending 3/4" thin walled aluminum tubing into circular shapes about 36" in diameter. I'm having a heck of a time finding the right material and was wondering if any experts out there knew from experience what the best aluminum alloy for this application would be? My plan is to pack the tubing with sand and hand bend it cold around a jig.
Kay Sims
college student - Portland, Oregon, USA
November 17, 2011
A. Hi Kay
The best experts can probably be found working for the tube manufacturers and would be delighted to help - and supply you the best material.
Your idea of packing with sand could possibly be made to work for a one off (with a lot of trial and error) but there is specialist bending kit for this sort of job that would do it in seconds. Again, ask the makers.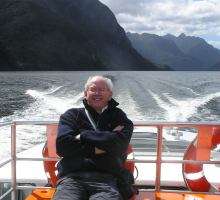 Geoff Smith
Hampshire, England
"Aluminum Standards & Data"
by Aluminum Association
from Abe Books
or

Affil. Link
Your purchases make finishing.com possible
A. Sounds like you could use a copy of the Aluminum Association handbook. Check the library, it's the bible on aluminum, updated every year.

The most ductile is 1000 series aluminum, the most easy to purchase that is still reasonably ductile is 6000 series aluminum, most likely 6063 which is what most aluminum tubing sold in a run of the mill hardware store would be.
Ronald Zeeman
Coil Coating - Brampton, Ontario, Canada
Readers may be interested in these related threads:
• 3428 "Bending anodized aluminum tube/pipe. Problems & solutions"
• 25152 "How to bend thin-wall aluminum tubing without damage?"