topic 23742
Black Oxide versus Black Phosphate
(2001)
Q. During my last navigation by internet I've found your web site and certainly it looks interesting. I'm trying to get technical advice about application of Black Oxide on some metallic components. On one of our products we use black phosphate as a rust retardant. But, rather than using black phosphate we could apply Black Oxide, will this last help to retard or avoid the rust, too?
Thanks in advance for your help
Regards
David M. Vazquez
- El Paso, Texas
---
(2001)
A. David - Yes, black oxide can be used as a rust retardant, but it is not as effective as black phosphate. The black zinc phosphate acts sacrificially to protect the steel, whereas the black oxide will rely on the after-finish for corrosion protection. The decision should be based on how much protection you need - a good oil on black oxide can pass a 96 hour salt spray test.
Dan Brewer
chemical process supplier - Gurnee, Illinois
---
(2006)
Q. I am interested in Black Phosphating:

1. How it is applied.
2. Chemicals used in the process
3. If paint is to be applied over it, what paint would be compatible with it.

Thanks
Jun
Jun Romero
- Angeles City, Philippines
---
(2003)
-- this entry appended to this thread by editor in lieu of spawning a duplicative thread
Q. I would like please to understand the difference between Black Oxide and Black Phosphate
Amir Avni
- Karmiel, Israel
---
(2003)
A. Black oxide is an exceptionally thin process which, as the name implies, is an iron oxide film. It is formed by putting iron parts into a very hot and very strong solution of caustic soda with nitrates and other ingredients.
Black phosphate, as I understand it and depending on who is selling it, is either a color variation on a standard phosphatized coating achieved with either a pretreatment or a post-dip, or it is a very heavy less porous phosphate.
You didn't say what your interest was, so I would be general and say that the black oxide is probably cheaper and less corrosion resistant, but prettier.
Ted Mooney, P.E.
finishing.com
Pine Beach, New Jersey
---
(2003)
A. AS I HAVE PRACTICALLY HANDLED THE PROCESSES OF CHEMICAL BLACKENING OF FERROUS SUBSTRATES AND PHOSPHATING WITH BLACK FINISH, I CAN SAY THAT PHOSPHATING WILL BE CHEAPER AND MORE CORROSION RESISTANT THAN BLACK OXIDE WHICH LOOKS ATTRACTIVE. THE CHEMICAL BLACKENING USING ALKALINE SOLUTION IS A DIFFICULT PROCESS WITH CLOSE OPERATING RANGE OF 136-140 ° C. IN PHOSPHATING MANGANESE PHOSPHATING WILL LOOK JET BLACK WITH MATTE FINISH BUT THE PROCESS NEEDS TO BE CONTROLLED VERY CAREFULLY. IF ZINC/IRON PHOSPHATING IS CHOSEN BASED ON THE FORMULATION OF THE PROPRIETARY CHEMICAL WITH NICKEL OR CALCIUM THE ATTAINMENT OF BLACK FINISH IS ENSURED. THIS PROCESS WILL BE THE CHEAPEST AND ESPECIALLY FOR SMALL COMPONENTS LIKE FASTENERS WHICH CAN BE HANDLED EASILY BY BARRELS. THERE IS YET ANOTHER COLD BLACKENING PROCESS WHEREIN THE FERROUS MATERIAL IS DIPPED IN A SOLUTION CONTAINING COPPER WHICH GETS COATED WITH COPPER BY DISPLACEMENT REACTION AND IMMEDIATELY BLACKENED BY SUITABLE ACETATE/SILVER CONTAINING PROPRIETARY SOLUTIONS. BUT THIS IS ONLY DECORATIVE AND VERY THIN COATING WHICH DOES NOT CONTRIBUTE TO THE CORROSION RESISTANCE OF THE SUBSTRATE METAL..
RAMASWAMI SUNDAR
MANUFACTURERS OF FASTENERS. - ALKHOBAR, EASTERN PROVINCE,SAUDI ARABIA
---
Thank you for the fine exposition on this, Ramaswami. After thinking about it further, I'll concede that phosphating is probably less expensive than black oxiding, but I will yield to your hands-on experience either way.
Ted Mooney, P.E.
finishing.com
Pine Beach, New Jersey
---
(2007)
Q. Could you please advise whether black phosphate is the same as 'blackening'/'blueing' on steel?
How phosphate coating prevents intrusion from salt?
Thank you.
Ming Sun
- Roscoe, Illinois, USA
---
(2007)
A. Hi, Ming. No, "blackening/bluing" is the same thing as black oxide. I don't think that phosphate coating does significantly "prevent intrusion of salt", but it can help minimize galvanic hot spots, provide a "key" for paint, and minimize undercutting at scribe marks and filiform corrosion. Phosphating is a base for paint or sort of a oil-retaining dry film lubricant rather than a final finish.
Ted Mooney, P.E.
finishing.com
Pine Beach, New Jersey
---
February 15, 2011
Q. HOW THE PROCESS OF PHOSPHATING TAKE PLACE?
HOW CAN WE DO THE PHOSPHATING FOR VALVES?
SHAHID ANSARI
VALVE MANUFACTURER - MUMBAI, MAHARASHTRA & INDIA
---
January 1, 2012
A. Hi, Shahid.
"Phosphating" is a pretty broad subject, involving cleaning the steel, then putting it into one of many different phosphatizing solutions, including iron phosphate, zinc phosphate, or manganese phosphate. Of these, manganese phosphate is the one usually used for internal engine parts. The coating holds oil well, and is somewhat softer than steel, so engine parts are often treated with it as a "break-in" agent.
Regards,
Ted Mooney, P.E.
finishing.com
Pine Beach, New Jersey
---
December 30, 2011
Q. Are black phosphate coatings electrically conductive? We are using BP-finished hardened steel spring nuts to secure 6-32 machine screws to the steel yoke of electrical devices to ensure a proper ground. The finish on the contact areas is almost always removed when the spring nut is installed on the yoke, but we are concerned in the instance that it may not be removed.
Kenneth Fisk
engineer - New York, New York, USA
---
January 17, 2012
A. No. Since iron, zinc or manganese coatings contain phosphates, along with in some cases calcium, they are non-conductive.
Kishore Phadnis
- Mumbai, Maha, India
---
---
June 28, 2012
Q. Galvanic corrosion question.... Does Black Phosphating provide any protection against galvanic corrosion between steel (low carbon) and magnesium (AZ91D)?
Ricardo Blutowski
- Lith, Illinois, USA
---
August 27, 2012
A. Dear Ricardo,

Nope, phosphatizing is not a galvanic barrier. You need a dielectric, an isolating agent like paints or lacquers, to avoid galvanic corrosion of magnesium.

I hope you can solve this issue! Regards,
Daniel Montanes
Self-Drilling Fasteners Manufacturer - Cañuelas, Buenos Aires, Argentina
---
---
Need composition for jet black phosphatizing
March 29, 2017
Q. Hi there!
Hope you all fine,
I want to ask bath composition of black phosphate immersion coating for jet black finish on screws and bath parameters; please help me for this enquiry. I have experiments with manganese phosphate, but in that, finish was gray to dark gray not jet black, so please give me some time for this.
Mustanser Hashmi
international electroplating - Lahore Pakistan
---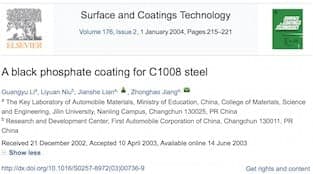 March 2017
A. Hi Mustanser. What is the composition of, and the parameters for, the manganese phosphating that you were using which yielded a gray to dark grey color? What grade of steel are these fasteners that you are treating?
Regards,
Ted Mooney, P.E. RET
finishing.com
Pine Beach, New Jersey
Striving to live "Aloha"


This public forum has 60,000 threads. If you have a question in mind which seems off topic to this thread, you might prefer to Search the Site