Education, Aloha, & Fun
A roundtable with 60,000 topics and a seat for you
topic 23255
How to Anodize aluminum rivets
A discussion started in 1996 and continuing through 2020
Your Q or A will restore it to the Current Topics page
1996
Q. I NEED INFORMATION DEALING WITH BLACK ANODIZING ALUMINUM RIVETS. HAS ANYONE TRIED BARREL ANODIZING? AND IF SO, WITH WHAT KIND OF RESULTS ?
TERRY BISHOP
---
---
To minimize search efforts and to offer multiple viewpoints, we combined previously separate threads onto this page. Please forgive any resultant repetition, failures of chronological order, or what may look like readers disrespecting previous responses -- those other responses may not have been on the page at the time :-)
---
---
2003
Q. My name is Juan Sandoval, I'm a Production Engineer working in the production department. Our company manufactures rivets (painted or non painted), depending on the application. We paint our rivets with a gun, but when the application is made, the paint comes off. Also, is very hard to control the parameters, because sometimes the flow is not constant in the gun. We are evaluating different options so we can paint our rivets in a different way. We have seen a little about anodizing, and we have found that the paint adheres very good. Someone told us that in order to get the anodizing done we have to hang every single rivet, which would make the process very expensive. I asked if the process could be done using barrels, and I got a no for an answer. That's why I would like to get some information on anodizing aluminum rivets (5052): the best recommended process, chemicals used, how to obtain colors (information you can send me so I can watch the whole process: pictures, photos, etc.), how do we hang the rivets (or if there is another way to do it).
Thanks a lot,
Juan Sandoval
- Medellin, Antioquia, Colombia
---
2003
A. The rivets can be anodized in bulk, but not in a rotating barrel. Bulk anodizing involves snugging the components up very close in a perforated basket. Quality may not be as dependable as individual racking, and experience counts, but they may be good enough, especially if they will later be painted.
It is certainly theoretically possible to automatically feed them from a feeder bowl, orient them, and insert them into some kind of bandolier for continuous anodizing, but I have never actually heard of such an installation for rivets.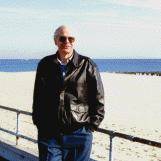 Ted Mooney, P.E.
finishing.com - Pine Beach, New Jersey
Striving to live Aloha
---
2003
A. Rivets will work very well bulk anodized, just make sure that you keep the rivets held tight, and be willing to pick out any burns or missed parts as some will inevitably turn out bad. With practice you can keep the burnt parts around 1%. Don't worry too much about contact marks, in general the rounded surface of rivets keeps them minimized.

adv.
Accurate Anodizing has been specializing in bulk anodizing for over 25 years and we have great success with rivets.
Good luck,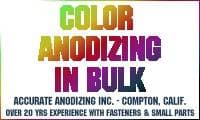 ---
2003
A. I would try Alocrom/Alodine as a pre-treatment prior to painting, this can be done in-house with a plastic bucket and a container of ready mixed alocrom/Alodine solution. You may find that you will need to acid etch the rivets prior to Alocroming.
Andrew Jones
- Wales, U.K.
---
---
Aluminum Rivets / Aluminum Channel
September 17, 2020
Q. We currently use an Aluminum Rivet with an anodize finish to assemble aluminum fishing boats. The anodize finish on the rivet helps prevent Galvanic Corrosion. My issue is that I have a new aluminum rivet that I need to use in a quantity too small to run through the anodize process. Is there a product, aerosol or otherwise on the market that will serve the same purpose as the anodize finish? Just so I can do a few hundred of these rivets. BTW the rivet itself is aluminum and the mandrel is steel. thank you!
Doug Williams
fastener distributor - Elkhart Indiana