World's #1 on-line resource since 1989
•
-----
De-smutting/De-Oxidizing of aluminum
Current question:
May 26, 2021
Q. Hey all,

I am a materials engineer doing some small-scale R&D trying to effectively anodize some Al 6061 gaskets and we are hoping for a Type III or "hard coat". My question revolves around the De-Ox/De-smut step before actually anodizing in the H2SO4 bath. What is a good acid and concentration other than Nitric (which hasn't really done the job thus far and isn't recommended these days anyhow)?

Many thanks for any and all help/advice!

-Perry
Perry Spott
- Milwaukee Wisconsin
---
June 7, 2021
A. Use a proprietary ferric sulfate based mixed acid for all alloys. Keep it air agitated.

Robert H Probert
Robert H Probert Technical Services

Garner, North Carolina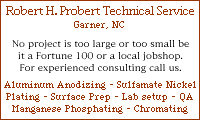 ---
---
---
Closely related Q&A's, oldest first:
1999
Q. Can anyone tell me why a nitric acid bath is necessary in the aluminum anodizing process?
Chris
[last name deleted for privacy by Editor]
- Hampton Virginia
---
1999
A. It is not "necessary", it is a readily available cheap desmut chemical. Proprietary desmut/deoxidize chemicals are available, but at a higher cost. Most of them work better because they do two functions.
Probably the most effective deoxidize desmut is a mixture of sulfuric/nitric/ammonium bifluoride. Effective, but slightly nasty.
James Watts
- Navarre, Florida
---
2003
Q. What mixture ratio do you mix (mixture of sulfuric/nitric/ammonium bifluoride) to make the desmutter and deoxidizer and where is the best place to buy these chemicals?
Roy Clarkson
- Rock Hill, South Carolina
---
affil. link
"Surface Treatment & Finishing of Aluminium and Its Alloys"
Wernick, Pinner & Sheasby
from Abe Books
or





2003
A. Hi Roy. You can buy proprietary desmutters from an aluminum pretreatment specialist like Chemetall (Oakite), Macdermid or U.S. Specialty Chemical. One advantage is technical help -- they'll tell you how and where to control the composition and help you make sure you get it right.
If you want to buy raw chemicals yourself, any commodity chemical supply house will have them. Wernick, Pinner & Sheasby =>
suggests 100 g/l chromic acid, 60 g/l sulphuric acid, & 3-4 g/l ammonium bifluoride as one possible composition.
Good luck.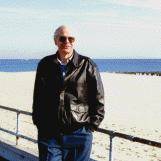 Ted Mooney
, P.E.
Striving to live Aloha
finishing.com - Pine Beach, New Jersey
---
---
To minimize search efforts and to offer multiple viewpoints, we combined previously separate threads onto this page. Please forgive any resultant repetition, failures of chronological order, or what may look like readers disrespecting previous responses -- those other responses may not have been on the page at the time :-)
---
---
De-ox for cast aluminium parts
2002
Q. I am trying to select the correct de-ox for cast aluminium (Japanese motorcycle parts), unfortunately I can't find out the exact content of the parts. A hobby plating supply company offers a de-ox they say it is good for this type of alloy, but I'm in Ireland, so it would cost too much to have some shipped.
So far I have read that nitric acid is commonly used - but is seriously dangerous, also I have read that sulphuric acid can be used. Any suggestions (including rough measurements if possible) would be welcomed, I would prefer to use sulphuric, but I also want a good job done on the parts, so I am willing to experiment!
Thanks,
Robert
Robert Harrison
- Dublin, Ireland
---
2002
A. Although you, I, and many others use the term 'de-ox', I think you are really looking for a 'de-smutter' not a deoxidizer -- which I mention to help us agree about what the chemical is supposed to do. The desmutter is supposed to remove the copper, silicon, and other undesirable materials from the surface because only the aluminum is anodizable. Sulfuric acid may be pretty powerless at removing some of them.
The overwhelming majority of professional anodizers (who must work very hard to minimize costs) do not attempt to 'home-brew' their solutions. Amateurs (who usually know much less) should not strive to formulate their own processes. The best mixes are the result of years of research and are proprietary; and sometimes they don't involve just mixing, but also require synthesis of organic chemicals from precursors.
It's better to look up 'plating supplies' in your city phonebook and buy a proper desmutter; but you can search the published metal finishing literature and expired patents for "aluminum desmut" if you insist. Good luck.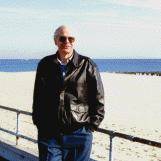 Ted Mooney
, P.E.
Striving to live Aloha
finishing.com - Pine Beach, New Jersey
---
2007
A. A world wide company called Atotech offers De ox for casting aluminium alloys. The trade name is ALUMETCH G
This is used as additive along with Phosphoric acid and nitric acid. They claim that this does the job for cast alloys except 380 cast alloys
Hope this information will help
Dr. H.B.Rudresh
- Bangalore, India
Ed. note: Thank you Dr. Rudresh. A number of different companies offer desmut processes, so readers are suggested to please scan our Directory of Chemicals for additional sources. Good luck.
---
---
To minimize search efforts and to offer multiple viewpoints, we combined previously separate threads onto this page. Please forgive any resultant repetition, failures of chronological order, or what may look like readers disrespecting previous responses -- those other responses may not have been on the page at the time :-)
---
---
2003
Q. I work in a job processing dept. Alodining and anodizing parts but they changed our etch from sulfuric acid to nitric acid because it wasn't passing the fog test. But now the parts are not turning out the way they used to. Some spots look like the Alodine is not taking in all areas. We degrease the part then put them in Turco for 12 min then the rinse tank for 3 min and then the nitric acid for 5 min and rinse tank again then the Alodine for 2 min. ... some turn out good but its seems like it's a hit and miss. With the sulfuric acid they all turned out fine but they weren't passing the fog test ... can you tell what you think the problem is?
Suzie Scott
- Amherst, Nova Scotia, Canada
---
2003
A. This is only a guess, Suzie. But straight sulphuric acid is an unlikely etchant or desmutter, so I'm wondering if the original process had hydrofluoric acid or bifluorides in it that the new nitric acid formulation lacks? That might leave it incapable of acid etching your parts consistently, depending on what they are.
It is always possible for a pretreatment like an etch to adversely affect salt spray performance, but it may not necessarily be the culprit. Do you know what the salt fog requirement is?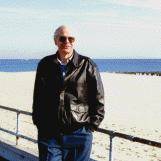 Ted Mooney
, P.E.
Striving to live Aloha
finishing.com - Pine Beach, New Jersey
---
2003
A. There is another issue that may be causing problems for you. Nitric carry over into the sulfuric bath can greatly reduce anodizing. The following information is the answer to a question regarding nitric desmut from a Lecture series entitled "Theories of Anodized Aluminum, 100 Questions and answers". This response, along with other issues on our anodizing line, encouraged us to change from nitric to a sulfuric based desmut. When aluminum is etched with alkali, the surface of aluminum turns to a color from gray to black. This black substance sticking on the surface is called 'smut.' Smut is formed when impurities or alloy contents of Si, Mg, Fe, or Cu included in the aluminum, deposit on the surface. The aluminum surface is desmutted by immersing it in an aqueous solution of 30% nitric acid. Why is nitric acid used? Is it impossible to use acids other than nitric acid for desmutting? Acids other than nitric acid, such as sulfuric acid can be used for desmutting.
However, nitric acid can remove smuts completely and in a much shorter time than sulfuric acid. Nitric acid is an oxidizing acid, whereas sulfuric acid is a non-oxidizing acid; this is the major difference between these two acids. In general, dissolution of metals is faster in oxidizing acidic solutions rather than in non-oxidizing acidic solutions. For instance, corrosion of metals is faster near the surface of the sea than at a large depth in the sea. The reason for this is that the quantity of dissolved oxygen at large depths in the sea is small, but a large quantity of dissolved oxygen can be found near the surface of the sea. Considering the principle "effective desmutting is possible in oxidizing acidic solutions," nitric acid is not absolutely necessary for desmutting. An aqueous solution of sulfuric acid to which hydrogen peroxide is added, may be used for desmutting. Nitric acid was being used in the past for the reasons mentioned above, but is not preferred nowadays. When nitric acid is neutralized, the nitrate ion (NO3-) transported to the sulfuric acid bath for anodizing aluminum, hinders the formation of anodic oxide film. Similar to chlorine ion, the NO3- ion causes pitting corrosion on the oxide film during electrolysis.
Ron Oscarson
- Spokane, Washington USA
---
---
To minimize search efforts and to offer multiple viewpoints, we combined previously separate threads onto this page. Please forgive any resultant repetition, failures of chronological order, or what may look like readers disrespecting previous responses -- those other responses may not have been on the page at the time :-)
---
---
Does deoxidizing in iron base deoxidizer or dilute nitric acid affect the bond quality of P-2 etch?
2006
Q. We etch aluminum fittings that are part of satellite assemblies. We use the P-2 etch process, but from time to time notice a residue left on the surface of the 2024 aluminum lap shear panels after etching. During a test, deoxidizing seems to remove this film. Will deoxidizing the aluminum with either of the above solutions affect our bond quality when of our epoxy adhesive primer?
Frank Lary
space systems - San Diego, California, USA
---
2006
A. No experience with the P-2 Etch. But from the chemistry-- sulfuric acid 350 g/L, ferric sulfate 150 g/L, 145°F, used for 11 minutes -- I expect traces of iron, sulfate & copper on the 2024 surface after rinsing. Would worsen with increased use of the etch. A brief 20-50 vol% nitric acid deox/desmut should clean up the surface. Rinses well. Follow with a warm DI rinse and hot air drying prior to bonding.

The nitric deox/desmut is good for 2024 test panels prior to chem film & salt spray testing, whereas a nitric-sulfuric-ferrous deox/desmut leaves detrimental residue.
Do some surface analysis & bond testing.
Ken Vlach
[dec]
- Goleta, California

Finishing.com honored Ken for his countless carefully
researched responses. He passed away May 14, 2015.
Rest in peace, Ken. Thank you for your hard work
which the finishing world continues to benefit from.
---
---
Anodising directly over natural oxide layer
August 14, 2017
Q. Can anodizing be successfully performed on a freshly CNC machined aluminum piece that has been degreased and cleaned but not deoxidized? I.e., is it possible to anodize over the naturally occurring oxide layer?
Chris Amrit
- Leicester, UK
---
August 2017
A. Hi Chris. My answer is no ... not because I am sure it will never work, but because I feel that it will not reliably work. Finishing sequences are designed to be robust, not to operate on the razor's edge between success and failure.
I think something to consider is that the "de-ox" step is probably a misnomer; it's actually a "de-smut" step designed to deal with non-aluminum contamination, not to remove oxidized aluminum.
Regards,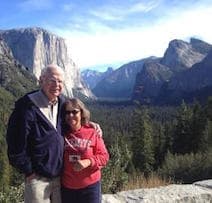 Ted Mooney
, P.E. RET
Aloha -- an idea worth spreading
finishing.com - Pine Beach, New Jersey
---
August 16, 2017
Q. Thanks for the reply Ted.

I have no expertise in this area really. I am product designer/engineer and we want a two color (black/other) aluminum part (without adding masking/mask removal to the process).

The reason for asking this particular question is that it sounds like the double anodizing problem comes down to this.

So if we still did a desmut process (which I assume does not remove the natural oxide layer or any previous anodising?) it should work.


We plan on trying this:
Anodizing the whole part black and seal
Cut more from the part making sure there is somewhere for contact in hidden area
Anodise the whole part again in a lighter color the freshly cut areas.
Seal again.

If I am understanding your answer correctly then it should work in theory.
Chris Amrit
- Leicester, UK
---
August 2017
A. Hi Chris. If I understand what you are trying to do, please see letter 48706 which is on that topic and includes very good graphics of two-color anodized items :-)
Luck & Regards,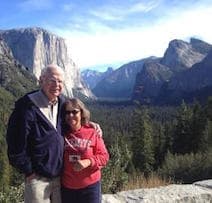 Ted Mooney
, P.E. RET
Aloha -- an idea worth spreading
finishing.com - Pine Beach, New Jersey
---
August 17, 2017

Yes I saw that thread before but it doesn't really answer my question.

So I guess we just have to try it...
Chris Amrit
[returning]
- Leicester, UK
---
---
November 6, 2019
Q. Hi everyone,

First, this is an amazing site.

My question is in regard to de-smutting of aluminum parts. I'm anodizing small aluminum parts and would like to experiment by inserting a de-smutting step in my process. I noticed an entry in the Q&As: "The aluminum surface is desmutted by immersing it in an aqueous solution of 30% nitric acid." My question, how long should I insert my small parts (less than a sq/ft) in the 30% nitric acid solution?

Thanks!
russell grigsby
- Freeland, Washington, USA
---
November 6, 2019
A. Hey Russell,

The acid dip desmut dwell time cam be anywhere from 10 seconds to 5 minutes depending on the type of smut left on the material and the design of the part. It is also dependent on what steps took place beforehand; a more aggressive etch will leave more smut, which can lead to higher times needed. Without any knowledge of the part or the process I would guess around 30 seconds.

A few things to note, if you run a large amount of 2000 series aluminum through this solution, the copper content should be monitored, as it can have detrimental affects on the baths ability to desmut. if you are running high silicon aluminum alloys, silicon in the smut will not be removed.

Hope this helps!
William Hogan
Amphenol Aerospace - Sidney, New York USA
---
---
De-smutting of bright 7075 aluminum before anodizing
January 14, 2020
Q. I am fairly new to anodizing and have a question related to how long I should desmut highly polished 7075 aluminum so as to make sure I won't have any problems with the copper/zinc in the 7075 when I anodize and dye a bright red, while at the same time making sure I don't trade off too much of the polished finish by keeping the part in the desmut tank too long.
MICHAEL MCLELLAN
- EMERSON, New Jersey, USA
---
January 22, 2020
A. When you say "desmut", I assume you are alkaline etching, and then wonder why you are etching polished 7075. Any proprietary ferric sulfate based mixed acid deoxidizer will not hurt clean 7075. I usually call for 10 minutes to remove "oxide", less if only smut from etching. Come back with more detail about your whole process cycle.

Robert H Probert
Robert H Probert Technical Services

Garner, North Carolina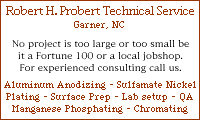 ---
January 23, 2020
Q. Thanks Robert, I am not etching.. I have highly polished 7075 and after the degreaser tank, I put the parts in a desmut/ deoxidizer solution before the anodize tank. The first time I did this I was told that if you leave polished parts in the desmut/ deox for too long, it will dull the shine. So I took the parts out in less than a minute and ended up with a lot of smut forming on the part in the anodize tank. I am rather new to anodizing.
MICHAEL MCLELLAN
[returning]
- EMERSON, New Jersey, USA
---
January 23, 2020
A. Is anything dark visible on the part after degreasing? (that would indicate that the degreasing solution is lightly etching the part)

Does the part become noticeably lighter after deoxidizer?

Is the "smut" on the part noticeable after anodizing/dying BEFORE you seal them (parts need to be dried to see this)? or does it show only after the parts have been sealed? what is the sealing process you use?

What are you using to polish(?) the surface of the part? I've had customer parts that come to me with bright mirror finish and turn very dull during anodizing, which is due to using unsuitable or contaminated polishing equipment or supplies

And "new to anodizing" doesn't tell much about your setup, what degreaser are you using, what is the anodizing tank makeup, how many amps/area of the part, what is the voltage you reach your targeted current at, how long are you anodizing, rack material (are you seeing any localized defects near rack contacts), are you controlling electrolyte temperature, what sort of sealer are you using? - all of these things can have an effect on the finish you get on your part, so if you want helpful answers, be more descriptive of your process, so people here can get a better idea before suggesting anything.
Janis Ziemelis
- Riga, Latvia
---
January 24, 2020
Q. Hi Janis,

I am using the 740 degreaser. The parts are hand polished using aluminum oxide sandpaper from 320 to 1500 grit, then finally with an aluminum paste. The parts are then washed by hand in hot soapy water several times, then they sit for 30 minutes in a container full of acetone, are dried and stored in sealable plastic bags until ready to anodize. When I am ready to anodize, that is when they go into the 740 degreaser. My anodize tank is a 5 gallon plastic container with 2 lead cathodes at each end as well as an aquarium tank bubbler at each end. I hang my parts using titanium wire. My sulphuric acid bath is at 17.5% concentration. I anodize at 6 amps per square foot for 90 minutes at 68-70 °F. The parts are perfectly clean (no black streaks) when they go into the anodize bath. It is the anodize bath that brings out the black streaks in the aluminum. I notice it when I finish anodizing.

When I say I am new at this, I had been anodizing 6061 with no problem and even started skipping the desmut step with no problems. I didn't realize that the 7075 had so much zinc and copper in them relative to the 6061 and requires desmutting after resurfacing with the sandpaper. A rookie mistake and first time I have ever anodized 7075. I believe I just need to burn off the surface zinc and copper with a good desmut before the anodize tank to fix the problem. I have read recommended desmutting times from 1 minutes to 10 minutes. The anodizing manual I bought suggests not to leave polished parts in the desmut solution for more than 2 minutes. My desmut solution is 18% sulphuric acid and 6% sodium nitrate.

Thanks!
mike
MICHAEL MCLELLAN
- EMERSON, New Jersey, USA
---
January 24, 2020

A. 17.5 % by weight or by volume? Current needs to be up to 12 amps per square foot. "Bubbler" may not be enough vigorous.
Temperature? Proprietary deoxdizers are available that will not etch, your home-made formula is etching. If you cannot afford a proprietary deox in 5 gallon pails, then use straight Ferric Sulfate at 8 oz/gal, it will not etch.

Robert H Probert




Robert H Probert Technical Services





Garner, North Carolina






---

January 24, 2020

A. Can you wipe those "black streaks" away after pulling the parts from anodizing bath? if you can't wipe them off, then that is not what is generally called "smut" (be it after etching or after sealing), those streaks are most likely to do with age and batch of the material, I've had perfectly fine looking 7075 and 7020 parts come out of the same batch being anodized next to parts that have those darkish streaks, there are quite a few posts here without a definitive fix to this problem, search for "7075 streaks" or similar keywords, I posted a picture of a largish gold colored 7xxx part with "zebra stripes" in one of those topics

That being said, I would lower the acid content in the anodizing bath to around 13-14%, and increase the current density so the parts anodize at around 17-19V, calculate the time using the 720 rule to get the thickness you want - the aim is to grow the layer to desired thickness faster than what you're doing now (6 amps/sqft is quite low), it may help, may not, that high acid concentration and low current density conditions lead to long anodizing times till you reach the desired thickness, remember - the formed oxide layer is continuously being dissolved by the acid, thus you will consume more aluminum to grow the layer than necessary, you can deox all you want, but the more Al you consume, the more alloying elements eventually are being trapped in the oxide layer and/or dissolve in the acid, do not let the acid get warm, or again it will lead excess oxide being dissolved and producing a soft layer in general, no amount of deoxiding (desmutting) prior to anodizing will remove alloying elements deep into the surface so only pure aluminum would be exposed for anodizing, deox/desmut is generally for dealing with what is right on the surface of the part

Regarding the prep work, I think you're overdoing it a bit, you can sand and polish the part and leave it oily, that can be better than having the clean aluminum being exposed to atmosphere, some corrosion might even form because you cleaned your parts so thoroughly and then let them sit for extended period of time exposed to air (even if kept in a sealed bag), do not use water based cutting fluids for this, they usually have quite high ph, and 7xxx are known to stain (corrode) if left sitting wet for a while

I'm not doing this sort of process on regular basis, but when I have to, I use WD-40 while sanding, polish also using some wd40, then spray some on the part so it stays wet, leave it till its time to anodize, normally it wouldn't be more than couple hours, then degrease, no etch, no deox, straight into the anodizing bath, 50 min at 10 amps/sq.ft. seems to be minimum in my experience for parts to dye charcoal black (or any other color)

Janis Ziemelis




- Riga, Latvia





---

January 24, 2020

Michael

You are operating at the low end of the current density range. It is possible the electrolyte is attacking the anodize due to the extended duration in the solution. Try upping your current density and reducing time proportionately.

Willie Alexander




- Green Mountain Falls, Colorado




---
January 25, 2020
Q. Thanks Guys, this is very helpful!

My anodize bath is 17.5% by volume. I have been getting my anodizing supplies from US Specialty so I was using their proprietary Desmut/Deox solution. My power supply is small, just 5A/30V. For these particular parts, I can up the current density to 7 or 8amps per square foot.

I didn't try to wipe the black streaks off once they came out of the ano tank, and after dying and sealing, the black/dark streaks were even more apparent.

I will definitely up the current density and reduce time in the tank as much as I can. I also just reduced the sulfuric acid concentration.

To tell you a little more about these 7075 parts: they are 21 year old aluminum parts from Japan ... actually from Honda Racing in Japan and used on the Honda team race bikes ... they are very rare as these parts are supposed to be destroyed at the end of the race season. I am restoring an old Honda racing motorcycle (that avoided the crusher) for display in a museum, so I have been very nervous about ruining these rare and probably irreplaceable parts.

I understand that the 7075 alloy was invented in Japan and first used in the Japanese Zero fighter planes. I heard this alloy was a key reason with the planes were so agile in hard maneuvers. Just a little history I learned about 7075.

Thanks again for the help!!

mike
MICHAEL MCLELLAN
[returning]
- EMERSON, New Jersey, USA
---
---
Black residue depositing on clad aluminum during desmutting?
March 20, 2020
Q. Hello,

We've been noticing an issue with our deoxidizer tanks. When we deox/desmut clad alloys (mostly 2024-T3 and a bit of 7075-T6 clad Al) there is a black residue that develops on the parts, only on the edges. Reprocessing these parts after thoroughly scrubbing the edges with a scotch-brite pad and subsequent cleaning with acetone does not prevent the formation of this film. The deox is a proprietary chromate-based mixture with nitric acid.

A brand new bath does not have this problem, but after fairly little volume processed and only a day or two, the issue resurfaces. We do not have this problem on the bare versions of these alloys, the bath's etch rate is within tolerance, and the problem is there at both ends of the acceptable etch rate range. Longer processing times do not solve the problem either, and in fact sometimes make the issue worse!

Some general qualitative testing indicates that the residue is dissolved slowly by nitric acid, but if that's the case, the bath should be taking care of it. Salt fog testing does not indicate a major corrosion resistance issue for our chemical conversion tanks, so far as we can tell.

I'm wondering if anyone has encountered a similar problem or may be able to help point me in the right direction to find a solution. Thanks!
Dalton Mackelprang
- Cedar City, Utah, USA
---
March 21, 2020
A. 1. You only mentioned that the deox contains nitric acid and that it is proprietary. Look at the MSDS. Is it based on ferric sulfate, and if so, are you air (not pump) agitating?.

2. The deox should not etch wrought alloys. Tell us more about the deox. Apparently it is etching the under-laying bottom alloy.

Robert H Probert
Robert H Probert Technical Services

Garner, North Carolina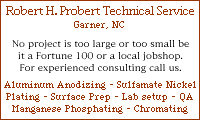 ---
March 24, 2020
Q. 1. The deox is chromate (chromic acid) based; it does not contain ferric sulfate. It also has a small amount of hydrofluoric acid in it. We have another deox chemical that we use that does contain ferric sulfate, but we have not had the same problem with it as we have with the chromate deox. The bath also contains nitric acid. We have some tanks that are sparged with air agitation and one that is simply recirculated (it's a long tank, so air agitation doesn't work very well for that one). The one giving the issue is air-agitated, but we've had the same issue to a lesser degree on the recirculated tank.

2. The etch rate is performed only on a clad aluminum test panel and is used for solution maintenance in accordance with one of our customers' requirements (and the manufacturer instructions). The deposit does not appear on the bare versions (2024-T3 Clad smuts, 2024-T3 Bare does not) which is why it is so puzzling to me that only the edges of clad parts get this deposit (since that's where the bare substrate material is exposed).

Thanks!
Dalton Mackelprang
[returning]
- Cedar City, Utah, USA
---
March 24, 2020
A. The ferric sulfate based mixed acid proprietaries work batter on the 2000's than chromic/HF, especially with the galvanic problem with the clad edges. I have a client using proprietary mixed acid ferric sulfate on 2024 clad and following with boric/sulfuric anodizing, no problem on the edges.

Robert H Probert
Robert H Probert Technical Services

Garner, North Carolina