Where the world gathers for
plating, anodizing, & finishing Q&As since 1989
-----
416 passivation problems
2003
My company purchases a machined part made of 416 SS and three inches long which we will be using in a pressure regulator. After machining, the part is Heat treated to T condition. This leaves a gray rough scale finish. Once the parts are shipped to us we do a citric acid passivation. This produces oxidation on the parts. What could be causing this and how can we prevent the oxidation form occurring.
Hunter Jencks
- Loomis, California, USA
---
2003
You have to get the scale off for the passivation to be uniform. I would guess that you had spots where the citric dissolved the scale but never really got to the parent metal. Also, remember that passivation is a resistance to oxidation, not a prevention.
James Watts
- Navarre, Florida
---
2003
Your parts have to be chemically clean when heat treated in an inert atmosphere to prevent the type of problem you are having. Unfortunately, commercial heat treaters cannot provide you a chemically clean furnace or atmosphere due to economic reasons. You can try wrapping your clean parts in aluminum foil which should help. A thorough preclean before passivation would also help.
Dan Weaver
- Toccoa, Georgia
---
First of three simultaneous responses 2003

With 416ss it is absolutely necessary to pretreat with a highly alkaline cleaner (preferably a specialty cleaner for removing sulfur) to remove the sulfur from the surface. Without this you usually cannot get good passivation of 416. Each melt is different, of course, but the sulfur causes real problems and needs to be removed.
Let us know if you need further help.


Lee Kremer
Stellar Solutions, Inc.

McHenry, Illinois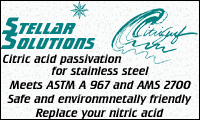 ---
Second of three simultaneous responses 2003

Improper Q & T heat treatment has caused 2 problems: a) Heat treatment in air has caused oxidation (scaling), with possible surface depletion of Cr, and b) Inadequate quenching rate has allowed formation of chromium carbides, rather than leaving the C more evenly dispersed through out the alloy. Subsequent passivation attacks the Cr-depleted matrix, leaving the darker carbide phase on the surface. This is a common problem with high-C martensitic SS; you can also search for answers regarding scaling and passivation of 440C.
If the heat treater is unable to prevent oxidation using an inert atmosphere (what specification are you using? MIL-H-6875H requires a neutral, inert or vacuum furnace atmosphere), you can tightly wrap the parts in SS foil or SS foil baggies, a previous suggestion by Mr. Watts, which should also eliminate any carboniferous residue: www.finishing.com/50/89.shtml
Emphasize to the heat treater the need for rapid quenching. Oil quenching is recommended to avoid distortion of the part and should get the part below 1000 F within 4 minutes. Continuous cooling to subzero temperature will improve dimensional stability. Temper at 450-700 F* for an HRC of 35-45, time should be 1 hour per inch of thickness, 2 hours minimum.
*An alternative tempering at 1050-1125 F will yield HRC of 25-31, with some scaling unless precautions are taken.
Ken Vlach
[deceased]
- Goleta, California

Finishing.com honored Ken for his countless carefully researched responses. He passed away May 14, 2015.
Rest in peace, Ken. Thank you for your hard work which the finishing world, and we at finishing.com, continue to benefit from.
---
Third of three simultaneous responses 2003

We see this all the time! The parts will come in for passivation per QQ-P-35C [link is to free spec at Defense Logistics Agency, dla.mil], or ASTM A967 [affil link] but in reality the parts are not ready for passivation. Passivation is a final step and parts must be in a condition to passivate; free of oil, soil and scale. We refer to ASTM A380 [affil link] . This talks of the means for removal of oil, soil, scale, and so forth. Great care must be taken! This spec talks of Nitric/HF dips dangerous to the human and aggressive to the metal. It also discusses blasting operations that may not be suitable for the parts. We use a means that changes the valance state of the iron oxide on the surface and then an inhibited acid for scale removal. (inhibited to limit the Hydrogen pickup)NOTE: I am not wanting this to be an Ad. refer to guide books for hot alkaline preps. Many times the parts can then be passivated but often the parts benefit from an electropolish, a good passivation step, followed by a formal passivate.
Jon Quirt
- Minneapolis, Minnesota
---
2005
You may want to try electropolishing after passivate.
John W. Smith
- Lowell, Massachusetts