Where the world gathers for
plating, anodizing, & finishing Q&As since 1989
-----
Teflon Coating on Aluminum

Q. @Chris Jurey We began using Dupont 420G-104 teflon coating on our wafer chucks in 2021. One of our customers has reported that the teflon coating wore off (chipped off) over time on their chuck. The chuck was not anodized prior to teflon coating. This particular chuck has a lot of small vacuum holes.

Our standard chucks only have one 10-32 hole in the center with some narrow, shallow concentric circles machined into the surface. We have not had any complaints about these chipping or wearing. We have sold several over the past couple of years, but these may over time start wearing also.

I am wondering if Teflon Impregnated hard anodize would be a better option for our wafer chucks. The primary reason for the teflon coating is to prevent the wafer tape from sticking to the chuck when a smaller wafer is used. Do you have further information you could provide?

G Scimo
[fictitious name]
- Moorpark California
October 2, 2023
Ed. note: We've been building a legacy of aloha & camaraderie here that is incompatible with anonymity;
everyone is welcome to read anonymously, but is asked to only post with their real name :-)
---
---
↓ Closely related postings, oldest first ↓
---
---
Q. Can aluminum be Teflon coated for low-friction applications and if so, how do I specify the process? Also, what are some sources? If not Teflon, then are there other dry (non-migrating) lubricant treatments for aluminum? Thank you.
Gary L. Reynolds
- Valencia, California
1998
A. Many kinds of Teflon can be applied to a few thousands thick. It is a baked product, so you have to make sure that the aluminum does not lose its properties at that temp. Not knowing your application, there is a 50/50 probability that it will not work well for you.
A high dollar option is electroless nickel containing Teflon particles. An excellent product that will stand up to most any desired use.
James Watts
- Navarre, Florida
A. Gary:
Yes, aluminum can be Teflon coated. It must be anodized or hardcoat anodized first. There is also a dry lube process that can be performed after anodizing.
adv.
If you have any other questions, please feel free to e-mail me.
Regards,
Bob Bramson
B&M Finishers / Prismatic Stainless Steel

Kenilworth, New Jersey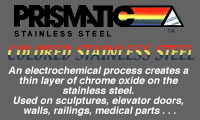 A. Aluminum can be dry lubricated in a number of ways.
1) Teflon coatings which are cured at 700 °F.
2) Resin bonded dry film lubricants which use PTFE and/or MoS2 with cures from room temperature up to 500 °F.
3) PTFE impregnated anodize or hardcoat. This can also be used as a base for a topcoat of 1 or 2.
Each method has advantages and disadvantages.
adv.
Contact me to discuss further.
Chris Jurey
, Past-President IHAA
Luke Engineering & Mfg. Co. Inc.

Wadsworth, Ohio

---
---
Q. @Bob Bramson
Where can I get any knowledge about the machine which can coat Teflon or selenium oxide onto aluminium drum?
BULENT CELIK
plastic film - Izmir, Turkey
1999
A. You can Teflon aluminum with DuPont PFA, PTFE, ETFE, TEFLON S, and FEP. All have different properties and different cure temps. It depends on what usage and environment the piece is going to be used for. You also can use Ausimont's Halar ECTFE. Another process could be to anodize, then use Nituff Teflon.
Josh Sonju
Kalispell, Montana, USA
2001
---
---
Q. Will deeply appreciate if you know/recommend a product or process to install colorless/transparent 5 to 10 mil Teflon coating inside 4" aluminum tube without changing the high luster of aluminum surface.
Abdullah Kazi
President & CEO - San Jose California USA
June 4, 2011
Ed. note: Readers can suggest generic types of products, and process sequences. Sorry, but we can't post suggestions of brands or sources ( huh? why?)
---
---
Q. Dear Sirs,

I was wondering can we coat our aluminum moulds by teflon.

in short, the working conditions of Aluminum mould is continuously on 60 °C, and we are using water based silicone to prevent the adhesion of products into the aluminum mould. And as I was searching the TEFLON Coating, There has an idea come to my mind. I want to ask EXPERTS is it possible to coat teflon on our aluminum molds ?

I'm looking forward to see your comments and help

Thanks a lot
Mehmet Topcu
footwear - Nizip,TR,Turkey
September 16, 2012
---
---
Q. We are developing a ballhead used for tripod in photography. We would like to have a low friction surface on the ball. The coated ball must be fixed by pressing into a plastic negative surface.
Do you suggest a PTFE coating or something else?
Many thanks,
Laszlo Novak
- Balatonalmadi, Hungary
February 4, 2013
A. Hi Laszlo. Both surfaces are wear surfaces, so both must be made of materials appropriate for use as wear surfaces.
Saying that the other one is 'plastic' probably doesn't offer quite enough information, but the usual best approach is a hard surface against a different and softer surface. So, a bit of a guess, but I think chrome plating, electroless nickel plating, or teflon impregnated hard anodizing would be best for the ball. Good luck.
Regards,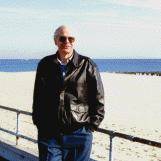 Ted Mooney
, P.E.
Striving to live Aloha
finishing.com - Pine Beach, New Jersey
---
---
Q. I want a low friction coating on the outside of an aluminum hub [on crankshaft] to resist friction & wear from an outside crankcase seal. Apparently little oil gets there and the seal wore a groove in the old hub. I now have a new hub & seal. I didn't see any of the posts directly applying to my application.
Thanks,


Brian Gavin
- Ann Arbor, Michigan
February 24, 2013
---
---
Q. I am making fusion welding dies for the socket fusion welding of plastic tubes. The dies are aluminum and the dies get to 500 degrees f.

What is the proper Teflon and application process for this coating?
Bob B
- Portsmouth, New Hampshire, USA
July 5, 2013
Ed. note: We've been building a legacy of aloha & camaraderie here that is incompatible with anonymity;
everyone is welcome to read anonymously, but is asked to only post with their real name :-)
A. PTFE, spray, but your application is pretty demanding so some testing and re-application may be needed.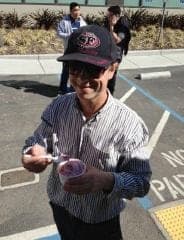 Blake Kneedler
Feather Hollow Eng. - Stockton, California
---
---
Applying Teflon to non-anodized aluminum?
WD-40 Dry Lube PTFE Spray

(as an Amazon Associate
& eBay Partner, finishing.com earns from qualifying purchases)

Q. Greetings and thank you for sharing your knowledge!

I'm looking to put a protective coating on a recently resurfaced aluminum platen to prevent recurrence of oxidization. The part is a component of a printing press that can expect temperatures up to 230 °C.

Prior posts in this thread noted that prior to Teflon coating, the aluminum must be anodized. I'm not totally sure, but I don't think this surface is anodized. Any suggestions?

I had been thinking of using something like WD-40 Dry-Lube PTFE [adv: item on eBay & Amazon]
Morgan Chivers
- Arlington, Texas USA
July 16, 2019
---
---
Q. My question is related to Teflon Coatings on aluminum mold surfaces. I am testing a urethane part that is removed from a Teflon coated aluminum tool. Thus far the results are not good. It appears the glass like surface of the molded part prevents good adhesion. If we coat the molded part excessively with a primer we can get fairy good adhesion but this is a wasted step and expensive. So this brings me to my real question if I want to remove a teflon coating from an aluminum surface what would be the best approach? Chemical stripping sounds like it could corrode the aluminum and sandblasting could remove aluminum underneath. Just looking for some advice on if there is a reasonable way to do it == maybe rinse the tool off quickly after a chemical treatment to limit corrosion? Any advice is appreciated.
Phil Griffey
Manufacturing Engineer - Wauseon
November 17, 2021
---