topic 21703, p3
Toxic effects from galvanized food preparation utensils, p2
---
A discussion started in 2003 but continuing through 2018
November 7, 2011
Q. I am using a 20 gallon trash can as a container for my rocket stove. I lined it with cement/vermiculite, so I don't worry about the can's exterior. My concern is the galvanized lid if I use it for baking.
I read in the thread about the galvanizing flaking off because the two metals heat at different temperatures. Can I cause this to happen on purpose and then repaint it with high temperature spray paint?
Rodney Brooks
- Pendleton, South Carolina
---
November 8, 2011
A. Hi, Rodney.
If practical, I'd sandblast the galvanizing off. If not, you can remove it with muriatic acid (although this is a dangerous material, and a job for people familiar with using acids for metal treatment). But I'm not familiar with the zinc flaking off anyway, and am not convinced that it will happen.
Regards,
Ted Mooney, P.E.
finishing.com
Pine Beach, New Jersey
---
January 14, 2012
Q. I have been reading the various questions and responses and I'm still not certain of the answers. I am currently receiving scrap metal from a furnace/ac company. It is the scrap metal left from installing ducts, etc. It is galvanized steel. Here are my questions. I want to anneal this metal to make jewelry out of the metal. How safe is this for me to put a torch on this metal? How about putting it in a kiln. What is going to happen to the coating? Will the steel no longer be galvanized and now be more susceptible to rusting? How about buffing or texturizing the surface any problems with that? I have lots of ideas, but I want to know the dangers if any and how to protect myself if necessary. Anxiously waiting for your reply so I can create. Thank you so much. I have enjoyed this site very much.
Dianne Ziegler
- South Bend, Indiana, USA
---
February 15, 2012
A. Hi Dianne. If you can sand the zinc off, that would be okay. But if that's not practical, the kiln sounds okay to me as long as you're not breathing the vapors. Zinc is an essential nutrient, not a toxin. The zinc issue is not exposure, it's overexposure. Using a welding torch may lead to overexposure; electric arc welding certainly does. But galvanized metal may have a very small amount of chromium on it as well, and a small percentage of lead in it. These are toxins.
Once the galvanizing is gone the steel is very subject to corrosion, although a good clearcoat will offer some protection. Good luck.
Regards,
Ted Mooney, P.E.
finishing.com
Pine Beach, New Jersey
---
February 15, 2012
Q. Hi Jeff

I have recently built a spit braai (BBQ) out of a 200 liter oil drum.Its main feature is for roasting pigs and is gas fired with the exception of a stainless steel tray insert for placing coals used for the smoking process.It also has a temperature gauge which reads around
250° C when fired up to its max off a 10 000 BTU gas burner. Can this practice be considered safe? Please assist as I was thinking about galvanizing the drum.

Thank You
Jonathan Cain
plumber - Durban,Kwa-Zulu Natal, South Africa
---
February 15, 2012
A. Hi Jonathan. I suggest high-temperature paint (stove paint. BBQ paint) rather than galvanizing. For a really fine approach, porcelainizing would be even better if you have a facility that can do it for a practical cost.
Regards,
Ted Mooney, P.E.
finishing.com
Pine Beach, New Jersey
---
March 1, 2012
Q. Hi! My name is Richard. My concern is that I'm building a pig rotisserie; and is it safe that my cover to both sides are galvanized sheet metal? It's not really touching the fire, just a cover to make like a box. Does the galvanized sheet metal contaminate the food in the center?
than you very much.
Richard Goma
- Chicago, Illinois, USA
---
April 21, 2012
Q. Hello Ted,

I too am very grateful to you for answering almost all the questions in this thread. I haven't seen this one: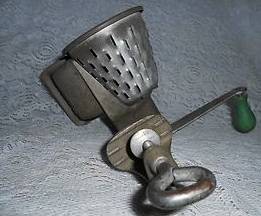 I have a "Fort Wayne, Indiana Griscer" Meat/Vegetable Grinder, a beautiful piece of Americana and a fantastic kitchen tool. Here is exactly what I have:
I can't find anything re/ its material, but it seems to be galvanized over a very sturdy steel one-piece base. The interchangeable grinding 'cups' (the parts that mostly touch the raw food) are mottled from long wear, basically silvery-gray flecked with darker gray--more mottled than in the picture. The inside of the main part is pebbly and pocked on a very small scale. Given the pressure at which food is ground and squeezed through there, I wonder if I should stop using this.

Do you think that eating carrots or similar vegetables (not tomatoes bc of the acid, but onions--?)grated in it more or less daily is anything to worry about? If a guest is pregnant should I take care not to use it? I love using solid old tools, so I'll really appreciate your view.

Many thanks

Deb
Deb Maier
- Hastings on Hudson, New York, USA
---
April 23, 2012
A. Hi Deb.
Actually, this is supposed to be a public back-and-forth rather than a thread where I answer questions -- because that implies an expertise that I certainly don't claim to have :-(
Please check your grinder with a magnet to see if it is iron/steel -- I'd like to know. If so, it looks to me like it is tin plated, which would be a 100% safe coating. Hopefully someone is familiar with these antiques and will know.
Regards,
Ted Mooney, P.E.
finishing.com
Pine Beach, New Jersey
---
August 27, 2012
Q. I have a BBQ pit that uses a galvanized sheet metal pan to hold the charcoal. I noticed several people asked the same question but I never saw an answer. Is it safe or would it be safe if you lined the pan with aluminum foil?
Kirk Glenn
- rancho santa margarita, California,usa
---
August 27, 2012
A. Hi Kirk. I offered my own personal opinion on that a while back: I think it's safe. The problem is who can answer? The manufacturers think it's safe; the government doesn't think it's so obviously unsafe that they've banned it. But there will probably never ever be the kind of tests that would be needed to conclusively prove that it's absolutely safe, or for that matter that plain steel, stainless steel, aluminum or anything else is any safer.
Regards,
Ted Mooney, P.E.
finishing.com
Pine Beach, New Jersey
---
February 14, 2013
Q. I purchased a tea strainer from a Dollar General thinking it was stainless steel, like several I've purchased in the past. I brought it home, cleaned it, and began straining my lemon juice, apple cider vinegar, garlic, ginger, and herbal formula. It began to blacken after about 20 minutes of use. Why? And is my formula poisoned?
Linda Parker
- Clarkston, Georgia, USA
---
February 14, 2013
A. Hi Linda. Your formula isn't poisoned, although I'm not quite sure why acids turned the strainer black. I'd guess that the strainer may be aluminum? Aluminum can turn black from the strong alkalis in dishwasher detergent. Is it possible that you cleaned it in the dishwasher and didn't notice that it had turned black . Acids like lemon juice and vinegar can perhaps also turn aluminum black, although I haven't noticed it. It's possible, I suppose, that the strainer was tin plated (which is a very food-safe material), but if it came with no information at all, I'm just guessing and, sorry, educated guesses aren't very reassuring.
Regards,
Ted Mooney, P.E.
finishing.com
Pine Beach, New Jersey
---
---
Using a galvanized tub as a BBQ grill
May 29, 2014
Q. I want to use a galvanized steel tub advertised for use for gardens, pet baths etc, as a BBQ -- I will put a regular grill on top but want to build the charcoal fire in the tub. Will this be food safe? The fire will be burning for several hours for a slow rib cook. Thanks,
glenda scott
- missoula montana usa
---
May 2014
A. Hi Glenda. This is a complicated knot ...
1) one strand is that nothing is safe or unsafe, it's all relative
2) another strand is that you are using something for a purpose for which it wasn't intended -- which creates a situation where the designer specified materials without the intention of them being heated to charcoal fire temperature, whereas you & I don't know what materials he selected. For example, it seems unlikely, but still perhaps vaguely possible, that the tub has a clear vinyl coating
3) epidemiologists tend to not study such things, so there is no organized feedback if it was harming anyone
4) most manufacturers are not much concerned with the issue of casual exposure to heated galvanized materials; many "charcoal starter chimneys" are galvanized.

Personally, I wouldn't worry about it whatsoever, but you and I do not have the corner on wisdom to call others wrong who are concerned :-)
Sorry for the non answer; it's just the way it is.
Regards,
Ted Mooney, P.E.
finishing.com
Pine Beach, New Jersey
---
October 25, 2014
Q. I have a mole problem and am considering putting a galvanized steel 1/4" mesh hardware cloth along the bottom of my garden boxes to keep the moles out.

Should I be concerned about my vegetables becoming unhealthy due to the intake of the galvanization decay products into the root systems of my vegetables?
Brian Jeanotte
- Oakridge, Oregon
---
October 2014
A. Hi Brian. It's been said several times in this thread that zinc is an essential micronutrient, not a poison; and therefore that the potential problem is not exposure but over-exposure. I can't imagine how you could ever ingest a detectable amount of excess zinc from this, let along receive over-exposure.
You know that you need vitamins and minerals; zinc and iron are two of those minerals you need. Look up the MDR and how much is in your foods; you'll probably find out that most vegetarians don't get enough zinc and iron unless they're very careful :-)
Good luck.
Regards,
Ted Mooney, P.E.
finishing.com
Pine Beach, New Jersey
---
---
April 28, 2015
Q. I am interested in a zinc tub with wood edge. The picture shows a very dark inside to the tub and a rusted exterior. I have read quickly through the above inquiries, and I presume there would be no problem if someone would want to take a soak in this tub. You also mentioned that zinc does not allow paint to adhere to it easily. That could be the rusted outside. Please give me your thoughts on owning a zinc tub to be used in a bath, and if you know of any solutions to the paint problem.

Thank you.
Lynn Ben-Ami
- Dallas,Texas, Dallas county
---
May 11, 2015
Q. Hello,

We are raising pigs for the second time. The first time I (was forced to) use a regular tub for water. This time I'm forcing my husband to construct a pig waterer. My question is if the galvanized steel that he wants to use is safe. We will be harvesting these pigs and consuming the meat.
Christine York-Giannotti
- Pulaski, New York, USA
---
May 2015
A. Hi Lynn. We have many threads about painting galvanized materials. Please search the site for that.
Hi Christine. Galvanized feed troughs and watering troughs have been used almost universally around the world for many decades and I've never heard of a problem with it. You would think that if there was a substantial reason to fear the application, that we'd certainly be able to read about it.
Regards,
Ted Mooney, P.E.
finishing.com
Pine Beach, New Jersey
---
---
June 3, 2015
Q. Hi, I was reading a lot of the questions and I didn't seem to see any about the one thing I need to know about, so I'm sorry if you may have partially answered this already, as I'm sure you may be tired of answering so many of these similar questions. Bear with me, I did read as much as I possibly could, but I just don't feel any more clear on it.

I've been looking at convection toaster ovens that contain no nonstick coating like Teflon etc. and I finally found one I really like, but the manufacturers replied to the nonstick question with an answer saying this (quoted exactly):
"The inside of Model 31806-MX is Galvanized Steel. The baking pan is Aluminized Steel, Broil Rack is Chrome Plated as well as the Baking Rack and the Crumb Tray is Galvanized Steel."

Since this is a counter-top oven, should I be concerned with this and should they know better? I saw you mention it shouldn't be used as a cooking or food surface. I'd say this is EXACTLY the function of the product, so it's in direct conflict with that and likely that this company should stop selling such an item at least without warning. The other thing I had a question about was, if I didn't use the pans, would it be safe to use the oven still since it can't heat anywhere close to the temperatures you said would cause problems?

Any advice would be so greatly appreciated here, and I'm sorry again if I repeated anything anyone asked. I tried my best not to. Your answers have been amusing & helpful to read and I hope to hear from you very soon. Our toaster oven is rapidly dying and I've been hunting for a new one, which has been consuming - nay, devouring - most of my time due to all the safety issues and the lack of regulation on things like non-stick and other dangers :( It's kind of exhausting for me since I'm a sufferer of multiple health issues already and chronic pain.
Qua Couron
- Santa Cruz, California United States
---
June 2015

Hi Qua. I am amazed that you got such detailed info from the manufacturer. You must have written to them with the same degree of politeness, charm, and flattery that you used in writing to us :-)
A "food surface", at least as I use the term, is a surface that food sits on and touches. And the reason that people and the FDA might be concerned about food sitting on zinc is out of an abundance of caution that too much could get dissolved into acidic food. Again, zinc is not poison -- it is an essential micronutrient, but you don't want to dose yourself with it by putting food on it and having some of it possibly dissolve onto the food.
The racks are food-safe chrome plating, the baking pan is food-safe aluminized steel. As long as you are not eating off of the crumb tray, you are not using zinc plating as a food surface ... and even if you did eat off of the crumb tray, the issue would surely be de minimus. This toaster oven should be fine. Good luck.
Best regards,
Ted Mooney, P.E. RET
finishing.com
Pine Beach, New Jersey
Striving to live "Aloha"
---
---
October 11, 2015
Q. We have a rural cabin and want to use a galvanized 50 gal drum to make a barrel stove. Is this safe to use inside the house, or will the fire get too hot and cause the galvanized surface to melt, causing fumes that could harm us. Thank you for your time.
Kay Andrew
- Ketchikan Alaska USA
---
---
December 18, 2015
I have this microwave/oven combi on a galvanized shelving system.
I noticed these shelves have some white corrosion on them, which I can wipe off quite easily, but it keeps coming back.

Is the combination of heat produced by the oven and this zinc residue (or the coating) a potentially harmful situation when it comes to fumes, etc?
Mitch Holland
- Amsterdam, the Netherlands
---
---
May 31, 2016
Q. I am replacing 1/4" wire mesh on top of the charcoal grate in my Weber grill. The only mesh/screen I could find at the hardware store is, in fact, galvanized. It doesn't come in contact with food, but does lie under the hot coal bed. Will this vaporize and contaminate the food being cooked on the grill?
Thank you.
Jim Toombs
- Bridgeport, Connecticut USA
---
June 1, 2016
A. I don't think you have to worry about any contamination of the food, but I'll qualify that statement by saying that's just my opinion. That being said, the galvanizing will burn, and the zinc fumes can definitely make one sick if the vapors/fumes from the grill are inhaled. If it were me, I wouldn't chance it, metal fume fever is a nasty one. At the very least I'd light a pile of coals and burn the galvanizing off prior to using for cooking and around people.

I just bought some 1/4" stainless steel mesh for a home project over the weekend at my local big box store, it was readily available in the chicken wire section.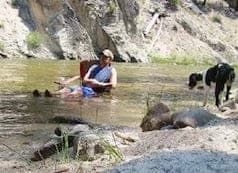 Marc Green
anodizer - Idaho
---
June 5, 2016
A. I once read a story about someone who made a batch of some kind of beverage in a galvanized trash can. I gather it was acidic. It made the people who drank it quite ill.

I'd strip the Zn off with some HCl or NaOH before using galvanized steel in contact with food.

Dave Wichern
Consultant - The Bronx, New York
---
---
June 5, 2016
Q. This was my first Time boiling Maple syrup this year. I used a galvanized pan to do it. Before my first batch I boiled the pan for a couple of hours with a vinegar solution to clean it up. Next year I will use stainless for sure but for now I'm wondering if I am poisoning myself drinking this syrup.
Fred Lavoie
- Chelsea Quebec
---
June 2016

Hi Fred. It's all just personal opinion because to the best of my knowledge no epidemiologists are studying the effects of consuming maple syrup that was boiled in a galvanized pan previously cleaned up by boiling in vinegar ...
... but I'll take the syrup off your hands if you wish, and savor it! It's not the right thing to do as you know, and I wouldn't sell stuff that was prepared in even the slightest questionable way because people can get freaky, but it sounds safe and delicious to me :-)
Regards,
Ted Mooney, P.E. RET
finishing.com
Pine Beach, New Jersey
Striving to live "Aloha"
---
June 6, 2016

Thanks Ted for your input on this.
Fred Lavoie
- Chelsea Quebec
---
June 5, 2016
Q. I built a trash can smoker make of galvanized metal. Is it safe to eat food that has been smoked inside the trash can?
Jeff Bergeron
- Rancho Santa Margarita, California, USA
---
June 2016
A. Hi Jeff. Please review this page; that question was asked and answered a couple of times, including links to other sites.
Regards,
Ted Mooney, P.E. RET
finishing.com
Pine Beach, New Jersey
Striving to live "Aloha"
---
June 9, 2016
A. Years ago, substantially all of the hot-dip galvanizing was done with 'Prime Western' zinc, which is zinc with lead added to constitute 0.8 - 1.4 % of the deposit. Today, hot dip galvanizers are slowly abandoning this technology. The lead promotes better wetting of the fluxed surface and better draining of the molten alloy from the surface of the part. Spot test kits for lead are available for those who may be concerned about the lead.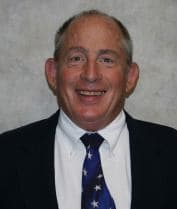 Tom Rochester
Plating Systems & Technologies, Inc.
Jackson, Michigan, USA
---
June 2016

Thanks Tom. Even with pure lead instead of 1%, the hazard depends on a host of circumstances. The lead water supply pipes in the city of Flint weren't considered unduly dangerous as long as the water was properly treated, but they were deemed very dangerous when the water treatment was skipped and their inert patina was compromised. Tens of millions of us are drinking water which passed through lead pipes. Replacing them was a nationwide "shovel ready" project, but due to some combination of simply not thinking of it, or local plumbers & pipefitters not being considered good targets for government largesse, it didn't happen.
Regards,
Ted Mooney, P.E. RET
finishing.com
Pine Beach, New Jersey
Striving to live "Aloha"
---
---
September 13, 2016
Q. Hi,

I have a twist on the "zinc coating" issue that is giving me pause. I just modified a propane grille rotisserie by adding 24 inch long, 3/16 gauge threaded rods (for kabob skewers). I noted the rods are Zinc plated. I have not yet used them. Do you think it is safe to use them as grille kabob skewers?
Bob Porter
- Arden Hills, Minnesota, Ramsey
---
September 2016
A. Hi Bob. Zinc is not a "food-safe" material, so it is not appropriate to use it in contact with food. Whether it's actually "safe" or not might possibly be another question, but I can hardly say it's safe when knowledgeable food authorities tell us not to do it, and when it violates the principal I've mentioned before of never using a material for food contact that wasn't designed for food contact. Good luck.
Regards,
Ted Mooney, P.E. RET
finishing.com
Pine Beach, New Jersey
Striving to live "Aloha"
---
---
Zinc chambered toaster oven
October 12, 2016
Q. Hi,

I am interested in purchasing a toaster oven that is free of non stick interiors. Black and Decker has a toaster ovens that meet this requirement but they said that it has a zinc coated interior. So I'm guessing it's stainless steel/aluminized steel with a zinc coating. Is this completely safe to use or should I keep looking?

Thanks for the help,
Katherine J
[last name deleted for privacy by Editor]
Shopper - New Orleans, Louisiana, USA
---
October 2016
A. Hi Katherine. Firstly, nothing is 'completely safe' -- we could theoretically knock over our coffee onto our computers in such a way as to both get electrocuted as we discuss this. Rather, it's a matter of trying to assess realistic dangers worth worrying about vs. remote ones. Black & Decker is not trying to poison you, and we're not talking about a food-contact surface, and you've personally ruled out non-stick surfaces. So I'm going to say: "It's safe". Good luck.
Regards,
Ted Mooney, P.E. RET
finishing.com
Pine Beach, New Jersey
Striving to live "Aloha"
---
October 12, 2016
Q. Hi Ted,

Thanks for your response. I hear what you're saying about food contact service and that makes sense. Do you think there is any issue with fumes or vapors from the zinc? Toaster ovens can get quite hot.

Thanks again,
Katherine
Katherine J.
[returning]
- New Orleans, Louisiana, USA
---
October 2016
A. Hi again. No I don't.
Regards,
Ted Mooney, P.E. RET
finishing.com
Pine Beach, New Jersey
Striving to live "Aloha"
---
---
February 27, 2017
Q. I just went to a welding/fabrication business and bought a 16 x 20 inch piece of steel about 1/8" thick to grill pizza on my weber gas grill. On way home I noticed oily smell coming from the steel and then wondered if it will be safe to grill pizza or any food on it. I was planning to scrub it well with SOS pad to remove residue and then letting the heat of the grill burn off what's left before cooking on it. Can you provide information if this will be safe to use?

Thanks,
Dennis
Dennis Whitish
- phoenix, Arizona
---
February 2017
A. Hi Dennis. If we don't even know quite what it is that you have, it's hard to say that it's food safe at grilling temperatures. But it sounds like a piece of steel you just need to carefully clean.
Regards,
Ted Mooney, P.E. RET
finishing.com
Pine Beach, New Jersey
Striving to live "Aloha"
---
---
March 15, 2017
Q. I found a desk organizer (antique and rustic feel of this galvanized metal four compartment organizer from Creative Co-Op) that I would love to store my cooking utensils, peelers, & scissors in. Is this a good idea? Thank you for your help!
Mindie Ellingson
- Great Falls Montana USA
---
March 2017
A. Hi Mindie. Risk is relative and mostly just personal opinion. Personally, I wouldn't worry about it at all.
Regards,
Ted Mooney, P.E. RET
finishing.com
Pine Beach, New Jersey
Striving to live "Aloha"
---
June 19, 2017
A. Hi. From experience, any thing made of galvanized will not last. Especially if there is water on it all the time. The galvanise will give up one day and corrode; it give out this white residue liquid and this can also affect metal utensils. It's worse if you use Chinese galvanized steel. Anything to do with food, it's best go for high quality plastic for storage. If for cooking, go stainless steel. If you build your own BBQ, try using 316 stainless steel; it may cost 3 times galvanised steel, but it last forever. Or if you just use normal steel is okay too, much cheaper, just have to oil it when not in use (this is same for cast iron). Peace of mind is after all what we need.
Quoc Trinh
- Flinders nsw Australia
---
---
Galvanized stove and metal fume fever
April 9, 2018
Q. Hello,

I'm looking at building a rocket stove for a sauna. I originally designed the thing using a galvanized trash can then read all this stuff about metal fume fever.

My new Design is to use Sheet steel for the chamber the smoke goes into and put that inside the trash can, using the galvanized trash can as a heat shield. There would be a layer of sand and vermiculite mixture between the hot sheet steel chamber, and the trash can. Also sand, vermiculite, and cement on the very bottom of the can.

Outside to inside: Trash can, sand and vermiculite 2 inches, sheet steel in circle going above ledge of trash can (capped with a steel bucket and sauna rocks on top), heat riser (also galvanized sheet pipe), and firebox (black stove pipe).

info
The stove should draft well.
The inside at the top of the heat riser should get 1500-2000 dgrees F
I can't imagine the trash can getting too hot, except maybe near the stove pipe entrance which is the firebox connected to the heat riser. (maybe a couple hundred deg F) but not enough to melt zinc I wouldn't think.

Questions:
1. Just found these mentions this week of arsenic poisoning popping up with galvanized metal. Is that a real thing?

2.The fire should be hot enough to melt the zinc on my heat riser sheet pipe inside the stove. Will the drafting of the smoke protect sauna occupants from metal fume fever? Drafting: (firebox up the heat riser, hit the metal bucket {sauna rocks heating on top of metal bucket} down into the sheet chamber, out a well insulated stove pipe at bottom of chamber to outside)

thanks
Ben
Ben Zylstra
- Pullman, Washington, USA


This public forum has 60,000 threads. If you have a question in mind which seems off topic to this thread, you might prefer to Search the Site