Where the world gathers for
plating, anodizing, & finishing Q&As since 1989
-----
Passivating Stainless Steel Medical & Surgical Instruments

www.finishing.com is made possible by supporting advertisers like ...
this text gets replaced with bannerText

Q. Do we need to have a final validated cleaning step/process after passivation treatment of surgical instruments or we can consider the cleaning before passivation as the final cleaning ?
Sonali Panchal
Student - Gujarat, India
June 21, 2023
A. Sonali,
Typically, your customer or a manufacturing standard such as from ASTM will give you these requirements.

In general though, there shouldn't be a need for any further cleaning after passivation, other than rinsing the passivation acid off the parts completely.

Ray Kremer
Stellar Solutions, Inc.

McHenry, Illinois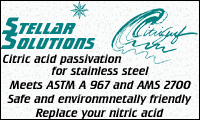 July 25, 2023
---
---
↓ Closely related postings, oldest first ↓
---
---
Q. We have been passivating 17-4 stainless steel used in surgical instruments. The final cleaning test is a IPA wipe with a Q-tip [affil link]. We preform this operation, pass the parts on as clean. Our customer also wipes the parts and passes them on as clean. The final customer receives the parts several days after this and will find a black smut on the cotton swab after IPA wipe. This occurrence is on the ID and ID threads. The ID is gun drilled and the metal working fluid it turns out is a chlorinated paraffin.

Our cleaner is a mild alkaline and the parts are brushed ID and OD. Passivation has been both Type II and Citric, both show the same delayed failures. After passivation the parts are re soak cleaned, briefly to neutralize acidity, and hot DE I rinses.

This is a very interesting problem. SEM analysis is not back yet but we are looking at possible chloride. I am guessing that a nasty vapor solvent may better remove the metal working fluid that is driven into the pores but this is speculation at this point.

Has anyone elese experienced this delayed problem? Can any one share with me resolution on this?
Jon Quirt
- Fridley, Minnesota
1998
A. While I like vapor degreasers, your application sounds more like one that is optimally suited for ultrasonics both in the alkaline cleaner/neutralizer and the DI rinse. Since you are doing surgical parts, it would not take a large unit to run your parts unless you had them by the thousands, which I doubt since they are gun drilled (deep and narrow).
James Watts
- Navarre, Florida
A. Dear Jon,

My feeling is that you are right about the chloride contamination. However the passivation would be a hell of a lot better if the items had been electropolished, the surface will be "enriched" with Chrome & nickel, as the Iron will have been preferentially removed and the resultant oxide film will be as complete as it is possible to get.

I can only recommend that you talk with a company in Sydney Australia Called METAGLO Pty Ltd, they have developed a very modern approach to this problem

Regards

John Tenison - Woods
- Victoria Australia
Ed. note: Gentle Readers: please don't suggest brands or sourcing in this forum (why?)
A. Jon:

We have had several customers with similar problems caused by chlorinated paraffin inclusions. You might try 5% NaOH at elevated temperatures (up to 180 °F) before the passivation with CitriSurf. This has worked at other places. Ultrasonics also helps a lot if you can use it.


Lee Kremer
Stellar Solutions, Inc.

McHenry, Illinois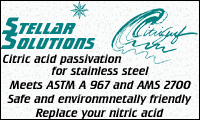 1998
---
---
Q. I am concerned with the bio-compatibility of this material. We are making micro instruments with it in a powdered metal blend. I seem to be the only one who has reservations about it. Am I wrong?
Ben Brosch
- fountain valley, California
1999
---
---
Q. PLEASE HELP ME Dear Sir,

I am the maker of Surgical Instruments and am supplying in the local market. I have started my business in April 2000. I am using the local as well as Japanese stainless steel for manufacturing the instruments.

From the last two months, One of my customer had complained to me that at the very first round of autoclave of the instruments, my instruments have caught rust, but the other test have gone well. One of my friend has suggested me that he learnt that such problems of stainless steel is dealt by PASSIVATION PROCESS. But neither me and my friend know about the Passivation process, nor we know about which chemicals are to be used.

I have real trouble because I am unable to selling my instruments. Yesterday I have made a search on the internet and your kind personality was appeared to me with a hope that you will be able to help me in this swear problem.

I request you to kindly guide me how I could come over to this problem and oblige me. Thank you very much for your kind co-operation and will always remind me of your great love for me.

Yours truly,
SULTAN MEHMOOD
- SIALKOT, PAKISTAN
2001
A. Hello Sultan!

Passivation is a process in which you remove stray iron particles from the surface of stainless steel, and/or enhance the formation of the chromium oxide layer that makes stainless steel resistant to corrosion. It is commonly done in nitric or citric acid [affil links to item on Ebay & on Amazon] formulations.

The first thing that you want to do is go to Finishing.com's home page, and look in the Frequently Asked Questions area- that's Section 4. There is a FAQ on Passivation of Stainless Steel that is worth reading.

Another source of information is the US Federal Specification QQ-P-35C [affil link or DLA] , which you can get free from assist.daps.mil. Click on the Quicksearch button, and type in the "QQ-P-35", and it will get you the document in pdf. It lists only the nitric acid formulations. Several citric acid [affil links to item on Ebay & on Amazon] recipes are given in ASTM A967 [affil link] (available from the ASTM at astm.org) and in AMS2700 [affil link] (available from the SAE at sae.org).

I hope this helps!




Lee Gearhart




metallurgist - E. Aurora, New York






----
Ed. note 5/29/12: That mil specs page has moved around several times over the years, but is currently at assist.daps.dla.mil/quicksearch/
Ed. note May 2013: make that quicksearch.dla.mil

A. Dear sir,

By saying "passivation" I believe you mean the thin protective coating film formed on the articles.They are primarily chromium oxides (Cr2O3).We require a minimum level of 12%Cr to ensure a passive layer. Your query does not indicate the "grade" of stainless steel you have used. I feel "austenitic" stainless steel is the best choice. If you have already used this grade then the problem could be some thing else for which I need the exact description of the "corrosion" pattern and how it looks like on the instrument.

Regards,

C.K.Sekar




- Chennai, Tamil Nadu, India





A. Sulton:

Much of the surgical instrument industry has gone to using citric acid [affil links to item on Ebay & on Amazon] based products for passivation. These instruments are commonly 410SS or similar, with laser etching. The laser etching is a very weak point in the corrosion problem and must be passivated to pass the autoclave tests.

The trick is to get the passivation required without removing the laser etch marks that the manufacturer wants to remain. This can be attained with a significant improvement in corrosion resistance over the old nitric acid methods laid out in QQ-P-35C.

adv.
Contact us if we can be of assistance.

Regards,


Lee Kremer
Stellar Solutions, Inc.

McHenry, Illinois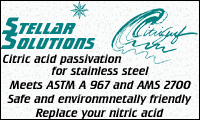 2001
A. Dear Sultan,
Passivation is removal of free iron and other contaminants from the surface of stainless steel to make it corrosion resistant.
But other factors according to the product and manufacturing practice is also to be considered.
Best Regards,
JAHANGIR Mirza
- Sialkot Pakistan
June 8, 2009
---
---
Q. I am trying to find the best way to e-polish, laser mark and passivate several types of surgical instruments. I am looking primarily at 17-4 and 455 SST, and would like to know how to call out the specifications for electropolishing.
What is a standard material removal? (I see "electropolish .0002/.0004 per side" called out on some prints. Is that an adequate spec to obtain the same finish across different machine shops?
How should I call out surface finish?) Also, aside from simply calling out Passivate per ASTM A967 [affil link] , is there a better protocol that I can use with electropolished and laser marked material to prevent rusting?

Thank you! Tara
Tara Ramachandra
med dev - San Jose, California, USA
2003
A. Tara,

Yes 0.0002-0.0004" Is a common removal amount for surgical tooling. Laser mark is a concern for corrosion sites as the laser marking process leaves an iron oxide rich site. New to the market is a "glaze" that can be brushed on the area to be laser marked. The glaze is then fritted by the laser. Corrosion testing on this material is very good. I do not know if it has or needs FDA approval. When we electropolish for passivation on medical parts we use ASTM F86 [affil link] , While it covers marking of surgical implants, it also covers passivation means and includes electropolish. I like citric acid [affil links to item on Ebay & on Amazon] (covered in ASTM A967 [affil link] ) for post passivation on 17-4 and 400 series stainless steel. However, it will lighten and sometimes remove laser mark, as will electropolish. It is a funny world some laser mark before passivation, some after, some both. I would like to see more of the fritted glass used with laser mark. Most laser mark o 17-4 will drip red rust in 8 hours. Generally the darker the laser mark the more it will corrode.
Jon Quirt
- Minneapolis, Minnesota
A. Jon's comments about electropolishing are good. As far as passivation goes, we get excellent results and an 80% reduction in corrosion problems using the right citric acid [affil links to item on Ebay & on Amazon] products.
These will not remove the laser mark when done right and will still give excellent corrosion protection on these grades.

There are many companies who use varying techniques to passivate surgical instruments, but many have gone to passivation prior to laser marking (to passivate the base metal) and then again after laser marking to remove the ferrites from the etch mark and leave the carbon.
Each laser mark apparatus and procedure gives different results on different alloys. Some are removed very easily and some with great difficulty.
Some use ultrasonics successfully and some have to turn off the ultrasonics to passivate the mark to prevent the removal of the carbon while still removing the ferrites.

adv.
Let us know if we can help. We have many surgical instrument companies using our products for this exact application.


Lee Kremer
Stellar Solutions, Inc.

McHenry, Illinois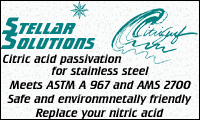 ---
---
Q. I work for a large corporation that manufactures surgical instrumentation. We currently use citric acid [affil links to item on Ebay & on Amazon] to passivate because the instruments are not implants. We validated the citric on every type of stainless that we use (17-4, 420, 465, 455, 316 and 317) and had no failure with a boil test or immersion test. We are about to start making implants out of cobalt chrome and from previous experience I think we have to use nitric acid to passivate. If this is true what percentage should we use and what would the specific gravity be for that percentage? If I use nitric how do I know when it is spent or when does it need to be changed?
Billy McCulley
Supervisor manufacturing - Bartlett, Tennessee, United States
April 12, 2008
A. citric acid [affil links to item on Ebay & on Amazon] based passivation can and is used for implants as well as instruments. It is also used on many non ferrous alloys just as it is with stainless steel.

On what basis do you expect you must use nitric? If you refer to ASTM F86 [affil link] spec on implants, there is a clause there that allows any effective treatment as long as you document it. If your customer is specifically requiring nitric, it may be worth the effort to convince them of the benefits in allowing you to use citric.

If you still go with nitric acid, you can refer to a stainless passivation spec such as ASTM A967 [affil link] and follow the formula and procedure recommended for 316 SS.

adv.
Let us know if we can be of help.

Ray Kremer
Stellar Solutions, Inc.

McHenry, Illinois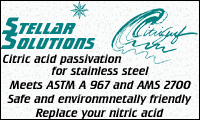 ---
---
Q. Which process would be better for surgical instruments - bead blasting or citric acid [affil links to item on Ebay & on Amazon] passivation. We are under the impression that bead blasting is harmful to the instrument and that treating it with citric acid [affil links to item on Ebay & on Amazon] is better to remove the staining and to reapply the passivation. We believe that bead blasting only opens up the instruments pores to more staining or rusting. Does anybody have any information to verify or nullify this idea?
Bruce Cunningham
owner of instrument repair business - Wareham, Massachusetts
July 29, 2008
A. Bruce,
You're not really comparing equivalent processes. Bead blasting is usually done to smooth down a very rough surface or to clean off scale. A passivation bath removes iron and improves the protective chrome oxide layer.

If your application is cleaning and repairing surgical instruments, I see no reason why you would want to bead blast and every reason you would want to passivate.

If there is the occasional stain that cannot be removed by a citric bath, the best course would be a brief pickling in a harsher acid (phosphoric or nitric if necessary), rather than a mechanical process like blasting or grinding.

Ray Kremer
Stellar Solutions, Inc.

McHenry, Illinois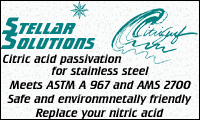 ---
---
Q. I am attempting a passivation validation using the boil test and 420 stainless. My problem is that I cannot get the boil test to generate rust at all, even after using a file to remove the surface passivation layer (and then some) and immediately immersing in boiling water. I need to generate rust to compare against a passivated sample to show that the Citrisurf product (2310) will generate a passive layer. Can anyone explain why my 420 seems to be totally immune to rust? I am following ASTM F1089 [affil link] Standard Test Method for Corrosion of Surgical Instruments (30 minute boil, 3 hr rest, 2 hr ambient dry).
Mike Grissom
- Honolulu, Hawaii, USA
April 26, 2013
A. We share the same experience. If you are looking for puffy rust after the boil test, it will be rare to find this on 420. (I have not try the boil test on 420F.) You may find rust spots on 440C. The unclear part of the boil test is "shall show no signs of corrosion" (from ASTM F1089 [affil link] ). If there is material removal or surface deterioration, it is definitely corrosion. What about discoloration with brown films or staining?

copper sulphate [affil links to item on Ebay & on Amazon] test gives much easier results to interpret but is prone to false positives.
Kai Lorcharoensery
- Warsaw, Indiana, USA
September 4, 2013
A. It may be that there is just not enough free iron on the surface to generate red rust. We have often taken fresh machined parts (usually 303, 304, and 17-7) and subjected them to testing (24 hour Humidity and Copper sulphate) with no failures, without any passivation, only degreasing.

The most common source of failure is ferric metal smear or contamination from Metal tools/cutters and sanding/grinding contamination. Using carbide tools and being careful with abrasives can greatly reduce failures. While passivation will remove ferric compounds on the surface that exist as part of the alloy, the material will usually self passivate with time.

To get a failure, you may need to expose the material to iron in processing.
Paul Slater
- Cedar Rapids, Iowa, USA
December 6, 2013
---
---
Cold passivation
Q. Kindly tell me the procedure of cold passivation for stainless steel grade 304,410,420 used on surgical instruments?
Jamshed Sarwar
- Pakistan
November 22, 2018
A. Hello Jamshed,
Look in ASTM A380 [affil link] and AMS2700 [affil link] for complete listing of bath makeups, temperatures, and recommended alloys they should be used on. By 'cold' I assume you mean 'unheated' or 'ambient temperature'? There are a few options to look at, both Nitric and Citric. AMS2700 [affil link] Table 4 has a very good listing of alloy and the type(s) of passivation that may be applied. And the ASTM A380 [affil link] Citric method listed under 'general cleaning' is a room temperature method that is actually effective for passivation of certain alloys, not just cleaning.
You've got several to choose from. Whatever method you choose, I strongly recommend doing a 24 hour water immersion test to be certain that you have been successful using the method you chose, before going into full production.
Last, don't underestimate the importance of getting your items REALLY clean before passivation.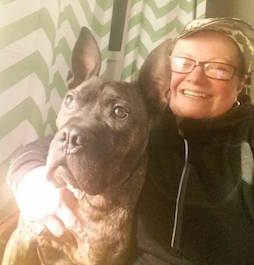 Rachel Mackintosh
- Greenfield, Vermont
A. Jamshed,
Per ASTM A967 [affil link] , a 4 to 10 wt% citric acid [affil links to item on Ebay & on Amazon] solution for at least 20 minutes at 20 °C. You can read the nitric option there too, or in the old military spec QQ-P-35c, but for that mix of grades you wouldn't be able to use the same nitric formula for everything.

Ray Kremer
Stellar Solutions, Inc.

McHenry, Illinois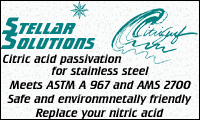 ---