60,000 Q&A topics -- Education, Aloha, & Fun
topic 19035p2
HOW TO REMOVE A STAIN FROM A STAINLESS STEEL SINK
---
< Prev. page (You're on the last page of the thread)
---
A discussion started in 2003 but continuing through 2019
July 10, 2009
Q. I dropped some TarnX solution on our brand new stainless steel sink. The sink now has back spots that would not come off. I tried using baking soda, vinegar, olive oil, and most of the cleaning liquids. The stains are still there. Any suggestions are greatly appreciated.
Sally Lich
- Dallas, Texas
---
July 21, 2009
A. I took the above advice and tried Bar Keeper's Friend on some recent stains and it worked beautifully. It not only removed the new stains but also, with a little elbow grease, nearly removed (still working on it) Lime-Away damage from over four years ago that I'd completely given up on. Everyone who has a stainless sink should know about this. Thanks to all who suggested it.
Marsha C
[last name deleted for privacy by Editor]
- Henderson, Nevada
---
September 24, 2009
A. Be advised, BarKeeper's Friend is NOT recommended for Stainless Steel. Check out their website. I did have success with removing rust on my silverware, but then there was some in the grooves of the serrated blade still, so I let some barkeeper's friend set on it for awhile. When I went to clean it, the barkeeper's friend had permanently damaged the silver. It works chemically, so I'm guessing that it removed the silver plating from it. So, if you use it, do so sparingly.
Jack Jensen
- Valrico, Florida
---
September 23, 2009
! Hello, Jack. I did check out their website and don't quite understand your posting. Their website prominently says: "... and is great for cleaning stainless steel.", and "If you're looking for a cleanser you can trust to clean your stainless steel, ..."
Regards,
Ted Mooney, P.E.
finishing.com - Pine Beach, New Jersey
Striving to live Aloha
---
October 2, 2009
A. Ted, Jack began by talking about putting it on stainless steel, but ended by talking about it taking the silver/silver plating off. My guess is it is the silver plating that is not listed on the website.

Thanks everyone...I am headed to the store for Bar Keepers Friend. I am sure it can't hurt.
Charla Henderson
- Mt. Pleasant, South Carolina
---
October 27, 2009
A. I found this thread because I had purchased a fantastic retro set of brass flatware and immediately stained it with Tarn-X, thinking that it would polish up the metal. (yes I did read the back of the bottle, but did not think the metal was actually brass at the time)

I will capitalize the words BARTENDERS FRIEND to make this thread seem like a blatant advertisement for the stuff. It not only polished like I thought the Tarn-X was going to, but also removed the black spotty damage that it did to my now magnificently shiny golden set of flatware. This stuff is less than $3 a can at a grocery store, go try it. My hands feel kinda funny though, maybe you ought to use gloves.
Kelvin Vance
- Aiken, South Carolina
---
August 26, 2010
A. Whink [affiliate link to product info on Amazon] works great with little to no elbow grease at all; it is a rust remover. I have also used Easy Off oven cleaner liquid form. It takes a little more elbow grease but works good. I recommend to follow up with a soft scrub to bring back luster.
R Shapley
- Center, Texas
---
Adv.
Scratch-B-Gone to the rescue once again! All of your stains from chemical, heat and acids are quickly removed using Scratch-B-Gone. Just 3 minutes and your sink and other Stainless surfaces are looking NEW! Really!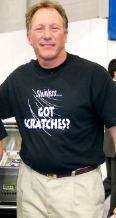 Barry Feinman
BarrysRestoreItAll

Carlsbad, California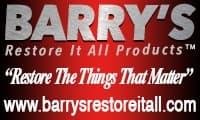 ---
October 24, 2011
A. Tried everything on my stainless appliances and got NOwhere. The stain was from muriatic acid that was used as a cleaner for the floor. Then I found a bottle of stuff I haven't thought of for years and it worked like like magic with NO scratching and the stains are gone: Brasso [affiliate link to product info on Amazon]
Jack McKee
- Bethel Park, Pennsylvania
---
November 15, 2011
A. I just moved to a house with my first stainless sink. As usual I put CLR around the faucet to clean hard water stains. I got busy elsewhere and when I came back there were terrible black stains around the faucet and running down into the sink. I read all these posts and tried the only one I had on hand....Brasso. It worked great! It did take a bit of elbow grease though.
Brenda Gervais
- Ventura, California, USA
---
June 5, 2012
A. I had a Tarn X stain on my new stainless steel sink, I used the Bar Keeper's Friendly powder and my stain went away 95%, there is still a small mark but I'm sure If I keep cleaning it will eventually go away. I was worried the Tarn x was going to be there permanently but I'm so happy most of it is gone, so Bar Keeper's Friend-ly powder did the job. For all of you who had the same problem, this is the solution.
Evelyne Hadida
- Montreal, Quebec, Canada
---
June 6, 2012

-- this entry appended to this thread by editor in lieu of spawning a duplicative thread
Q. Hi, I just used the liquid cleanser, 409 Natural Stone Cleaner on my stainless steel range hood not realizing it wasn't my stainless cleaner that I usually use. It left my hood with staining, almost like bleached out where the cleaner was sprayed on. I wiped the cleaner off right after I sprayed it on with a towel and then noticed it had stained. I then immediately cleaned with dish soap and water followed by Stainless Steel Magic polish, but you can still see the staining. Any suggestions or is it permanently damaged? Thanks!!
Deb Partington
Home owner - Victor, New York, USA
---
June 8, 2012
Q. I have always used Bar Keepers Friend and I have a new stainless steel sink. I sprinkled it all over the sink and ran to the store; upon my return I went to scrub the sink and the Bar Keepers Friend left spots all over the sink!
Any suggestions?
Thanks so much!
Suz'anne Hawkins
- The Woodlands Texas USA
---
July 4, 2012
-- this entry appended to this thread by editor in lieu of spawning a duplicative thread
Q. I had a major meltdown today! I brought my horse's bridle home to polish (some silver grommets on the leather had rust around them). I held the bridle over my stainless steel sink and used Rustoleum as recommended at the hardware store. OMG. it has chemically changed the finish in big places and totally taken the shine out of those places.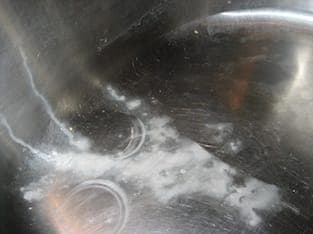 The sink is relatively new. I'm freaked! What can I do? This is not about "scratches", It's more like chemical burns. Help!!
Sherri Haskell
- Sausalito, California
---
September 11, 2012
-- this entry appended to this thread by editor in lieu of spawning a duplicative thread
Q. By mistake I poured Kaboom toilet bowl cleaner into my ss sink and it left a stain. Tried comet didn't work. How can I remove the stain? Please help me. Thanks
Elizabeth Diaz
- METAIRIE, Louisiana
---
April 30, 2013
Q. I left some Barkeeepers Friend in my ss sink. It left white milky stains all over. How do I get this off? Does anyone know ?
Cathy Downey
- Las Vegas, Nevada
---
July 18, 2013
Q. My son squirted Clorox Derived Natural dishwashing detergent around the sink and forgot to clean the sink. It sat overnight and darkened the sink with a ring and drizzle stain. PLEASE tell me what to use to get rid of this stain ... Thank you!
LaDawn Burt
- Los Angeles, California, US
---
October 7, 2013
adv.
To All who are having sink staining, scratching, or rust issues PLEASE READ MY LIPS! Scratch-B-Gone does and will fix these issues quickly and effectively.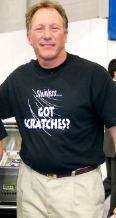 Barry Feinman
BarrysRestoreItAll

Carlsbad, California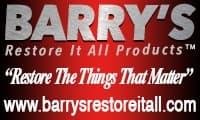 ---
May 12, 2014

My sink was stained with Tarn-X, but I didn't know what had caused the stain until I shook the bottle with the lid not tightly closed. After reading all the kind entries on this site, I decided to try Silvo Silver polish, the only silver polish that I had in the cupboard. After much elbow grease, it worked. I'm thrilled!!!
Willa McGinley
- Quispamsis, N.B.,Canada
---
June 9, 2014
A. I own and operate a green cleaning service in NYC. Many of our clients have stainless steel appliances.

We use ONLY uses natural industrial strength products.

We've been using Barkeepers Friend [affiliate link to product info on Amazon] for 32 years. It's made from ground up rhubarb. Rhubarb is a plant that contains high amounts of oxalic acid. It cleans metals and scours stains out of countertops.

I always wet the surface first with plain water and the sprinkle the Barkeepers on, let it sit and then scrub with a regular sponge. I prefer a microfiber sponge or cloth.

It is non abrasive and has no bleach or other ingredients.

Rinse with clean water. And that should do it

I hope this was helpful
Cindy LeBow
Great Green Cleaning of NY - Brooklyn New York USA
---
August 26, 2014
Q. I need help, I put barkeepers friend all over my stainless steel sink and left it overnight, when I went to clean it there are black spots all over the sink, does anyone know how to get these spots out? Hysterical, it is a brand new sink!
Marley Vranesic
- denver, Colorado
---
September 10, 2014
A. I found this thread on-line earlier today. Like most of the others who stumbled across this, I was looking for help for discoloration of my stainless steel sink.

In my case, I used Whink Rust Stain Remover on a soap dispenser (it took the rust off) and left the brush I had used with the Whink product residue overnight in the kitchen sink. This morning I discovered that my stainless steel sink had discolored where the brush had made contact. It looked awful and I was afraid the sink was ruined.

I emailed Whink and asked them for advice. Here's their response...

"Thank you for contacting Whink Products Company.
Rust Stain Remover will damage metal surfaces, which is why it is not recommended. We cannot guarantee anything will reverse or remove the damage.
We have heard that some people have had luck using Bar Keeper's Friend.
Thank you,"

Others who have posted in this thread have also recommended Bar Keeper's Friend. I looked around my house thinking I might have some but instead found a product called Cameo [affiliate link to product info on Amazon] Aluminum and Stainless Steel Cleaner hiding under my sink. I think I purchased it a long time ago to use on my Calphalon cookware. It is manufactured by Church & Dwight Co. and available from Amazon. It's inexpensive.

Anyway, I tried it and it worked great! It removed all of the discoloration with very little effort. My sink looks better than it did before this mishap.

I hope this post is helpful. Good luck.
Sam Pruett
- Chicago, Illinois, USA
---
---
April 23, 2015
-- this entry appended to this thread by editor in lieu of spawning a duplicative thread
Q. My daughter used toilet bowel cleaner on our stainless steel sink. It now has turned all cloudy and spotty. I've tried cleaning it again, no luck. Can I fix this?
Lisa Swaine
- toronto, ontario, canada
---
November 1, 2015
A. To get dark stains out of stainless steel use ceramic cooktop cleaning creme for smooth ranges. Used some on a scratchless cleaning sponge rubbed in a circular motion -- it came right out, no problem.
Kelly Blair
- Spring, Texas, U.S.
---
---
Steel table
November 1, 2015
Q. Hi

I have read a lot of stuff on this blog and hope that I am not beating a dead horse here . . .

I recently bought a dining table made out of unfinished steel. It is very cool (and very heavy) The man who sold it to me had it made. It has some glass rings, etc. on it, but I'm not really bothered by that -- I rather like the passed-down look. But, I think it should be protected in some way. I came home from work the other day and found the housekeeper had spilled some water on the table. I wiped it dry, but, by the next morning, there were small rust spots. I want to be able to USE this table! I am really intrigued by the idea of wax (or, in this case, linseed oil, since I can't heat the steel), but I don't want to lose the long-term use of the table trying to be a purist when I should be practical. What would you recommend? And, if not wax, what sealing product specifically? Thanks.
Donna Coltharp
owner - San Antonio, Texas
---
July 8, 2016
A. Bar Keeper's friend is what ruined my stainless steel sink with black spots all over. I tried ceramic cleaner for stove tops and with a little effort, it did work! I needed to repeat the process, but it was worth it. Great forum. Beware of false advertising!
Ary Weisman
- Kissimmee, Florida USA
---
---
January 14, 2017
Q. I called some cleaners to clean my home, which the front view of my house was built with stainless steel but now it has turned to brown colour because of the hydrogen peroxide chemical they used to clean the tiles on the floor. Now what can I use to remove those brown colours from the stainless steel in other to bring the stainless steel back to the original color it was?
FABIAN OKECHUKWU
- ENUGU, NIGERIA
---
January 16, 2017
A. Fabian,
Are you sure it was peroxide? Peroxide tends to not damage stainless unless there's a lot of contaminant iron on the surface.

Tile cleaner with fumes that corrode nearby stainless tend to be hydrochloric acid (aka muriatic acid). This happens to people a lot as workers don't seem to be aware of the hazards of their cleaning chemicals to the stainless.

You can remove the rust using a commercially available rust remover (or just some phosphoric acid) and then you will probably need to passivate the affected areas as well (using citric acid).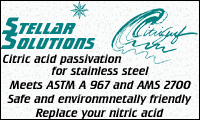 ---
---
May 8, 2019
Q. How to remove bathroom cleaner stain on my stainless kitchen sink?
Situation: I accidentally spilled the bathroom cleaner on my stainless kitchen sink and left stains that I can't remove. Looks dirty now. I used baking soda, vinegar and dishwashing liquid but they did not work. I'm not comfortable looking at my sink with those stains. I would appreciate your help. Thank you so much!
Lily Saribay
- Ilocos Sur, Philippines
---
May 31, 2019
A. Lily,
Your "stains" are probably not residue ON the surface, but rather etch marks IN the surface. Generally what is needed is a fine abrasive to smooth the area out again.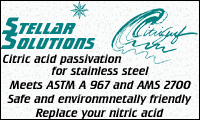 ---
---
June 5, 2019
Q. I used The Works toilet solution for rust on my stainless steel refrigerator. Now I have yellow and orange rust smudges all over my stainless steel fridge. Honestly what works would the Brasso cleaner work? I tied vinegar, baking soda & water. I want the natural color back. I know olive oil did work on the steel shine but I still have rust smudges/streaks.
Caressa nowden
- Humble, texas
---
---

June 18, 2019

A. Caressa,
According to the SDS for The Works, it's hydrochloric acid. So that was a mistake using that on stainless steel. I would suggest getting a citric acid based passivation/rust removal product.





---

June 18, 2019

A. Hi Caressa,
You've unfortunately used a cleaning chemical that has damaged the factory passivation of your Stainless fridge. Stainless steel is treated, usually in Citric or Nitric acid, sometimes with Chromium in it, before leaving the factory to remove free iron on the surface, leaving behind the alloying Chromium and Nickel, which form colorless and minimally-reactive oxides. Once that protective layer is stripped away by abrasion, chemical attack, or excessive heat (such as around welds), it must be repassivated to return to its clean looking and nonreactive state. There are some alloys of Stainless that will self-passivate in air, but it sounds like you didn't hit that particular jackpot with your fridge! Chemicals that are safe to remove staining on highly inert materials such as glass, enamel, or ceramic aren't necessarily safe to use on Stainless.
While this thread doesn't address your *exact* question, it contains a ton of great info about restoring passive qualities to Stainless without relying on immersion methods such as the factory would use.
https://www.finishing.com/121/32.shtml
As a general rule, Stainless appliances are best cleaned using mild detergent solutions and hot water without abrasives, or a product specifically designed for use on Stainless. Good luck, I know how frustrating it is to keep Stainless appliances looking good!




Rachel Mackintosh




Plating Solutions Control Specialist / Industrial Metals Waste Treatment - Brattleboro, Vermont




finishing.com is possible thanks to our supporting advertisers, including this one: