World's #1 on-line resource since 1989
-----
Passivating welded stainless steel
A discussion started in 2001 but continuing through 2020
2001
Q. I have a question regarding the need to passivate welds on a 304L tank assembly. This tank will be exposed to a pH of 3-4. My concern is with the carbon migrating due to the heat of the TIG welding. I am currently looking into a MIG process called STT which should help the heat affected zone. Will passivation protect the surface only and also, will the pH of the solution the tank is being exposed to remove the passivation process?
Bob Young
- Lancaster, Pennsylvania
---
---
Less hazardous citric acid based passivation of stainless steel
2001
Q. We currently use a nitric/HF paste to passivate our weld joints after welding. We have read that we could use a citric based paste to accomplish the same task. We are looking for a less hazardous material to use. Any help would be appreciated.
Jerry Reitz
- State College, Pennsylvania
---
---
Passivating s/s weld zones
2003
Q. I'm looking into a job that requires passivating the weld zones on 304 stainless steel. The electrode used throughout is e316L. The job is a boat bow encasement. I appreciate any info on this.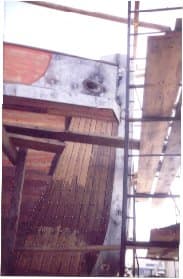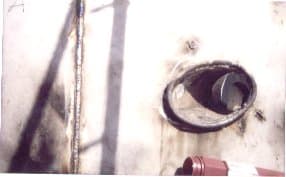 Respectfully,
Dan Mccrickard
- Vancouver, BC, Canada
---
---
2001
Q. We have a 316L SS container which will be used to hold a methanol and water mixture. We will be having the container passivated. My question is, once the inside is passivated and we have some spot welding on the outside of the container, will there be a problem with corrosion on the inside at those spots?
Angela Das
- Richmond, BC, Canada
---
March 27, 2012
Q. Good day, please I am doing a passivation job on an FPSO, using Weldbrite as a pickling gel. After applying it I will let it on the surface for 20 minutes, then wash off the surface and dry. Thereafter I will apply S-eld on the surface and let it for one hour before washing it with a portable water.
Please, after all this the surface is not clear; I am still having some dotted shaded area on the surface and something like brush marks on the surface as well.
Please can you help me out in these situation.
I will appreciate your help thank you.
Ubon Dickson
quality control - Nigeria
---
---
June 12, 2013
Q. We are welding 17-4 PH stainless steel end caps (.035" wall) to a 17-7 PH stainless steel tube (.035" wall). Do we need to passivate each part before the weld AND the assembly after the weld OR will it be okay to only passivate once after the weld?
Patricia Pirrotta
Proofing mfg process - Chatsworth, California, USA
---
---
June 13, 2013
Q. Hi
We did a passivation (citric acid) on a 5000L tank, (previously polished with Formax compound) with a spray ball according to the ASTM A967 / A967M [affil. link to spec at Techstreet] standard. Passivation was done using the sprayballs and circulating the acid inside the tank. We had a hard time removing all the dirt inside following the mechanical polishing. After degreasing and passivation, wipe test was performed and results were conform. The shine in (discoloration) the welded areas (heat affected zones) is different than the base metal and on some part of the spray Balls (round spots). Our toughts are that it is probably caused by the heat during welding and the difference between the chemistry of the base material (316) and the welding electrode? The passivation and degreasing process took a total of 8 hours (many cycles of degreasing, until clean, before passivation) to be sure to remove all dirt and smut, and the white discoloration can be seen on the spray Balls (round spots) and on the welded areas.
What is the cause? Does the citric acid change the resistance of the stainless steel to products after passivation?

Thank you!
Remy Karmouche
- Montreal, Quebec, Canada
---
---
Mechanical and chemical passivation treatment for welded 316 SS for ultra pure water
February 23, 2015
Q. I just had a chamber for an ultra pure water bath (20-60 °C) built in our machine shop and need to treat it to prevent corrosion. I had it built out of 316/L stainless steel since it is going to be filled with ultra pure (18 M Ohm) water and would like to keep it rust free. Unfortunately, it has some significant weld discoloration and the sheets used for the walls weren't machined smooth before being welded in (they were annealed and hot-rolled by the mfgr: McMaster 9195K11 or similar). I don't remember what method was used for the welding, but the bead is about 1/8" wide and has brown and blue discoloration for the welded on flanges and there is some discoloration on the inside from the outside corner welds. I am trying to figure out how much I have to do to passivate it and ensure corrosion resistance. Here is a picture of some of the weld discoloration --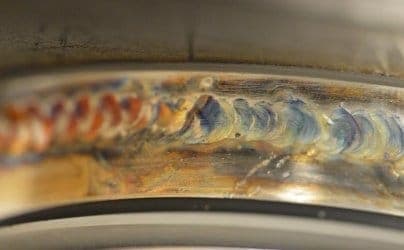 From searching around here and the internet it seems like what I need to do is:
- remove any grease (I've already cleaned it with Alconox)
- mechanically clean the surface of at least the welds (maybe optional)
- maybe pickle if it is bad enough
- passivate (preferably with citric acid)

Our machine shop guy suggested bead blasting to clean up the surface, removing any burrs and making it look prettier, but I am not sure. I know to put it before the passivation step if I do it.

Is bead blasting a good or bad idea?
Do I need to get the weld discoloration off with a wire brush or similar tool?
What about electropolishing, can that be done instead of or in addition too passivation? "CURRENT METHODOLOGIES & CHEMISTRIES UTILIZED IN EFFECTIVE PASSIVATION PROCEDURES" by Daryl Roll seems to indicate that I don't need to remove the discoloration if I passivate and that electropolishing may not be as good, but is attractive for smoothing the surface.
Do I need to pickle? I don't think I have scale, but I'm not sure.
Justin Pye
Researcher - Atlanta, Georgia
---
February 24, 2015


Dear Justin Pye

For the applications using ultra pure/clean water and steam, blasting is out of the question, because of the increase of roughness and the contamination of the surface.
Electropolishing is by far he best finish for this application. Parts obtain the best corrosion resistance and the best resistance against rouging. There is much info on the internet about this matter.
Kind regards,

Marc Quaghebeur




- Diksmuide, Belgium, Europe





---

February 24, 2015

A. I've already spoken to Justin about his application, but for posterity, as long as he passivates the weld, discoloration shouldn't hurt anything. Bead blasting would be okay (which will remove the discoloration as well), with passivation afterwards.

Pickling is a chemical removal of scale and discoloration, basically using a nitric/HF bath to achieve what bead blasting does by mechanical abrasive force.

EP is probably a little extravagant for this. It, of course, does smooth the surface, which does help with corrosion resistance in its own way.

I think you'll be fine just passivating, as an optional step I wouldn't bother with anything beyond the bead blast.

Ray Kremer




Stellar Solutions, Inc.





McHenry, Illinois





---
---
March 4, 2015
Q. Electropolishing is very attractive for the nice finish and other reasons mentioned, but from my short reading on it, the rather complicated chamber shape with ports, threaded holes, and stuff might make it difficult to set up an electrode for even current flow.

I will give it a go with light brush cleaning, sonicate clean with Alconox, rinse, passivate with Citrisurf 2050 in the heated sonicator (thanks Ray), hot DI water rinse, dry. I'll update if there are any failures or interesting results but I really don't want to make a second tank as this one took a while.

I unfortunately will end up having part of one of the ports be in (soon to be anodized) aluminum. I will be adding o-ring spacers to try to prevent any galvanic corrosion. Hopefully that doesn't hurt me too much.
Justin Pye
[returning]
- Atlanta, Georgia, USA
---
---
June 25, 2015
Q. Hi.

I have been asked to quote fabrication of a chemical processing tank for a custom plating company:

I.D. 18" cube
Material: 316 SS
Finish: 2B
Solution: 50% sulphuric acid at 200 °F degrees maximum
Immersion heated
No impurities
Adherent deposits
Open to atmosphere
Circulation >1.5 meters/minute

I would like to know what post-weld treatments you would recommend, such as stress relief, pickling, passivation, etc.

Thank you very much
Michael Orlando
- San Diego, California USA
---
---
Polishing & passivating stainless steel conveyors & platforms
August 20, 2015
Q. I own a company that fabricates conveyors, platforms, and items for the food industry. We never really have a problem with any of our stainless steel, but I have noticed that in a few different rooms at different companies, some stainless steel is rusting. It may be our stuff, it may be from another company that specializes in stainless.

We currently just use scotch brite pads on die grinders, with some minor polishing compound. We have to keep everything food safe so we don't use much in the field.

What are efficient ways to clean/passivate stainless in the shop, without taking it to a passivation shop. We always try to passivate, but our time frames may not allow that to happen.

Most things are just tig welded with no sanding of welds.
John Allen
- New Jersey
---
---
Protecting weld areas on 316L stainless steel from hydrochloric acid and sulfuric acid
December 21, 2016
Q. We produce welded rings made from 0.1875" diameter wire in 12.00" O.D.

These are used in coal fired electric plants. One of the by-products of burning coal is the production of both hydrochloric acid and sulfuric acid. These are produced in small amounts but continuously.

We produce these rings from type 316L stainless steel. We have not been passivating the rings and the welds have been failing.

Which will give us better performance, adding the passivation or adding an ecoat of Bis F epoxy? Or should we be doing both?
Howard Berman
- Yonkers, New York USA
---
December 22, 2016
Q. This is a sacrificial welding process using argon gas. It is a highly modified version of standard welding equipment that was developed in house and the details of which I am not permitted to disclose.

But there is no welding rod or plate. We fuse the ends of the wires together.

So there should be no outside contamination involved. We supply heat to the joining ends and bathe the weld area with argon gas.

I wish I could say more but I am restricted in that regard.

We are running tests with 316L wire coated with epoxy Bis F. This adds quite a bit of cost. Indeed we are seeing costs for the passivating that are similar to the epoxy coating.

So are we better served with the epoxy coating or by passivating the parts?

Howard
Howard Berman
[returning]
- Yonkers, New York USA
---
---
June 28, 2018
Q. We have to fabricate Duplex Stainless Steel tank with dish ends. After completion of one dish end welding pickling, passivation is carried out on nozzles & seams.
Now closing dish end welding is to be carried out.
Can we do welding on passivated area? After welding of closing dish end, passivation and redo pickling, passivation of affected area?
chandrakant vaidya
enpro industries pvt ltd. - Pune,Maharashtra,India
---
---
March 14, 2020
Q. I have done the welding SS304L piping and am required to do nitric acid passivation. After treatment with NaOH and HNO3 passivation, I found out that the welding joint is yellowish. So can anyone help me to figure out what is the yellowish on welding joint?
NG WEY KEAN
- Sungai Bakap, Malaysia, Pulau Pinang