topic 19035
HOW TO REMOVE A STAIN FROM A STAINLESS STEEL SINK
A discussion started in 2003 & continuing through 2017
(2003)
Q. I recently moved into a new home that has stainless steel sinks. They look to be in good condition and I would like to keep them this way. How do I keep them in good shape in the future? But, in one sink there looks to be residue from paint, like from cleaning a paint brush in the sink. So far normal cleaners have not worked. What can I use to clean this stain out.
Thanks,
Carole Peer
- Swartz Creek, Michigan
---
(2003)
A. There is a product called "Barkeepers Friend [linked by editor to product info at Amazon]" that is great for removing stains on stainless steel and also for regular care for ss. It comes in a container like Comet does, is powder form, and is fairly nonabrasive. It is inexpensive and I have found it at some discount stores and grocery stores.
Sally Warren
- Mt Pleasant, South Carolina
---
(2004)
A. Dear Sir,
There are pickling & passivation chemical products that can solve your problems for SS sink. You can use jelly for localised application by brush or spray form to spray on SS sink to remove stains on it. Try to solve your problem.
Vinay Golwala
- Bombay, India
---
(2005)
Q. I had a ceramic plate with a silver stain on it from being in the sink with a wet pot, and I found out that the stain could be removed with toilet bowl cleaner. I thought, "where should I clean this?" I decided to do it in the kitchen rather than the bathroom sink. Unfortunately, I didn't read the bottle which states to keep away from metallic sinks, and now the stain on my plate is gone but I have stains from the toilet bowl cleaner on my sink. Can these be removed?
Gabriela Ayala
- Moreno Valley, California
---
(2005)
Q. Hi,
My Iridium brand stainless steel cooktop was cleaned with Kaboom (a mix of organic salt and surfactants) and now has an uneven coloration (parts are darker than the original finish). Is there anyway to restore it to a consistent color? Help please! Thank you!
Anna B. Cassidy
hobbyist - Ambler, Pennsylvania, USA
---
(2007)
Q. Hi,
I sprayed Kaboom on my refrigerator drinking water drip tray to dissolve mineral deposits and some of the product ran down the on the stainless steel facing(Kitchen Aid). This has caused a stain or discoloration on the finish. We have tried Kitchen Aid stainless steel polish/cleaner, baking soda with mild soap, vinegar, liquid comet and ammonia to no avail. Please provide any assistance as to what we may try to resolve the problem.
Molly Nelson
consumer - West Palm Beach, Florida
---
(2007)
A. I accidentally left a big stain in my brand new stainless steel kitchen sink when I tried to clean a vase with a lime remover. I was about to special order a brand new $500 sink when I decided to try for an answer to my problem. I tried the product called 'Barkeepers Friend [linked by editor to product info at Amazon]' and was AMAZED at the results! The stain disappeared and my sink is shinier than when it was first installed. Thank you. What a wonderful resource you are!
Nancy Johnson
- Saylorsburg, Pennsylvania
---
February 20, 2009
Q. I made a bad choice of cleaners a few years ago and have damaged my sink and brushed nickel drain. Any suggestions or ideas on how to refinish or fix the damage?
Jennifer B
[last name deleted for privacy by Editor]
hobbyist - Houston, Texas
---
April 30, 2009
A. I was really distressed when I stained my relatively new Franke sink by accidentally spilling a little toilet bowl cleaner. But your posters really helped me by sharing in the use of Barkeeper's Friend. Like magic my sink was restored and polished beautifully. This is the greatest. I went out and bought it for my children who also have stainless sinks.

Thank you for rescuing me.
Victoria Schwarz
- Staten Island, New York
---
May 22, 2009
Q. I poured a very poisonous toxic sink unclogger down my kitchen sink, it came back up this black liquid, I let it sit over night, then cleaned it up, but now I have these black stains that won't go away, I haven't tried bar keepers friend yet , I wonder if it doesn't work, what can I do?
fran owen
- palmetto, Florida
---
May 26, 2009
A. Hi, Fran. What is involved is polishing away (rubbing away) the discolored surface to expose the fresh stainless steel. So, it's not a question of whether Barkeepers Friend [linked by editor to product info at Amazon] will work -- it's a question of whether the depth of discoloration that must be polished away is practical to polish away with a mild abrasive and manual rubbing.
By way of example, you don't need a steam shovel to dig a foundation for a house, you can dig the foundation yourself with a teaspoon, but it might take the better part of a lifetime :-)
If the depth of discoloration is such that you need a power buffer and more aggressive abrasives to make the procedure practical, you may want to call a professional because these materials can easily remove the brushed look of the sink, or leave an objectionable shiny spot if you don't know exactly what you are doing; plus, power buffers are dangerous for the inexperienced. Good luck!
Regards,
Ted Mooney, P.E. RET
finishing.com
Pine Beach, New Jersey
---
---
July 10, 2009
Q. I dropped some TarnX solution on our brand new stainless steel sink. The sink now has back spots that would not come off. I tried using baking soda, vinegar, olive oil, and most of the cleaning liquids. The stains are still there. Any suggestions are greatly appreciated.
Sally Lich
- Dallas, Texas
---
July 21, 2009
A. I took the above advice and tried Bar Keeper's Friend on some recent stains and it worked beautifully. It not only removed the new stains but also, with a little elbow grease, nearly removed (still working on it) Lime-Away damage from over four years ago that I'd completely given up on. Everyone who has a stainless sink should know about this. Thanks to all who suggested it.
Marsha C
[last name deleted for privacy by Editor]
- Henderson, Nevada
---
September 24, 2009
A. Be advised, BarKeeper's Friend is NOT recommended for Stainless Steel. Check out their website. I did have success with removing rust on my silverware, but then there was some in the grooves of the serrated blade still, so I let some barkeeper's friend set on it for awhile. When I went to clean it, the barkeeper's friend had permanently damaged the silver. It works chemically, so I'm guessing that it removed the silver plating from it. So, if you use it, do so sparingly.
Jack Jensen
- Valrico, Florida
---
September 23, 2009
! Hi, Jack. I did check out their website and don't quite understand your posting. Their website prominently says: "... and is great for cleaning stainless steel.", and "If you're looking for a cleanser you can trust to clean your stainless steel, ..."
Regards,
Ted Mooney, P.E. RET
finishing.com
Pine Beach, New Jersey
---
October 2, 2009
A. Ted, Jack began by talking about putting it on stainless steel, but ended by talking about it taking the silver/silver plating off. My guess is it is the silver plating that is not listed on the website.

Thanks everyone...I am headed to the store for Bar Keepers Friend. I am sure it can't hurt.
Charla Henderson
- Mt. Pleasant, South Carolina
---
October 27, 2009
A. I found this thread because I had purchased a fantastic retro set of brass flatware and immediately stained it with Tarn-X, thinking that it would polish up the metal. (yes I did read the back of the bottle, but did not think the metal was actually brass at the time)

I will capitalize the words BARTENDERS FRIEND to make this thread seem like a blatant advertisement for the stuff. It not only polished like I thought the Tarn-X was going to, but also removed the black spotty damage that it did to my now magnificently shiny golden set of flatware. This stuff is less than $3 a can at a grocery store, go try it. My hands feel kinda funny though, maybe you ought to use gloves.
Kelvin Vance
- Aiken, South Carolina
---
August 26, 2010
A. Whink [linked by editor to product info at Amazon] works great with little to no elbow grease at all; it is a rust remover. I have also used Easy Off oven cleaner liquid form. It takes a little more elbow grease but works good. I recommend to follow up with a soft scrub to bring back luster.
R Shapley
- Center, Texas
---
Adv.
Scratch-B-Gone to the rescue once again! All of your stains from chemical, heat and acids are quickly removed using Scratch-B-Gone. Just 3 minutes and your sink and other Stainless surfaces are looking NEW! Really!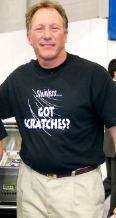 Barry Feinman
Restore It Yourself, Inc
Carlsbad, California
---
October 24, 2011
A. Tried everything on my stainless appliances and got NOwhere. The stain was from muriatic acid that was used as a cleaner for the floor. Then I found a bottle of stuff I haven't thought of for years and it worked like like magic with NO scratching and the stains are gone: Brasso [linked by editor to product info at Amazon]
Jack McKee
- Bethel Park, Pennsylvania
---
November 15, 2011
A. I just moved to a house with my first stainless sink. As usual I put CLR around the faucet to clean hard water stains. I got busy elsewhere and when I came back there were terrible black stains around the faucet and running down into the sink. I read all these posts and tried the only one I had on hand....Brasso. It worked great! It did take a bit of elbow grease though.
Brenda Gervais
- Ventura, California, USA
---
June 5, 2012
A. I had a Tarn X stain on my new stainless steel sink, I used the Bar Keeper's Friendly powder and my stain went away 95%, there is still a small mark but I'm sure If I keep cleaning it will eventually go away. I was worried the Tarn x was going to be there permanently but I'm so happy most of it is gone, so Bar Keeper's Friend-ly powder did the job. For all of you who had the same problem, this is the solution.
Evelyne Hadida
- Montreal, Quebec, Canada
---
page 1 2
---


This public forum has 60,000 threads. If you have a question in mind which seems off topic to this thread, you might prefer to Search the Site