World's #1 finishing resource since 1989
No login needed: Chime right in
topic 1913
Hard Chrome Plating
1998
Dear Sir,
I'd would like to know the effect of part or product rotation at low speed on the coating thickness in the hard chrome plating.
Thank you
Ibrahim Rawabdeh
University of Jordan, Amman, Jordan
---
1998
Rotation of a part at slow speeds will have a minor effect on properly plated chrome. A shaft put in a tank horizontally will have some tendency to gas bubble pit. Rotation would eliminate it.
Rotation is rarely done in chrome because of the excellent contact that is required and the corrosive nature of the solution. Making and breaking contact will normally produce bad plate. Exception would be pulse plating, but that is an extremely rapid make and break.
Conforming anodes at close spacing will normally prove a far better, cheaper and have less problems.
James Watts
- Navarre, Florida
---
1999
How effective is chrome plating on roll cold steel. Will it make the metal hard similar to heat treat. Does the process induces passivation of the metal. Is the process better than heat treat?
I have a check gage box, 3" x 4" x 9" made from .15" thick cold steel plate with low carbon. The box is inserted into an enclosure which all four sides rub against a similar metal several times a day. Does chrome plating prevents dimensional change?
We are thinking whether to go by chrome plating rather than heat treat. Cold steel plate with low carbon distort at high temp.
Looking forward to hearing from you soon. Thank you. Ed Cruz Sr.
Ed Cruz, Sr.,
QA Engr.
- Fremont, California
---
2002
Sir,
I'm a university student. I have to present a seminar on the topic "HARD CHROME PLATING" Please let me know about hard chrome plating.
M.SIVAKKUMAR
- Coimbatore, Tamilnadu, India
---
2002
Hi, M. One place to start would be your university library. "Hard Chrome", or "Chromium Electroplating" or "Functional Chromium" would be keywords that might prove worthwhile. There is one book, Guffie's Hard Chromium Plating, which focuses solely on that subject. Ken Newby's article on Functional Chrome Plating in the Metal Finishing Guidebook will also prove worthy reading.
Good luck with your seminar!

Lee Gearhart
metallurgist - E. Aurora, New York
---
2004
Hard chrome plating is an process where lot of engineering goes, it is not a simple process where you have an Anode and a Cathode contained in a Vat with plating solution and bango you have a deposition of Chrome. If you intend to present a paper on HARD CHROME PLATING please refer to the book on HARD CHROME PLATING by Greenwood published by Robert Draper ltd it gives you an in depth study on Hard Chrome Plating.
Warm greetings,
MAHENDRA GARGATTI
ELECTROPLATERS - Belgaum, Karnataka, INDIA
---
Hello,
I've just started doing experiments on hard chrome plating. I'd like to know the best amperage for plating a mild steel of dimension dia 30mm x 100mm or approximately dia 1.2in x 4in that gives maximum hardness.
I'm keeping temperature constant (50-52 C or 120-125F), and duration of 60 minutes. My baumé-hydrometer reads 20-21 in the vat.
Would a micrometer be sufficient to measure thickness after plating?
Thank you kindly.
Arjo Sempurna
- Perth, Australia
---
First of two simultaneous responses --
Depends on your anode. With a tank anode you could put anywhere from 2 to 6 amps per sq inch, depending on the distance it is away from the part. This will generate a lot of heat and not a lot of plating. A conforming anode, sheet lead with lots of 1/4" holes with 1/2 inch spacing from the anode to the part, will use 4 amps per sq inch and plate very rapidly.
A micrometer will be fine for a 1 hr run. The ends will have a lot higher current density, so will plate a lot more.
With a conforming anode, you can make the anode about 3/8 inch from the bottom (shorter) and 1/2 inch from the top and get a very nicely uniform plate.
James Watts
- Navarre, Florida
---
Second of two simultaneous responses --
This is actually a very complicated question. Safranek's "Properties of Electrodeposited Metals and Alloys" offers a tabulation of dozens of tests without coming to an absolute clear-cut answer. But I'd say you're at a good temperature for maximum hardness and you should try a current density of about 10 Amps/sq. dm.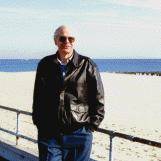 Ted Mooney, P.E.
Striving to live Aloha
finishing.com - Pine Beach, New Jersey