Where the world gathers for
plating, anodizing, & finishing Q&As since 1989
-----
Anodizing Fume Capture and Treatment
2002
Dear,
I have a question about gas treatment in electroplating factory. How can we treat of (acidic) gas from anodizing of aluminum.
Thanks,
Abbas Farazmand
Irost - Iran
---
2002
Hi Abbas !
You've touched on a sore point ... not that I blame you, I blame the out-of-touch books you read supposedly authored by professionals !
Your emissions are N O T gaseous. Nor, strictly speaking, are they fumes. They consist in your case, as with nearly all ambient emissions of acids and alkalies, of invisible low micron droplets of acid. The solution? Use a scrubber. But scrubbers are bulky and expensive and often, based on my experience, have lousy mist eliminators. Go then and use a sophisticated sine curved blade mist eliminator. These fit in horizontally and the best ones will capture l2 microns ... and the ultimate LMITS inertial scrubbers will go to below 3 microns.
Maybe have a glance in the archives @ # 8042.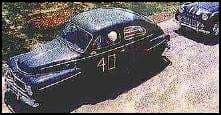 Freeman Newton
[deceased]
(It is our sad duty to advise that Freeman passed away
April 21, 2012. R.I.P. old friend).
---
2002
I have had good luck using fume suppressants such at the ones from ATOTECH. I used it for 3 years on our anodize line. Theses are the same fume supressants used for chrome plating. They do make a foam blanket on the anodize solution and you DO NOT want to use too much.The fume suppressant lasts a long time in the sulfuric anodize solution. The foam blanket can cause a loud pop or even a small explosion if ignited with an electrical spark from the racks or buss work.The fume supressant is expensive about $150 USD per gallon but this is much less expensive than installation and upkeep of a fume scrubber.I think I used about 1 gallon a year on a 140 gallon tank one shift per day.
Todd Osmolski
- Charlotte, North Carolina, USA