60,000 Q&A topics -- Education, Aloha, & Fun
topic 17970
Non-porous Alternative to Hard Chrome Plating
2002
I am working on an improvement to a spool valve that has a sealing issue when controlling the flow of RTV silicone. The spool is 17-4PH with a .0008"-.001" hard chrome plating that is then centerless ground down to the finished diameter. I believe the porous chrome is absorbing some water from the atmosphere, dragging it through the seal into the valve body and allowing some RTV to cure (the RTV is moisture accelerated) on the surface of the valve stem. This cured RTV is being dragged through the seal causing its eventual failure. What is a very non-porous, hard, smooth finish that I could use on the valve stem to keep moisture from being carried through the seal into the valve body?
Mike Vidal
- Lincoln, RI
---
First of two simultaneous responses -- 2002
Electroless Nickel.
Ted Mooney, P.E.
finishing.com - Pine Beach, New Jersey
Striving to live Aloha
---
Second of two simultaneous responses -- 2002
You did not say how hard, nor what the stress varialbles might be, however,
Sulfamate Nickel can be plated to any thickness and ground back PORE free. It can be hardened with an organic additive however with this method of hardening you cannot stand much high temperature as the occluded organic will out gas. It can be hardened by co-depositing cobaltwith the nickel, and then you can grind back and go as hot as you desire.
Come back with some more data and let's talk again.

Robert H Probert
Robert H Probert Technical Services

Garner, North Carolina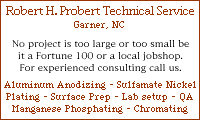 ---
2002
I agree with the previous responses. Indeed, EN or sulphamate Ni are less porous than chrome, although your problem might go beyond this and not be solved by switching to a different plating. Can you keep the stem dry by means of drying its surroundings? Can either be hot lamp, hot air, etc. This will be better approached using some sort of a jacket or sleeve. Then you might want to consider teflon (plain or impregnated in a plating) to cope with the possibility of problems due to lack of lubrication.
Guillermo Marrufo
Monterrey, NL, Mexico
---
2002
Mike,
A good deposit for this is electroless nickelas stated above it is as deposited glass (amorphous)like, and can be baked to almost as hard as Hard Chrome.
Chris Snyder
plater - Charlotte, North Carolina