World's #1 finishing resource since 1989
No login needed: Chime right in
topic 17968
Refinishing Oil Rubbed Bronze
Current questions and answers:
January 11, 2021
Q. Wanting a "raw" brass finish from a solid brass constructed lav faucet that only sells in chrome, satin nickel and oil rubbed bronze. Which finish is easiest to remove?
Steven Frost
- Austin Texas
---
---
January 10, 2021
Q. I have 13 year old Delta Venetian bronze bathroom fixtures that were beautiful in the beginning. Now they are worn with some soap scum, hard water and looks like clear finish is scraping off. They are much too expensive to replace, but I love them. Can you tell me how to restore them, please? Thank you!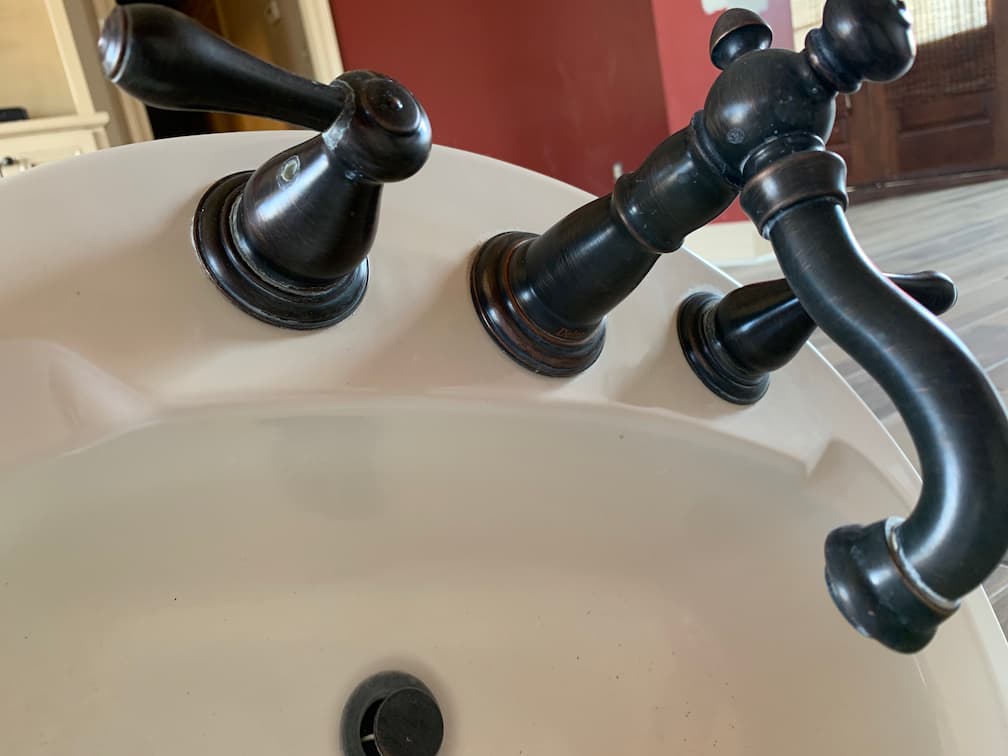 I'm attaching a photo of one of my faucets for example of wear.
Nicole Gautreaux
- Lafayette, Louisiana
---
---
---
Previous closely related Q&A's starting in:
2002
Q. I recently applied hardware to a door with a US10B (oil rubbed bronze) finish. Most of the hardware industry uses a finish that simulates this look but this particular hardware is actually OIL RUBBED BRONZE. The problem that I am faced with is that the protective packaging that we use damaged the finish. My question is; is there a way to refinish this hardware on site rather than replacing it?
Neil Schoenherr
- Reed City, Michigan
---
---
2004
Q. I also love the look of oil rubbed bronze fixtures, but imagine my surprise after investing a considerable amount of money to find out that this is known as a "living finish" and will wear off. One of the pieces was purchased on e-bay due to delivery time restraints from the manufacturer and now I am sitting with a $330 Roman Tub Faucet that I cannot use. Any ideas on resolve?
Robin Butler
interiors - Orlando, Florida
---
2005
Q. Re. the US10B oil-rubbed bronze LIVING finish.

I'm considering about $1,100 of Yale door hardware in this finish for our new home. Has anyone lived with hardware or faucets in this finish long enough to describe the natural change process that occurs? Does the color become more coppery over time? Does it look "rusty" or corroded or does it develop a pleasing patina? Any pictures you can send me? Thank you very much.
Debbie Bibb
- MANCHESTER, Tennessee
---
---
2006
Q. Can one purchase an oil rubbed bronze repair kit that allows you to repair scratched or damaged oil rubbed bronze? Also -- our handyman sanded an area of our exterior door and sanded the finish off areas of our oil rubbed mailbox. Is there a way to re-apply that finish as well?
Garrison Hull
- Warm Springs, Virginia
---
2007
Q. Refinish Oil Rubbed Bronze Fixtures? On my most used fixtures, the oil rubbed bronze is turning copper. I want to refinish it to the original look. What can I use.

Thank you,
Carolyn Bolger
hobbyist - Schaumburg, Illinois
---
March 8, 2009
Q. I have purchased and installed over the last few years several oil rubbed bronze bathroom fixtures. I have well water which seemed to dis-color the fixtures. Actually, the water has removed the finish leaving part of down to the bare metal. Any way to put color to these areas?
Sally Donnelly
- Boulder Colorado
---
---
July 15, 2013
Q. I was cleaning my front door with a bleach solution and it got on my oil rubbed bronze door handles and now they are dull and discolored. Any way to fix this? Thanks!
Robin Gauthier
- Pineville, Louisiana, USA
---
August 24, 2015
We have oil rubbed bronze his and her sinks in our bathroom and have had them for 10 years. At about 3 years, the beautiful brown on the faucet handles has turned yellow over time. My husband and I believe its mostly due to us turning the handles. Something from the oil from our hands. He uses the cold handle more and I use the hot more and it's obvious. It looks horrible to have the gold next to the brown. Also, toothpaste splatter can cause green specks in the oil rubbed bronze too. It seems high maintenance and is a pain to me as I don't need any extra work around the house. I bought some stuff to darken it up for furniture some sort of stain but it didn't work at all. Seems like it needs to soak in it forever but what a pain to have to take it apart to soak it...I don't recommend it.
Lana Maeder
- Meadow Vista, California USA
---
September 7, 2015
Q. We have had oil rubbed "bronze" finished faucets throughout our Victorian home for more than 11 years. All of the faucets look perfect except for the soap dispenser top that my husband soaked in God knows what to unclog it. The finish is ruined on that piece. I am looking for a restoration product or process. However, our faucets are Delta (Kitchen) and Price Pfister (baths) and they look beautiful. I have done nothing to them except clean them with mild dish washing liquid or non-bleach, non-ammonia kitchen and bath cleaners. Perfect! Really love them.
Pudgys Mom
- Ozark Arkansas USA
---
---
June 22, 2017
Q. Can I protect the "living" oil rubbed finish by putting a top coat on it prior to installation?
Gina Machado
- Queens, New York
---
---
July 31, 2018
I have what I think is "rubbed bronze" kitchen taps that were looking a bit dull. I cleaned them too well (scoured!) and now they have a white film coating. They actually still look good when wet, but the film reappears when dry. Any clues, anyone, please?
Tessa Sisson
- Marietta, Georgia - USA
---
---
August 12, 2018
Q. We bought a house that is completely oil rubbed bronze and dated. Much of the finishes have worn off and I like it better with that patina. I'd like to get that look on everything. How do I remove the coating and black on purpose to get down to that warm brass bronze color?
Emma Powell
- Riverton Utah
---
---
April 17, 2019
Q. I recently purchased an ORB front door handle by Rockwell. The handle, plate and lock are all solid black. How do I speed up the Living Finish look?
Tracy frey
- Portland, Oregon, usa
---
---
February 5, 2020
Q. I want to buy a door handle that is dark bronze but too flat for my taste. Rocky Mountain and Sun Valley Bronze make patinas but they are expensive. How can I liven up a flat dark bronze finish? Someone said Gilding wax? Thanks.
leslie smith
decorator - laguna beach, California, usa
---
---
Changing oil rubbed bronze back to brass
November 11, 2020
Q. My kitchen drawers knobs are an oil rubbed bronze, and of course the knobs on the drawers we use most have worn off and now down to the gold finish (brass) underneath - which I prefer. Can I use Brasso to remove the bronze finish?
Andrea Muchin
- Oakland, California