60,000 Q&A topics -- Education, Aloha, & Fun
topic 17914
Removal of burrs/dirt from anodized aluminum
2002
I am working with anodized 6061-T6 aluminum. Even after anodizing, the parts are still displaying burrs and small flakes if subjected to physical shock of any substantial value above lifting from or placing the parts on a table. The parts contain both threads and baffling, which the burrs and flakes are clearly coming from, and are used for holding some small lenses. I have tried multiple deburring methods, chemical cleanings before anodization, Wire brush and dremmel scrubs after anodization and even polishing before anodization. I would appreciate any suggestions for removing this dirt and burrs. The lenses I use are sealed in the part and are covered with specks of dirt/burrs whenever the final setup is shocked.
Please help.
John Chovanes
- Fenelton, Pennsylvania, USA
---
2002
Two things. One, I suggest you do all of your mechanical finishing prior to anodizing. I'm not sure what to recommend, because I don't know the size or configuration of the part. However, I think the most important item, or # 2 is that you should ultrasonically clean your parts prior to anodizing.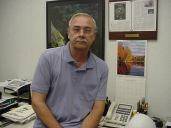 AF Kenton
Hatboro, Pennsylvania
---
2002
1. Kenton above is absolutely 100% on the mark. Get all the burrs off BEFORE anodizing either mechanically or by etching.
2. Then understand that anodizing (Aluminum Oxide) is very hard, very brittle, and builds in a perpendicular plane from the substrate. On the inside of the bottom of a thread the adjacent planes in the deep the acute angle build out 90 degrees until the oxide from each plane crashes into each other, cracks, flakes, and falls out. Conversely, on the top of the threads, where the substrate is very very thin, the very point is open becasue of the 90 degree phenomena, but also very brittle because the point itself is pure aluminum oxide - look at it straight and it will crack off.
Your options include, (1) Higher temperature anodizing which produces a slightly softer coating (2) Sealing to the maximum which slightly softens the coating, but most of all reducing thickness which will limit the two planes crashing into each other.

Robert H Probert
Robert H Probert Technical Services

Garner, North Carolina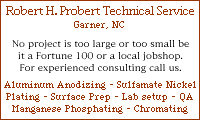 ---
2002
Parts are cleaned multiple times by ultrasonic cleaning prior to anodization. Part is semi-cylindrical and stepped from 1 inch I.D. to 1.5 inch I.D.
John T. Chovanes
- Fenelton, Pennsylvania, USA
---
2002
Your parts don't sound like they should be a problem. I think you must have a chemical contamination problem. The only other thing I can suggest is to clean in D.I. water. Normally ultrasonics don't work well in D.I., but that is the best I can come up with.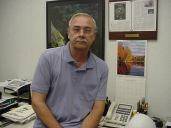 AF Kenton
Hatboro, Pennsylvania