Where the world gathers for
plating, anodizing, & finishing Q&As since 1989
-----
Remove Teflon coating from Visions & Pyrex Cookware
Disambiguation: Letter 34155, "Removing Teflon non-stick coating from METAL pots & pans"
---
Q. I would like to remove the Teflon coating from some Visions cookware I have. I like the cookware, but not the Teflon. Is there any way to remove Teflon from Visions cookware?
Brenda W
[last name deleted due to age of posting]
- Nacogdoches, Texas
2002
A. We love Visions cookware but hate the Teflon coating... The fumes from overheated Teflon can kill house pets, specifically birds! Do NOT risk overheating teflon-coated pans if you have birds in the house!
Pat B
[last name deleted due to age of posting]
- Portland, Oregon
2003
---
---
Q. Is there a solvent that will remove Teflon coating from glass cookware? I am afraid to try to sandblast it off for fear of scratching the surface and I don't think burning it off with a propane torch would get it off completely. Does any one know of a method that works?
Todd Kirk Webster
- Gainesville, Florida
2004
A. DON'T use a torch! One of the breakdown products of at least some Teflons is a gas called phosgene (chemical formula COCl2). It was used as a nerve gas in WW I. NASA discovered this many years ago when electronic assembly people were getting ill. They were using thermal wire strippers on Teflon-coated wire and the fumes were making them ill. More recently, it has been noted that if you have a pet bird, don't use Teflon-coated cookware anywhere near it. It seems that birds (especially the larger ones like Parrots, etc.) are particularly sensitive to the decomposition products and will quite readily die. Now that I haven't answered your question, I hope someone does, I'm curious too.
Tom Gallant
- Long Beach, California
---
---
Q. Hello,
My question regards removing a Teflon layer from the bottom inside of a Visions Pyroceramic Pyrex pot. I've had Sulfuric Acid and HF advised, but am not sure. In the meantime, I've scraped the majority off with the side of a spoon, but would like to make sure that every remnant of Teflon is dissolved, etc. I need my pot to be free of any potential contaminant to test an old alchemical procedure involving a wide range of pH fluctuation, from 2 up to the potential Gilcrest precipitate. I hope this is enough info ... to say the least it is a sincere and genuine query. Thank you, Jim
Jim Rigenbaur
hobbyist - San Jose, California
2004
A. Teflon is an inert material and won't interfere in your pH range tests. So please don't waste time in removing Teflon
Regards
dinesh
[last name deleted for privacy by Editor]
- Chennai India
A. Try to use burner.
Marlon L. Cordez
- Sta rosa, Laguna, Philippines
A. By the way you can try to burn out the coating or clean it by mechanical grit blasting. To do not affect the Pyrex glass, you can blast with plastics bullets or other organics low abrasives materials.
Good luck
Jordi Pujol
- Barcelona, SPAIN
---
---
Q. I have teflon-coated pyrex dishes and the Teflon is chipped. How do I remove all of the remaining Teflon?
Jennifer Leach
- St. Michael, Barbados
2005
A. Hi:
I let some soap I was making stand in a Visions pan for a couple days and the Teflon loosened and came out easily.
I'm thinking that the lye in the soap is what did it; you could try lye and water. Be careful; lye and water create heat!
Larry H
[last name deleted for privacy by Editor]
- Kokomo, Indiana
2005
Q. I have the same problem as Jennifer. Have a pyrex saucepan with Teflon coating on the bottom. Love pyrex, hate Teflon. Any way that I can remove it without damaging the pyrex surface beneath it?
Holle Cole
- Beaumont, Texas
October 18, 2009
---
---
Q. Regarding Teflon stuck to glass. I know of many people with Multiple Chemical Sensitivity Syndrome who are sensitive to Teflon that causes all sorts of symptoms such as headache, nausea, vomiting, memory and cognitive impairment. I too suffer with this condition and have got a Teflon coated Vision glass set and need to remove the Teflon without damaging the glass. If the Lye in soap is the main ingredient that removes the Teflon, can someone with this experience confirm this outcome.

Thank you.
Jonathan W
[last name deleted for privacy by Editor]
- Melbourne, Victoria, Australia
2006

Thanks for the help in removing Teflon from Visions cookware. I could not find a source for Lye, except online, so I tried Draino, since it seemed to have the same properties described. And it worked! Except there is still a surface that seems etched on the inside bottom of the pan. The Teflon came off in one piece after a few days soaking in straight Draino gel-type.
Susan F
[last name deleted for privacy by Editor]
- Glen Ellyn, Illinois
2007
A. Guys, I took the hard way....but started with spraying a coating of Easy-Off, which I think contains lye. After waiting impatiently (what can I say? I'm just that way by nature) for a half hour or so, I started scraping the teflon off with a decal-remover/scraper (kind that uses single-edged razor blades), scrubbing the item (oh, yeah, I forgot to say: it's a 4.5 liter Corning Visions dutch oven) with a small steel wire brush (three in a pack at the hardware store) and it came off without too much elbow grease. As someone else observed, the glass surface revealed under the teflon is textured, like acid-etched glass, and will not clean quite as easily as the smooth surface of the rest of the dutch oven. However, it's worth it to get rid of the Teflon (I bought the item for a dollar at a yard sale!)
Terry Ford
- Boise, Idaho, USA
October 30, 2011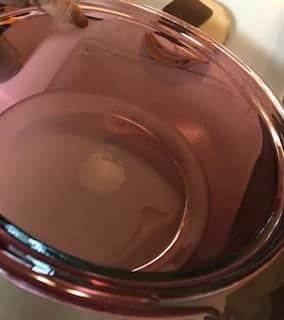 I am beyond thrilled with the suggestion to soak in Draino Gel. It works amazingly. I poured the Draino into my large Vision Ware and allowed it to soak for a whole week (kept it in my garage, high up, and with the lid on top). Took it down this evening and was hoping it would be dissolved, but I took a scrubber in my gloved hand and was going to try scrubbing it off. To my shock, the Teflon coating literally slid off. Absolutely no scrubbing needed! Wow. Yes, it does have a slightly textured surface underneath where the coating had been, but that will not prevent my happily using my pot. Thank you! I have attached a pic of it immediately after sliding the Teflon out.
Lydia Harman
- Janesville, Wisconsin USA
August 24, 2019

I had a large Vision pot with the coating. I used Draino and let it sit for three days and the coating peeled off. Thank you so much for the instructions.
June Slater
- Cerritos, California
March 10, 2021
Q. Hi, after using the Draino, have you used the cookware? I'm concerned about cooking/eating out of something that Draino sat in. Thanks!
Kristy Young
- Mobile, Alabama
January 21, 2023
---
Multiple threads were merged: please forgive repetition, chronology errors, or disrespect towards other postings [they weren't on the same page] :-)
---
! I just bought a used visions pan with teflon coating. If you don't heat the pan to a high heat and burn what you are cooking or use metal utensils that would obviously scratch it it will be fine. All you have to do is run a little clear water in it and wipe it out with a paper towel. EASY PEASY. No need to worry about teflon coming off.
d purcell
- Belews Creek, North Carolina
November 6, 2017

So, the main reason that most concerned people switch from using regular non-stick coated cookware to glass or ceramic .... is literally to avoid using the coating AT ALL. Saying "If you don't heat the pan to a high heat and burn what you are cooking or use metal utensils that would obviously scratch it it will be fine. All you have to do is run a little clear water in it and wipe it out with a paper towel" that is not at all what anyone here is caring about. Regular everyday use of teflon/ANY non-stick coating, leeches chemicals into the food you cook; just so you know.
Lani Austin
- Topeka, Kansas
March 14, 2023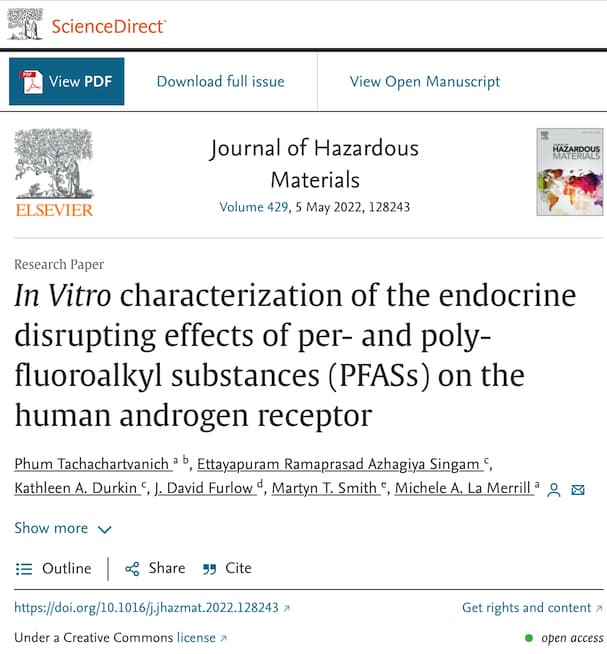 A. Corning Visions cookware now seems to come in two flavors: With non-stick coating, and without.

And consumers seem to come in three flavors: those who feel teflon is very dangerous, those who feel it's not excessively dangerous, and those like me who don't see convincing evidence of its dangers but feel that the idea of 'forever chemicals' being pervasive in the environment is a risk we should not be taking.
Luck & Regards,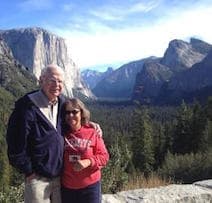 Ted Mooney, P.E. RET
Striving to live Aloha
finishing.com - Pine Beach, New Jersey



---
---
! Unfortunately I have had my teflon Visionware since the 90s and it is starting to bubble and peel off so I need to remove it now so pieces don't end up in the food.
Slk28 knech
- New brighton Pennsylvania
August 11, 2022
Ed. note: Since 1989 we've strived to build a legacy of aloha & camaraderie incompatible with anonymity; everyone is welcome to read anonymously, but is asked to use their real name & town when posting :-)