The world's most popular metal finishing site, and the internet's friendliest corner
topic 17769
Problem barrel plating a Hook shape part
2002
I have a problem Zinc plating a hook on a barrel line. My barrels are 36" x 24" and are rated at 500 Lbs. capacity, but these hooks catch against each other, against the dangler, and bend each other out of shape. I've had to reduce the rpm's to 2 rpm and I am only able to load the barrels to about 80 lbs.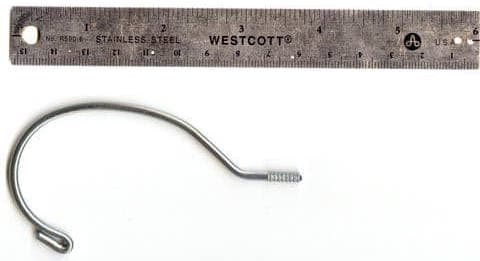 What should I be plating these hooks in? Vibratory barrels? Please help.
Thanks again,
Rodrigo Salinas
- El Paso, Texas
---
2002
Most "vibratory" barrels are employed on electronic parts 25 times smaller than yours.
Parts tangling together is a perennial problem in barrel plating and there are only partial solutions, which include: different contact styles (cones, bars, etc.) in lieu of danglers, small loads (like you are running), and periodic reversing starters so the barrels only rotate a few seconds in each direction.
Ted Mooney, P.E.
finishing.com - Pine Beach, New Jersey
Striving to live Aloha
---
2002
Vibratory barrels may be a good option, but they are expense. May I suggest trying a barrel with button danglers, and also using conductive plating media or some other zinc plated parts that can be mixed with the hooks and separated later.
Karl Weyermann
- Lebanon, Kentucky, USA
---
2002
OK, vibratory barrels are too expensive & too small, so let's talk about button contact barrels, cone contact, or other forms of dangler-less system. Does anybody have a good diagram on how to retrofit a regular barrel?
Rodrigo Salinas
- El Paso, Texas, USA
---
2002
The reason a dangler snarls up when plating nesting parts is that the dangler does not rotate with the barrel and the mass of parts; it has to keep snaking its way through the mass. So, the hope is that a style of contact that rotates with the barrel--so there is nothing stationary in the revolving barrel--will minimize the snarling.
So, what you are trying to do is get the electricity to the parts without leaving anything stationary like a dangler inside the barrel or mass of parts. The buttons, or contact bars, or cones, or whatever, are fixed to the cylinder and rotate with it and the parts.
It is difficult to do yourself because it requires some kind of informal "brush" arrangement whereby the cones (fixed inside the barrel) get their current from a contact on the hanger arm. All plating barrel manufacturers are able to supply cone contacts or some other kind of dangler-free contacts though.
Ted Mooney, P.E.
finishing.com - Pine Beach, New Jersey
Striving to live Aloha
---
2002
Hi Rodrigo Salinas,
If your looking for a long term solution for plating these hooks I would suggest you to go for rack plating. I guess you can expect uniform deposition and faster plating rate. It's possible to rack and unrack these hooks quickly.
Venkat Raja
- Kitchener, Ontario, Canada


If you have a question in mind which seems off topic, please Search the Site