Not a lecture hall but a roundtable with a seat for you!
60,000 topics spanning 36 years. Education, Aloha, & Fun
topic 17286
Best electrically conductive plating for mild steel?
A discussion started in 2002 but continuing through 2020
2002
Q. Is chrome plated mild steel electrically conductive?
What is the best solution for a corrosive resistant, electrically conductive coating for mild steel plates 3/16" thick? Thank You for your help in this matter.
Keith E. Coleman
- Peoria, Illinois, USA
---
July 24, 2011
Q. Do you mean that when we mention "Chrome plating" there is only less of chrome and maximum of Nickel? What is the percentage of chrome? Is Chrome plating best for steel having 0.1 carbon ?
Davis Oswald
- Bhiwandi, India
---
---
July 21, 2012
Q. I have heard replacement of silver plating with white bronze plating. My concern is how is the electrical conductivity of white bronze compared to silver and can white bronze be used for electrical transmission components, especially high voltage?
KETAN BC
energy - India
---
March 2, 2013
Q. Which is the best material having high conductivity used for Mild steel plating??
ANKIT GARACH
- Ahmedabad, Gujarat, India
---
---
March 2, 2015
Q. WHICH IS HAVING BETTER ELECTRICAL RESISTIVITY, COPPER OR MILD STEEL? HOW AND WHY??
SHINUZ SHARAF
AUTOMOBILE INDUSTRY - BANGALORE, KARNATAKA, INDIA
---
---
August 5, 2019
Q. Hello. I am wanting to plate some 1020 grade mild steel magnetic pole pieces in an audio component. I want a highly electrically conductive plating on the steel. The environment will not be anything other than exposure to air, and exposure to breath (it is a microphone). I would prefer the plating has very high resistance to tarnishing over time for cosmetic reasons. The higher the electrical conductivity, the better, within the constraints of not tarnishing over time.
Hassan Hodgkinson
Audio product development - Perth, WA, Australia
---
---
November 24, 2020
Q. Hi! I'm an engineer at [deleted by editor], a manufacturer of rodent control products.

We're working on an electronic mouse trap where we need the metal parts of the trap to have an electrically conductive surface. They're made out of mild steel and therefore already conductive, but we need to coat them for corrosion resistance.

There is some friction between parts as the bail pivots to perform the action of the trap.

For aesthetics, we'd like them to be black.

Our initial approach was black zinc chromate, but it's giving us fits. We can't get consistently low surface resistance from our suppliers, and we also suspect that the resistance is drastically increasing with time through some sort of chemical process.

We need less than 5 Ohms total resistance between metal parts and between the metal parts and a spring-loaded contact.

One option would be to go to stainless steel for the base material with no coating, but we're saving that for a last resort because of cost and aesthetics.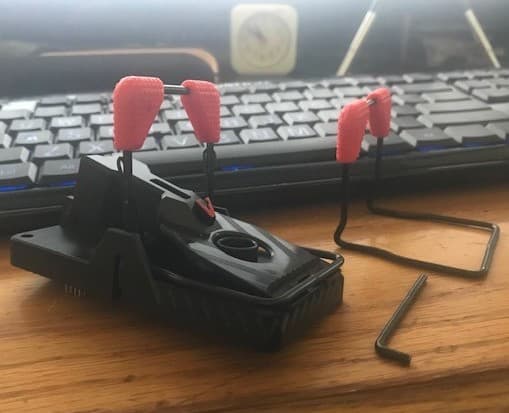 Pete Koziar
- Lancaster Pennsylvania