60,000 Q&A topics -- Education, Aloha, & Fun
topic 17234
Zinc-nickel Plating, misc. Q & A's
A discussion started in 2002 but continuing through 2019
2002
Q. Hi
I need the process for Zinc-nickel plating of metal parts (9SMn28K, SAE 1215)
I have the standard - DIN EN ISO 4042 [link by ed. to spec at TechStreet]-P3R
Many Thanks
Shalom Barr
- Ashkelon,Israel
---
---
2003
Q. I have a challenge. I hope someone can help me up.
1. Is Zinc-nickel plating solderable?
2. Can Zinc-nickel be applied on aluminum?
We used to silver plate our aluminum microwave electronic equipment parts. This part is soldered on another also silver plated part for best contact between two parts. Keeping that contact is critical for our product. Right now, our product will be exposed to the harsh environment. In this situation the silver plating is going to change the color to black (corrosion). It looks terrible. We need some kind finish which is much more stable than silver plating, but solderable on substrates of aluminum.
Thanks,
Xiaoling
- Montreal, Quebec, Canada
---
2003
A. I have heard of Zinc/Nickel being tack welded, but not soldered. Also, you can apply the alloy to Aluminum if needed. Please remember that the purpose of Zinc/Nickel originally was to serve as an alternative to Cadmium plating on steel. Both are sacrificial, but the Cadmium is both toxic and a carcinogen. On Aluminum use good preparation including a good Double Zincate.
You may wish to investigate Tin/Zinc plating. It can be applied to aluminum, is solderable, and can be plated from either a neutral or alkaline solution. You can check your vendors for names of products.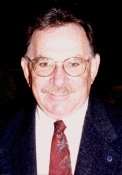 Ed Budman
- Pennsylvania
With deep sadness we announce that our friend Ed passed away Nov. 24, 2018
---
---
Zinc-Nickel plating of nails for pressure treated wood?
2003
Q. Part of our business is the zinc plating of 2.1/3.1 dia. nails for our customer who exports some to the US. We are told that because wood preservatives are no longer allowed to contain Arsenic there is a move towards a zinc/nickel requirement. For us this would be a major investment in new plant and any feedback as to this possible change would be greatly appreciated.
Many thanks,
Russell Waite
Presswork /Stampings and zinc plating - Ulverston, Cumbria, England
---
October 20, 2009
A. Hi, Russell. Indeed the older grades of pressure treated wood have been banned and the newer grades are very heavy in copper, which causes rapid corrosion of zinc plated nails. I don't know for a fact that zinc-nickel plated nails are any better. The most common satisfactory nails are hot dip galvanized. Good luck.
Regards,
Ted Mooney, P.E.
finishing.com - Pine Beach, New Jersey
Striving to live Aloha
---
---
Zinc Nickel Plating in Military applications
2003
Q. What Types of Chemicals is Zinc Nickel resistant to? i.e., JP4, JP5, Coolants, etc.
Thanks
Pat Hale
harsh environment connectors - Naugatuck, Connecticut, USA
---
2003
A. Pat, zinc nickel electroplated steel is currently being used for fuel tanks on automobiles. The zinc nickel coated steel typically has an epoxy coating applied prior to the parts being formed. It is the combination of the pretreatment, epoxy coating and zinc nickel substrate which provide the resistance to the fuel and the corrosive environment, not just the zinc nickel.
Roy Nuss
Trevose, Pennsylvania, USA
---
A. Hi,
While Roy answered Pat's question well, and I learned from it, it should not be interpreted that zinc-nickel plating is never used "stand alone". To the contrary, almost anything that is zinc plated can probably benefit from the additional corrosion resistance of zinc nickel plating (or zinc cobalt plating) instead.
Regards,
Ted Mooney, P.E.
finishing.com - Pine Beach, New Jersey
Striving to live Aloha
---
---
ZINC-NICKEL PLATING CHEMICALS REQUIRED
2004
RFQ: WE NEED CHEMICALS FOR DOING ZINC-NICKEL PLATING. IN INDIA. WHO IS THE SUPPLIER? IS THERE ANY POSSIBILITY TO GET THE CHEMICALS IN INDIA?
R.Ramarao Yalamanchi
plating shop - Hyderabad, Andhra Pradesh, India
---
---
Zinc-nickel plating on aluminum
2007
Q. Hi. I'm currently seeking to realize a zinc-nickel plating on aluminum parts.
For that, I have to make a double zincate.
In order to not dissolve my zincate in the zinc-nickel bath (which is very alkaline), I have been told to make a chemical nickel on my zincate.
But the cost of that kind of treatment is too expensive, so I would like to find an other way to realize my deposit.
I have also heard about a zinc plating realized with a cyanide zinc bath (less alkaline than zinc-nickel baths) before the achievement of the zinc-nickel plating.
Could you give me any advice to realize this treatment and, as far as possible, others ways to make my zinc-nickel plating.
Thanks for your help.
Simon Hallais
Student - France
---
January 16, 2013
Q. I would like to know the standard which is used for evaluating the Zinc nickel parts with base metal as aluminium.
RAMESH CN
- BANGALORE, KARNATAKA,INDIA
---
January 16, 2013
A. Hi Ramesh. There are no proper standards except those which were written into the purchase order. If you are in QA, that's what you'll need to find. If you are writing a purchase order and spec'ing parts, standards are available from ISO, ANSI, military, etc., but a starting point might be ASTM B253 [link by ed. to spec at TechStreet] "Standard Guide for Preparation of Aluminum Alloys for Electroplating " and ASTM B841 [link by ed. to spec at TechStreet] "Standard Specification for Electrodeposited Coatings for Zinc Nickel Alloy Deposits".
Good luck.
Regards,
Ted Mooney, P.E.
finishing.com - Pine Beach, New Jersey
Striving to live Aloha
---
---
Color of Zinc-Nickel plated bushing
2007
Q. WHAT IS THE APPEARANCE (COLOR) OF A ZINC-NICKEL PLATED BUSHING?
Gersain Vejar
Sheet metal shop employee - Gardena, California, USA
---
2007
A. Alkaline Zn-Ni is a semi-bright coating. Take a look at aftermarket parts made for VW, Mercedes, or some other European automotive manufacturer, they commonly use this coating on fuel filters, etc.

Don't expect the "jewelry" bright look you get from zinc plating/clear chromate, particularly acid zinc. (I'm not familiar with the acid Zn-Ni process; it seems to me that the alkaline bath is more common and easier to run) But, as an old plating foreman I used to commiserate with, when his OC inspectors rejected parts for dull appearance, "the protection is there." Alkaline Zn-Ni is not the easiest process to run, nor is it much cosmetically, but it is a great finish when it comes to preventing rust.

That's the whole idea, at least it ought to be.

Dave Wichern
Consultant - The Bronx, New York
---
Is this part suitable for Zinc-Nickel plating?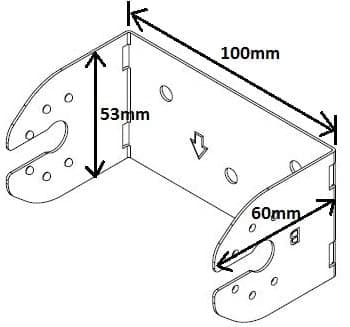 August 6, 2019
Q. Is the steel bracket suitable for Zinc-Nickel plating process?
The proposed process is Zinc-Nickel 0.0003" min thickness, 12-17% Ni Alloy, with Black Chromate and Organic Topcoat.
The steel stamping is made using a progressive die.
Dimensions of bracket are roughly 100x53x60mm, material is 20ga 1018 steel.
Luigi Cervantes
Quality Engineer - Burbank, California, USA
adv.: Anodizing Questions? Need Personalized Help?