Where the world gathers for
plating, anodizing, & finishing Q&As since 1989
-----
Alkaline Zinc Plating Delayed Blistering
An ongoing discussion from 2002 through 2015 . . .
2002
Q. We are experiencing delayed blistering mainly on a medium current density area. The plating is Alkaline Zinc with an Olive Drab Chromate. The process uses a rotating rack and the product is a tubular assembly. The fall out is between 0% and 27% and usually does not become evident for several weeks. Analysis shows the blistered area stressed(overlap like shingles on a roof) and at the edges of the blisters we show Sodium, Magnesium, Aluminum, silicon, sulfur, chlorine, potassium and calcium. We also show traces of zinc on the tube when the plating blisters off? The raw parts are run with Strip and re-plate parts on the same rack at times. Has anyone experience this condition or reproduced the failure mode?
Dennis Mareane
- Angola, Indiana
---
2002
A. Dennis,
Your blistering problem on parts may be cleaning prior to zinc plate OR any current related problem. Try blister parts strip zinc and run again then checked those parts blister or not? Check your zinc tank for contamination and check the thickness after zinc plate-it's too thick.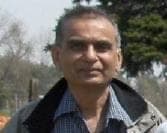 Popatbhai B. Patel
electroplating consultant - Roseville, Michigan
---
2002
A. Yes, we do have this problem too. The way we have got out of it in the past is by removing the brightener - additive levels by carbon treatment up to 2 gms / lit and reducing the dosage of the brightener additions.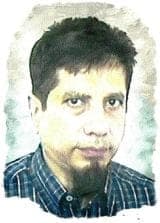 Khozem Vahaanwala
Saify Ind

Bengaluru, Karnataka, India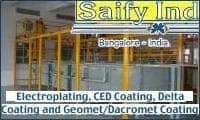 ---
---
Industry standards for delayed blistering?
"Zinc Plating"
by Herb Geduld
from Abe Books
or

Affil. Link
Your purchases make finishing.com possible
2003
Q. Would like to know if there is an industry standard for testing delayed blistering on alkaline zinc.
Renee Mancinone
- Waterbury, Connecticut
---
2003
A. Dear Renee Mancinone,
I don't know the Industry standard, but when parts are going to blister within 3-15 days after plating, they will most certainly show up if you quench test the parts immediately after plating, so there's actually no need to wait for a cyclic test to know the outcome. If testing zinc or nickel, heat for 15 minutes at 200 °C and dump in ice cold water. It works for us.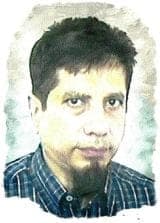 Khozem Vahaanwala
Saify Ind

Bengaluru, Karnataka, India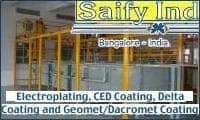 ---
2003
A. In problem solving there is delayed blister's most common in my opinion (there is a lot)1. Harden material that has not been baked after or before and after depending on hardness of base material,
2.Trapped gases like leaded base material,
3.If the blisters are round and popping like pop corn too much brightener.
Chris Snyder
plater - Charlotte, North Carolina
---
Multiple threads were merged: please forgive repetition, chronology errors, or disrespect towards other postings [they weren't on the same page] :-)
---
Plater sees latent blistering on alkaline non-cyanide zinc plated product
2003
Q. We have been experiencing a problem with 2 isolated products that we barrel zinc plate. All other products plate without concern or problems. The problem we are experiencing involves blistering that shows in the low current density area of 2 products. One product is a deep drawn can type part approximately 1.5" deep, 1" diameter with open top and 4 holes in the bottom of the can. The other part is an oval shaped piece that has a ridge approximately .5" high, open top,with a very large opening in the bottom. I can't say that this part has any extremely low current density areas, but it is a problem as well as the other part. The pre-cleaning operation has been thoroughly examined a number of times and we cannot find any reason for the blistering resulting from inadequate pre-cleaning or activation.
"Electroplating Engineering Handbook"
by Larry Durney
from Abe Books
or

Affil. Link
Your purchases make finishing.com possible
The problem seems to be generated in the plating bath. We operate a filter on this zinc bath using filter aid and activated carbon. We are presently experimenting to see if the filter aid is perhaps the culprit as has been indicated as a potential, from our proprietary chemical supplier. This is new to me and I am not sure I agree but we are looking at all avenues to fix the problem. Has anybody heard of filter aid(diatomaceous earth), being an organic problem that can cause latent blistering in the low current density areas of barrel zinc plated product? The blistering that is seen on these products doesn't become visual until a few days after processing. The parts are made from 1010 crs. The thickness requirement is .0003"-.0005" thick. We plate a wide range of steel product, including 12L14 and 12L15 to different thickness requirements and do not have problems with these other products. Anybody have any ideas?
Thank you,
Terry L. Miller
electroplating job shop - Wrightsville, Pennsylvania, USA
---
2003
A. I have been in the metal finishing business a number of years. All these years I have used DE in the Mefiag filters. I have never seen nor heard of it causing a blistering problem. If you haven't already, I would dump and change your cleaners. I would also analyze your bath for a high content of brighteners. High brighteners can sometimes cause a latent blister, for that matter so can low chemistry ratios. I would start there and then do a test run. Bake the parts for about 30 minutes after plating at 500 °F. This should bring the blisters out immediately instead of waiting a few days then finding them.
Chad Autry
metal finishing - Albuquerque, New Mexico, USA
---
---
Blistering/Peeling Issues In Alkaline Zinc Plating
March 25, 2010
Q. Dear sir,
I have 2000 liter Alkaline zinc plating bath with zinc metal 10g/L and NaOH is 125 g/L, I plate normal CRCA steel press components. My cleaning process is soak 5-10 minutes, Anodic 5-10 minutes, Concentrated HCl dip for 1 minutes, Rinse in water, then plating in alkaline zinc for 25 minutes. I get thickness around 8 to 10 Microns. My problem is after plating and inspection there will not be any bubbles or blisters but after 5 to 10 days bubbles or blister formation is observed on 5-10% of components. Thickness distribution in LCD area is very good. For testing purpose I have heated the component at 100 °C for 1 Hour no bubbles or blisters observed and even after heat and quench no bubbles or blisters observed. Please tell me what may be wrong at what stage to avoid delayed bubble or blister formation.

Thanks and regards.

Murugan
Balachandra Murugan
manager - Mysore, Karanataka, India
---
April 10, 2010
"Modern Electroplating
Schlesinger & Paunovic"
from Abe Books
or

Affil. Link
Your purchases make finishing.com possible
A. Dear Murugan,
Excess of brightener and carrier would lead to delayed blisters and peeling off. Blisters appearing after heating and cooling test on the plated part shall be revealed only in the case of Precleaning problem, and the stress in the deposit could not be seen.
To come out of the problem, stop adding organics (Carrier and brightener) until it becomes low in organics. This can be confirmed by Hull cell also.
SHANKARANARAYANAN NARAYANASWAMY
- Bangalore, Karnataka
---
April 22, 2010
A. Absolutely it can be high organics such as brightener, carrier or drag in of oils. To check for high brightener I run a 5 amp 15 minute Hull Cell panel. If the panel is full bright you are too high in brightener; you should have a 1/2" of dullness in the HCD. If there is a wavy pattern you are too high in the carrier system. One other thing you might want to check is the rinsing after the HCl, if the pH of the rinse right before you enter the alkaline zinc bath is low 5.0 or lower you may be setting up salts on the surface of the parts, probably chlorides which will give delayed blistering up to 1 month later. It is not a good practice to go from a low pH into a high pH bath for this reason.
Ken Hutchinson
- New Hope, Minnesota, USA
---
---
Plating peels off during orbital riveting
June 20, 2013
Q. Hi,
I need some inputs to resolve the plating peel off issue in one of our product lines.

Problem Description:- Plating peels off from body part during orbital riveting.

Body part raw material is CR steel, Zn alkaline plated + Cr3 passivation with 8 - 12 micron plating thickness.
Rivet raw material is EN1, Zn acid plated + Cr3 passivation.
Peel off Rejection is 15 - 20%.
Plating peels off only around the rivet area, where body and rivet are coming in contact after flaring.

Please give your value added inputs to resolve this issue.
Thanks
Naresh Sehrawat
- Pune, India
---
September 13, 2013
A. Cleaning or excess amount of brightener should be problem for blistering. But as you said its just on one place it should be pretreatment/cleaning problem. Have you checked water break test in the same area? some fluid should be trapped inside revet.
Guru Tarang
- Ahmedabad,Gujarat, India
---
---
October 21, 2013
Q. We are having a hard time plating machined parts in our barrel line without getting blistering. All other parts run with no problem. The line runs in an automatic mode, but we have overridden this in order to go longer in the soak cleaner - longer in the electrocleaner and also longer in the acid or a combination of all. It does not seem to help. It's only after we run them upwards of 2-3 times do we have any success? Any suggestions?
Rodney Olson
- Rochester, New York, USA
---
October 24, 2013
A. Hi Rodney!

Can you tell us more about this machined parts? Which machine fluid was used, if there is a geometrical difference between this or other parts you plate, etc?

A photograph or thorough description of where the blistering appears may help :)

Good luck!!
Daniel Montañés
- Cañuelas, Buenos Aires, Argentina
---
October 22, 2013
Q. We are having a hard time zinc plating machined parts without getting blisters. All other parts that we plate (stamped or otherwise) come out fine. We have tried double cleaning on them and it helps some of the times. We are using a soak cleaner then an Electro-cleaner then a muriatic acid,(with rinsing in between the Electro-cleaner and acid),before going into the plating bath? We have tried longer in each of these steps but to no avail. What are we missing? We have been using the same supplier for numerous years. This problem has just recently started to occur.
Rodney Olson
[returning]
- Rochester, New York, USA
---
October 29, 2013
A. Hi Rodney. Sorry, but your second request crossed in the mail with Daniel's response, so please review his contribution before continuing.
But my first thought is that you have been plating successfully for years, feel that you have changed nothing, and the other parts still plate successfully ... so the most likely scenario seems to me that these parts have changed. Is there any chance your customer has gone to free-machining steel for his machined parts?
Regards,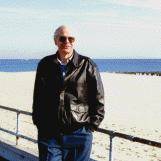 Ted Mooney
, P.E.
Striving to live Aloha
finishing.com - Pine Beach, New Jersey
----
Ed. note: Peeling/blistering in alkaline zinc plating is a perennial problem. For more perspectives and experiences, readers may be interested in:
Letter 40868, "Zinc Plating with Trivalent Chromate is Blistering after Baking"
Letter 50564, "Delayed Blistering in Alkaline Zinc Electroplating"