World's #1 on-line resource since 1989
-----
Acid washing the cooling system in a marine engine
2002
I have a marine engine that could have rust clogging the cooling ports in the block. Could I use Muriatic Acid [affil. link to info/product on Amazon] as a flush to clean the block? If so, should I use it full strength or diluted? How many minutes would you recommend that I allow it to work before flushing with fresh water?
Thanks,
Gil Seigler
- Richmond, Virginia
---
2002
Hi Gil,
I see that no one else had replied.... so here's my reply but then I sure ain't no chemist.
Firstly you did NOT indicate whether your engine is running ie. cooling using salt water, i.e., brine or is a closed system using clean(ish) water.
Ah, salt is sodium chloride and muriatic acid, ie. Hydrochloric, is HCl. Hence I don't think that it would work too well for you. Use sulphuric. But for clean water it should be OK.
Use 50% concentration...but then if you buy muriatic it is probably diluted somewhat anyhow. Run for an hour, ie. pump it around for an hour. Then discard after NEUTRALIZING with Baking Soda first of all. See # 12461 and # 12044, too.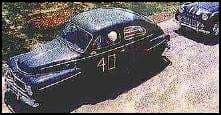 Freeman Newton
[dec]
(It is our sad duty to advise that Freeman passed away
April 21, 2012. R.I.P. old friend).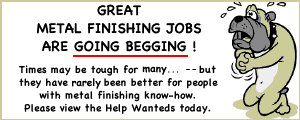 Plating Shop Manager [Salisbury, MD]
Junior Quality Engineer [Santa Clara, CA]
Plating Process Engineer [Wenatchee, WA]