Where the world gathers for
plating, anodizing, & finishing Q&As since 1989
-----
Nickel plating delamination problems

Q. I would be keen to know whether hydrogen could cause delamination in the nickel plating of coins. The nickel plating line runs at a pH of 2-2.5, and the operating parameters are not "typical" of such operations. It is a barrel plating line where blistering is experienced on the coins from time to time. The problem is not "consistent" and can at this point not be linked to any specific operating procedure.
Please reply
Deon Nel
- Zaire
1996



A. Hi Deon.
Hydrogen embrittlement can cause failure of high strength components, but I am not familiar with it causing nickel delamination, and doubt that it is the problem. Any delays in the plating process can cause passivation of the deposit, and thus de-lamination of the next layer, even if the chemistry is spot on.
I have seen delamination in nickel barrel plating which was traced to the rotation speed being too high and the parts being lightweight and fluttering down instead of rolling over each other, but coins may be too heavy to flutter :-)
Regards,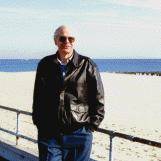 Ted Mooney, P.E.
Striving to live Aloha
finishing.com - Pine Beach, New Jersey



---
---
Q. We are currently using a 100 liter nickel sulfamate bath and plating an 8 pound load of round steel discs about the size of a quarter. The discs are first copper plated with a copper cyanide plating bath. We nickel plate at ~80 amps/ft2 for 90 minutes to achieve ~0.3 mils of plating thickness at the center of the disc. The discs have a surface area of ~1 sq. ft. per pound. The bath has 75 g/l nickel metal, 10 g/l nickel chloride, 45 g/l boric acid, at a pH of 3.6, 140 degree F. We have no brighteners in the bath to achieve good ductility. We use a 6" diameter X 12" wide plating barrel with two danglers turning at 8 RPM.
The problem is that some of the discs after plating will have delamination. Some of the delamination is visible as blisters on the plated part. The nickel plate is like an onion skin that will peel off in layers. This is unacceptable because the parts are formed after plating. The nickel plate has good adhesion to the copper plate. The delamination is within the nickel plate. Does anyone have any suggestions as to what is causing this problem?
John Smelcer
- Greeneville, Tennessee, USA
2002



A. Several points seem to come to mind. First, I may be wrong, but I don't remember using nickel chloride in a sulfamate bath, only in a watts type sulfate bath. Secondly, if using either bath, proprietary materials can be added to improve ductility, reduce stress, etc. and they are not the type of brighteners you are thinking of even though they may be used in a brightener system. Finally, a good part of your problem could be mechanical. Making and breaking contact will result in a laminated deposit. You should check all contacts and your rectification to be sure that this type of problem is not happening.
Gene Packman
process supplier - Great Neck, New York



---
Q. To clarify a little on the plating and the sulfamate bath. I am plating at 80 amps (not 80 amps/ft2) for 90 minutes. The chloride content comes from Macdermid Additive "A". This is a recommended additive for the sulfamate plating bath and it contains some chloride. The cathode contacts, buss bars, and anode contacts are clean and working fine.
I tend to agree with you that the de-lamination may be caused from intermittent current contact between the parts and the danglers inside the barrel as it turns. If so, I don't know how to control that. I have tried a button barrel, but the de-lamination problem didn't improve any.
John Smelcer [returning]
- Greeneville, Tennessee, USA



A. It sounds to me as if you have passivation of the nickel. It is interesting that you do not use brighteners as this would provide the answer - loss of electrical contact in a bright nickel bath can result in passivation and subsequent de-lamination. However, it is possible that the barrel is overloaded and electrical contact is being lost there. Whilst I have only very limited experience of barrel plating, I would suggest you reduce your barrel loading. Have you done a Hull Cell to look for any plating faults in the nickel? It is possible there is some metal contamination in the bath and this could cause de-lamination. As far as chloride in sulphamate nickel is concerned, this should not cause a problem; technically it is not needed if sulphur de-polarised nickel is used as the anode, but most platers prefer to add chloride as a "safety net" to promote anodic dissolution. Your operating conditions for the bath look excellent and should not cause problems, although perhaps the pH is a little low; I prefer to run at 3.8-4.0.



Trevor Crichton
R&D practical scientist
Chesham, Bucks, UK



---
Q. To Trevor Crichton,
Thanks for your response. I have tried adding proprietary brighteners to a similar bath. The parts were brighter, but the de-lamination and onion skin peeling got worse when the parts were press formed. I have also tried 6 pound loads and 10 pound loads (at the same current density) but to no avail. The de-lamination still exists. Not all of the parts have the delamination but the percentage that do are unacceptable and unprofitable for a production process. They would also be expensive to sort out and remove. Most of the de-lamination problems can not be detected until the forming process. More expense! I have done hull cell tests and can find nothing abnormal. I have checked the bath by Atomic Absorption analysis for zinc, copper, and iron. Contamination was almost non-existent (less than 3 PPM) as it should be, because this is a freshly made bath using sulfamate concentrate and deionized water. I am using "S" nickel rounds in bagged titanium anode baskets. I think "S" stands for sulfur. The ph of 3.6-3.8 for this process was recommended by Macdermid. I have used Watts nickel baths before at 3.8-4.2 range. I am wondering if there are other types of danglers that might eliminate intermittent current interruptions within the plating barrel? By the way, I have checked the ripple on the rectifier at 80 amps during the plating cycle and it is about 10-15%. Is this low, high, or normal? I need some help to make this process a profitable venture! Otherwise, I will Have to give up and move on to something else!
John Smelcer [returning]
- Greeneville, Tennessee, USA



A. You need some chloride for barrel plating but less if your anodes are S-Rounds. Chloride increases brittleness.
If you have been plating at 140 °F and a pH of as low as 3.6 for a very long time, then you have broken down some of the sulfamate radical into sulfate and ammonia. Ammonia causes brittleness big time.
Get your vendor to distill a sample and analyse for ammonia and make a judgment whether that is the cause of brittleness.
High temperature (I like 120 °F) causes ammonia to form.
Low pH causes ammonia to form.
Low chloride on Rolled Depolarized anodes causes ammonia to form. S-rounds will work well at about 0.4 oz/gal of your vendors chloride additive. You are too high.



Robert H Probert
Robert H Probert Technical Services



Garner, North Carolina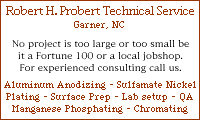 A. Just a few more thoughts about the delamination: has the problem always been associated with the job or has it started recently? Has the delamination always taken place in the same area of the disc (i.e., rim, centre or edge)? According to the Canning Handbook, the optimum current density for barrel plating is about 6-8ASF - I reckon you are operating at about 10ASF. Increasing the barrel load to reduce the current density may not solve the problem, as you could be overloading the barrel. Again, Canning suggests the barrel should be loaded to one third to one half the volume, so perhaps reducing the load and current may be beneficial. The load and applied current relationship is more a process compromise than optimisation! On a more esoteric path, is it possible that the holes in the barrel are blocked, thereby creating areas in the barrel where there could be a reduced current flux. Similarly, is there something between the anodes and barrel, thereby distorting the current flux across the tank - this could act like a screen and divert the current into localised areas of the barrel. Either of these could result in reduced local current density and therefore passivation of the nickel and subsequent de-lamination. Is it possible that some of the parts are getting trapped in the barrel and not being continuously polarised?

The 10-15% ripple you mention is not unduly high, although perhaps below 10% would be better. However, I would not expect this to be the cause of your problem. As far as the effect of temperature on sulphamate is concerned, I consider running at 60C (140F) to be perfectly Ok, especially at these pH's. Sulphamate will hydrolyse to ammonium ions, but this is generally not seen until 70 °C (160 °F). Low pH's and high nickel concentrations will promote this hydrolysis, but I do not think it is relevant here. The presence of chloride will promote stress, but your low levels should not cause any problems. The main purpose of chloride is to promote anode dissolution and maintain anodic efficiency, but since you are using sulphur-nickel, this is not an important feature to you. I hope these thoughts may be of use to you.



Trevor Crichton
R&D practical scientist
Chesham, Bucks, UK