Live! From beautiful Pine Beach New Jersey: Welcome to the world's most popular metal finishing website
topic 15232
Does anodised aluminium seal on its own?
A discussion started in 2002 but continuing through 2018
2002
Q. Hi, we started powder coating on to anodised aluminium AA5 Mic. non-sealed a couple of months ago; the process is simple and all we have to do is use Gramos pre-wipe, then powder coat without any further preparation. The bond and finish is the best we have ever achieved over chromate and acid etch preparation. The reason we chose the anodised over chromate was due to the fact that you have to powder coat chromate or etch with in a short time scale.
Can anyone tell me if non-sealed anodised aluminium seals itself? If so, how quickly (the material is stored in a dry warm factory)? The reason I ask is we have just had a bad batch where the powder coating finish was very patchy, i.e., gloss and matte along the length. We had the anodising tested and it was confirmed to be AA25 sealed, however our suppliers say that it seals on its own and that is the problem?
Best Regards,
Richard Rinn
- Glasgow, Scotland, UK
---
2002

A. Technically, non-anodised aluminium will seal itself as it forms a tenacious oxide layer. This oxide is formed extremely quickly, in a matter of seconds on exposure to air. That is why aluminium saucepans do not corrode very much. However, this oxide will not be of consistent thickness and quality, so it is general practice to anodise the metal as this gives a by far superior surface finish.

Trevor Crichton




R&D practical scientist




Chesham, Bucks, UK





---

2002

A. I am not familiar with anodizing sealing on it's own. I am concerned with the time frame from the time you anodize the parts to the time you paint them. Leaving the parts anodized in a storage facility before you can paint them may be the cause of the problem. The pores in the material are opened up by the anodize process and if it is not sealed and exposed to the atmosphere the pores can become contaminated and wiping them may not get them clean enough, thus causing adhesion problems. Boeing requires that all unsealed anodize parts be painted within 16 hours but may be extended if the parts are wrapped in some type of protection. You may be able to alkaline clean the parts before painting as well.

Steve Adams




- Cedar City, Utah




---
2002

A. The above two answers are absolutely correct but I want to add a more simple answer. The 400 to 500 pores per square inch come out of the anodizing tank as Aluminum Oxide. The normal process of "sealing" is merely Hydrating that compound into Hydrated Aluminum Oxide, which is a larger molecule and literally "plugs" the holes.

In the real world, especially under your conditions, some moisture is left in the pore unless force dried and if forced dried that moisture will convert into hydrated aluminum oxide which is partial "sealing" as one of the above answers referred to as non-uniform sealing.

Further if the humidity cycles while on the shelf then that same moisture will cause partial sealing.




Robert H Probert




Robert H Probert Technical Services





Garner, North Carolina





---

2002

A. Yes, anodic film can seal on its own to some extent. That is why between anodizing and powder coating there should be a maximum of 16 hours elapsed. This is for the sake of adhesion of the paint to the anodic oxide film.

I am not sure the poor appearance is due to the time elapsed between anodizing and powder coating. If the surface is not clean enough you may have this problem. On the other hand you may try to powder coat in different colour to see whether the powder caused the problem.

Timur Ulucak




aluminum extrusions & finishing - Istanbul, Turkey




---
May 4, 2009
A. There are different kinds of anodising; a few are chromic acid anodising, sulphuric acid anodising, hard anodising etc. Each anodising has different pore structures and different hardness. Chromic acid anodising has small pores and is used as corrosion protection for which sealing in hot water is a must, whereas if it is used as base for painting it is done without sealing, to use the pores as anchors for paint.

Whereas in type II sulphuric acid anodising wherein thickness is from 8 to 20 microns, the pores are big in size and very soft. Sealing is the process of hydration of aluminium oxide. This is effective at high temperature.
This is not expected to happen at room temperature. From my point of view, sealing in hot water is a must to get the proper corrosion protection and wear resistance for type II coating.
Rudresh H.B.
- Bangalore, India
---
---
June 25, 2012
Q. I would like to know the causes of powder fumes on anodised profile and how long should sulphuric acid anodised profiles should stay in sealing tank at temperature of between 80-90 degrees?
Sholanke Adeshina
- Lagos, Nigeria
---
---
March 4, 2018
Q. I am a masker at a small plating company. I know very little about the science of anodizing. I use xp 2000 on type I anodised aluminum pump sleeves in preparation for type III anodize. There have been no problems for months.
Lately type III has been leaking through, causing me to manually etch with hydrofluoric acid. From what i understand it is due to the type I not being sealed? I've been told that it will seal itself after 4 days? I am thinking they are being left in tank too long and the stop off paint is being compromised. No one will give me a straight answer. "You have to mask it better" is all they tell me. My masking has been effective until recently and I need to get to the bottom of this. Please can someone help me please? Thank you.
Jennifer thompson
- Phoenix Arizona, United States
---
March 2018
A. Hi Jennifer, while we are awaiting a knowledgeable reply, if you can find the time, please see our Introduction to Anodizing, from which you will understand that Type 1 Anodizing is also called Chromic Acid Anodizing and Type 3 Anodizing is called Hardcoating.
That will help you find further references to your situation: for example, topic 29519 explains how this process of using Chromic Anodizing as a mask for Hardcoat Anodizing is done ... and you will hear some experts insist that the Chromic Anodizing must be well sealed, not allowed "to seal on its own", for the process to work properly.
Regards,
Ted Mooney, P.E. RET
finishing.com
Pine Beach, New Jersey
Striving to live "Aloha"
---
March 7, 2018
A. Hi Jennifer. I think you may have made a typo, as you started off with Type III, but then started talking about Type 1, and that it's not sealed. Were you possibly meaning Type III, CLASS 1?. Sounds like your talking about unsealed, hardcoat anodizing.

Regardless, a few things are needed to insure success with masking for anodizing. And really, whether a part is sealed or not doesn't make a difference, as it's the anodizing process that is leaking under your masking. It's a shame your supervisor isn't digging deeper into the issue to solve the problem ... I know I certainly would be. Keys to success in masking:

1. The right maskant for the job (also insuring maskant is not expired, and that it's been thinned properly, if needed)
2. Very clean parts prior to masking
3. Adequate masking coverage (2 coats minimum)
4. Adequate cure time, and temperature
5. Proper methodology in removing excess masking, aka the trim line.

I've never cared for the XP2000, or any of the peelable masks, that being said, I know many use it with success.

If your company has had success in the past with this product, and the masking operation...you have to look at what has changed, and I'm betting something from the list above has gone astray.

If I was your boss, I'd be all over this one, as not only is HF a nasty acid, but it's also more labor to the job.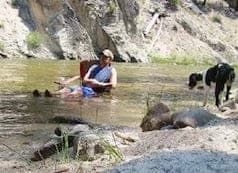 Marc Green
anodizer - Idaho


If you have a question in mind which seems off topic, please Search the Site