Live! From Pine Beach NJ: The world's most popular metal finishing website, and the internet's friendliest corner
topic 15090
Problems in plating Ceramic-to-metal seals
A discussion started in 2002 but continuing through 2018
Nickel and gold plated Kovar cracks at weld seam
2002
Q. We are trying to seam-weld a Kovar lid onto a ceramic substrate on top of which a Kovar rim is brazed for hermetic sealing. Both the Kovar lid and the Kovar rim are nickel underplated first, followed by gold plating.
After the resistance seam welding, cracks are observed to propagate along the weld seam, leading to failure in achieving hermeticity. Can anybody provide suggestions of how to eliminate the cracking problem?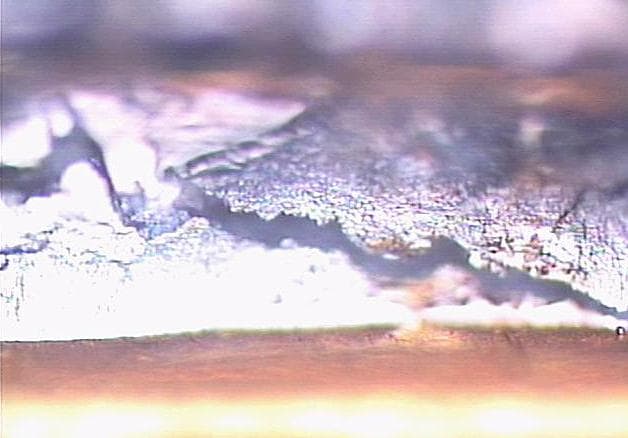 While the detailed plating process for the Kovar rim on top of the ceramic substrate is unknown (it is a purchased part), two different electrolytic nickel platings of the Kovar lid have been tried, but both gave the same cracking problem. One of them is semi-bright nickel (~110 microinches) followed by sulphamate nickel (~130 micro-inches). The other one is nickel strike (~30 micro-inches) followed by the same sulphamate nickel (~130 micro-inches).
Thanks for the input.
Leo Chen
- Taipei, Taiwan
---
2002
A. I recently talked with someone who had a similar problem and the general consensus was that a nickel oxide layer was contaminating this person's plating. Evidently the seam welding process won't work if a nickel oxide layer is present (I am not an expert in this, just a practitioner.)
Try and use a lid and body that have a single nickel layer deposited on them.
Good luck! Van
J. V. Rudd
- Ann Arbor, Michigan
----
Ed. note: letter 2449 discusses this issue, and suggests (among other things) that any heating be done in vacuum, nitrogen or argon.
---
---
Do sulfamate nickel plating baths have sulfur to embrittle when laser welding?
2001
Q. I am performing a laser weld of Kovar parts. The parts' drawings call out 75 microinches of electrolytic nickel according to SAE-AMS-QQ-N-290 [link by ed. to spec at TechStreet] and then 50 microinches of Type III gold according to Mil-G-45204 [linked by editor to free spec at Defense Logistics Agency, dla.mil]. We specify that no brighteners be used.
When the welds showed cracks due to cooling shrinkage, I obtained the plater's process sheet, which revealed a Sulfamate nickel process. Does QQ-N-290 allow for Sulfamate to be used?
The concern is that various acid baths introduce phosphorus or sulfur, which are known to produce bad laser welds. I would like to know how to properly write an unambiguous plating spec that avoids these pitfalls.
I would greatly appreciate any input.
Dominik Hoffmann
- Middleton, Wisconsin
---
2001
A. Hi Dominik. I took a quick look and saw no indication that the spec dictated or prohibited any type of plating solution, but it does sets limits on sulfur in the deposit.
Hopefully someone can answer your question more authoritatively, but I am under the impression that sulphamate baths do not put sulphur into the deposit--that only brighteners do that, and that sulphamate nickel baths can operate brightener-free. Good luck.
Ted Mooney, P.E.
finishing.com
Pine Beach, New Jersey
We need "Aloha" now more than ever
---
2001
A. I believe the acid bath would introduce P or S into the coating layer which later might cause solidification problem depending on the coating thickness and welding process.
Is electroless plating a better process? not to introduce S or P.
Please comment
Jeff Lu
- Wilmington, Massachusetts
---
October 16, 2009
A. Electroless plating is typically Phosphorous or Boron based. Phosphorous nickel is used primarily for seam sealing now welding where the nickel is flowed on the seal ring (~ 700 °C). The % of phosphorous is varied from 2- 15% for corrosion purposes. Due to the stress at the higher percentages cracking occurs in seam seals.

Hope this helps.
John Coronati
- Allentown, Pennsylvania
---
---
Will boron EN survive laser welding where phosphorous EN fails?
Q. I am sealing a glass window in to a Nickel plated Kovar lid. The plating is electroplated with a phosphorus based bath and is 100-200 microinch thick. The kovar lid has to go through 3 processes.
1. Sealing glass reflow of the glass lens at up to 400 °C.
2. Resistance welding using seam sealing.
3. Laser welding in a later process.
The laser welding and resistance welding appear to be fine, but the plating oxidizes to the point of being black and sometimes blister for at extended periods [1-5 minutes] at 400 °C. I have seen this phenomena before in particular blisters with phosphorus nickel on Aluminum.
Questions:
1. Would using a much less common Boron bath help.
2. Would a gold plating of 30-50 °C acting as a barrier help? [Not a good thing for the laser welding and in some degree the resistance welding processes]
Thanks in advance for any suggestions.
Vandenberg
- San Jose, California
---
A. I would examine the preparation of the material and the underlayment plating, if any. I would guess that the problem is that the nickel isn't bonded well with the substrate. We plate Kovar parts, and the customer requires a high temp bake out to test adhesion.
Michael Brewington
- Salisbury, Maryland, USA
---
A. I think the first thing I would do as an experiment is to try a thicker electroless nickel plating as a way of ensuring that porosity in the plating is not the problem.
Ted Mooney, P.E.
finishing.com
Pine Beach, New Jersey
We need "Aloha" now more than ever
---
---
Can we skip gold if not soldering? Will bare Kovar corrode?
2003
Q. I am designing an optoelectronics package made out of Kovar and plated with Gold over electrolytic Nickel. This package should survive for 20 years and has to pass tests such as 85 C/85% RH for 2000 hours, etc. I have 2 questions:
1. We do not need the gold for soldering or aesthetics so I am thinking of removing the gold plating. Then the Nickel plating will oxidize. Will this oxidation, besides the package discoloration, affect functionally the package?
2. I am sealing hermetically this package with laser welding or seam seal welding. hence, there is exposed fused Kovar at the sealing area. Do you know any specific coating, epoxy or paint that will protect the bare Kovar from corrosion?
Thank you in advance,
Kostas Zafiriou
- Woburn, Massachusetts
---
Cobalt plating solves the diffusion problem
June 24, 2013
Q. I am trying to reproduce a process that was carried out successfully many years ago (20+). I want to gold plate on Nickel Iron and then braze the plated part into a assembly at 900 °C, the problem is that the gold defuses into the nickel or the nickel defuses into the gold. Either way, the problem was overcome by plating the nickel iron with Cobalt first. The parts are very small 1 mm dia. x 25 mm long and not vast quantities.

Can anyone help?
Raymond A Woods
ceramic seals - Oldham,Lancashire, United Kingdom
---
June 25, 2013
A. You can plate it the same way you nickel plate it, except you substitute cobalt sulfate for the nickel sulfate. If you are using EN, a couple of companies sell ECobalt.
James Watts
- Navarre, Florida
---
---
Reduction in Insulation resistance after electropolishing and electroless nickel plating
July 26, 2013
Q. Dear Sir,

We are manufacturing hermetic seals and recently we are facing problem with Insulation resistance of the connectors (Which used to be in terms of Giga ohm reduces to ohms) after electropolishing or plating.

Is there any solution to this?

Thanks and regards

Vidya
Vidya Upadhyaya
- Bangalore, India
---
---
Nickel Sulfamate Heat Treatment for Solderability
September 21, 2015
Q. I am a recent addition to a facility that manufactures ceramics and custom hermetic components for various applications. Many of the sub-components that are used in our hermetic assemblies are nickel-plated for our customers' use or for brazing purposes.
This question is most specifically regarding the MoMn (Molybdenum-Manganese) metallization process that we use on many ceramic parts.
Where I am, we hand-brush MoMn on to ceramic parts and bake the dispersion into the ceramic surface in a furnace. After this, they are quite easily plated electrolytically with our Nickel Sulfamate chemistry (we also strike with Wood's Nickel).
It is customary to "fire in" a layer of electrolytic Nickel plating (in many cases, we do this after electroless plating as well), and follow with a second layer of electrolytic (or electroless) nickel. This 2-step plating is often done for our own parts for better performance during brazing after mechanical assembly steps. Sometimes, it is also called out by customers in purchase agreements.
My question is this:
Is plating nickel twice a practice that is industry standard?
What does the annealing between plating steps accomplish?

The conventional thinking is that we cannot plate more than 100 micro-inches (about 2.5 microns) over MoMn metallization without plating defects showing up post-firing. Specifically, I have seen blisters after we sinter parts that have built up plating in high current density areas. Is this normal? If we plate a thinner layer of nickel, heat treat, and then follow with more nickel to meet customer thickness specifications, we usually do fine. What factors have the largest effect on blistering like this?
Any response or advice would be appreciated! I have received a lot of valuable advice from these forums but have never posted a question until now. A link to literature or some tips on MoMn-Metallized Nickel Plating would be welcome as well.

Lucas McBride
Chemical Engineer / Plating Supervisor - Laurens, South Carolina, USA
---
---
Corrosion resistance problem
October 10, 2018
Q. we are doing nickel sulphamate plating 7-10 µm (base material is MS); then glass to metal sealing at 960 °C; then electroless nickel phosphorus (10-12%) and thickness 4-7 µm; then bright tin (7-9 µm). After that we need salt spray test for 500 hours but we are unable to pass the test -- please help us.
Shruthi V Kumar
- Bangalore, Karnataka, India.


If you have a question in mind which seems off topic, please Search the Site