World's #1 on-line resource since 1989
•
-----
Best way to strip paint from aluminum
Blasting with plastic media may be the quickest and least expensive way. Aircraft stripper may be the second choice. Read on...
Current question and answers:
May 3, 2021
Q. We are planning to rework 6061 aluminum panels which are components of our medical devices. Each panel has a 2-6 mil two part polyurethane enamel paint and a chemfilm coating underneath the paint. We would like to find a immersion paint stripper that takes off the paint, but not the chemfilm.

I know that chemfilm is removed through an alkaline process, so I would assume the stripper needs to be acidic.

Any ideas, suggestions, or recommendations would be greatly appreciated. Thank you!
Adam Kline
- Pittsburgh Pennsylvania
---
---
---
Closely related Q&A's, oldest first:
2002
Q. We are manufacturers of Aluminium products. We have a requirement of stripping the paint.
Our paint system is basically a 3 coat, Powder-Bake-Colour Liquid-Clear Liquid - Bake.
Please detail the best and most economical process of stripping the paint on these aluminium products.
Also please give details of contacts in India who can provide us the products and process you recommend.
N.Vijay Kumar
- Visakhapatnam, AP, India
---
2002
A. To strip Powder Coatings off of Aluminum, the quickest and least expensive way is with Plastic Media and a Bead Blaster [affil. link to info/product on Amazon].
Jeffrey M. Antal
- Grayville, Illinois
---
2002
A. Dear Mr. Kumar,
The ideal way to remove paint from Aluminium is by using plastic blast media.
This is used at low pressures between 15-40 psi (1-3 Bar), and will not damage the substrate whilst quickly and effectively removing the paint.
If used correctly and carefully, you can actually remove one layer at a time, and can recycle the media 20-35 times.
Sean Williams
- Oldbury, West Midlands, UK
---
---
2002
-- this entry appended to this thread by editor in lieu of spawning a duplicative thread
Q. What is the best way to remove paint from anodized aluminium window frames? I am worried about damaging the anodized surface of the metal.
Pamela McGirr
- New York, New York
---
2002
A. I think that the best way is to blast the paint off with plastic media designed for that purpose. The plastic media will not damage the aluminum. If blasting is not an option due to the part configuration. there are chemical methods that will also not damage the aluminum, but there are usually environmental or safety reasons to try and stay away from these strippers. One method is to immerse the part in 80-100% by volume nitric acid. Heating to 120 °F will speed up the process. This MUST be done in a vented area by personnel well-trained in the extreme hazards of nitric acid. In addition, there are many solvent based strippers that your paint supply house can sell you. The best ones contain methylene chloride, but your air permit may not allow this. The non-chlorinated, environmentally-friendly alternatives might be satisfactory depending on the paint that you want to strip. Hope this helps.

Jon Barrows
, MSF, EHSSC
Independence, Missouri
---
2002
A. If this is a self help or Joe's Odd Job's Inc. doing the work, I predict that you are going to be quite unhappy. You will be able to replace the windows for about the same cost as stripping by a professional, especially if it is done "in place". I would paint over the existing paint if it is not damaged.
James Watts
- Navarre, Florida
---
2003
A. If the manufacturer did not seal the anodizing and used a water base paint, then the "roots" of the paint extend down into the 500 pores per square inch, which have sealed themselves over time, and now the paint ain't ever coming off without removing some aluminum.
Thickened solvent based stripper like that used by the airlines to strip airplanes is the best, but be careful with your eyes and skin. Have plenty clean water nearby.

Robert H Probert
Robert H Probert Technical Services

Garner, North Carolina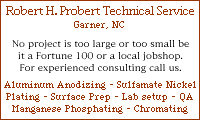 ---
2003

Thank-you all very much for the responses. This is a great website.
Pamela McGirr
- New York, New York
---
2005
A. To remove paint from aluminum, brake fluid works great -- but I had to soak the parts in it for a while.
Vaughn Peters
- Milton, Florida
---
---
2005
Q. How do you handle large fixed windows whose frames are aluminum with large plate glass windows in a residential apartment with paint peeling on interior?
What effect will blasting have on glass or apartment? Do you have to totally empty the apartment?
George Maringer
- Fort Lauderdale, Florida, USA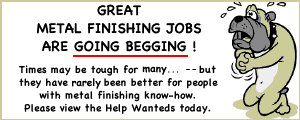 Plating Shop Manager [Salisbury, MD]
Junior Quality Engineer [Santa Clara, CA]
Plating Process Engineer [Wenatchee, WA]