Where the world has
gathered for finishing Q&As since 1989
Zincating on Aluminum: Problems with 6000 series
(
-----
)
Tutorial:
(to provide context, hopefully helping readers more quickly understand the Q&A's)
Electroplating directly onto aluminum with proper adhesion is not generally possible because aluminum instantaneously oxidizes.
Instead, the aluminum is immersed into a strong solution of zinc and caustic ("zincate") where zinc spontaneously replaces the aluminum on the surface via "immersion" or "replacement" plating.
In many cases, for reasons that are still debated, the most reliable method includes a first layer of zincate, which is then stripped in nitric acid, before a second layer is applied.
"Bondal" and "Alstan" are proprietary alternatives to zincate.
Current postings:
August 31, 2021
Q. Hello

Im hoping someone can give me some insight into an ongoing issue we seem to have with different suppliers of Al conductor

We see that there is big difference in relation to plating between each supplier regardless of temper etc.

The main issue we are seeing is that the first zincate layer is not adhering to a particular substrate and can be seen flaking off in the rinsing afterwards.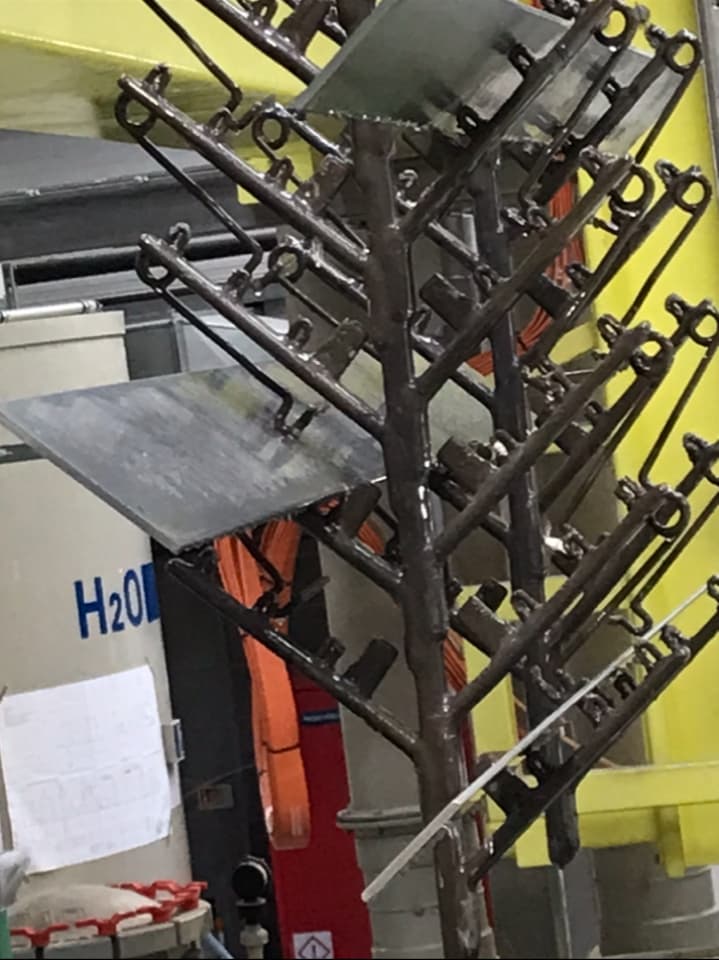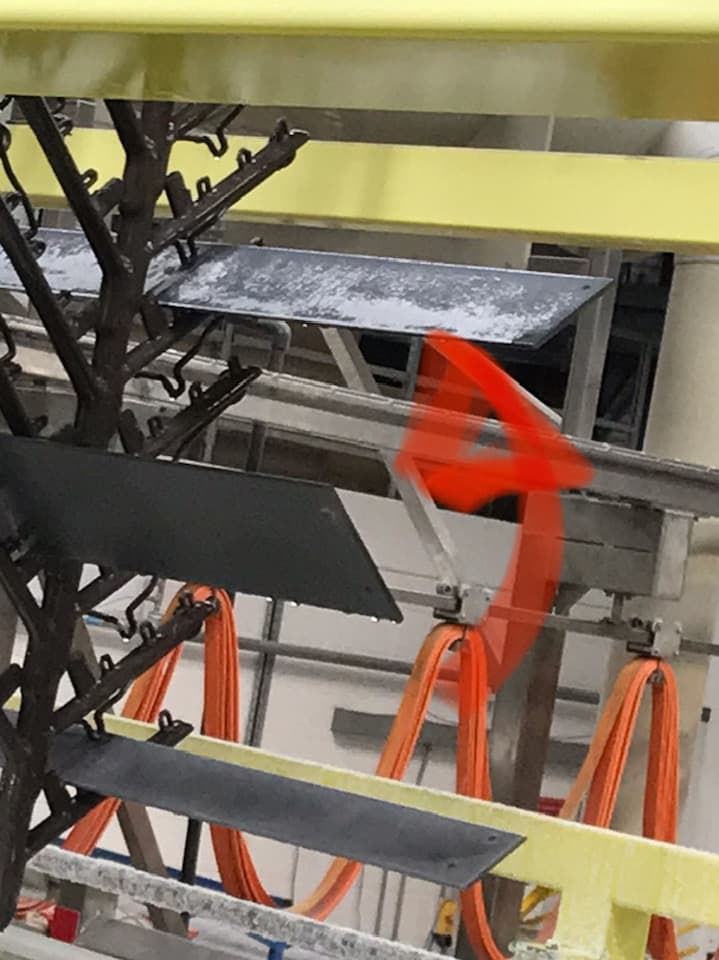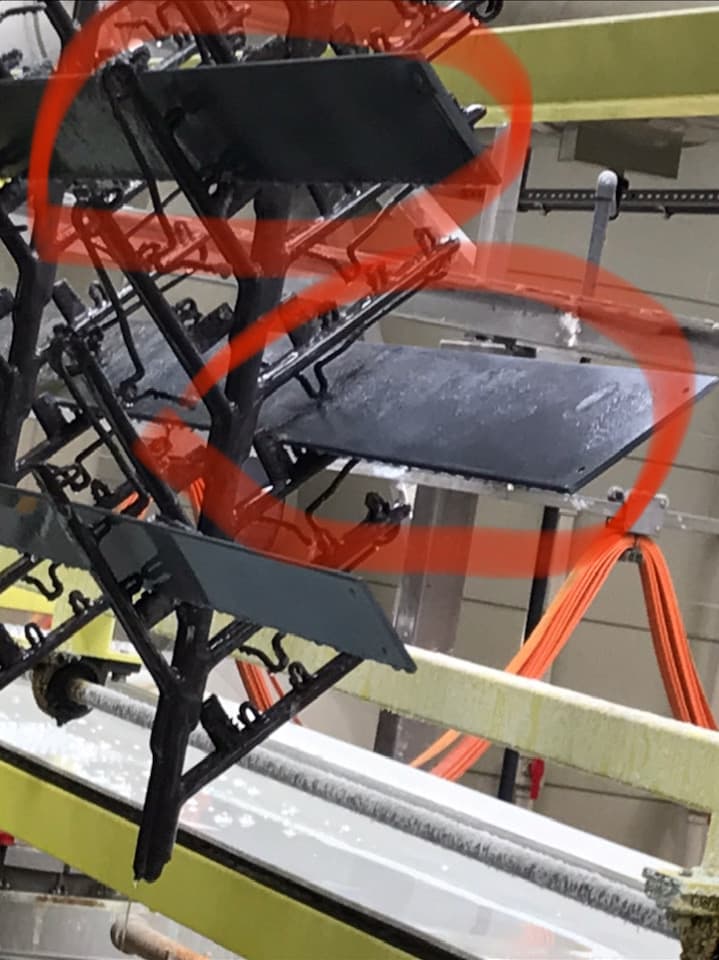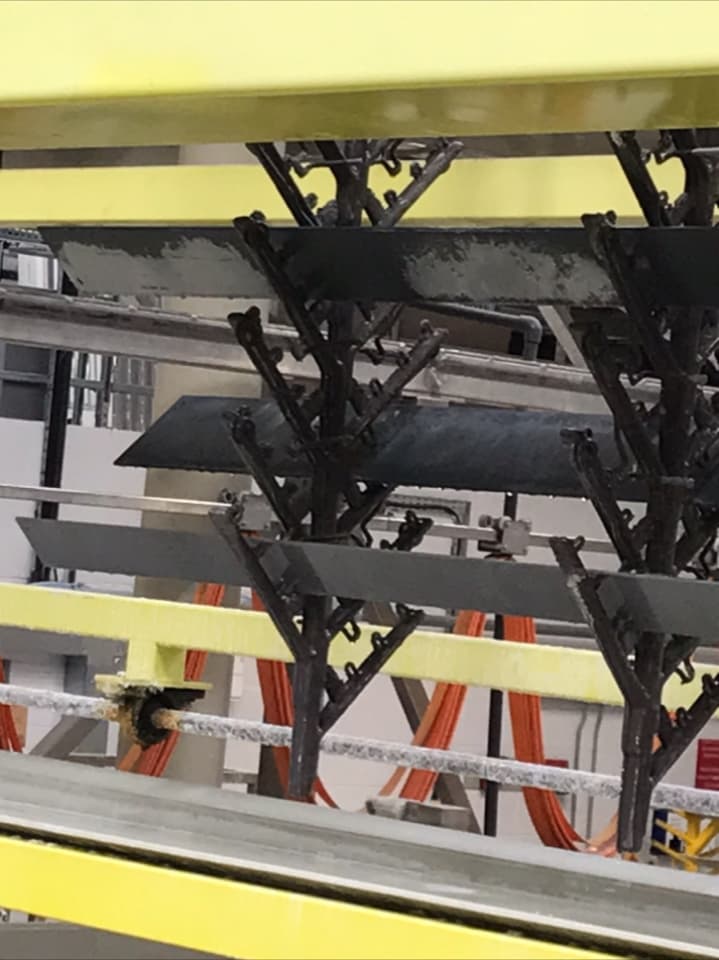 This is only seen with one particular supplier.

Our current setup is
Degrease
double rinsing step
Pickling (30% caustic and metal inhibitor)
double rinsing step
Desmut (HF and Sulphuric)
double rinsing step
First zincate application
double rinsing step - this is where the Zn flakes are being remove and leaving somewhat bare Al
Zinc Strip
double rinsing step
2nd zincate layer
double rinsing step
Ni strike
double rinsing step
Acid tin

After the poor zinc adhesion this is causing poor Ni and Sn adherence from this; we are see microblisters/ blisters

Is there a reason to as why this is only happening with some suppliers whilst other work perfectly?
I know the alloy makeup is slightly different but trying to get to a stage where we can plate a range of suppliers as opposed to a select few.

Any insight is greatly appreciated

Thanks again, Ryan
Ryan McGrory
- Derry Ireland
---
September 6, 2021
A. Use 30% Nitric Acid instead of HF and Sulfuric Acid.

The way you are racking, if there is any floating soil on the rinses, you will pick it up and re-deposit something that will interfere with adhesion.

An alternate idea that would skip the nickel strike. Use a proprietary alkaline zinc plating solution, put the aluminum in and wait 30 seconds before slowly and lowly turning on the current, zincate will start then gradually turn up the current and you can build up enough zinc to support the addition of tin.

Robert H Probert
Robert H Probert Technical Services

Garner, North Carolina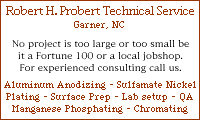 ---
September 6, 2021
Q. Hi Robert

Appreciate the quick feedback.

I don't have the option of changing chemicals due to the automatic times at that is setup for plating, I have run these tests with HNO3 on a lab scale to no avail.

This is something which I'm looking into regarding chemical tank makeups in order to facilitate all supplier of conductors

With regards to the zincate I use an alkaline solution of zinc oxide and caustic.
This is a electroless process.

Any further help is greatly appreciated
Ryan

We are seeing that Zn flakes that are flaking off are contaminating the rinses and we are picking up this on the jigging of the parts
Ryan McGrory
[returning]
- Derry Ireland
---
---
---
Closely related Q&A's, oldest first:
1998
Q. We are having problems with our zincate layer sticking to 6101 series aluminum. We run a single zincate process with a tri-acid desmut. Recently bumped up phosphoric dip and seemed to help.Is there anything else we can do?
Brian Dutz
---
1998
A. The main problem with zincating aluminum for pre-plating purposes is that aluminum forms an oxide extremely quickly which hampers plating. Typically, I have never had good results with a single zincate cycle. I would suggest a double zincate which allows for a finer deposited zincate, and more sites for subsequent adhesion. Also, to be noted is that do not, repeat do not allow the parts to become dry at anytime. As you can gather, any staging in rinses through-out the pre-plating cycle, or any delay in the pre-plating cycle can allow aluminum oxide formation. Further, any delay in the plating cycle up to whatever your strike is will cause you problems. The other issue with aluminum finishing of any kind is the cleaning cycle, which is undoubtedly the most neglected part of any aluminum finishing, especially if one is a plater and not an anodizer. An excellent resource would be to contact the manufacturers of zincate products as they will have recommended zincate and cleaning cycles for aluminum.Be sure to let them know what your zincate formulation is, as some zincate formulations are to be used for different types of plating, such as electrolytic nickel, vs copper, vs electroless nickel vs copper, etc.
Ward Barcafer, CEF
aerospace - Wichita, Kansas
---
1998
Q. We use a phosphoric dip between the de-smut and the zincate to eliminate oxidation. We have changed our dip time in this tank from 30 to 90 seconds and this has helped. One of our biggest problems is plating the harder 6101 series. We use 3 or 4 different hardnesses (t-61,t63 ,t65 and so on). Is there a major difference between them and what can we do to get these to plate better? When we run the softer material, the zincate layer is great. Please help!
Brian Dutz
[returning]
---
1998
A. There should not be a noticeable difference between the tempers, however your problem is most likely due to the alloying constituents. Alloys which are more difficult to zincate such as higher silicon containing alloys definitely require a double zincate. Also, depending upon the alloy types one needs to use different acid etching or pickling solutiuons. One good one for high silicon containing alloys is a 75%Nitric/25%hydrofluoric acid etch.This is a dangerous solution to work with and needs special first aid treatments to be available. Another solution which is not as dangerous is an Ammonium Bifluoride/Nitric acid solution as described in the Metal Finishing Guidebook. That solution is used prior to your first zincate, use a 50% nitric Acid to remove the first zincate and then re-zincate. That should fix your problem. You are starting to ask questions which require more than a simple email response. My suggestion would be to access the available literature and get a hold of your zincate solution supplier.
Ward Barcafer, CEF
aerospace - Wichita, Kansas
---
1998
A. Try going in "live" in the tank, it took care of my problems.
Gary Witherspoon