Where the world gathers for
plating, anodizing, & finishing Q&As since 1989
-----
"Neutralizing" sulphuric anodizing solution with bicarbonate or nitric acid

Q. After type II sulfuric anodizing 2000/7000 series aluminum we dye then seal. Lately after dying we do not see spots or anything of that nature. But once they are pulled from the nickel acetate seal they are covered in white spots. What could this be caused from?
Scott Baker
- Jackson, Michigan
September 16, 2022
A. The free acid, temp;, and current density affect the "pore size", if the pore is too large it will not seal and white aluminum sulfate will pop out of the pore when it hits the hot seal. You might get some relief by using a 5% nitric acid post dip as in - anodize rinse, nitric dip, rinse again, and the nitric acid will help flush out the white aluminum sulfate. Give us more data, meanwhile, try the nitric post dip in a bucket,

Robert H Probert
Robert H Probert Technical Services

Garner, North Carolina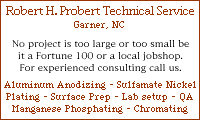 A. Seconded on Mr. Probert's opinion. Our techs go crazy in the nitric dip prior to black dye, and always come out squeaky clean, no matter the alloy, but are weirdly afraid of "overdoing it" if going into colored dyes.

Red components that aren't 6xxx come out needing to be hand wiped. I swear it's a superstition on their part! Seriously guys, yes, please use the Dip! (Roger Rabbit just fainted in the background).

Nitric bath at 4-5% is safe for any Al alloy prior to dyeing. Even if the tech on second shift goes to dinner and forgets it for a half hour. Up to 8% is fine if immersion is very brief, and rinsing is aggressive. I personally believe less is more, in terms of dip management ... weaker solution with longer immersion and more frequent bath changes. And first and foremost, a technician who knows how to read a bath for ideal immersion time.

You got a passivation line? Cheers, you now have a place to get rid of aging nitric tanks! Pro tip: submit your new recycling program to the State next time your pollution prevention audit comes up.

And it's a bath that can be slowly run through the wastewater treatment system if you're set up for that .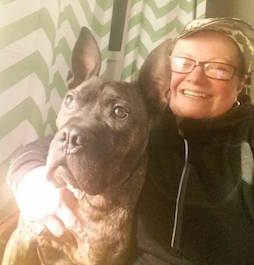 Rachel Mackintosh
Lab Rat and some other things - Greenfield, Vermont
---
---
Q. We are anodizing and dyeing black golf cart rims that are two pieces welded together from the outside. This is causing severe entrapment of sulfuric acid on the inside of the rims. We are currently using a 20% Nitric neutralizer prior to black dye. It seems to help a little bit, but not enough. We are in the Nitric for about 90 seconds. Do you have any other advise that could help us?
Doug Nix
- Cuba, Missouri
March 2, 2023
A. Hi Doug. That's 4-10X as strong nitric acid as some people suggest, and rinsing pores is one thing while rinsing capillary cavities is another.

Although cheap, almost disposable, items sometimes have spot welds or crimps or other features which cause capillary action, I wouldn't think it proper for a relatively permanent item like a golf cart rim to be highly conducive to wicking and capillary action like this.

Vacuum impregnation may be too expensive for your customer, but have you considered suggesting to them the idea of an anaerobic sealant to keep those improper chemicals and pollution out of the interspace? Perhaps this could be a value-added service you could offer them?
Luck & Regards,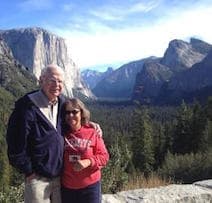 Ted Mooney, P.E. RET
Striving to live Aloha
finishing.com - Pine Beach, New Jersey



---
---
---
Closely related historical posts, oldest first ...
Q. We've experienced inconsistency when black anodizing "MIC-6" and "JIG PLATE". The problem is white spots on the parts after the parts are dyed and sealed. We have read that this is caused by acid bleed out from shrinkage voids in the material, occurring after dye treatment. We also read that immersion in sodium bicarbonate prior to the dye treatment serves to neutralize the acid and prevent this problem. We have tried this with some improvement but still do not have a complete elimination of the white spots. Is it possible that current density (we use 15 A.S.F.), coating thickness (our thickness is .6 - .8 mils), or pretreatment could be the problem? We would greatly appreciate any information you have to offer on this problem.
Steve Davidson
1998
Ed. note: You may also want to consult Robert Probert's on-line article "Where do 'white spots' come from"
"Surface Treatment & Finishing of Aluminium and Its Alloys"
Wernick, Pinner & Sheasby
from Abe Books
or

Affil. Link
Your purchases make finishing.com possible
A. Have you tried hot-and-cold rinsing in conjunction with the bicarb treatment?
Have you analyzed the white spots? Do they contain appreciable amounts of alkaline cleaner/etch components? Could the voids be filling up with these solutions in their relatively hot solutions? Can you reduce the temperature in these solutions to below the hot portion of the hot/cold rinse? Perhaps that would prevent these solutions from getting into recesses that the subsequent steps cannot reach.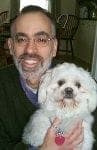 Tom Pullizzi
Falls Township, Pennsylvania
A. We have tried the bicarbonate step also & have found a better alternative. When black anodizing odd material, i.e., jig plate, castings, etc we use a quick (10-20 sec) dip in nitric acid after the anodize. This thoroughly cleans out the pore so that it will more uniformly take the dye.
David A. Kraft
- Long Island City, New York
A. We have found that 20% to 40% nitric acid does a better job of neutralizing the sulfuric acid anodizing solution than the sodium bicarbonate. Also, (just a guess), try avoiding an etch and a strong desmut in your pretreatment cycle if you can. These could open up the pores more on the surface of the aluminum, making absorption and consequent bleed-out of the anodize solution more likely.
Keith Rosenblum
plating shop - St. Paul, Minnesota
"The Metallurgy of Anodizing Aluminum"
by Runge & Kaufman
from Abe Books
or

Affil. Link
Your purchases make finishing.com possible

? Does your application allow you to use any of the 7000 series wrought tooling plates available? Alca Plus and Alpase k100s for example are also a continuous cast product but are a 7000 series aluminum and are not subject to this spotting issue nearly as much as the Mic-6 products.

Michael D Eheler






A. I have read the series of responses regarding white spots on anodized cast plate. My company sells both the Alca Plus and Mic 6 product so I consider myself impartial. We receive calls with this concern for both products, it is inherent in the product of cast plate, not in the manufacturer. Both Alcoa and Pechiney producers of Mic 6 and Alca Plus have published procedures for anodizing cast plate. You can find guidelines for Pechiney's Alca Plus on the website www.castplate.com under the section titled finishes. You can also find information regarding Mic 6 on www.millproducts-alcoa.com under products and alloys. Unfortunately, the Alcoa site does not give the detailed directions that are listed in their brochure. I will type out what they have defined, which I might add is different than Pechiney's procedures.

Anodizing Mic 6 For conventional anodizing, a 15% by weight sulfuric acid solution (or bath) is recommended. Optimum results occur at a current density of 1.2 A/dmsq (12A/ftsq). The voltage required is generally 15.5. However, as the aluminum content of the anodizing bath increases, the amount of voltage needed will increase.

Once the anodizing process has been completed, the plate surfaces should be rinsed. If a black dye is to be used, the plate should be neutralized. Since cast tooling plate may contain micro-shrinkage porosity, entrapment of sulfuric acid can occur during the anodize process.

Simple rinsing is not always sufficient. A dip or submersion in a neutralizer is suggested. A 5% solution of ammonium oxalate, or sodium bicarbonate, is recommended for 5 to 15 minutes.

The temperature of the solution should be 80 to 90 °F. If the entrapped sulfuric acid is not neutralized, white spots can occur at each shrinkage void after a black dye treatment. The acid bleeds out of the voids and oxidizes the dye. In the case of a normal or hard coat anodize, a rinse without neutralizing has been found to be satisfactory, and is the general rule.

Note: in the density equation above, I was unable to type the formula with a 2 indicating squared. I replaced it with sq.

I am certain if you visit either of the websites above, you can request a printed brochure be mailed to you with these instructions.

Hope this helps.

Kim Anderson




- Milwaukee, Wisconsin




2001





Ed. note Jan 2019: Sorry, neither of those websites function anymore, and neither Alcoa nor Pechiney exist as independent companies anymore.





A. Try a vacuum bake of the cast material prior to anodize.

Jim Austin




- Goleta, California USA




2005





---
---
Q. I'm having trouble with white spots when anodizing and dying 2024 T3 aluminum. Usually the parts are machined all over and seem to have little pin holes where the spots are. What am I doing wrong? Am I zapping the parts with too much electricity? My current solution is at 19% and I am anodizing at 16 volts. I have a 1000 amp rectifier.
Please forward any solutions.
Bill Smith
anodizing shop - Trinity, North Carolina
2001
? How many minutes do you anodize and at what temperature?
Dado Macapagal
anodizing shop - Toronto, Ontario
2001
A. Hi, Bill. You might want to consult Robert Probert's "Where Do White Spots Come From" in our on-line library. Good luck
Regards,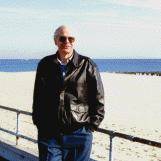 Ted Mooney
, P.E.
Striving to live Aloha
finishing.com - Pine Beach, New Jersey
A. In dealing with the spots and voids in anodized cast plate such a Mic-6, Alca-Plus, and K100 the common cause as stated in some of the responses above is voids or micro-porosity that exist in the cast aluminum structure. This is a very long standing problem with painting or anodizing cast plate. A product called Alpase K100-S Cast Aluminum Plate is cast in 5083 aluminum alloy with virtually no porosity which allows the cast product to be anodized with great success.

Dwayne Gordon




- Downey, California, USA




2005






A. Machining the Mic 6 cast plates with the anodization process brings me to say that Alpace products are far superior to that of the Mic 6 when it comes to the black, or Hard black processes in Anodization. Once I saw the plating hues and deep color relation to that of 6061 and no issues regarding the "Night Stars" condition frequently seen, Alpace Products and its plating successes through the alloys mentioned and its substitutes called Mic 6, Jig plate, are in my professional opinion not an option to me anymore.

If they want it Flat and Black I suggest the change to Alpace K100S get them to change the material call out, most new engineers are not all that abreast of the experiences we all have had with Mic 6.

Andy Eden




precision machining of Alpace and Mic 6 - Morgan Hill, California, USA




2007






A. MIC6 is the best product I've ever used. It's dimensional stability and flatness characteristics are simply the best.

Jack Samuels




- Cleveland, Ohio





Okay! We had the Alpace / Alcoa / Pechiney debate, folks -- thanks for your passion & beliefs. But considering how internet forums draw shills, often using fictitious names and posing as satisfied customers, while we can't post balancing criticisms ( huh? why?), there's little point in continuing a "Ford Trucks!" / "Chevy Trucks!" / "Dodge Trucks" style debate. Thanks for your understanding.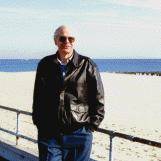 Ted Mooney
, P.E.
Striving to live Aloha
finishing.com - Pine Beach, New Jersey
---
---
White spots on blue anodizing
Q. Hi,
I'm having problems with white spots on some tubes anodized and dyed with anodal G. I've hanged them with titanium Racks. At this moment I've had 10 g/l Al in anodizing bath, and I don't know if I've got chloride in the die bath (but it's possible.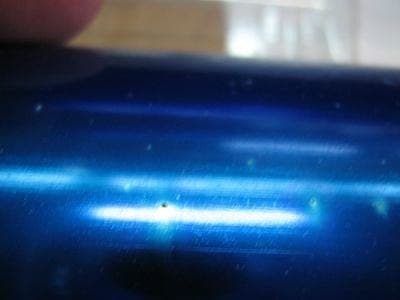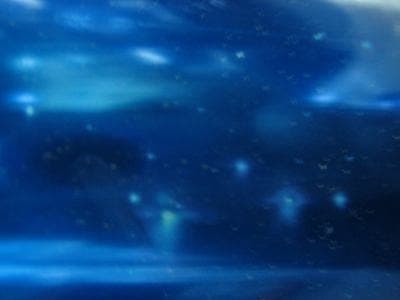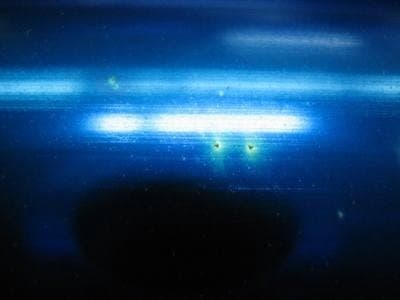 I've heard about using magnesium bars during de dying.
Where should I hang the magnesium?, In the bath grounded or at the bar with the pieces?. Should I touch the Titanium or not?
How much magnesium should I hang? Is there any relation between the magnesium surface and the load surface?

Thanks very much for your help
Sergi Fernández
desperate - Spain
2007
A. You probably have about 1.0 to 1.1 volts of galvanic current between the titanium (+) and the stainless steel tank or heater (-). Such current in the presence of chlorides causes "white spots". Magnesium Rods, hung on the titanium after anodizing, will help negate this current. A better way would be to measure the voltage and apply induced d.c. electricity of the same voltage -- make the stainless steel positive and the titanium negative. The amperage depends upon the area of the stainless steel or the titanium.

Robert H Probert
Robert H Probert Technical Services

Garner, North Carolina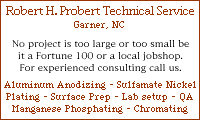 ---
---
Q. My company applies a NiTuff coating to the lapped surface of a Mic-6 plate. Should I have similar concerns with post process blooming from the aluminum when using the NiTuff coating? Could the post process blooming affect the coefficient of friction of the plated part surface?
Tim Abrahamson
Industrial positioning systems - Seattle, Washington
December 23, 2008
---
---
Q. What is the recommended concentration for the nitric acid bath used in anodize as neutralizer after the sulfuric before the dye?

I have been using 35%-45% nitric and it works good, we have another facility that uses 7-10%, we are concerned about the integrity of the oxide film after using the high concentration of the nitric, but we don't know if the lower concentration is good enough.

Thanks,
Andrea Saulsbury
Process Engineer - Baltimore, Maryland USA
May 3, 2012

"Surface Treatment & Finishing of Aluminium"
by R.G. King
from Abe Books
or

Affil. Link
Your purchases make finishing.com possible
A. Hi Andrea.
Further up in the thread, Keith R mentions 20 to 40%. In letter 23904, Jeffrey Holmes suggests 5%. Dilute nitric acid in Jeffrey's range is all that I am familiar with. Aluminum is resistant to nitric acid, so I doubt that a high concentration will much hurt it much or quickly, but I personally subscribe to the philosophy that no more of any process chemical should be used than proven necessary.
Regards,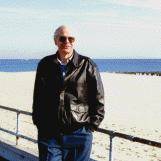 Ted Mooney
, P.E.
Striving to live Aloha
finishing.com - Pine Beach, New Jersey
A. Sodium Bicarbonate WILL go into the voids and pores of a casting, however, the sodium bicarbonate molecule is too large to go into the pores of the anodic film. 10% Nitric Acid which does go deep into the anodic pores, does not "neutralize", instead, due to its lower surface tension than the "oily" sulfuric acid, it helps flush out the sulfuric acid from the pores hence making more room for dye and the hydrating seal. A 2 minutes dip in 10% Nitric Acid WILL NOT strip enough aluminum oxide that you can EVER measure. There are two commercial specs out there (one in aircraft and the other in Ohio) that prohibit the nitric dip because they have never accepted the proven FACT that 10% nitric acid will not remove any measurable amount of aluminum oxide.

Robert H Probert
Robert H Probert Technical Services

Garner, North Carolina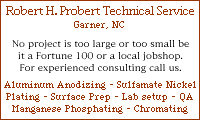 ---
---
Maintenance Schedule for Nitric Acid Rinse
Q. My company recently started testing a nitric acid rinse in our anodizing line post anodizing and pre dying. I am wondering what sort of maintenance schedule is required of a 3% nitric acid rinse tank that is not recirculated.
Corey Rahn
- St. Louis, Missouri, USA
January 28, 2019
A. I have been having to answer that question to many of my clients. Since you drag sulfuric acid into the nitric acid post rinse, a simple titration will not separate the two acids.The analysis could, theoretically be done, using a centrifuge and barium nitrate, however, the cost of the barium reagent is prohibitive. So I say guess at it, and dump weekly or bi-weekly.

Robert H Probert
Robert H Probert Technical Services

Garner, North Carolina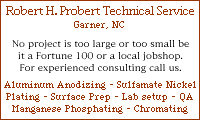 ? This is the first time I've heard of nitric acid bath after anodizing and before dye. What's your aim? What's your expectation in putting nitric acid bath after anodizing and before dye?. What kind of dye do you use?
You say you are testing. If I were you I would cancel this testing. Nitric acid is a very dangerous chemical for tin/nickel coloring baths if you use these baths. If you use nitric acid you will get iridescent color.
alaattin tuna
- TURKEY,sakarya
"Anodic Oxidation of Aluminum and Its Alloys"
by V. F. Henley
from Abe Books
or

Affil. Link
Your purchases make finishing.com possible
A. Hi Alaattin. This is probably organic dye, where it is fairly widely practiced, not two-step anodizing. The purpose is to improve the rinsing, i.e., to drive out the remnants of sulphuric acid.
Regards,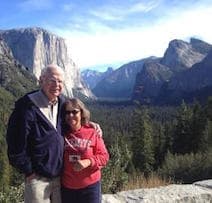 Ted Mooney
, P.E. RET
Striving to live Aloha
finishing.com - Pine Beach, New Jersey
Q. Ted, you are correct. We are using the nitric to pull out the sulfuric for additional rinsing before dying.

Robert, that is what I supposed would be the case. We will probably start on a weekly basis and go from there.

We did see a slightly faded color when testing the nitric as well as some blotching of the dye. Is that an expected outcome from the nitric?
Corey Rahn
[returning]
- St. Louis, Missouri, USA
January 29, 2019
A. If you leave the parts in the Nitric too long, there can be problems such as a scorched appearance on the finished parts as the Nitric acid has been given time to attack the anodic layer. The goal is to rinse them in the Nitric dip only long enough to clear the Sulfuric residue, and then rinse them very well to remove the Nitric. This also protects your dye tanks from pH shifting, which in turn may cause a color shift. We use a 2 step rinse after Nitric and before dye: pre-rinse in running city water and then final rinse in hot DI water prior to dyeing in an organic azo dye and do not have discoloration problems.
With a reasonably heavy throughput, our 4% v/v from 42 °Be/67% Nitric tank takes on a dirty appearance pretty fast, but is still functional after extended use- up to a year; maybe more but that's about how often we dump ours. I test it weekly for total acid by titration and only make adds to ensure the rinse remains at 4% as Nitric equivalent in order to maintain predictability for the line technicians.
You can certainly have it tested by an outside lab for Sulfur and Aluminum contamination to monitor how badly it is being affected by drag-in. We have run this tank up to 2 g/L each Sulfur (calculated as Sulfate) and Aluminum before we ceased testing because we never saw issues with process failure and the levels never climbed high enough to worry us before the annual dump anyway.
We run monthly salt spray on dyed TyII and III as part of our process controls and have not experienced pitting failure on these parts, even using an old Nitric bath.
Certainly a frequent dump and remake is prudent as a way to ensure that your process is stable and predictable over time, and if you have the ability to do frequent changes, it can only help! However, in our own experience, the main variable for how well the final product comes out is immersion time in the Nitric, and the age and contamination status comes in second.
This is my observation from my own experience and if you are having discoloration on dyed parts that you suspect is being caused by the Nitric bath, look carefully at the immersion time and rinse process before dyeing.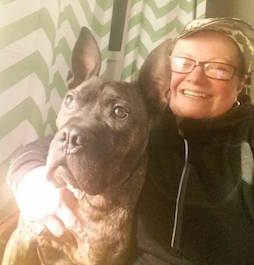 Rachel Mackintosh
Lab Rat and some other things - Greenfield, Vermont
Q. Thanks for the in depth response, Rachel. We will certainly be testing our submersion time and rinsing technique.

Another question I have regarding the nitric rinse, does anyone notice any unique health or safety issues from an operator standpoint associated with that solution. Of course, proper PPE is required but other than that, anything in particular?
Corey Rahn
[returning]
- St. Louis, Missouri, USA
February 1, 2019
A. Hi Corey,
At that low concentration and ambient temperature, the tank itself does not offgas or fume to a point where it is noticeable walking by, but standard ventilation precautions should always be taken. For normal operation, gloves, safety eyewear, and rubber boots are important; a rubber apron in addition for splashes is ideal.
For tank adds from 42° Be/67%, there IS fuming, and you need a respirator. A 3M half-mask with the Olive multi-vapor cartridge is cheap and works great. I wear a full PVC suit and face shield and double gloves (nitrile liner under neoprene abrasion-resistant outer glove).
Remember to use pumps that are compatible with an oxidizing acid; the PVC-Viton hand operated drum pump you can get through Cole Parmer is pretty durable. My biggest word of advice is not to melt the pump. When you're done with the transfer, drain it in a pail, rinse it by taking a few strokes IN THE ACID BATH, then drain again and rinse in plain water. The step down in concentration reduces dissociation heat and prolongs the life of the pump HUGELY.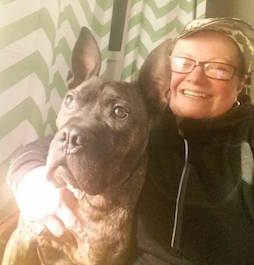 Rachel Mackintosh
Lab Rat and some other things - Greenfield, Vermont
---
---
Sodium Bicarbonate Concentration
Q. My company recently attempted to use a sodium bicarbonate rinse directly after anodizing and prior to dye. We saw some blotchy stains about the size of a quarter in our dyed parts that we are attributing to the bicarb bath. I am wondering what the typical concentration is and if people have had similar issues.
Corey Rahn
[returning]
- St Louis, Missouri, USA
October 31, 2019
A. Hi Corey,
Our spec don't allow the use of extra baths to neutralise acid after anodising, so to ensure acid removal from the anodic film we rinse the parts for up to 10 mins. in order to be certain of acid removal.
You have discovered the risk associated with using other chemical solutions before dyeing to remove the acid.
Anodic dying can be very susceptible to even lower concentrations of contamination as any trapped acid, etc. -- leaches back out of the film during dying and sealing.
Adding a bicarbonate step in your process just means you have then to remove that from the anodic film as well.
So, it's best just to rinse, rinse, rinse.
Best regards
Mark
Mark Lees
- A foggy and rainy rock in the irish sea
A. Some specs will require a post dip in sodium bicarbonate to be sure to neutralize the acid in recesses, blind holes, and folds. But the sodium bicarbonate molecule is too large to get into the pores. Over 10 minutes in plain water can start some sealing. What you need is to get the acid and alum sulfate out of the pores; in today's science that is mostly done by post dipping in 5 to 10% nitric acid which is less viscous than sulfuric acid and helps flush the pores, avoids sulfate impurity in the dye/seal, and makes more room for dye and seal. Some specs written by inexperienced school boys denies nitric as a post dip fearing stripping, but you cannot measure weight loss after a 45-75 second dip in 5% nitric acid and you have prevented impurity sulfate in the dye and made a better seal.

Robert H Probert
Robert H Probert Technical Services

Garner, North Carolina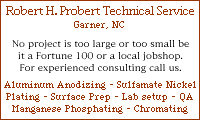 A. I USUALLY RECOMMEND THE NITRIC DIP AND/OR SPRAY RINSING. I AM NOT IN FAVOR OF THE NEUTRALIZING RINSE -- COULD CAUSE PROBLEMS.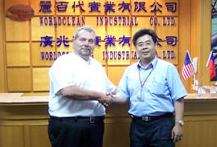 Drew Nosti, CEF
Anodize USA

Ladson, South Carolina

A. Just one more comment on removing the sulfuric acid from anodizing. Bob Probert is right on with the nitric dip. In addition, I recommend spray rinse after anodizing and the nitric might be incorporated there. Then a counter-flow rinse. That set up is the ultimate and what we recommend when setting up a new line.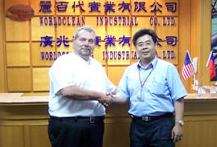 Drew Nosti, CEF
Anodize USA

Ladson, South Carolina

---
---
To minimize searching & thrashing, multiple threads were merged; please forgive repetition, chronology errors, or disrespect of other responses (they probably weren't there) :-)
---
---
Cause of white spots on dyed 2024 aluminum
Q. We have recently encountered a problem with anodizing a 2024 part and dyed it in blue. The part has white spots which are powdery and can be wiped off. Wiping off the white powdery spots will leave dark spots behind which cannot be wiped off. Here is some basic information:

Material: 2024
Type II sulfuric acid anodizing (18 V for 60 mins)

Other parts (6061) that were anodized and blue dyed on the same load turned out to be fine.

I am new to the industry and wonder what might have caused the problem and what things I should investigate or try. thanks
Jason Chow
- Calgary Alberta
April 23, 2021
A. You need a 5 to 10%/vol nitric acid post dip to get the white aluminum sulfate out of the pores. Try it in a bucket. The 2000 alloys require higher voltage than the 6000s. At 180 g/L free acid, 2024 needs 21 volts for a reasonable pore, at your 18 volts the pore is large enough for the aluminum sulfate to pop out.

Robert H Probert
Robert H Probert Technical Services

Garner, North Carolina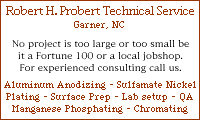 Q. Thank you Robert and Ted for your responses. What baffles me is that we ran the "same" part before and did not have this white powder and dark spots issue. I am attaching the pictures here "before wiping off the white spots" and "after wiping off". The "after wiping off" picture was taken of a part different than the "before wiping off" part due to the symptom being more pronounced.
Jason Chow
[returning]
- Calgary AB
Ed. note: No pics rec'd, Jason. Please email them to mooney@finishing.com.